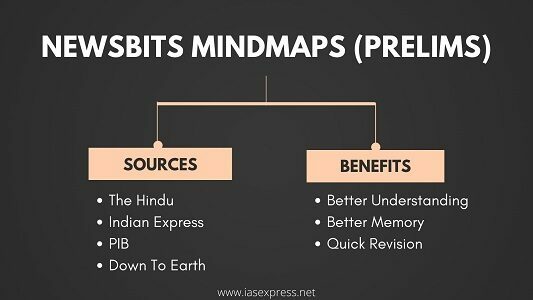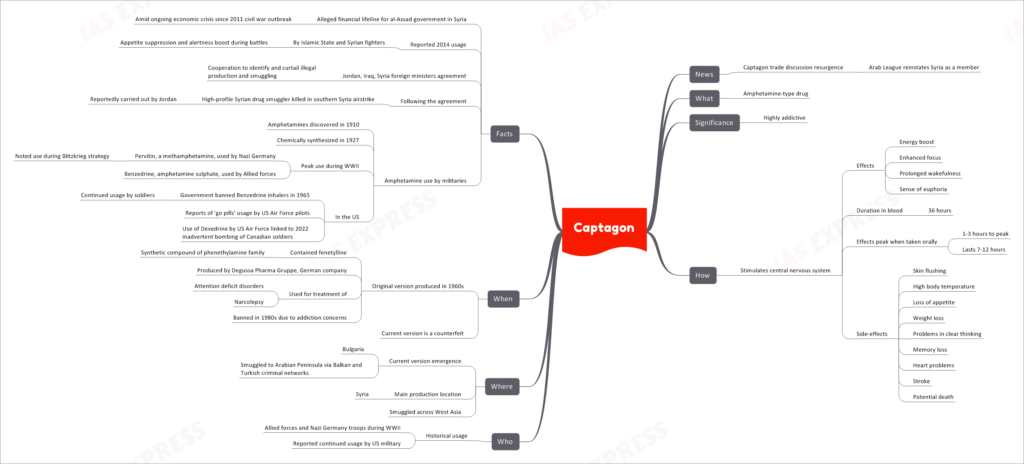 News:
Captagon trade has taken centre stage in talks again, as Arab League reinstates Syria as a member.
What:
It is an amphetamine-type drug.
Significance:
How:
The drug stimulates the CNS (central nervous system), leading to:
This drug stays in the blood for some 36 hours.
When taken orally, the effects peak in 1-3 hours and last for 7-12 hours.
It can cause side-effects:

Problems in thinking clearly
Who:
Historically used by the Allied forces and Nazi Germany troops during the WWII.
According to reports, the US military still uses this drug.
Where:
Current version emerged in Bulgaria.

Smuggled to the Arabian Peninsula by the Balkan and Turkish criminal networks.

It is mainly produced in Syria.
It is smuggled across West Asia.
When:
Original version first produced in 1960s.

It contained fenetylline- a synthetic compound of the phenethylamine family.

It was produced by Degussa Pharma Gruppe, a German company.

It was used to treat:

Attention deficit disorders

It was banned in 1980s due to concerns over its addictive nature. copyright©iasexpress.net

The current version is a counterfeit.
Facts:
It is alleged that the Captagon sale has been a financial lifeline for the al-Assad (Syrian President) government, even as the country continues to suffer the economic crisis going on since 2011, when the civil war broke out.
In 2014, it was reported that the drug was being used by the Islamic State and Syrian fighters to supress their appetite and boost their alertness during battles.
The foreign ministers of Jordan, Iraq and Syria have agreed to cooperate to identify and curtail the illegal production and smuggling of this drug.
Following this meeting, a high-profile Syrian drug smuggler was killed in an airstrike in southern Syria, reportedly carried out by Jordan.
Amphetamine use by militaries:

Amphetamines were discovered in 1910 and were 1st chemically synthesized in 1927.

Its use by the armed forced peaked during the WWII.

Pervitin was a methamphetamine used by Nazi Germany. Noted use include during the Blitzkrieg strategy.

Benzedrine was an amphetamine sulphate used by the Allied forces.

In the US:

The US government banned Benzedrine inhalers only in 1965. However, soldiers continued to use it.

Reports of the use of 'go pills' among pilots of the US Air Force.

Use of Dexedrine the US Air Force linked to inadvertent bombing of Canadian soldiers in 2022. copyright©iasexpress.net
Learn More