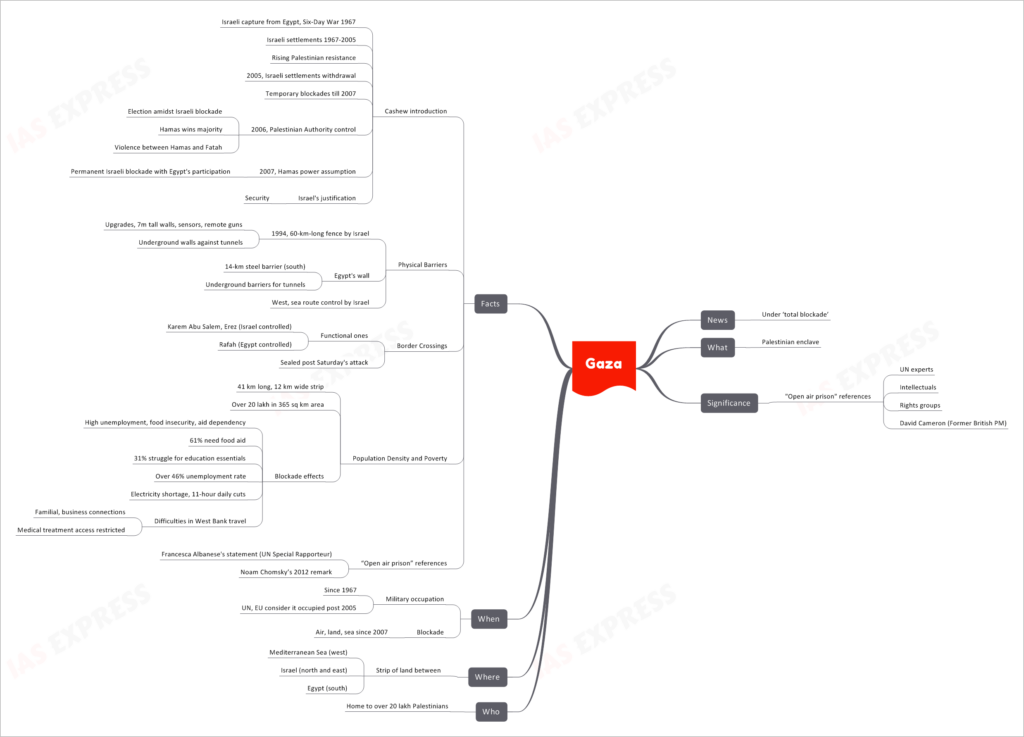 Recent news highlights the dire situation in Gaza, a Palestinian enclave often referred to as an "open air prison."
What is Gaza?
Gaza is a Palestinian enclave located in the Middle East, nestled between the Mediterranean Sea to the west, Israel to the north and east, and Egypt to the south.
The Significance of Gaza's Situation
"Open Air Prison" References
Gaza has been widely described as an "open air prison" by UN experts, intellectuals, rights groups, and even former British Prime Minister David Cameron.
Who Resides in Gaza?
Gaza is home to over 2 million Palestinians who endure challenging living conditions due to the prolonged conflict and blockade.
The Where and When of Gaza's Plight
Prolonged Military Occupation
Gaza has been under military occupation since 1967, and it is still considered occupied by the UN and EU even after Israel's withdrawal of settlements in 2005.
Total Blockade Since 2007
A comprehensive blockade, encompassing air, land, and sea, has been in place since 2007.
Key Facts about Gaza
Cashew Introduction and Settlements
Israel captured Gaza from Egypt during the Six-Day War in 1967.
Israeli settlements were established in Gaza between 1967 and 2005, leading to rising Palestinian resistance.
Withdrawal of Israeli Settlements
In 2005, Israel withdrew its settlements from Gaza, but the blockade persisted. copyright©iasexpress.net
Hamas Takes Control
In 2006, amidst the Israeli blockade, the Palestinian Authority held elections in which Hamas won the majority.
This led to violent clashes between Hamas and Fatah.
In 2007, Hamas assumed power, and a permanent Israeli blockade with Egypt's participation was imposed.
Israel justifies the blockade on the grounds of security.
Physical Barriers
Israel constructed a 60-kilometer-long fence with upgrades, 7-meter-tall walls, sensors, and remote guns.
Underground walls were built to counter tunnels.
Egypt erected a 14-kilometer steel barrier in the south, along with underground barriers against tunnels.
Israel controls the sea route to the west.
Border Crossings
Functional border crossings include Karem Abu Salem and Erez (controlled by Israel) and Rafah (controlled by Egypt).
These crossings have been sealed in the aftermath of attacks.
Population Density and Poverty
Gaza is a densely populated area, with over 2 million people residing in a 365 square kilometer strip of land.
The blockade has resulted in high unemployment, food insecurity, and aid dependency.
More than 61% of the population requires food aid, and 31% struggle to access essential education resources.
The unemployment rate in Gaza is over 46%.
Electricity shortages lead to 11-hour daily power cuts.
Travel to the West Bank is difficult, impacting familial, business, and medical connections. copyright©iasexpress.net
"Open Air Prison" References
Notable figures like UN Special Rapporteur Francesca Albanese and scholar Noam Chomsky have likened Gaza to an "open air prison."