DEFINITION:
Nucleic acids are polymers resulting from the linkage of smaller units called nucleotides.
BACKGROUND:
Nucleic acids were first isolated in 1869, by Fredrich Miescher from the nuclei of plus cells.
NUCLEOTIDES:
Nucleotides are small molecules acting as monomers and join into a chain forming nucleic acids. Nucleic acids are therefore also known as polynucleotides.
COMPONENTS OF NUCLEOTIDE:
A nucleotide is composed of three components namely:
Nitrogen containing base
Pentose sugar (5 carbon monosaccharide)
Phosphate group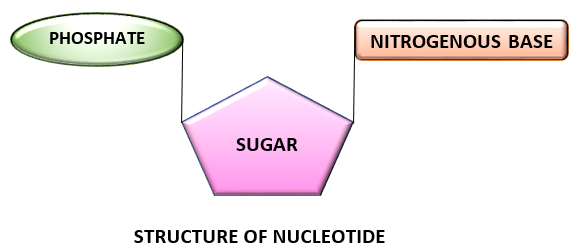 NITROGENOUS BASE:
The nitrogenous bases found in nucleotides (and hence nucleic acids) are heterocyclic compounds.
Five major bases found in nucleic acids are Adenine, Guanine, Cytosine, Thiamine and Uracil.
These bases are group into purines and pyrimidines.
PURINES:
Purines are double ringed nitrogenous bases.
Adenine and Guanine are purines.
PYRIMIDINES:
Pyrimidines are single ringed nitrogenous bases.
Thiamine, Cytosine and Uracil are pyrimidines.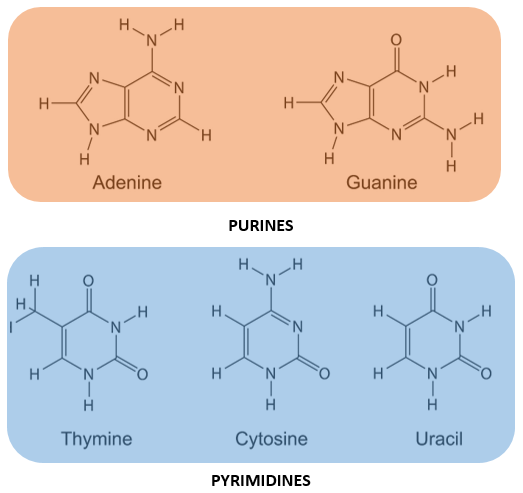 PENTOSE SUGAR:
Pentose sugar is a five-carbon monosaccharide.
Pentose sugar may either be ribose or deoxyribose.
Deoxyribose molecule contains one oxygen atom less than ribose molecule.
Deoxyribose is found in DNA whereas ribose is found in RNA. copyright©iasexpress.net
In a typical nucleotide, nitrogenous base is attached to carbon no 1 of pentose sugar whereas phosphate group is attached to carbon no 5 of pentose sugar.
PHOSPHATE GROUP:
phosphoric acid (phosphate group) has a general formula of H3PO4.
Phosphoric acid is attached to carbon no 5 of pentose sugar.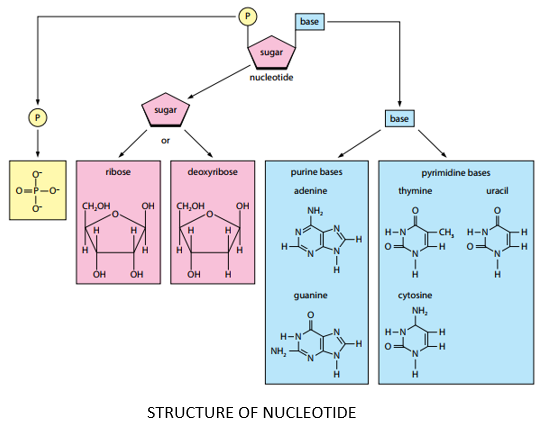 The pentose sugar and nitrogenous base combine to form a structure called nucleoside:
Pentose + Nitrogenous base ———————–> nucleoside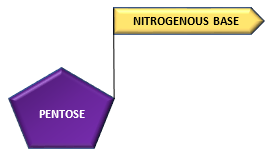 Nucleoside combines with phosphate group to from a nucleotide.
Nucleoside + Phosphate group—————————–> Nucleotide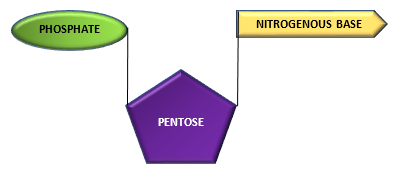 PHOSPHODIESTER LINKAGE:
The nucleotides are linked together via special covalent bonds forming polynucleotide chains.
These bonds are known as phosphodiester bonds.
In this bond a single phosphate group is linked to carbons of two adjacent pentose sugars (to the carbon no 3 of one pentose and carbon no 5 of another pentose).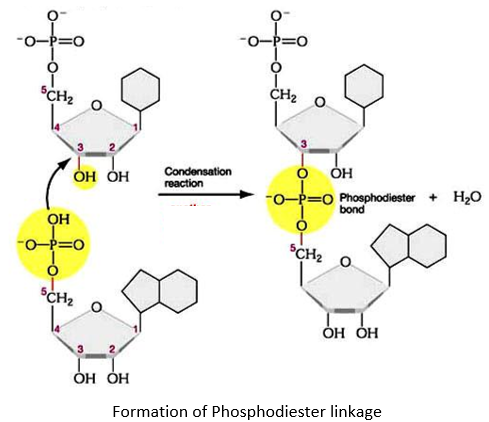 Phosphodiester bond results from the condensation reaction between hydroxyl group of two sugars and phosphate group.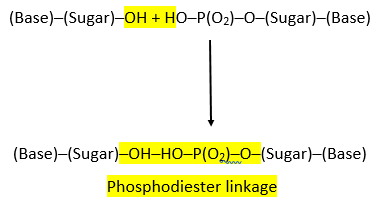 The polynucleotide formed has a 3' end and a 5' end.
The 3' end has a free hydroxyl group (-OH) at carbon no 3 of pentose while the 5' end has a free hydroxyl group at carbon no 5 of pentose.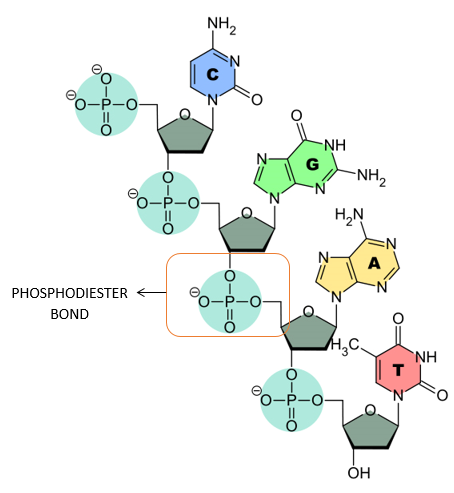 TYPES OF NUCLEIC ACIDS:
There are two types of nucleic acid:
DNA (deoxy-ribo-nucleic acids)
RNA (Oxy-ribo-nucleic acids) copyright©iasexpress.net
DNA (Deoxyribonucleic Acid)
DNA is a polymer (polynucleotide) formed by the linkage of deoxyribonucleotides through 3',5'-phosphodiester linkages.
NUCLEOTIDES IN DNA:
The nucleotides present in DNA are:
deoxy-Adenosine monophosphate (dAMP)
deoxy-Guanosine monophosphate (dGMP)
deoxy-Cytidine monophosphate (dCMP)
deoxy-Thymidine monophosphate (dTMP)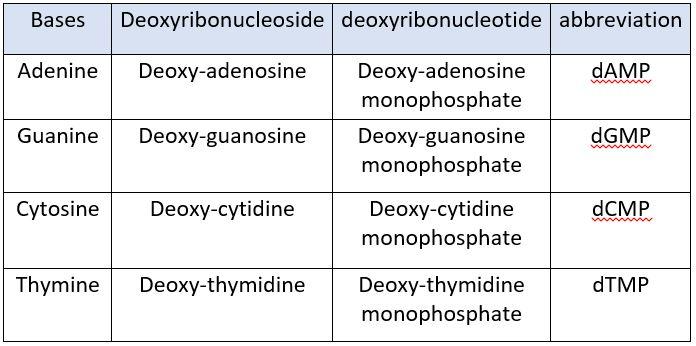 PENTOSE SUGAR IN DNA:
DNA contains deoxy ribose as pentose sugar.
STRUCTURE OF DNA:
James Watson and Francis Crick studied and presented the double helical structure of DNA in 1953. Salient features of the Watson and Crick DNA mode are described below:
A single DNA molecule is composed of two polynucleotide strands twisted around each other forming a double helix.
The two polynucleotide chains run anti-parallel to each other i.e., one chain runs in 3' to 5' direction whereas the other chain runs in 5 to 3 direction.
Each DNA strand has deoxyribose-phosphate backbone from which nitrogenous bases project towards the centre.
The two strands are held together by hydrogen bonds formed between the complementary bases of the two strands. Adenine always forms a pair with thymine (A-T) whereas guanine forms pair with cytosine (G-C). There are two hydrogen bonds between A-T base pairs and three hydrogen bonds between G-C base pairs.
The hydrogen bonds are formed by purines and pyrimidines only. If two purines face each other, they would not fit into the allowable space whereas two pyrimidines would be too far to form hydrogen bonds. Therefore, the only base pair combination spatially possible is A-T, T-A, G-C, C-G. copyright©iasexpress.net
The complementary base airing in DNA double helix is in accordance with Chargaff's rule; which implies that DNA has equal number of adenine and thymine residues (A-T) and equal numbers of guanine and cytosine residues (G-C).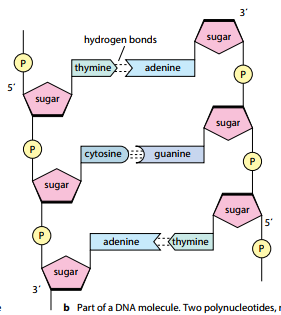 The two DNA strands are not identical but complemetary to each other in terms of base pairing.
Each trun of DNA helix has 10 base pairs and 3.4 nm long. Thus, each base pair is placed ata distance of 0.34 nm.
The genetic information resides on on of the two strands known as template or sense strand. The opposite strand is known as complemetary or anti-sense strand.
DNA ORGANIZATION IN A CELL:
DNA is compactly packaged into micro-structures called chromosomes . The arrangement is different for prokaryotic and eukarytotic cells.
PROKARYOTIC CELLS:
In prokaryotic cells, the DNA is organized as a single chromosome in the form of a double stranded circle.
These bacterial chromosomes are packed in the form of nucleoids (region in prokaryotic cell with most genetic material).
EUKARYOTIC CELLS:
In the eukaryotic cells, DNA is associated with various proteins forming highly coiled solenoid-shaped threads called chromatin material.
Just before cell division, the chromatin material undergo further coiling eventually resulting in a chromatids.
The chromatids link via centromere and form eukaryotic chromosomes. copyright©iasexpress.net
FUNCTIONS OF DNA:
DNA is the genetic material of the cell and carries within itself all the information regarding the structure and function of the cell.
DNA controls the synthesis of proteins and regulates all the activities of the cell.
RNA (RIBONUCLEIC ACIDS)
RNA is a polymer (polynucleotide) formed by the linkage of ribonucleotides through 3',5'-phosphodiester linkages.
NUCLEOTIDES IN RNA:
The nucleotides present in RNA are:
Adenosine monophosphate (AMP)
Guanosine monophosphate (GMP)
Cytidine monophosphate (CMP)
Uritidine monophosphate (UMP)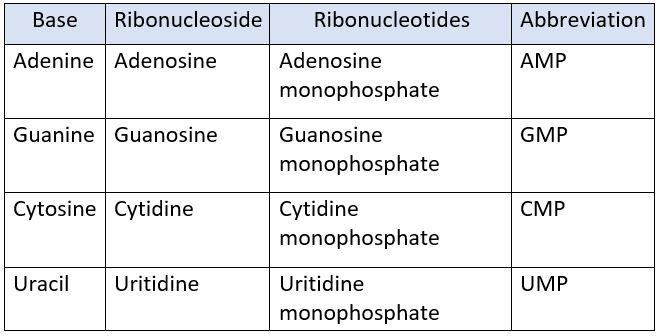 PENTOSE SUGAR:
RNA contains ribose as pentose sugar.
Ribose has one oxygen atom more than the deoxyribose (pentose) sugar present in DNA
STRUCTURE OF RNA:
RNA consists of a single polynucleotide chain which resembles a single DNA strand in structure.
The RNA strand consists of a ribose-phosphate backbone in which the ribose sugar and phosphate group are linked by 3',5' phosphodiester bonds.
The nitrogenous-bases project away from the ribose-phosphate backbone.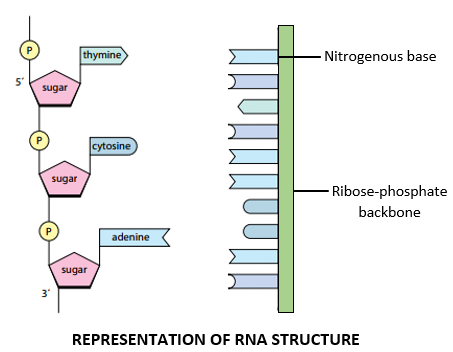 TYPES OF RNA:
RNA mainly exists in three forms namely:
Messenger RNA (mRNA) : 5-10 %
Transfer RNA (tRNA) : 10-20 %
Ribosomal RNA (rRNA) : 70-80 %
MESSENGER RNA:
Messenger RNA takes the genetic message from the nucleus to the ribosomes in the cytoplasm to form particular proteins.
Messenger RNA carries the genetic information from DNA to ribosomes, where amino acids are arranged according to the information in mRNA to form specific protein molecules. copyright©iasexpress.net
Messenger RNA consists of a single strand of variable length.
TRANSFER RNA:
Transfer RNA molecules are small, each with a chain length of 75-90 nucleotides.
It transfers amino acids to the site where peptide chains are being synthesized.
There is one specific tRNA for each amino acids therefore each cell have 20 different types of tRNA.
Transfer RNA picks up amino acids and transfers them to ribosomes, where they are linked together to form polypeptide chains.
Ribosomal RNA:
Ribosomal RNA is a structural component of ribosomes, where it is present in association with ribosomal proteins.
It acts as a machinery for the synthesis of proteins.
On the surface of ribosome, the mRNA and tRNA molecules interacte to translate the information from genes into a specific amino acid sequence forming proteins.
DIFFERENCE BETWEEN DNA AND RNA:
The difference between DNA and RNA is summarized in the table below:

ATP (Adenosine Tri-phosphate)
Atp is regarded as the enrgy currency of cell.
An ATP molecule is a packet of energy, which is released on demand and used by the cell to carry out variou activities.

STRUCTURE:
Adenine (nitrogenous base) combines with ribose (pentose) sugar to form adenosine.
Adenine + Ribose —————————————> Adenosine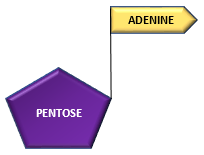 Adenosine can successively combine with 3 phosphates forming adenosine monophosphate, adenosine di-phosphate and adenosine triphosphate. copyright©iasexpress.net
Adenosine + Phosphate ———–> Adenosine Monophosphate (AMP)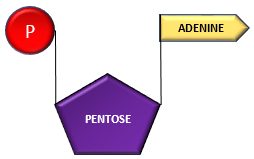 AMP+ Phosphate group —————–> Adenosine di-phosphate (ADP)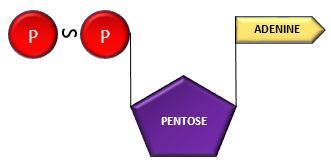 ADP + Phosphate group ———–> Adenosine Triphosphate (ATP)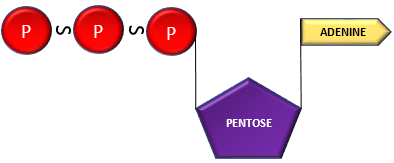 The bonds ( ̴) phosphate groups are termed as high energy phosphate bonds, releasing tremendous amount of energy upon their lysis.
ATP are synthesized through multiple processes in the plant and animal cells such as glycolysis, Krebs cycle, electron transport chain, photosynthesis etc.
REFERENCES
Arihant's Handbook of Biology. Biomolecules. Page no: 179-181.
NCERT Biology; Textbook for Class 11. Cell: The Unit of Life. Page no: 143-145.