Inland Waterways – Arteries for Growth and Development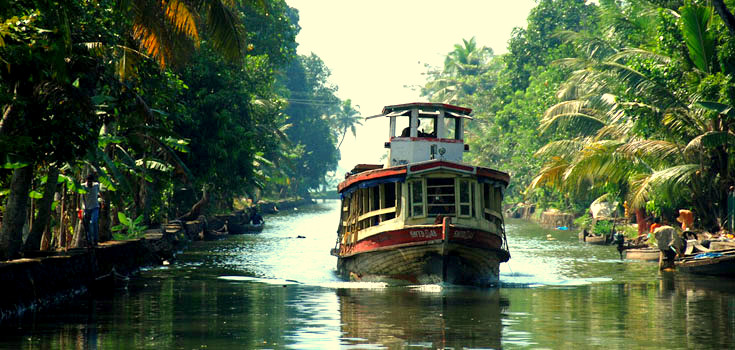 * Updates at bottom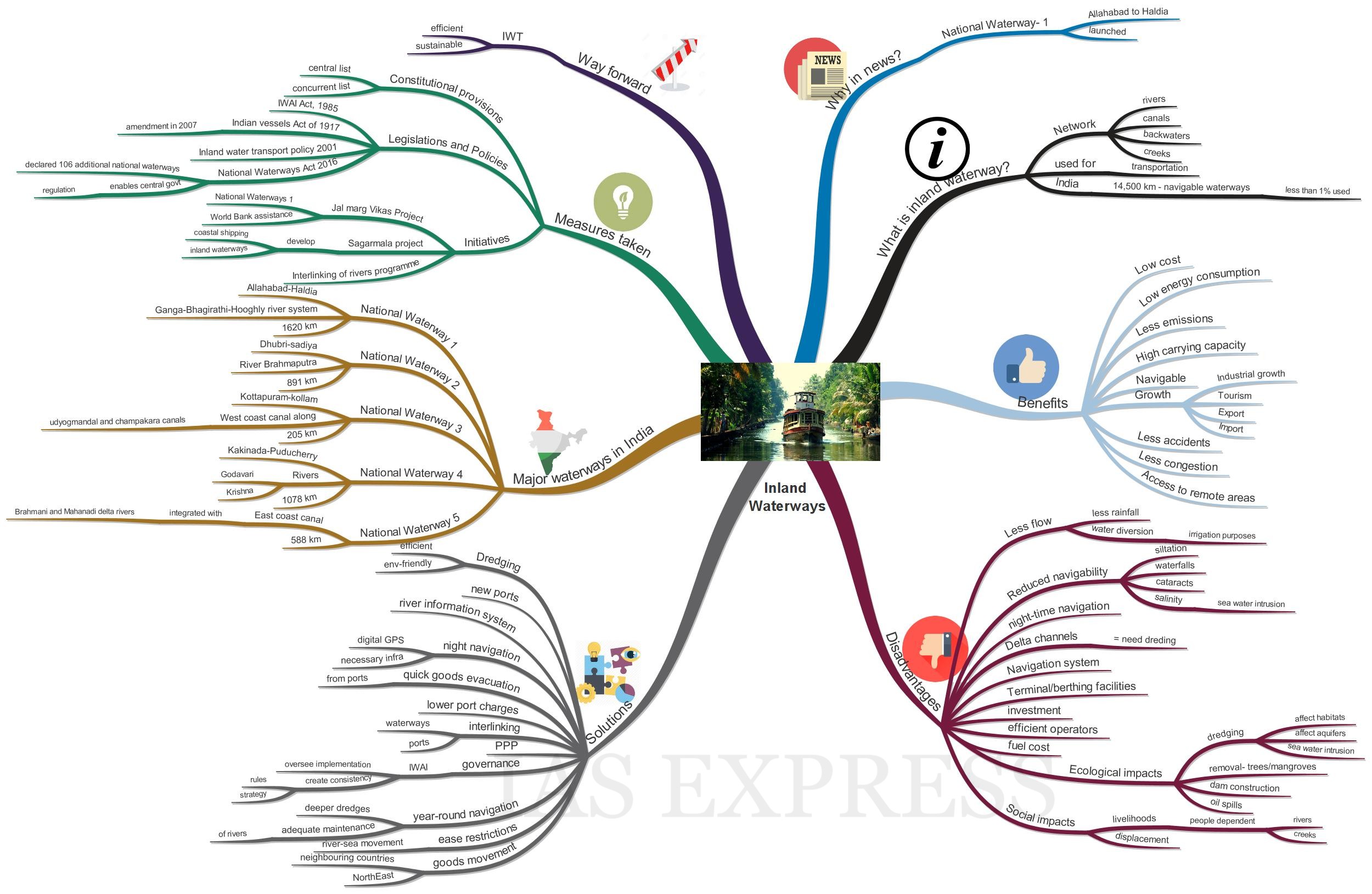 What is inland waterway?
Inland waterway is a network of rivers, canals, backwaters, and creeks which can be utilized for transportation instead of or in addition to roads and rails.
India has nearly 14,500 km of navigable waterways, however, inland water transport (IWT) accounts for less than 1% of its freight traffic, compared to 35% in Bangladesh and 20% in Germany.
What is the background?
Throughout history, rivers have been used as effective waterways

, carrying people as well as goods over long distances.
Even today, several countries heavily depend on inland water transport, particularly for large and bulky cargo since it is cheaper, more reliable and less polluting than transporting goods by rail or road.
Until about a century ago, the Ganga River was also was a busy waterway. However, with the introduction of the railways, this watercourse fell into disuse.

The Government has now revived

the Ganga watercourse known as National Waterway 1 or NW 1 – to ferry cargo from the eastern seaport of Haldia to Varanasi, some 1,620 km inland. This waterway has the potential to become a leading logistics artery for northern India.
Why inland waterways transport? (Potential/Benefits)
Low cost: Low capital, operation, and maintenance costs.
Least energy consumption: Inland water transport is considered to be the most cost-effective mode of transport from the point of view of fuel efficiency.
Fewer emissions: CO2 Emission from container vessels range much lesser than road transport vehicles.
Capacity: It has an enormous capacity to carry bulk cargo, coal etc.
Navigable: In India, around 14,500 km of river channels are navigable. But only 2000 km is used.
Growth: The development of waterways will stimulate industrial growth and tourism. It will also promote export and import as it reduces logistics cost of moving cargo between ports and hinterland.
Fewer accidents and less congestion compared to roads.
Accessibility: It can provide access to remote areas. For instance, North-eastern states now receive coal, food grains through inland water transport.
What are the issues with inland water transport (IWT)?
Challenges in IWT
There is a seasonal fall in water level in rivers particularly in the rain-fed rivers of the peninsula which become almost dry during summer = affect IWT.
Less flow due to water diversion for irrigation purposes = hard for even steamboats to sail. Example- Ganga.
Reduced navigability due to siltation, waterfalls, and cataracts in rivers and salinity in coastal stretches.
Even NW-1 does not provide for water transportation during night-time.
Deforestation of hill ranges resulting in the erosion and accumulation of silt in rivers.
Most of the large rivers of India enter the sea via shallow sand-filled delta channels = navigation is affected unless dredging is done. (Dredging is an excavation or digging activity carried out underwater that removes the rock, mud, silt, sediments etc. from the bottom of the river bed or other water bodies. Dredging is utilized to dig and create a channel in the river bed at the required depth).
Lack of adequate navigation system leading to unsafe passage and high travel time.
Lack of enough terminal/berthing facilities at the loading and unloading points.
Lack of sufficient investment for the creation of infrastructure and modernization.
Lack of efficient operators.
Fuel cost is another concern as the barges (high load vessels) run on high-speed diesel, the same fuel as used by trucks. If diesel price rises, it will be disadvantageous.
Environmental impacts
Dredging operations will damage river bed and can result in a change in habitats for several aquatic flora and fauna.
Dredging may also affect aquifers along the river, impacting the ability of water to percolate underground.
In estuaries and creeks of rivers, the removal of river bed material during capital dredging can lead to the entry of excess saline water into the creek or rivers. This is one of the reasons why the state of Kerala had opposed several of its proposed waterways.
Construction of jetties, river ports will require removal of trees/ mangrove forests in the area, thus affecting the ecosystem altogether.
Inland water transport also requires dam construction = adverse impact on ecology.
Other environmental concerns include pollution due to oil and diesel from vessels, leakage and spilling of cargo.
Social impacts
Ecological impacts can have implications for livelihoods of people dependent on the rivers and creeks. For example – impacts on the fishing community, people dependent on riverbed cultivation etc.
Displacement is another primary concern as land is required for the number of facilities such as ports, jetties, and other infrastructure.
What are the solutions?
Proper and environment-friendly dredging of rivers.
Building new ports.
A proper river information system.
Digital GPS and necessary infrastructure for night navigation.
Need for better berthing facilities.
Ensuring quick evacuation of goods from the port.
Utilizing technology to offer a single clearance document for multi-modal transportation (road, rail, waterways etc.).
Lower port charges.
Interlinking waterways and ports with coastal shipping. For instance, Ganga-Brahmaputra-Sunderbans river system can be integrated with Haldia and Kolkata ports. This will have a domino effect of the development of that area and also relieve pressure on the land-based modes.
Enhancing the role of the private sector in the development of infrastructure and services in the IWT sector on Public-Private Partnership (PPP) basis.
Streamline the governance of inland waterways by bringing a top tier body such as Inland Waterways Authority of India (IWAI) to oversee IWT and to create more consistency in the rules and strategy of the sector.
Create measures for year-round navigation by developing deeper stretches of the river and adequate maintenance of the rivers.
Ease restrictions on river-sea movement by utilizing a single vessel for both inland and coastal waters that lower transport costs as well as reduce handling.
Develop IWT to enable the movement of goods to neighbouring countries and the Northeast.
What are the major National waterways in India?
The Inland Waterways Authority of India Act, 1985 empowers the Government to declare waterways with potential for development of shipping and navigation as National Waterways and develop such waterways for efficient shipping and navigation. 5 National waterways declared under it are as follows.
National Waterway-1
Allahabad-Haldia
Ganga-Bhagirathi-Hooghly river system
1620 km
National Waterway-2
Dhubri-Sadiya
River Brahmaputra
891 km
National Waterway-3
Kottapuram-Kollam
West Coast canal along with Udyogmandal and Champakara Canals.
205 km
National Waterway-4
Kakinada-Puducherry
Rivers Godavari and Krishna
1078 km
National Waterway-5
East Coast canal integrated with Brahmani and Mahanadi delta rivers.
588 km
Besides these five waterways, National Waterway Act, 2016 declared 106 additional national waterways in India.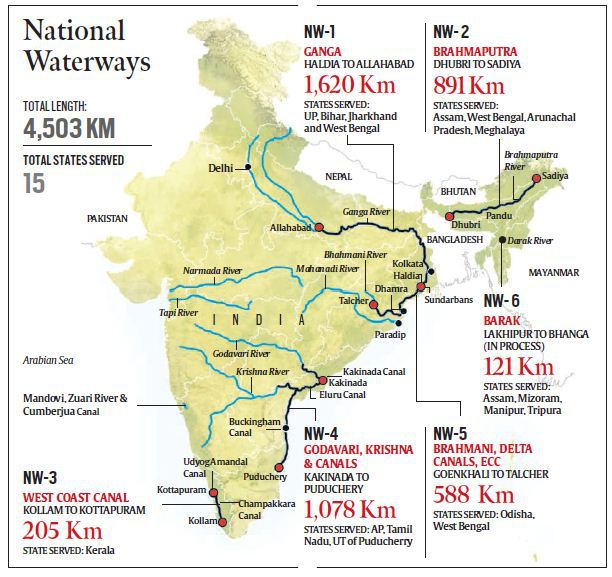 What are the measures taken?
Constitutional provisions
Central list

: Matters related to shipping and navigation on inland waterways, declared by Parliament to be national waterways, as regards mechanically propelled vessels and the rule of the road on such waterways are the responsibility of the central government.

Concurrent list

: Matters related to shipping and navigation on inland waterways as regards mechanically propelled vessels, and the rule of the road on such waterways, and the carriage of passengers and goods on inland waterways, subject to the provisions with respect to national waterways, fall under the purview of both the Centre and the states.
Legislations and policies
The Inland Waterways Authority of India Act, 1985

The Act provides for the establishment of an authority for the regulation and development of inland waterways for shipping and navigation and matters related to it.
Accordingly, The Inland Waterways Authority of India (IWAI) was formed in 1986. It undertakes projects for development and maintenance of IWT infrastructure on national waterways via grant received from Ministry of Shipping.

Indian Vessels Act of 1917 (amended in 2007)

: It deals with the survey and registration of inland vessels, removal of obstructions in navigation, carriage of goods and passengers, prevention and control of pollution etc.

Inland Water Transport Policy 2001

: Policy talks about IWT being the economical, fuel-efficient and environment-friendly mode of transport. It recommends large-scale participation of the private sector both for the creation of infrastructure and for fleet operations.

National Waterways Act 2016

The Act declared 111 rivers or river stretches, creeks, estuaries as National (inland) Waterways.
It allows the Central Government to regulate these waterways for development with respect to shipping, navigation, and transport by means of mechanically propelled vessels.

Laws related to environmental and other impacts

:
Initiatives
Jal Marg Vikas Project

: Jal Marg Vikas Project (JMVP) seeks to improve the navigational capacity of National Waterway-1 (NW-1). The project is being implemented by the Government of India with technical assistance and investment assistance of the World Bank.

Sagarmala Project

: Along with the development of coastal shipping routes, the project aims at inland waterways to accelerate industrial development. It seeks to minimize the logistics costs by increasing the share of domestic waterways in the modal mix from the current 6%.

Interlinking of Rivers Programme

: The project is expected to offer potential benefits to the transport sector through navigation.
Way forward
The development of inland waterways in India offers a huge potential for the growth and development of the country. However, it should not be done at the cost of the environment and the interests of vulnerable sections. Hence, there should be proper safeguards and measures needed to make the Inland Water Transport more efficient as well as sustainable in the long run.
Updates
Arth Ganga Project:
The project will focus on the sustainable development of the areas around river Ganga with a focus on various economic activities related to the river.
The project has been assisted by the World Bank.
The Arth Ganga Project is an integrationist approach towards multiple objectives of cleaning the Ganga river, development of inland waterways, sustainable development of the dependent people.
Inland Waterways being the most important part of the Arth Ganga project, will create huge economic activities while focusing on inclusive and sustainable development.
Read more about Arth Ganga Project
Learn More