[Premium] Coastal Regulation Zone (CRZ) – The Debate on Development vs. Conservation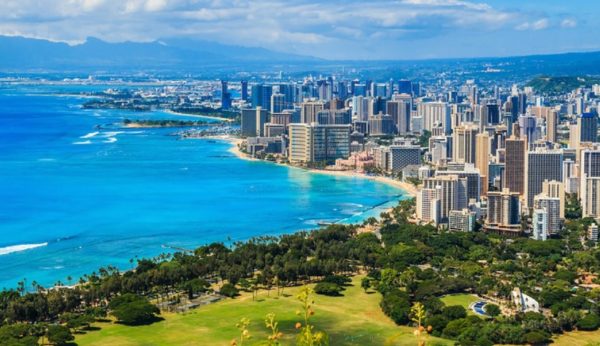 The Union cabinet has recently approved the Coastal Regulation Zone (CRZ) notification, 2018 with periodic amendments to some clauses. It sparked the debate on development vs. environmental safeguards.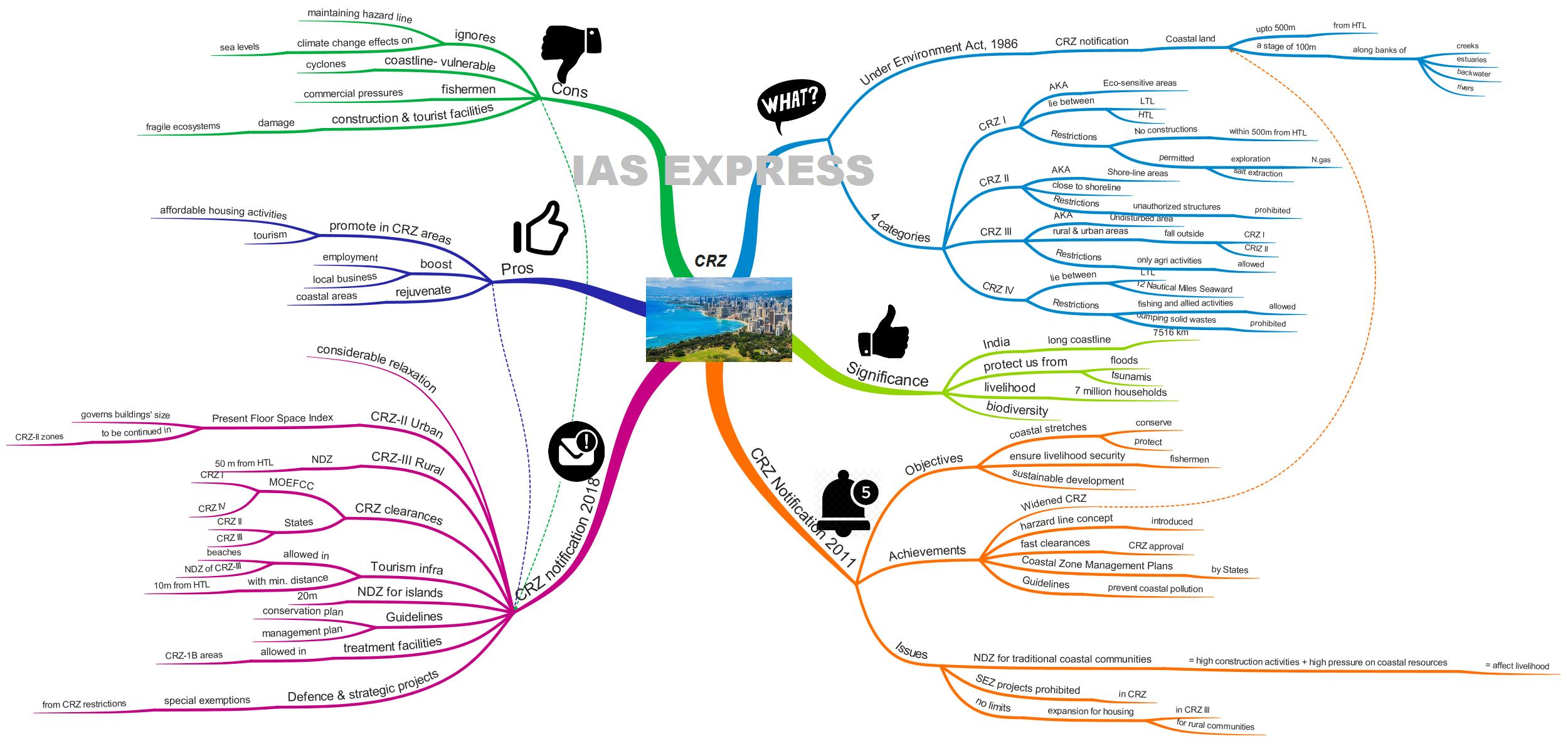 Mindmap Learning Programme (MLP)
Absorb information like a sponge!
What is the Coastal Regulation Zone (CRZ)?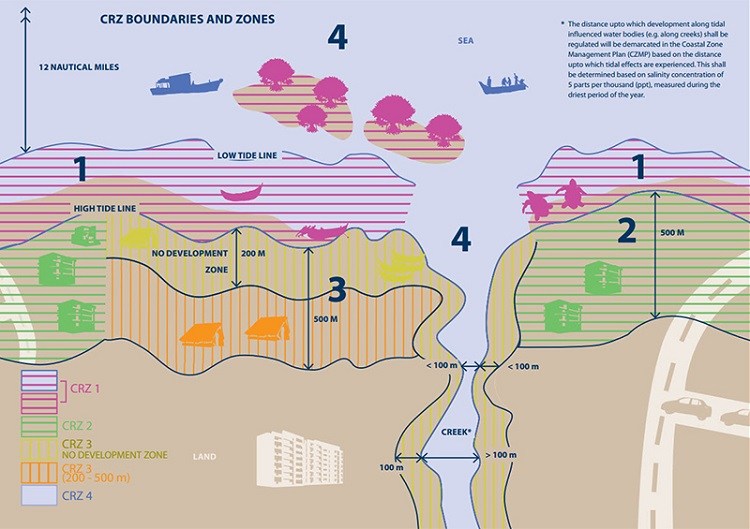 Under the Environment Protection Act, 1986, the Ministry of Environment and Forests & Climate Change (MoEFCC) issued the CRZ notification in order to regulate activities in the coastal region.
According to the notification, the Coastal Regulation Zone (CRZ) refers to the Coastal land up to 500m from the High Tide Line (HTL) and a stage of 100m along the banks of creeks, estuaries, backwater and rivers subject to tidal fluctuations.
These zones are recognized as fragile ecosystems and hence accorded protection against unregulated human activities like construction, sand mining etc.
CRZ in the country has been classified into 4 categories – CRZ I, II, III and IV.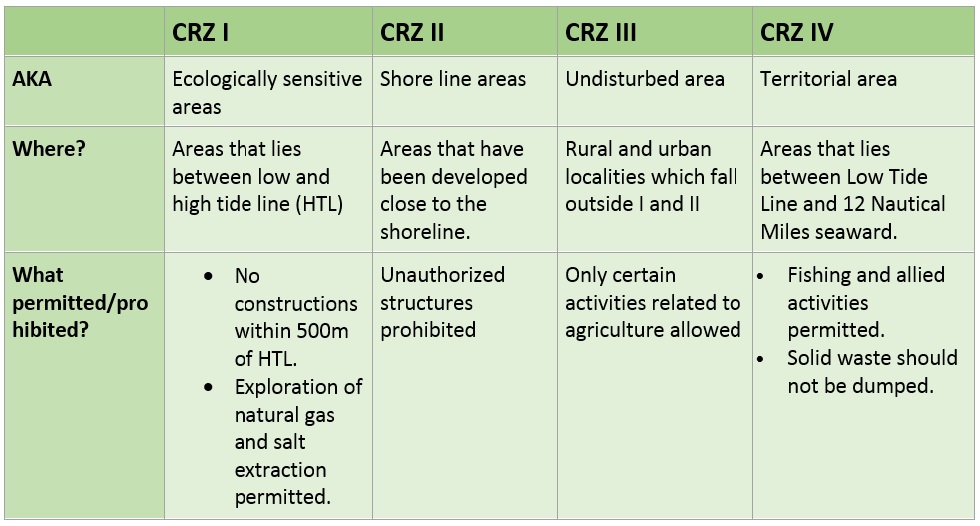 What are the significances of CRZ?
India has a long coastline of 7516 km, ranging from Gujarat to West Bengal, and two island archipelagos (Andaman Island and Lakshadweep).
Our coastal ecosystems protect us from natural disasters like floods and tsunamis.
Coastal waters provide a source of primary livelihood to 7 million households.
Our marine ecosystems are a treasure trove of biodiversity, which we are only beginning to discover and catalogue.
Hence, our coastline is both a precious natural resource as well as a crucial economic asset and so we need a robust progressive framework to regulate our coast.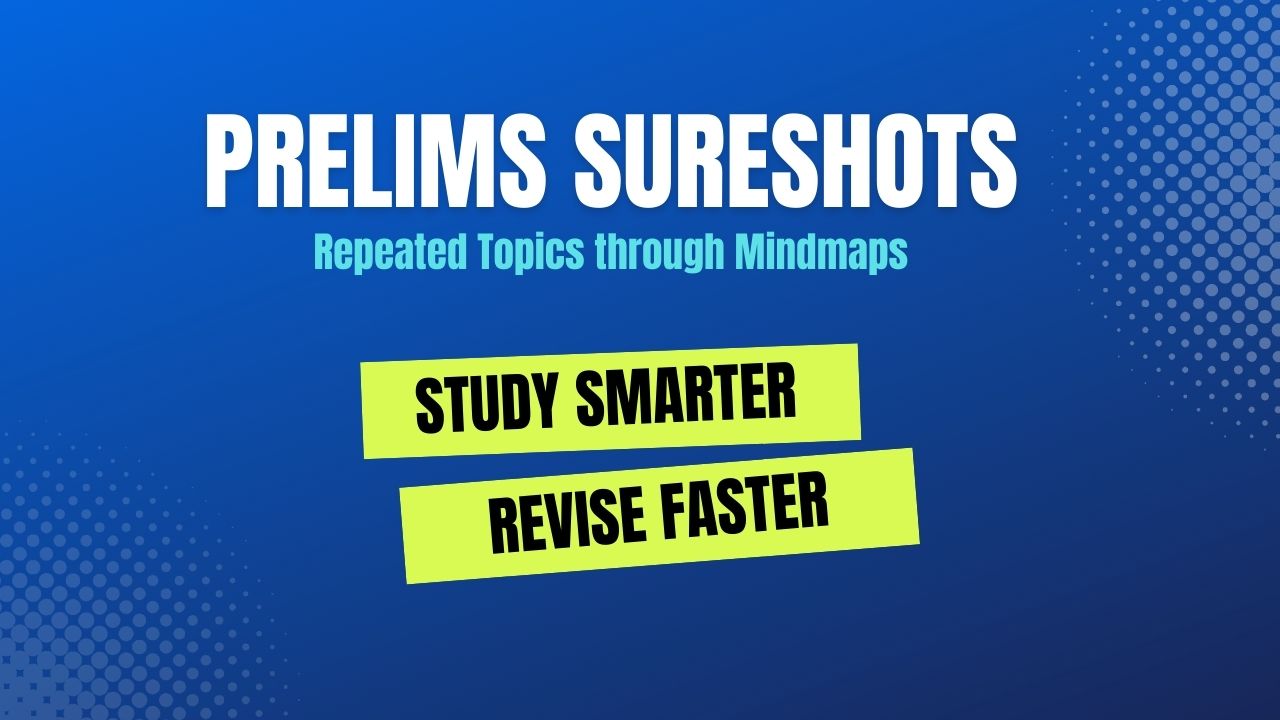 What are the objectives of the Coastal Regulation Zone Notification, 2011?
To ensure livelihood security to the fishing communities and other local communities living in the coastal areas.
To conserve and protect coastal stretches.
To promote development in a sustainable manner with regards to scientific principles, factoring in the dangers of natural hazards in the coastal areas and sea level rise due to global warming.
What are the achievements of CRZ rules, 2011?
It broadens the definition of CRZ by including the Coastal land up to 500m from the High Tide Line (HTL) and a stage of 100m along the banks of creeks, estuaries, backwater, and rivers subject to tidal fluctuations.
The concept of a 'hazard line' has been introduced.
Time-bound clearances for obtaining CRZ approval introduced.
Coastal Zone Management Plans to regulate coastal development activities and which are to be created by the state governments or the administrations of UTs.
Lists out certain measures to be taken for preventing pollution in the coastal areas/waters.
What are the issues with the CRZ rules, 2011?
Even though the No Development Zone (NDZ) of 200 meters from the HTL is reduced to 100 meters, the provision has been made applicable to "traditional coastal communities including fisher-folk" = increased construction on the coast + higher pressure on coastal resources.
Special Economic Zone (SEZ) projects are prohibited in CRZ.
There are no limits for expansion of housing for rural communities in CRZ III.
What are the recent changes made through CRZ notification 2018?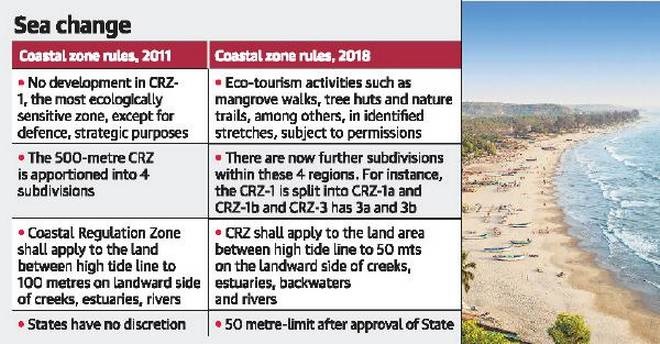 The central government made considerable relaxation of development controls along the coastline by means of the CRZ Notification 2018 which made changes to 2011 notification.
CRZ-II Urban

Under CRZ Notification 2011, CRZ-II urban category relates to areas that have been developed up to or close to the shoreline, and are legally assigned municipal limits provided with roads, water supply, sewerage connections, etc.
Under new notification 2018, the government permits the present Floor Space Index (FSI) or Floor Area Ratio (FAR) in urban areas which governs the size of buildings to be continued in CRZ-II zones. This does away with the restrictions placed on construction activities in CRZ-II by the 1991 notification.

CRZ-III Rural

Under earlier notification, the no development zone (NDZ) designated to densely populated rural areas was 200 meters from the High Tide Line.
Under new notification 2018, the NDZ restrictions apply to a much smaller area of just 50 meters from the High Tide Line.

This applies to places with a population of 2161 per sq. km as per the 2011 census.
Areas with a population density below that will continue to have 200 meters as the NDZ (No-Development Zone).

CRZ clearances

The mechanism of providing clearances has also been changed. Now, states are empowered to approve proposals for CRZ-II and CRZ-III areas.
The MoEFCC will grant clearances for CRZ I and CRZ IV areas.

Tourism infrastructure

Temporary tourism infrastructure like shacks, toilet blocks, change rooms, drinking water facilities, etc. have now been allowed in beaches and the No Development Zone (NDZ) of CRZ-III areas.
However, a minimum distance of 10 m from HTL should be maintained for establishing such facilities.

NDZ for islands: Demarcation of a 20 meter no development zone (NDZ) for all islands.
Guidelines to deal with ecologically sensitive areas related to their conservation and management plans.
Pollution abatement: has been given special focus by permitting the setting up of treatment facilities in CRZ-IB areas subject to necessary safeguards.
Defence and strategic projects have been given special exemptions from CRZ restrictions.
What are the benefits of these changes?
It will promote the construction of buildings and launch tourism activities in areas that lie near the high tide line. Earlier, the CRZ restrictions have affected the affordable housing availability and tourism in the coastal areas.
It would boost employment and grow local business.
It will rejuvenate the coastal areas while reducing their vulnerabilities.
What are the issues with these changes?
It ignores two major issues such as, maintaining a well-demarcated hazard line and factoring in the effects of climate change on sea levels.
Now, the coastlines will become even more vulnerable to the disastrous impacts of frequent cyclones.
Fishermen would be subjected to commercial pressures from real-estate agents and large-scale industries due to the relaxation of development restrictions in CRZ.
Allowing construction and tourist facilities closer to the coast may improve employment and local business, however, without strong environmental safeguards, these could damage fragile ecosystems.
The coastal environment plays an important role in India's economy by its resources, productive habitats, and rich biodiversity. The coast is a crucial frontier and must be defended against every danger. With a boost to tourism and employment opportunities, this notification is expected to go a long way in meeting the aspirations of Coastal communities besides ensuring the welfare of poor and vulnerable communities by balancing the needs in such a way that both are fulfilled. Coastal areas if properly maintained will not only benefit the coastal ecology but also ensure sustainable economic development through the development of ports and tourism.