[Editorial] Henrietta Lacks and Biomedical Ethics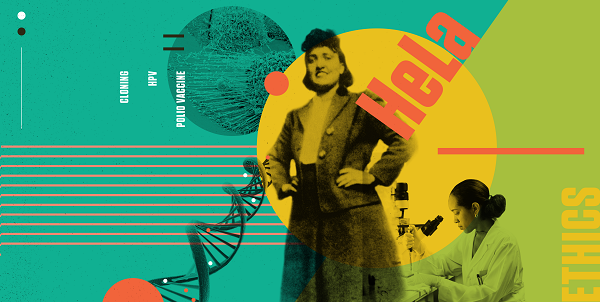 Who was Henrietta Lacks?
Henrietta Lacks was a

Black tobacco farmer

. She lived in the

USA.

She is known for being the source of the

HeLa cells

.
She died of

cervical cancer

when she was 31 years old.
What are HeLa cells?
Researchers had been faced with miserable failures when it came to growing human cells in

petri dishes

. These cells failed to divide and multiply for long.
In

1951

, the

cells of Henrietta Lacks

were found to possess a

remarkable property

. They were capable of

growing outside her body

and

dividing rapidly

. Their numbers

doubled

nearly every day.
Eventually, her cells were used for developing an

'immortal cell line'

i.e. cells capable of dividing indefinitely, outside the human body. These came to be called

'HeLa cells'

.
How were these cells used?
The cells have played a

crucial role

in many

biomedical breakthroughs

:
The cells have been sent on

space missions

to develop an understanding of the biological impacts of environmental stress.
What is the significance of these cells?
The HeLa cells enabled

experiments

that aren't possible in living persons.
These cells have featured in

more than 80,000 published biomedical research studies

.
More than

50,000 metric tonnes

of these cells have been grown and distributed worldwide. They are still used in

labs

across the world.
The biotechnology industry was built on the use of these cells.
More recently:
Lacks'

birth centenary

was celebrated on August 1st, 2020. The WHO commemorated it by launching a

global strategy for eliminating cervical cancer

expeditiously.
October 4th 2021 marked her

70th death anniversary

. This was marked with the installation of a

bronze statue

in the

University of Bristol.

WHO conferred her with a

posthumous award

.
What are the concerns?
A key problem is that her

family knew nothing

about the use of her cells. Lacks' cancer surgeon took a portion of her tumour and gave it away to a researcher without her

knowledge or consent

.
This was

legal

at the time. However, it was

unjust

and

unethical

.
The cell lines were commercially cultivated and marketed by

Thermo Fisher Scientific

, the pharmaceutical MNC. Profits from its sale ran into

several million dollars

.
The Lacks family has sued the company and has been asking the court to order Thermo Fisher to disgorge its net profits from the cell line's commercialization to the estate of Henrietta Lacks.
What are its implications for ethics in biomedical research?
How did biomedical ethics originate?
Biomedical research on human beings is governed by

ethical codes

that have evolved over the years.
Their origin can be traced to

1929

when the

National Socialist Physicians' League

was established in

Nazi Germany

. Unethical and outright murderous experiments were undertaken on the people in

concentration camps.

The

"Doctors' Trial"

was conducted in

August 1947

. This trial, in

Nuremberg

, tried

20 physicians

who were accused of

human experimentation

.
The trial gave birth to the

Nuremberg Code

– a code of ethics. The code established

obtaining voluntary consent

as the most fundamental requirement for collecting biospecimens and for enrolling people into research studies.
What is the current status?
However, wrongdoings continue to occur:

The editor-in-chief of

Annals of Human Genetics

, the

oldest human genetics journal

, resigned last year after citing discomfort in having to consider submissions from China- a country where scientists and doctors, evidently, are involved in

human rights abuses

.
The

Chinese authorities

, as part of its

surveillance program

and

criminal control program

, have been collecting

blood samples

from the people of

Xinjiang province

, without consent. In addition to this, their genetic profiles, along with

identifiable information

, are being stored for later use.
8 members of the editorial board of

Molecular Genetics & Genomic Medicine journal

resigned after the journal published papers on forensic genetics that were based on blood sample data in 2019. These papers provided

no documented evidence of taking consent

from the test subjects.
Chinese authors recently reported the results of blood sample analysis in 2 papers in the

International Journal of Legal Medicine

, without the consent of the test subjects- people of

Tibetan

,

Uyghur

and

Hui

origin. These papers were retracted.

Retraction

of scientific papers have become the

hallmark of scientific misconduct

– a scar on the integrity of its authors and on the system itself.
Several issues have become common:

plagiarism
data-doctoring
image manipulation
In India:
Retractions are increasing alarmingly in India too. Since

2010

, some

1,000 reports

have been retracted. This is according to

Retraction Watch

, the online database.
Why is this happening and what is the way ahead?
This increase in scientific misconduct is associated with certain

modalities of professional recognition

such as awards, medals, election to science academies, etc.
Misconduct is being encouraged by

promotions based on publications

in

"high-impact" journals

. Professional recognition is a precondition for

selection

as

directors

,

vice-chancellors,

secretaries of agencies

, etc. of various institutions and universities.
This has led to a

pressure

to publish more and publish rapidly. This

unrealistic aspiration

is a key reason for the erosion of scientific integrity.
Offending scientists should be stripped of their

promotions

and

accolades

. This should be especially applied to

repeat offenders

.
While considering persons for an award or for appointment as an institution's head,

background checks

for

fraudulent practices

must be carried out to the extent possible.
Conclusion:
Inaction against misconduct tends to demoralize the honest and tarnish science in the public eye. It is true that past wrongdoings can't be undone. However, "the time is always right to do what's right", as said by Martin Luther King, Jr.