[In-depth] Mining Sector in India – Prospects, Challenges and the Way Forward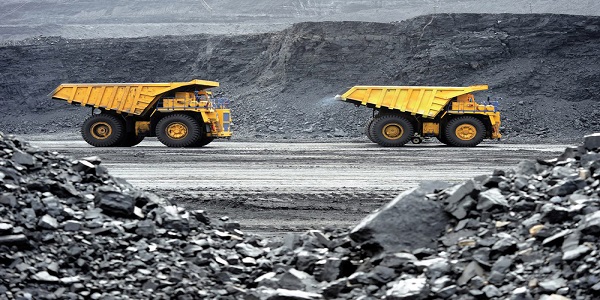 As per the latest data released by the Ministry of Mines, Government of India, mineral production in India rose by 10.9 per cent year-on-year in May 2022 led by a sharp jump in the output of coal, gold, phosphorite, and bauxite. India's mining sector has vast potential given it produces 95 minerals, including 10 metallic and 23 non-metallic. The Government is keen on prioritising coal and mining sectors as they are the major contributors to making India one of the fastest-growing economies in the world.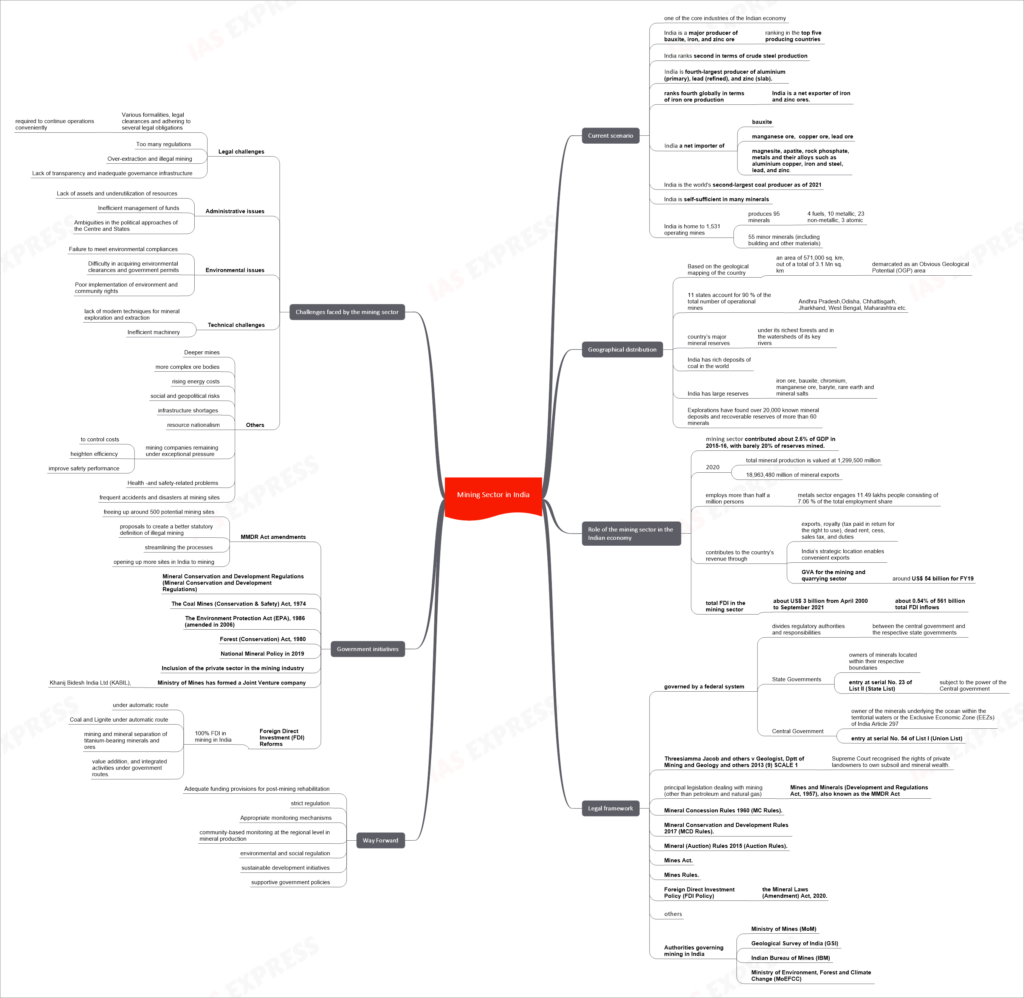 Current scenario
The mining sector in India is termed to be one of the core industries of the Indian economy for it provides basic raw materials to many important industries.
India is a major producer of bauxite, iron, and zinc ore, ranking in the top five producing countries.
Within industrial metals, India ranks second in terms of crude steel production, despite its share in the world at 5.6%, and ranks as the fourth-largest producer of aluminium (primary), lead (refined), and zinc (slab).
India is a net exporter of iron and zinc ores. India ranks fourth globally in terms of iron ore production. Production of iron ore in FY21 stood at 204.48 million tonnes. From April 2021-January 2022, iron ore production in India stood at 204 MT.

On the other hand, it is a net importer of bauxite, manganese ore, copper ore, lead ore, magnesite, apatite, rock phosphate, metals and their alloys such as aluminium copper, iron and steel, lead, and zinc. copyright©iasexpress.net

India is the world's second-largest coal producer as of 2021.

Coal production in the country stood at 715.95 million tonnes (MT) in FY21. Between April 2021- October 2021, coal production in India stood at 379.597 million tonnes (MT).
Coal production has increased considerably from 577 million tonnes (MT) in 2014 to 817 million tonnes (MT) as of July 2022.

India is self-sufficient in many minerals such as bauxite, iron ore, and zinc ore but deficient in some major minerals, such as magnesite, manganese ore, copper ore, lead ore, and rock phosphate, imported to meet domestic demand.
India is home to 1,531 operating mines and produces 95 minerals, which include 4 fuels, 10 metallic, 23 non-metallic, 3 atomic and 55 minor minerals (including building and other materials).
Geographical distribution
Based on the geological mapping of the country, an area of 571,000 sq. km, out of a total of 3.1 Mn sq. km. has been demarcated as an Obvious Geological Potential (OGP) area, where the geological potential for the occurrence of mineral deposits is higher.
11 states account for 90 % of the total number of operational mines (Andhra Pradesh, Odisha, Chhattisgarh, Jharkhand, West Bengal, Maharashtra, Tamil Nadu, Gujarat, Madhya Pradesh, Rajasthan, and Karnataka).
The country's major mineral reserves lie under its richest forests and in the watersheds of its key rivers. copyright©iasexpress.net
India has rich deposits of coal in the world. The total estimated reserves of coal in 2020 were 344.02 bn tonnes, an addition of 17.53 bn tonnes over 2019 in the corresponding period.
India has large reserves of iron ore, bauxite, chromium, manganese ore, baryte, rare earth and mineral salts as well.
Explorations have found over 20,000 known mineral deposits and recoverable reserves of more than 60 minerals and thus India has a rich inventory of mineral resources.
Role of the mining sector in the Indian economy
The sector contributed about 2.6% of GDP in 2015-16, with barely 20% of reserves mined.
The total mineral production is valued at 1,299,500 million, and 18,963,480 million of mineral exports in 2020.
The sector plays a vital role in the economy since it employs more than half a million persons, and contributes to the country's revenue through exports, royalty (tax paid in return for the right to use), dead rent, cess, sales tax, and duties.

The metals sector engages 11.49 lakhs people consisting of 7.06 % of the total employment share.
India's strategic location enables convenient exports.
India exported 13.5 million tonnes (MT) of finished steel amounting to INR one lakh crores during FY'22.

The GVA for the mining and quarrying sector was reported at around US$ 54 billion for FY19. copyright©iasexpress.net
India relies on imports more than it exports for the mining industry; however, exports have remained stable over the years.

Exports in the mining sector stood at US$ 24.66 billion for FY 20.

However, the total FDI in the mining sector has been about US$ 3 billion from April 2000 to September 2021, about 0.54% of 561 billion total FDI inflows during this period, which is abysmal given India's mineral endowments.

Yet positive steps are being taken by the Government in this direction to ensure a high flow of FDI in this sector and raise the level of its contribution to the economy.
Legal framework
India's central government and state governments are jointly responsible for the mining sector's administration.

The industry is governed by a federal system that divides regulatory authorities and responsibilities between the central government and the respective state governments.

The State Governments are the owners of minerals located within their respective boundaries.
The Central Government is the owner of the minerals underlying the ocean within the territorial waters or the Exclusive Economic Zone (EEZs) of India under Article 297.

The entry at serial No. 23 of List II (State List) to the Constitution of India deals with mining-related issues under the purview of the State government.

The State governments' power to regulate mines and mineral development under entry 23 of the State List is subject to the power of the Central government. copyright©iasexpress.net

The entry at serial No. 54 of List I (Union List) to the Constitution of India gives the central government the power to regulate mines and mineral development to the extent that such a regulation is declared by the Parliament to be in the public interest.
However, in the case of Threesiamma Jacob and others v Geologist, Dptt of Mining and Geology and others 2013 (9) SCALE 1, the Supreme Court recognised the rights of private landowners to own subsoil and mineral wealth.

The principal legislation dealing with mining (other than petroleum and natural gas) in India is the Mines and Minerals (Development and Regulations Act, 1957), also known as the MMDR Act, which was introduced to ensure smooth mining operations by adhering to the objective of sustainable mining and allowing growth and development in the mining sector.

The Act has been amended from time to time to accommodate the unforeseen requirements of this sector. It was amended in 2015, 2016, 2020 and the latest being the Mines and Minerals (Development and Regulation) Amendment Act 2021.
Rule-making powers in respect of minor minerals have been delegated to the States under section 15 of the MMDR Act.

Along with MMDR Act, there are several other laws dealing with the mining sector. These are:

Mineral Concession Rules 1960 (MC Rules). copyright©iasexpress.net
Mineral Conservation and Development Rules 2017 (MCD Rules).
Mineral (Auction) Rules 2015 (Auction Rules).
Mines Act.
Mines Rules.
Offshore Areas Mineral (Development and Regulation) Act 2002 (OAMDR Act).
Offshore Areas Mineral Concession Rules 2006 (OAMDR Rules).
Mines and Minerals (Contribution to District Mineral Foundation) Rules 2015.
Coal Block Allocation Rules 2017 (Coal Block Allocation Rules).
Mineral Concession (Amendment) Rules, 2020 and Mineral Auction Amendment Rules, 2020.
Foreign Direct Investment Policy (FDI Policy), as amended from time to time, such as the Mineral Laws (Amendment) Act, 2020.

Authorities governing mining in India

The Ministry of Mines (MoM) which is responsible for

the survey and exploration of all minerals (other than coal, natural gases and petroleum)
mining and metallurgy of non-ferrous metals; and
administration of the MMDR Act.

The Geological Survey of India (GSI) which is attached to the Ministry of Mines (MoM) creates and updates national geoscientific data and mineral resource assessments.
The Indian Bureau of Mines (IBM) which is subordinate to the Ministry of Mines is mainly responsible for regulating and ensuring the systematic development of mining in India.

It is engaged in the promotion, conservation and scientific development of mineral resources while ensuring the protection of the environment.

The Ministry of Environment, Forest and Climate Change (MoEFCC) is responsible for the planning and implementation of India's environmental and forestry policies and programmes.

A project proponent must obtain environmental clearance from the MoEFCC to undertake a mining project in India. copyright©iasexpress.net
Challenges faced by the mining sector
Legal challenges

Various formalities, legal clearances and adhering to several legal obligations are required to continue operations conveniently which in turn make the mining activities unviable and unprofitable.

Too many regulations in place further hinder the progress of the sector.

Over-extraction and illegal mining. Reports estimate the existence of almost 115,000 illegal mines.

Lack of transparency and inadequate governance infrastructure.

Administrative issues

Lack of assets and underutilization of resources especially under the control of public sector units.

Inefficient management of funds.

Ambiguities in the political approaches of the Centre and States in mine auction and regulation further exacerbate the problem.

Environmental issues

Failure to meet environmental compliances has led to the closure of several mines.

Difficulty in acquiring environmental clearances and government permits in certain areas due to the possibility of adverse effects on the population and environment add to it.

Poor implementation of environment and community rights is another area of concern.

Technical challenges

The lack of modern techniques for mineral exploration and extraction hampers the progress of the sector.

Inefficient machinery is another such problem.

Others

Deeper mines, more complex ore bodies, rising energy costs, social and geopolitical risks, infrastructure shortages and resource nationalism, and mining companies remaining under exceptional pressure to control costs, heighten efficiency and improve safety performance further add to the problem. copyright©iasexpress.net

Health -and safety-related problems and frequent accidents and disasters at mining sites.
Government initiatives
India is moving quickly with plans to revamp its mining sector to achieve its goal of making India a $5 trillion economy.
The Government of India has amended the MMDR Act from time to time.

The latest amendments include certain amended provisions that would free up around 500 potential mining sites that have been rendered inaccessible by existing regulatory frameworks. This would boost exploration and mine development work.
There are further proposals to create a better statutory definition of illegal mining which was previously ambiguous.
Thus, these reforms are largely targeted at streamlining the processes and opening up more sites in India to mining, while also levelling the playing field between private enterprise and state-owned endeavours.
It also has provisions for keeping the country in line with the Sustainable Development Framework through enactments toward environmental protection.

Besides the MMDR Act, the following rules and regulations act as a catalyst in countering the challenges faced by the mining sector.

Mineral Concession Rules 1960 (MC Rules): These rules lay the foundation for granting concessions, rejecting applications, keeping accounts, and submitting reports to state governments.
Mineral Conservation and Development Regulations (Mineral Conservation and Development Regulations): These regulations set the standards to be met to ensure that mining is done in a scientifically sound manner while also protecting the environment. copyright©iasexpress.net
Mineral (Auction) Rules 2015 (Auction Rules): These rules lay the foundation for granting significant mineral concessions through an online electronic auction.
Mines Act: This Act establishes rules for mine worker safety and working conditions and provisions for mine administration and operation.
Offshore Areas Mineral Concession Rules 2006 (OAMDR Rules): The process for granting and renewing mineral resource concessions in offshore areas is outlined in these guidelines.
The Coal Mines (Conservation & Safety) Act, 1974, is aimed at improving the efficiency of coal, promoting technology for reducing damage to the environment, conservation of coal resources and others.
The Water (Prevention and Control of Pollution) Act, 1974.
The Water (Prevention and Control of Pollution) Cess Act, 1977.
The Air (Prevention and Control of Pollution) Act, 1981.
The Environment Protection Act (EPA), 1986 (amended in 2006) and the Forest (Conservation) Act, 1980.

These are aimed at monitoring mining activities for the protection of the environment during all the phases of a mineral resource extraction cycle including planning, production process, and closure.

Hazardous and Other Wastes Rules 2016, Solid Waste Management Rule 2016, Noise Pollution Rules 2000, Construction and Demolition Waste Management Rules 2016, and Ozone Depleting Substances Rules 2000 are some other rules regulating the sector to protect the environment.
The implementation of the National Mineral Policy in 2019 presents a significant investment opportunity in India and incorporates the public trust doctrine, intergenerational equity principle, and ownership of natural resources as commons. copyright©iasexpress.net
The inclusion of the private sector in the mining industry has also played a dominant role in increasing mineral production accounting for 67.33% of the total value.
The Ministry of Mines has formed a Joint Venture company, Khanij Bidesh India Ltd (KABIL), with National Aluminium Company Ltd (NALCO), Hindustan Copper Ltd (HCL), and Mineral Exploration Corporation Ltd (MECL) as partners to ensure the nation's mineral security and achieve self-reliance in critical and strategic minerals.
Foreign Direct Investment (FDI) Reforms

100% FDI in mining in India is allowed under automatic route.
100% FDI in the mining sector in India is allowed in Coal and Lignite under automatic route.
100% FDI in the mining sector is allowed in mining and mineral separation of titanium-bearing minerals and ores, value addition, and integrated activities under government routes.
Way Forward
The mining sector possesses vast potential for a considerable contribution to the Indian economy and thus efforts are needed to provide a boost to the sector. Adequate funding provisions for post-mining rehabilitation and strict regulation of the same should be ensured. Appropriate monitoring mechanisms with community-based monitoring at the regional level in mineral production, environmental and social regulation and sustainable development initiatives with supportive government policies in place may be the way forward. copyright©iasexpress.net
Practice Question
Q. Why does India fail to attract adequate FDI in the mining sector? Suggest some measures to boost the inflow of FDI in this sector.