Manned Missions to Space – History, Gaganyaan Mission and the Humans in Space Policy for India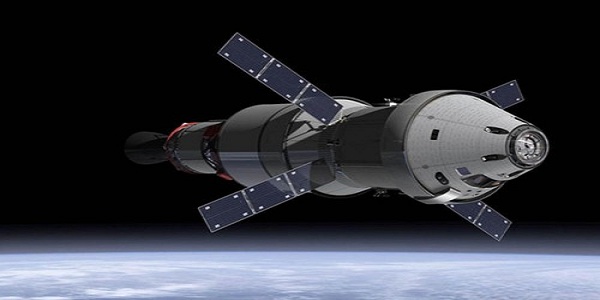 As India plans to launch 'Gaganyaan' and have a sustained human presence in space, the subject of manned missions to space becomes an important issue to discuss. With countries like Russia, the U.S, and few others successfully sending their manned space flights in space, India endeavors to join the group of these nations simultaneously. With the Indian space sector getting a boost and hopes held high, it is time that the various aspects of humans in space are looked at and prospects of such plans are discussed.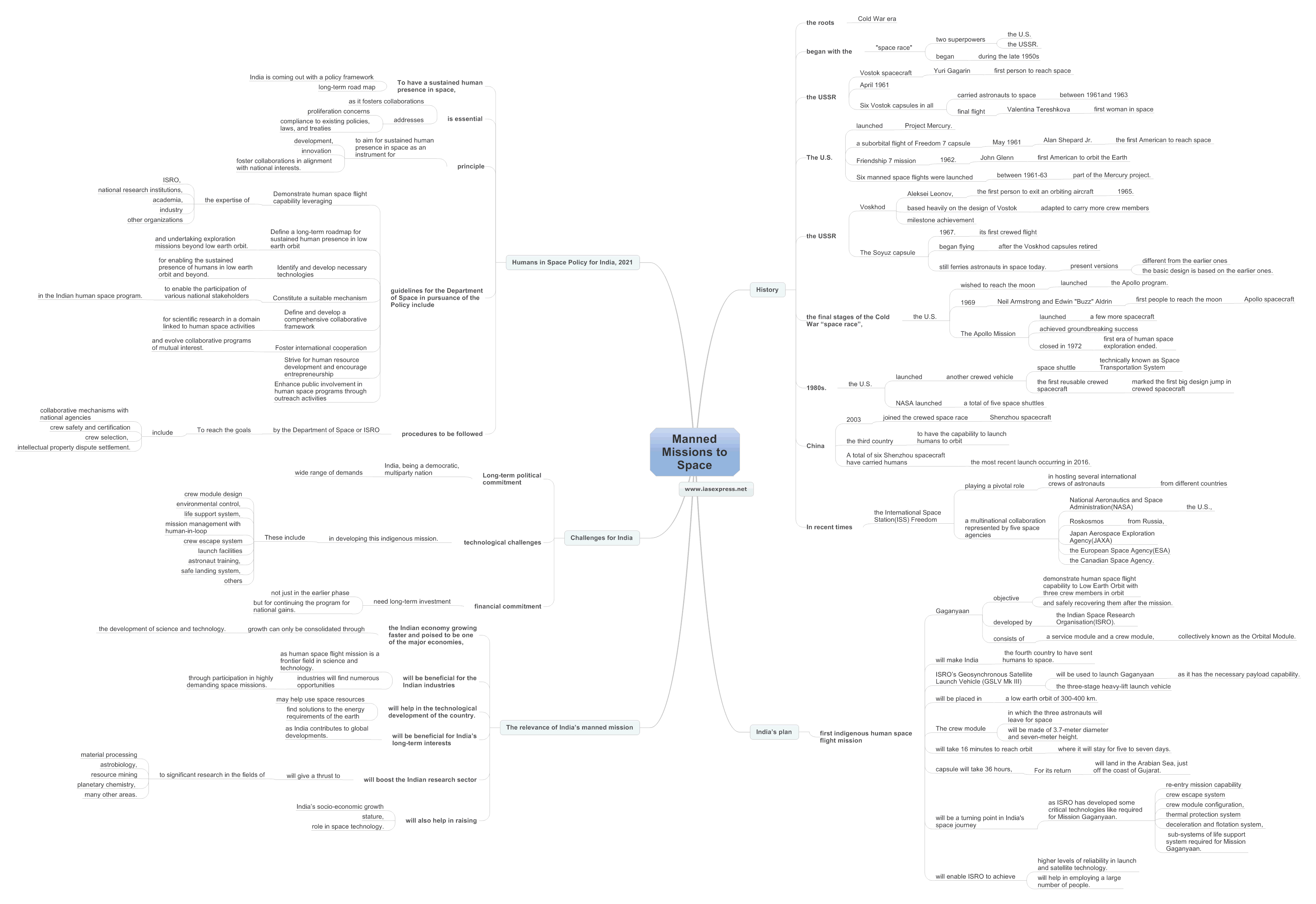 History
If one goes deep into the history of manned missions to space, the roots can be traced back to the Cold War era. All of it began with the "space race" between the two superpowers- the U.S. and the USSR. The race began during the late 1950s and then the story went on with different space flights launched at different times.
Yuri Gagarin of the USSR was the first person to reach space in April 1961. He orbited the Earth in a Vostok spacecraft. Six Vostok capsules in all carried astronauts to space between 1961and 1963. Valentina Tereshkova was the first woman in space who went aboard in the final flight of the capsule.
The U.S. striving to beat the USSR in the "space race" launched its crew vehicle in Project Mercury. Alan Shepard Jr. became the first American to reach space in May 1961. He was launched aboard a suborbital flight of Freedom 7 capsule
John Glenn became the first American to orbit the Earth on the Friendship 7 mission in 1962. Six manned space flights were launched between 1961-63 being part of the Mercury project.
As the missions of that era grew longer, the astronauts became more adept at living within their spacecraft in space. Aleksei Leonov, a Soviet astronaut became the first person to exit an orbiting aircraft in 1965. It was a Voskhod flight. This capsule was based heavily on the design of Vostok but adapted to carry more crew members. It was a milestone achievement by the USSR.
The Soyuz capsule of the USSR launched its first crewed flight in 1967. It began flying after the Voskhod capsules retired and still ferries astronauts in space today. Although the present versions are different from the earlier ones yet the basic design is based on the earlier ones.
In the final stages of the Cold War "space race", the U.S. wished to reach the moon and thus launched the Apollo program.
In 1969, Neil Armstrong and Edwin "Buzz" Aldrin became the first people to reach the moon on the Apollo spacecraft. The Apollo Mission launched a few more spacecraft and achieved groundbreaking success. The Apollo Missions closed in 1972 and the first era of human space exploration ended.
After a long gap, the U.S. launched another crewed vehicle called space shuttle in the 1980s. It was the first reusable crewed spacecraft. The shuttles(technically known as Space Transportation System) also marked the first big design jump in crewed spacecraft. NASA launched a total of five space shuttles of which two met fatal accidents and caused a loss of around seven astronauts. NASA decided to retire the remaining three aging space shuttles in 2011.
China joined the crewed space race in 2003 by launching the Shenzhou spacecraft. It made China the third country to have the capability to launch humans to orbit. A total of six Shenzhou spacecraft have carried humans, with the most recent launch occurring in 2016.
In recent times, the International Space Station(ISS) Freedom is playing a pivotal role in hosting several international crews of astronauts from different countries. It is a multinational collaboration represented by five space agencies which include the National Aeronautics and Space Administration(NASA) from the U.S., Roskosmos from Russia, Japan Aerospace Exploration Agency(JAXA), the European Space Agency(ESA), and the Canadian Space Agency.
India's plan
India's first indigenous human space flight mission is Gaganyaan as part of the Indian Human Spaceflight Programme. The objective of this mission is to demonstrate human space flight capability to Low Earth Orbit with three crew members in orbit and safely recovering them after the mission.
The spacecraft is being developed by the Indian Space Research Organisation(ISRO).
The spacecraft consists of a service module and a crew module, collectively known as the Orbital Module.
It will be the first time that India will launch its manned mission to space. This mission will make India the fourth country to have sent humans to space.
ISRO's Geosynchronous Satellite Launch Vehicle (GSLV Mk III), the three-stage heavy-lift launch vehicle, will be used to launch Gaganyaan as it has the necessary payload capability.
The spacecraft will be placed in a low earth orbit of 300-400 km.
The crew module, in which the three astronauts will leave for space, will be made of 3.7-meter diameter and seven-meter height.
The human spaceflight will take 16 minutes to reach orbit where it will stay for five to seven days.
For its return, the capsule will take 36 hours, and will land in the Arabian Sea, just off the coast of Gujarat.
The mission will be a turning point in India's space journey as ISRO has developed some critical technologies like re-entry mission capability, crew escape system, crew module configuration, thermal protection system, deceleration and flotation system, sub-systems of life support system required for Mission Gaganyaan.
The mission will enable ISRO to achieve higher levels of reliability in launch and satellite technology. It will help in employing a large number of people.
The relevance of India's manned mission
When nations like the U.S, Russia, and China are looking forward to more manned space missions and explore space, it is time India has strategies and goals for manned missions too.
With the Indian economy growing faster and poised to be one of the major economies, the growth can only be consolidated through the development of science and technology.
It will be beneficial for the Indian industries as human space flight mission is a frontier field in science and technology. Indian industries will find numerous opportunities through participation in highly demanding space missions.
It will help in the technological development of the country. These missions may help use space resources and find solutions to the energy requirements of the earth.
It will be beneficial for India's long-term interests as India contributes to global developments.
It will boost the Indian research sector as it will give a thrust to significant research in the fields of material processing, astrobiology, resource mining, planetary chemistry, and many other areas.
It will also help in raising India's socio-economic growth, stature, and role in space technology.
Challenges for India
Long-term political commitment for manned missions is an important challenge that India will have to face. India, being a democratic, multiparty nation has to cater to a wide range of demands. Therefore, it becomes difficult to decide on the long-term development of manned missions to space. It will be important to have a strong political will for a long-term development exercise like manned missions.
There are key technological challenges that India may face in developing this indigenous mission. These include crew module design, environmental control, life support system, mission management with human-in-loop, crew escape system, launch facilities, astronaut training, safe landing system, and so on.
The financial commitment is another important challenge as human space flight missions need long-term investment not just in the earlier phase but for continuing the program for national gains.
Humans in Space Policy for India, 2021
To have a sustained human presence in space, India is coming out with a policy framework and long-term road map. This is the Humans in Space Policy for India, 2021. The policy framework is essential as it not only fosters collaborations but also addresses proliferation concerns and compliance to existing policies, laws, and treaties. The principle of the policy is to aim for sustained human presence in space as an instrument for development, innovation and foster collaborations in alignment with national interests.
The guidelines for the Department of Space in pursuance of the Policy include :
 Demonstrate human space flight capability leveraging the expertise of ISRO, national research institutions, academia, industry, and other organizations.
 Define a long-term roadmap for sustained human presence in low earth orbit and undertaking exploration missions beyond low earth orbit.
Identify and develop necessary technologies for enabling the sustained presence of humans in low earth orbit and beyond.
 Constitute a suitable mechanism to enable the participation of various national stakeholders in the Indian human space program.
Define and develop a comprehensive collaborative framework for scientific research in a domain linked to human space activities keeping in mind the national priorities.
 Foster international cooperation and evolve collaborative programs of mutual interest.
 Strive for human resource development and encourage entrepreneurship.
 Enhance public involvement in human space programs through outreach activities.
To reach the goals, the Policy prescribes a few procedures to be followed by the Department of Space or ISRO which include collaborative mechanisms with national agencies, crew safety and certification, crew selection, and intellectual property dispute settlement.
Way forward
Human space flights have led to large economic and technological benefits worldwide. Such innovations are critical to technological innovation and advancement, scientific discovery, security, industrial competitiveness, job creation, and human resource development. This field is transforming at all levels as non-traditional players are also entering this domain. Hence, it is time that these programs and missions are sustained for the long-term and be promoted to bring tangible benefits to humankind.
Practise Question
Q. Comment on India's plan to launch a manned mission to space and the challenges lying ahead.
Learn More