ISRO has recently launched GSAT-29 communication satellite successfully on board GSLV-Mk III D2 from Satish Dhawan Space Centre at Sriharikota. With this launch, GSLV Mk III completed the test flights and is declared operational, thus joining the ranks of the working vehicles such as PSLV. Besides, this launch serves as a major boost for Chandrayaan-II (moon) and Gaganyaan (manned) missions.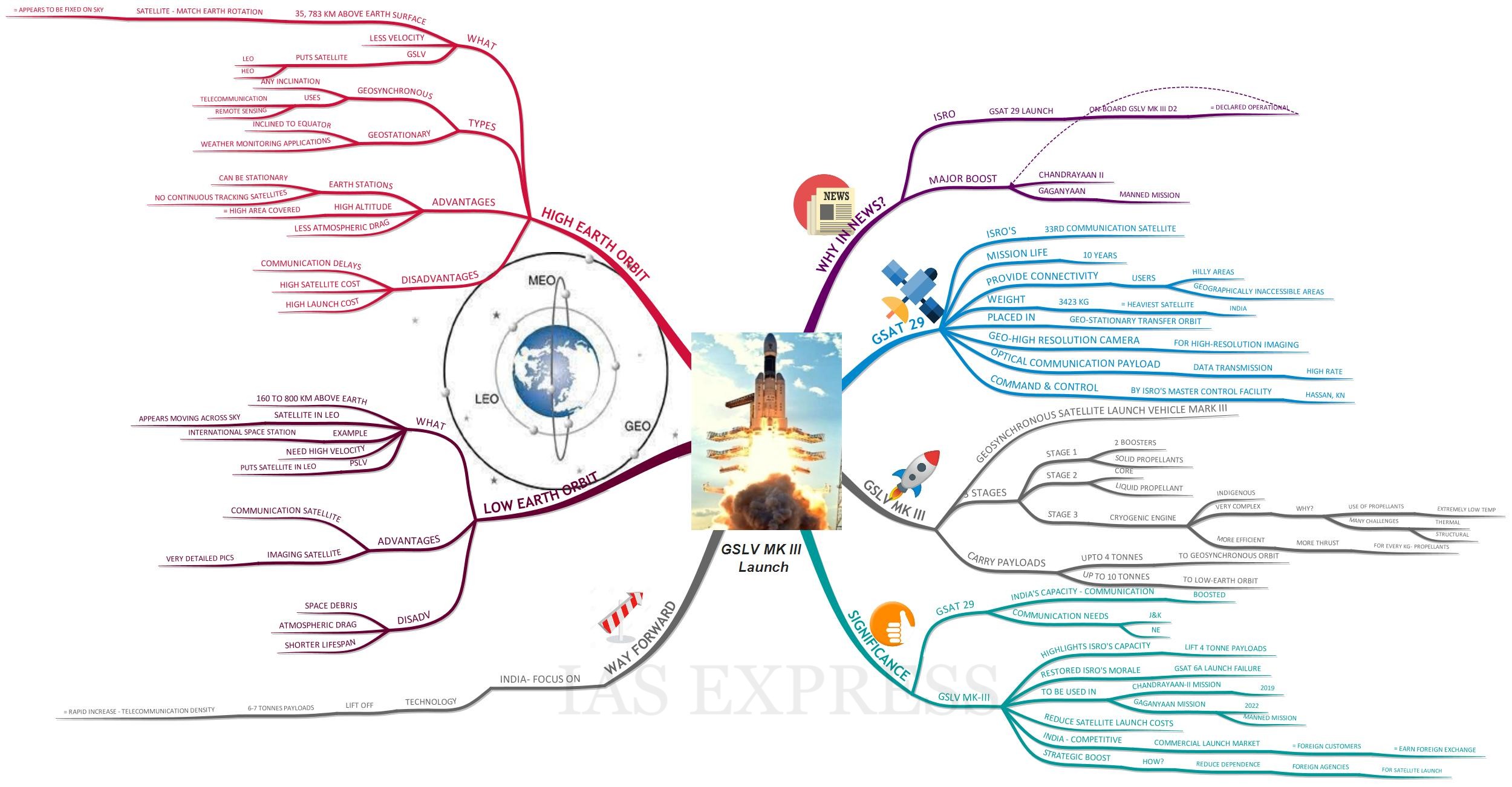 What are the key features of GSAT-29?
33rd communication satellite built by ISRO.
Mission life is 10 years.
Focus on providing connectivity to the users in the hilly and geographically inaccessible areas.
Weight is 3423 kg = Heaviest satellite to be launched from India.
Placed in a geostationary transfer orbit (learn the basics at the end).
Geo High-Resolution Camera for high-resolution imaging.
Optical communication payload for data transmission at a very high rate.
Command and control of satellite by ISRO's Master Control Facility at Hassan, Karnataka.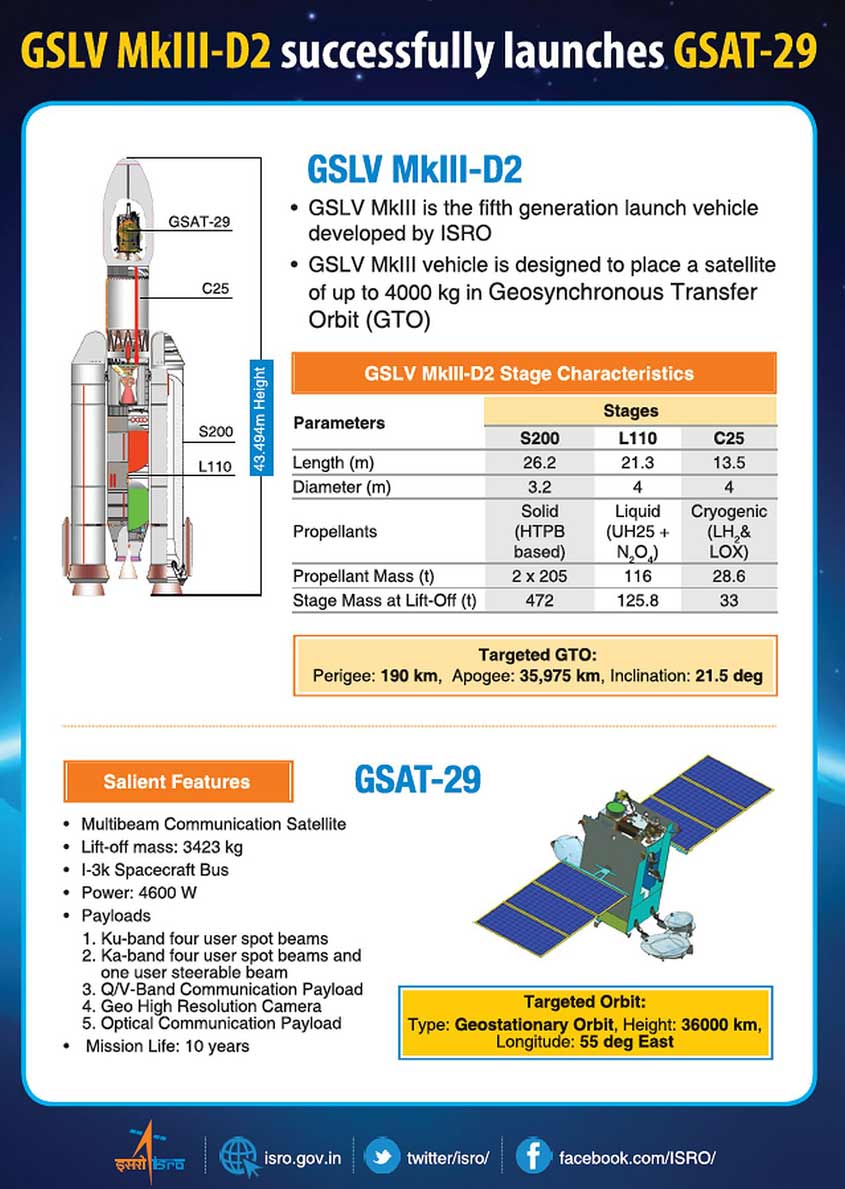 What are the key features of GSLV MK- III?
Geosynchronous Satellite Launch Vehicle Mark III (It is a rocket).
3 stages

Stage 1 – two boosters with solid propellants (fuel).
Stage 2 – Core with liquid propellant.
Stage 3 – Cryogenic engine (indigenous).

Heaviest launch vehicle made in India at 640 tonnes.
Can carry payloads.

up to 4 tonnes – to the geosynchronous transfer orbit.
up to 10 tonnes – to a low-earth orbit.
What is the difference between the cryogenic stage and other stages?
Compared to solid and liquid propellant stages, the cryogenic stage is very complex because

It involves the use of propellants at extremely low temperatures (Cryo).
It has many thermal and structural challenges.

Cryogenic is more efficient and provides more thrust for every kg of propellant it burns.
What is the significance of this launch?
GSAT 29
Increases India's capacity to meet its communication requirements.
Satisfy the communication needs of people in J&K and the Northeast.
GSLV Mk-III
Highlights ISRO's capability to lift off 4-tonne grade payloads.
Restored morale of ISRO which had been dented by the failure in the GSAT 6A launch.
GSLV Mk III is also likely to be used in the Chandrayaan-II mission in 2019.
It will reduce the satellite launch costs as India is currently dependent on foreign agencies to launch heavier satellites (3 tonnes or more).
It will also increase India's capability to be a competitive player in the multimillion-dollar commercial launch market. It will help in earning foreign exchange with foreign customers using the services of GSLV Mk III provided by ISRO.
It gives a strategic boost in this high tech sector due to the reduction of dependence on foreign agencies.
This successful flight will also constitute a series of experimental flights that will help in developing the heaviest rocket for the manned space missions of ISRO. ISRO's manned mission Gaganyaan is expected to lift off three Indian astronauts into space for a 7 days trip to the Low-earth Orbit. The mission is intended to be launched in 2022.
Way forward
GSAT 29 – GSLV Mk III launch is the significant step for India to expand its capacity of communication systems. Now India should concentrate on expanding the technology to lift a payload of about 6 to 7 tonnes as many developed nations have this capacity. This would help in the rapid increase of the telecommunication density in India considering the rising aspirations of the people.
Basics:
What is Low Earth Orbit?
It is the spot about 160 to 800 km above the Earth.
Satellites in LEO appears traveling across the sky from the Earth.
The International Space Station (ISS) is in LEO between 320 km and 400 km above the Earth surface.
LEO satellites need a higher velocity than Geostationary satellites.
ISRO's PSLVs (Polar Satellite Launch Vehicle) puts the satellites in LEO.
Advantages

LEO is suitable for communication and imaging satellites.

Due to the low altitude, communication signals need less power and time to travel between the Earth stations and the satellites.
Imaging satellites can capture very detailed pictures at LEO.

LEO satellites are easier to build and less expensive.

Disadvantages

The popularity and ease of launching a satellite into LEO have caused the problem of space debris. In fact, the ISS uses layers of shields to protect itself from space debris.
Satellites in this orbit have to deal with atmospheric drag. Atmospheric drag is caused by frequent collisions of gas molecules in the atmosphere with the satellite. It is the major cause of orbital decay for satellites in low Earth orbit. It leads to a reduction in the altitude of a satellite's orbit.
They generally have a shorter lifespan compared to HEO satellites.
Also read: Nuclear Power Generation in India – Complete Analysis
What is High earth orbit (HEO)?
The spot above the earth where a satellite can match the same rotation of the Earth (23 hours, 56 minutes and 4.09 seconds).
The spot is located at 35,786 km above the Earth surface.
If you observe from the ground, you would see the satellite as if it is in a fixed position without movement.
HEO satellites need a very less velocity compared to LEO satellites.
ISRO's GSLV can place both LEO and HEO satellites into their orbit.
Two types – geosynchronous and geostationary.

Geosynchronous satellites

can have any inclination
Useful for telecommunications and other remote sensing applications.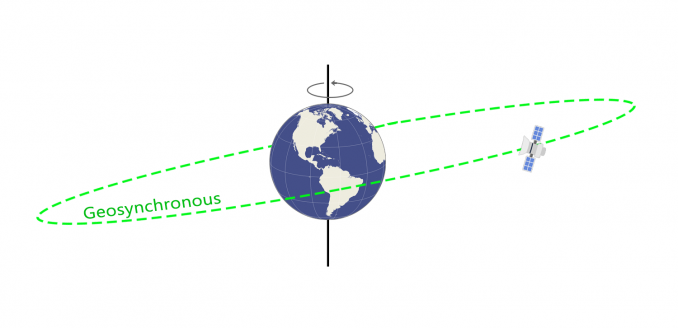 Geostationary satellites

Inclined to the equator
Useful for weather monitoring applications.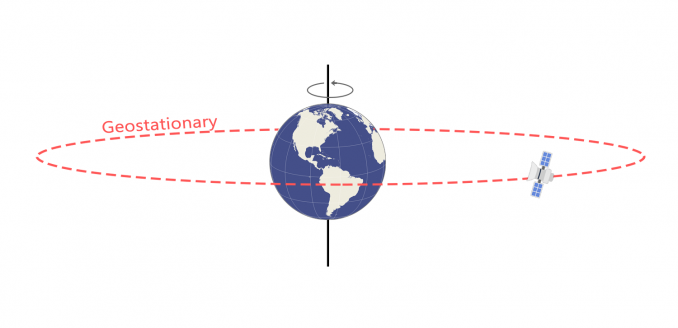 Advantages

Earth stations can be stationary. They don't have to track satellites continuously as opposed to LEO satellites.
Coverage area from this altitude is pretty good.
Less exposure to atmospheric drag

Disadvantages

Communication delays due to the vast distance from Earth stations. To traverse the large gap, signals need more power = increases the satellite cost.
High costs of launching a satellite into this orbit.