Solid Waste Management in India – Issues & Responses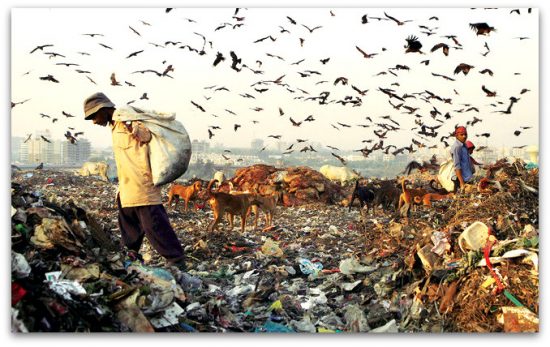 One of the most serious issues arising out of the wave of rapid urbanization and the resultant lifestyle changes is the management of domestic and industrial solid wastes generated domestically as well as in different industries adjoining or inside the cities.
Not just the amount, but the nature of the solid waste is also changing with the growing share of plastics and packaging materials.
Municipal laws regulating the urban local bodies are unable to deal effectively with the growing problem of solid waste management.
One of the most important aspects of Solid Waste Management is dealing with the garbage dumpsites/Landfills of the cities- most of them being open and nearby to residential areas.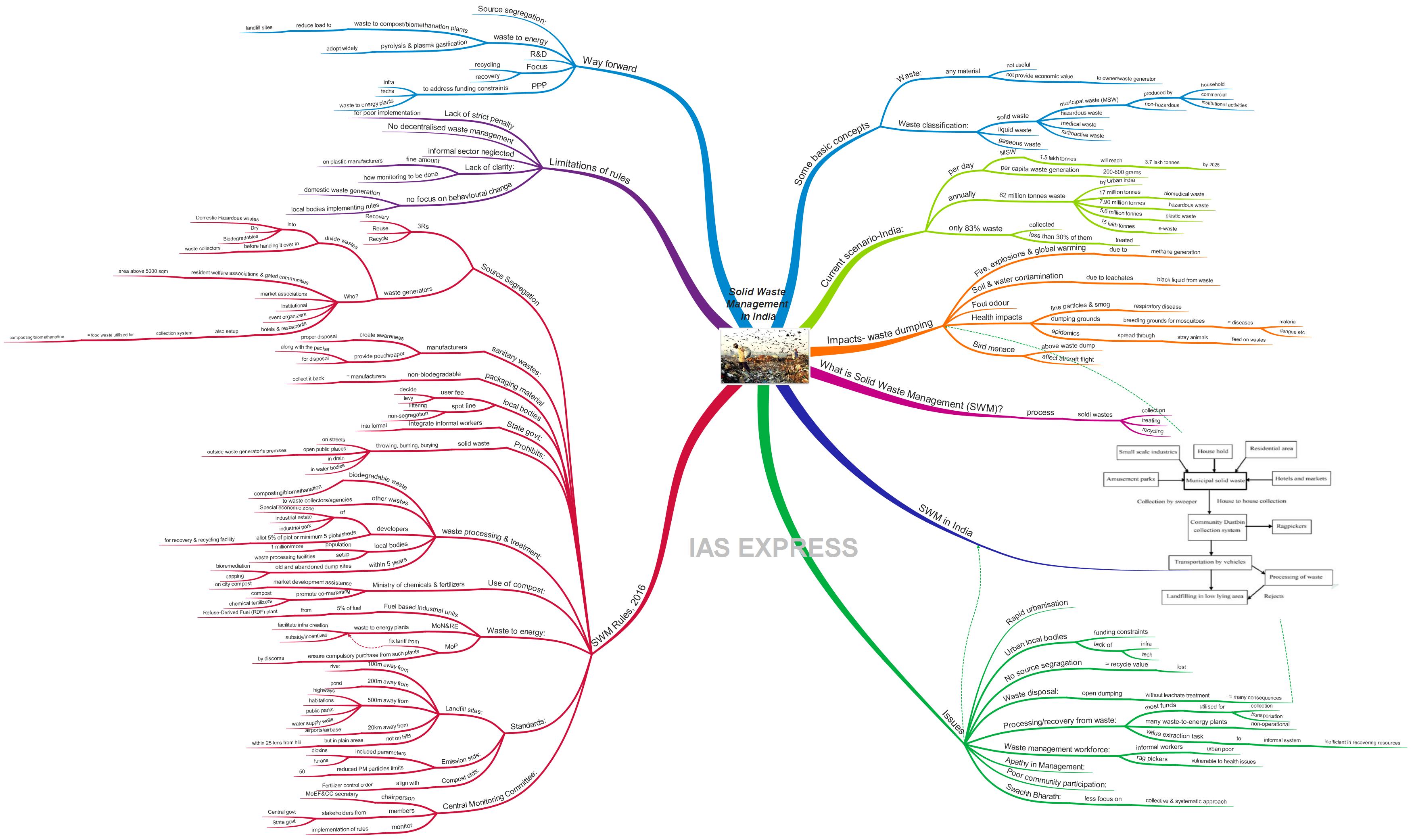 Mindmap Learning Programme (MLP)
Absorb information like a sponge!
Some Basic Concepts:
Waste: It refers to any material that is not useful and does not provide any economic value to its owner, the owner being the waste generator.
Classification of waste: Based on the physical state of waste, wastes are classified into solid, liquid and gaseous. Solid Wastes are classified into municipal wastes, hazardous wastes, medical wastes, and radioactive wastes.
Municipal Solid Waste (MSW): It refers to any waste produced by household, commercial and/or institutional activities and is not hazardous.
What is the present scenario of waste management in India?
India generates around 1.5 lakh tonnes of municipal solid waste (MSW) every day.
The per capita waste generation in Indian cities ranges from 200 grams to 600 grams per day.
According to MoEF&CC, 62 million tonnes of waste is generated annually in the country by the 377 million people living in urban India, the world's third-largest garbage generator at present,

out of which 5.6 million tonnes are plastic waste,
17 million tonnes is a biomedical waste,
hazardous waste generation is 7.90 million tonnes per annum and
15 lakh tonnes is e-waste.

According to the World Bank, India's daily waste generation will reach 377,000 tonnes by 2025.
Only 83% of waste is collected and less than 30% of those wastes are treated.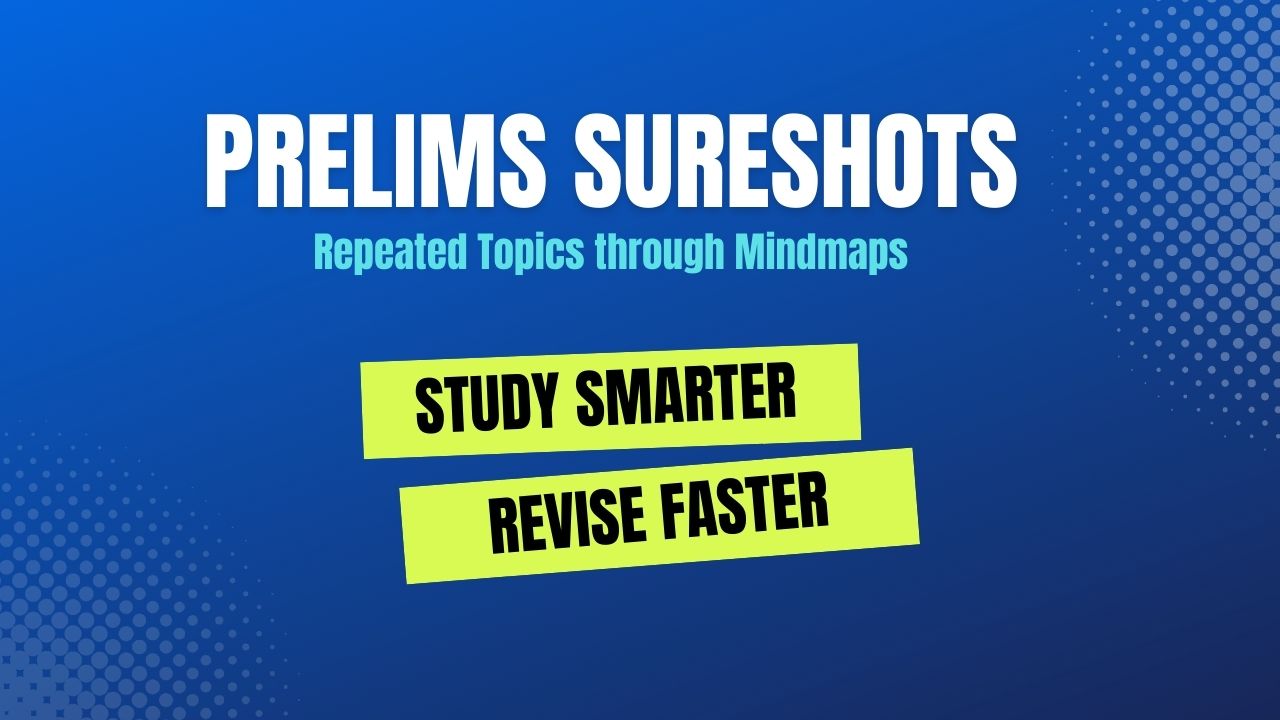 What are the impacts of Waste Dumping? 
Fire, explosions & Global Warming: Release of methane from decomposition of biodegradable waste under anaerobic conditions which can cause fires and explosions. It is also a major contributor to global warming.
Soil & water contamination: Leachate, which is a black liquid oozing out from the waste as it slowly decomposes over a period of 25 to 30 years, contaminates soil and groundwater. Most landfills in India are without bottom liners and sideliners, which allows the Leachate to seep into the ground causing an increase in soil acidity and groundwater pollution. Surface water would also get contaminated due to a run-off on the waste dump.
Foul odor: from the waste rotting in airless heaps, and smoke from the fires that routinely erupt in them, are other consequences of dumping waste in the open.
Health Impacts:
Uncontrolled burning of waste releases fine particles and smog which are a major cause of respiratory disease.
Dumping sites act as breeding grounds for mosquitoes = increasing the risk of diseases such as malaria, dengue, etc.
Spread of epidemics due to stray animals which primarily feed on the wastes in open dumping sites.
Bird Menace: above the waste dump affecting the flight of aircraft.
What is Solid Waste Management?
It is a term that is used to refer to the process of collecting and treating solid wastes.
It also includes solutions for recycling items that do not belong to garbage or trash.
How solid wastes are managed in India?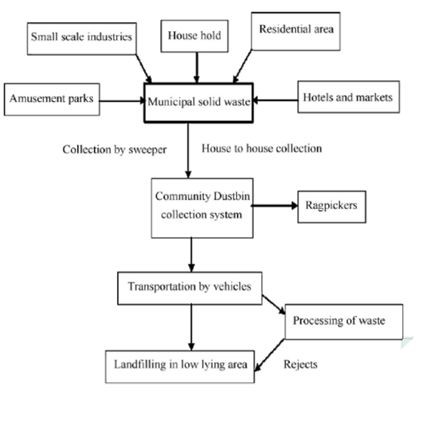 What are the issues/challenges with the waste Management system in India?
Rapid urbanisation: With rapid urbanisation, there is a substantial increase in the solid waste generation which has strained the Solid Waste Management System.
Funding constraints: Most Urban local bodies in India struggle to provide efficient waste management services due to financial problems, lack of infrastructure and technology.
Issues with segregation: Though solid waste management rules mandate source segregation of wastes, it has largely not been followed. Due to improper segregation of waste, much of recyclability of waste is lost.
Disposal of waste: Most of the municipal authorities deposit solid waste at open dump sites without any leachates treatment. These sites emanate foul smell and are breeding grounds for pests and insects causing disease. Liquid seeping out of waste pollutes groundwater and poses a serious threat to health and the environment. Further, these landfill sites are also responsible for air pollution.
Processing/ recovery from waste: Most of the funds for solid waste management is allotted to collection and transportation, with very less left for processing or resource recovery and disposal. Also, many waste-to-energy plants are non-operational. Urban local governments leave the task of value extraction to the informal system of garbage collectors and recyclers. These informal systems are inefficient in recovering resources in discarded materials as they are just dumped rather than sorting out the wastes.
Waste management sector- Workforce: The waste management sector in India is constituted primarily of the informal workers who come from the urban poor. The rag pickers, who are instrumental in waste recycling, are highly vulnerable to health damages owing to poor work conditions.
Apathy on the part of management and also poor community participation is a major constraint in solid waste management in India.
Swachh Bharath: Moreover, the Swachh Bharat programme, intended to address all these, focuses too narrowly on individual action rather than a collective systematic approach.
What are the salient features of Solid Waste Management Rules, 2016? 
Segregation at source
The new rules have mandated the source segregation of waste in order to channelize the waste to wealth by 3Rs (recovery, reuse and recycle).
Waste generators would now have to now segregate waste into three streams- Biodegradables, Dry (Plastic, Paper, metal, Wood, etc.) and Domestic Hazardous waste (diapers, napkins, mosquito repellants, cleaning agents, etc.) before handing it over to the collector.
Institutional generators, market associations, event organizers and hotels and restaurants have been directly made responsible for segregation and sorting the waste and manage in partnership with local bodies.
All hotels and restaurants will also be required to segregate biodegradable waste and set up a system of collection to ensure that such food waste is utilized for composting / biomethanation.
The rules mandate that all resident welfare and market associations and gated communities with an area of above 5,000 sqm will have to segregate waste at source into material like plastic, tin, glass, paper, and others and hand over recyclable material either to authorized waste-pickers and recyclers or to the urban local body.
Collection and disposal of sanitary waste:
The manufacturers or brand owners of sanitary napkins are responsible for awareness for proper disposal of such waste by the generator and shall provide a pouch or wrapper for disposal of each napkin or diapers along with the packet of their sanitary products.
Collect Back scheme for packaging waste:
As per the rules, brand owners who sell or market their products in packaging material which are non‐biodegradable should put in place a system to collect back the packaging waste generated due to their production.
User fees for collection:
The new rules have given power to the local bodies across India to decide the user fees. Municipal authorities will levy user fees for collection, disposal, and processing from bulk generators.
As per the rules, the generator will have to pay "User Fee" to the waste collector and a "Spot Fine" for littering and non-segregation, the quantum of which will be decided by the local bodies.
Also, the integration of rag pickers, waste pickers, and kabadiwalas from the informal sector to the formal sector would be done by the state government.
The rules also stipulate zero tolerance for throwing; burning, or burying the solid waste generated on streets, open public spaces outside the generator's premises, or in the drain, or water bodies.
Waste processing and treatment
It has been advised that the bio-degradable waste should be processed, treated and disposed of through composting or bio-methanation within the premises as far as possible and the residual waste shall be given to the waste collectors or agency as directed by the local authority.
The developers of Special Economic Zone, industrial estate, industrial park to earmark at least 5 percent of the total area of the plot or minimum 5 plots/ sheds for recovery and recycling facility.
Waste processing facilities will have to be set up by all local bodies having a population of 1 million or more within two years.
Also, the rules have mandated bio‐remediation or capping of old and abandoned dump sites within five years.
Promoting the use of compost
The Department of Fertilizers, Ministry of Chemicals and Fertilizers should provide market development assistance on city compost and ensure the promotion of co‐marketing of compost with chemical fertilizers.
Promotion of waste to energy
The SWM Rules, 2016 emphasize the promotion of waste to energy plants. The rules mandate all industrial units using fuel and located within 100 km from a solid waste-based Refuse-Derived Fuel (RDF) plant to make arrangements within six months from the date of notification of these rules to replace at least 5 percent of their fuel requirement by RDF so produced.
As per the rules, the Ministry of New and Renewable Energy Sources should facilitate infrastructure creation for Waste to Energy plants and provide appropriate subsidy or incentives for such Waste to Energy plants.
The Ministry of Power should fix tariff or charges for the power generated from the Waste to Energy plants based on solid waste and ensure compulsory purchase of power generated from such Waste to Energy plants by discoms.
Revision of parameters and existing standards
The landfill site shall be 100 meters away from a river, 200 meters from a pond, 500 meters away from highways, habitations, public parks, and water supply wells and 20 km away from airports/airbase.
Emission standards are completely amended and include parameters for dioxins, furans, reduced limits for particulate matters from 150 to 100 and now 50.
Also, the compost standards have been amended to align with the Fertilizer Control Order.
Management of waste in hilly areas
The construction of landfills on hills shall be avoided. Land for construction of sanitary landfills in hilly areas will be identified in the plain areas, within 25 kilometers.
Constitution of a Central Monitoring Committee
The government has also constituted a Central Monitoring Committee under the chairmanship of Secretary, MoEF&CC to monitor the overall implementation of the rules.
The Committee comprising of various stakeholders from the Central and state governments will meet once a year to monitor the implementation of these rules.
What are the Limitations of Solid Waste Management rules?
Implementation: They fail to incentivize and impose a strict penalty in case of poor implementation.
Centralised process: The rules have not pushed for decentralized management of waste but have encouraged centralized treatment such as waste to energy, the present state of which is not good in the country.
Informal sector: has been considerably neglected in the new rules.
Lack of clarity: It is not clear about the fine amount to be imposed on plastic manufacturers or how the monitoring system would be carried out.
Behavioural change: Lack of adequate focus regarding the behavioral change on part of people when it comes to domestic waste generation and on part of authorities when it comes to implementing the rules.
What should be done?
Source segregation: The key to efficient waste management is to ensure proper segregation of waste at source and to ensure that the waste goes through different streams of recycling and resource recovery. Solid waste management rules should be effectively implemented in this regard.
Waste-to-energy: is a key component of SWM. Installation of waste-to-compost and bio-methanation plants would reduce the load of landfill sites. Waste-to-energy technologies such as pyrolysis and plasma gasification should be adopted widely.
R&D: There is a need to encourage research and development so as to reinvent waste management system in India.
Recycling & Recovering: The focus should be on recycling and recovering from waste and not landfill.
Public-Private Partnership models for waste management should be encouraged to address the funding constraints regarding infrastructure, technology, waste-to-energy plants, etc.