Brahmapuram Fire- The Spectre of Landfill Fires in Indian Cities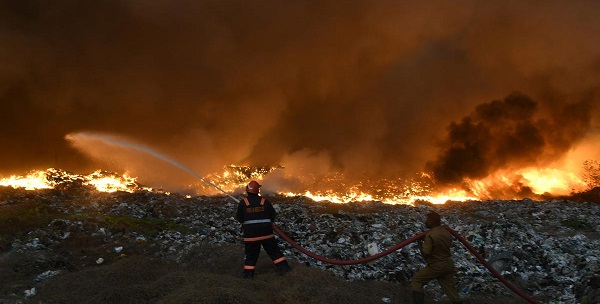 The recent fire and subsequent air pollution at Brahmapuram landfill site has turned the focus onto consequences of ineffectual solid-waste management practices.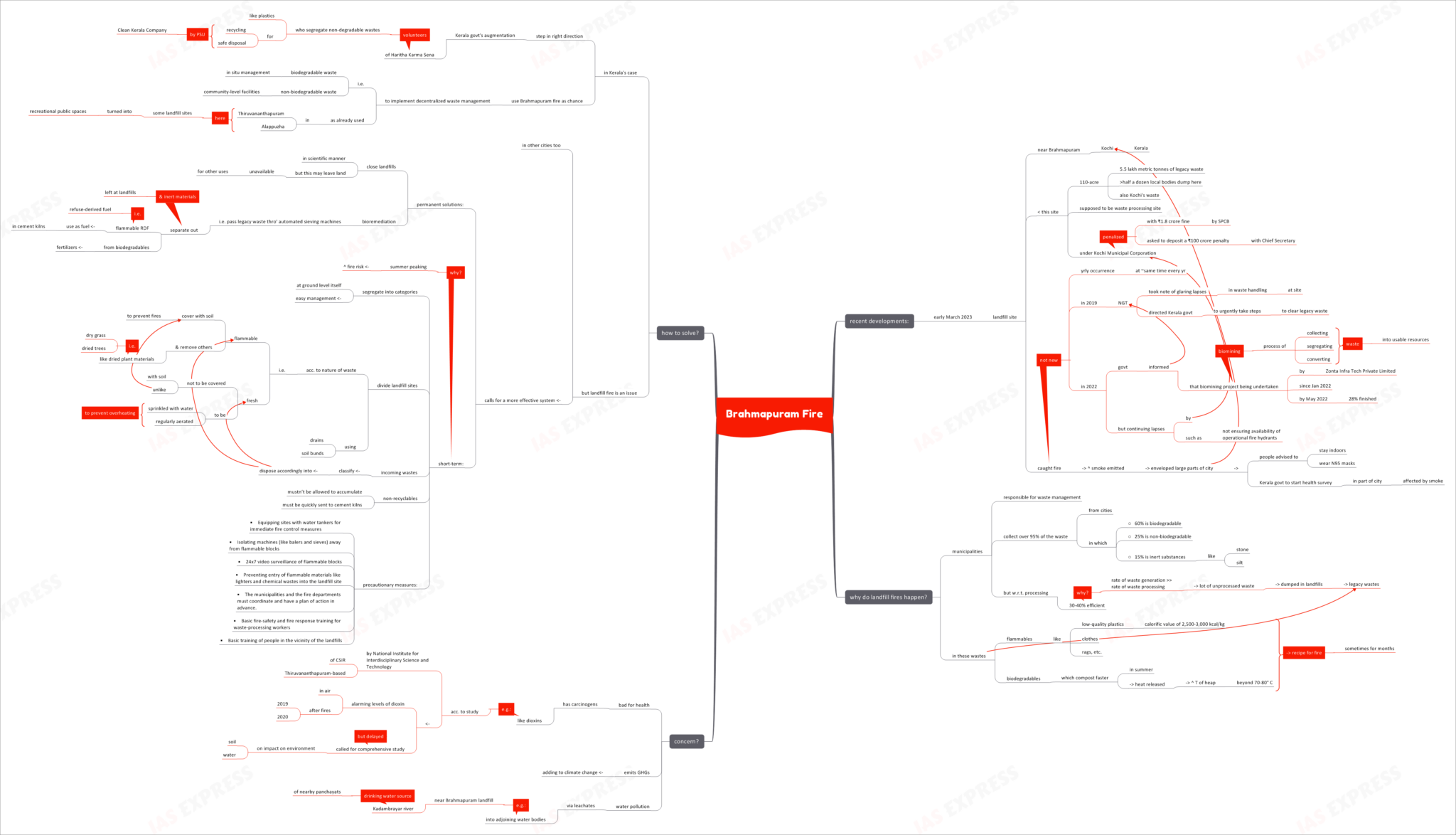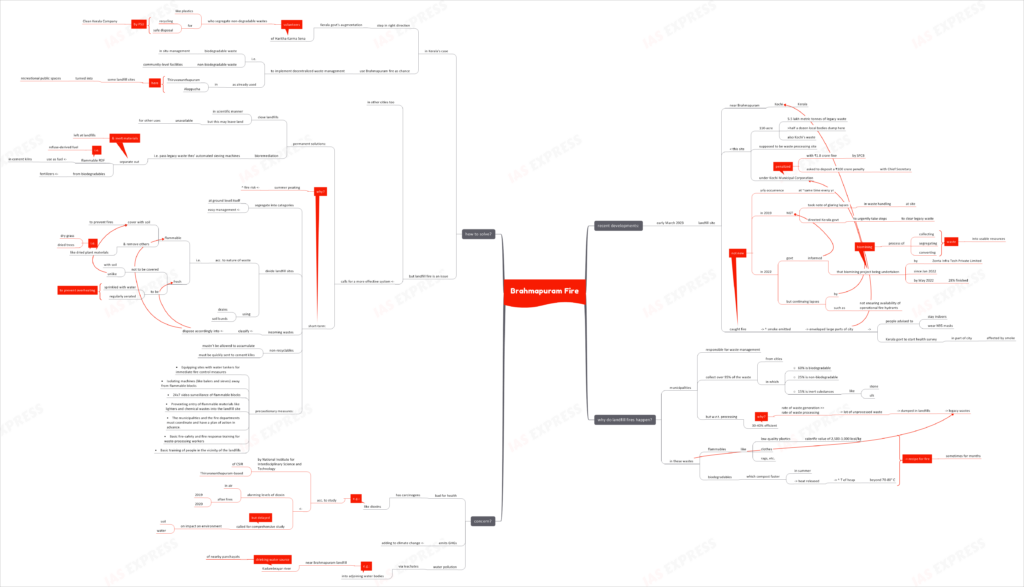 Recent Developments:
Early in March, a landfill site near Brahmapuram, Kochi caught fire. The blaze emitted massive volumes of smoke that enveloped the larger city area. People in the vicinity were advised to stay indoors and use N95 masks.
This 110-acre site is under the purview of the Kochi Municipal Corporation.
The State Pollution Control Board has imposed a ₹1.8 crore fine on the Municipal Corporation.
The NGT has asked it to deposit a ₹100 crore penalty with the Chief Secretary.
The Kerala government has launched a health survey in the parts of Kochi that were affected by the toxic smoke.
Fires at this open dumping yard, which is supposed to be a waste processing site, is yearly occurrence. Over the past few years, the site has been witnessing fire outbreaks at roughly the same time.
According to 2021 estimates, the site holds some 5.5 lakh metric tonnes of legacy waste. Over half a dozen local bodies dump their garbage at this site. A significant part of Kochi's everyday wastes are dumped at this site too.
In 2019, the NGT took note of the glaring lapses in how solid waste was being handled at the site. It directed Kerala state to urgently take steps to clear the legacy waste at the site.
In 2022, the state government informed NGT's South Zone Bench that biomining was being undertaken by Zonta Infra Tech Private Limited at the site.

Biomining is the process of collecting, segregating and converting waste into usable resources.

This project, started in January 2022, saw 28% completion by May 2022.

However, the Municipal Corporation has continued to allow several lapses in the site's management- such as not ensuring availability of operational fire hydrants.
Why do landfill fires happen?
Municipalities, which are responsible for waste management, collect over 95% of the waste generated by the cities. In these wastes,

15% is inert substances (like stones and silt)

However, when it comes to processing of the waste, the efficiency is 30-40% at best. This is because the rate at which waste is generated far exceeds the rate at which it is processed.
These unprocessed wastes are often dumped in landfills. These eventually become legacy wastes- growing into large mounds.
These wastes includes flammable material such as low-quality plastics (with calorific value of 2,500-3,000 kcal/kg), clothes, rags, etc.
Also, biodegradable wastes are often left unsegregated in these garbage mounds. In summer, these compost faster and release heat. This increases the heaps' temperature beyond 70-80° C.
The combination of the two leaves the situation ripe for a fire accident. In some cases, landfill fires can rage for months.
Why is it a concern?
Prolonged exposure to such toxic smoke is understandably deleterious to health. For example, landfill smoke contains carcinogens like dioxins. The National Institute for Interdisciplinary Science and Technology, a Thiruvananthapuram-based CSIR institute, reported alarming levels of dioxin in the air following the 2019 and 2020 fires at the Brahmapuram site.
The institute had recommended a more comprehensive survey of the incidents' impact on the larger environment i.e. on soil and water in and around Brahmapuram. This study is however delayed.
Landfill fires release greenhouse gases- something the world could do without in the midst of climate change.
Apart from air pollution, the site is a water pollution concern too. It is located near Kadambrayar river that supplies drinking water to the nearby panchayats. Leachates from the landfill has been polluting the river's waters.
How can this issue be solved?
The state government's move to augment the 'Haritha Karma Sena', a volunteer group for collection of non-degradable wastes (like plastics) for recycling and safe disposal by Clean Kerala Company (a PSU) is a step in the right direction.
The current crisis must be used as an opportunity to implement decentralized waste management in Kerala.

Biodegradable waste can be processed in situ.

The non-biodegradable wastes can be processed at community-level facilities.

This method is already being implemented in places like Alappuzha and Thiruvananthapuram. Some of the former landfill sites have been converted into recreational public spaces.

Landfill fires is a problem common to many Indian cities. There is a need to bring in a more effective solid waste management system.
Permanent solutions for landfill management:

Closing landfills:

Completely closing landfills using soil in a scientific manner could help.

However, this solution may leave the land unavailable for other uses.

Bioremediation:

Legacy wastes can be excavated and passed through automated sieving machines to separate out the flammable RDF (refuse-derived fuel), like clothes and plastics.

The RDF can be used as fuels in cement kilns.

The biodegradable portion of the waste can be converted into fertilizers for soil.

The inert portion can be left at the landfill site itself.

However, there is an immediate need for short-term solutions. As summer heats up other Indian cities, the Brahmapuram fire incident must remind civic bodies to prepare for landfill fire incidents in the coming weeks.

Segregating waste into different categories, from the ground-level itself, will enable easier waste management.

However, given the current state of things, the landfill sites can be divided into blocks depending on the nature of waste- i.e. separate out flammable portions from fresh wastes. A soil bund or a drain can be used to separate the portions.

Covering each portion with soil layer will help reduce the risk of fire spreading within each block. Other flammable wastes, like dry plant materials (grass and trees) must be cleared and disposed of immediately.

The fresh waste blocks mustn't be covered with soil. Sprinkling water and regular aeration through repeated turning of the wastes will keep the heaps from heating up too much.

Meanwhile, the new incoming waste loads must be classified and disposed in designated blocks.

The segregated non-recyclable wastes mustn't be allowed to accumulate and must be quickly sent to cement kilns.

Apart from this, other precautionary measures are necessary:

Equipping sites with water tankers for immediate fire control measures

Isolating machines (like balers and sieves) away from flammable blocks

24×7 video surveillance of flammable blocks

Preventing entry of flammable materials like lighters and chemical wastes into the landfill site

The municipalities and the fire departments must coordinate and have a plan of action in advance.

Basic fire-safety and fire response training for waste-processing workers

Basic training of people in the vicinity of the landfills
Conclusion:
Landfill fires are a product of ineffective solid waste management practices. These are preventable disasters that continue to pollute and make cities unliveable. Basic measures like decentralized solid waste management- involving segregation, composting and recycling- will go a long way in preventing these annual occurrences. Meanwhile, as the summer peaks, municipalities must expedite short-term measures to prevent the repeat of the Brahmapuram fire.
Practice Question for Mains:
In light of the recent Brahmapuram fire, discuss the reasons and consequences of landfill fires in Indian cities. How can this issue be solved? (250 words)
Learn More