[Updated] Delhi Air Pollution – Causes, Effects, Solutions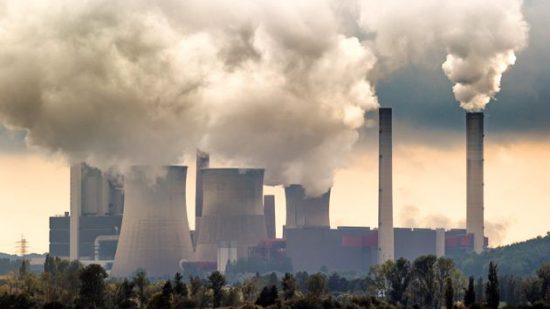 Recently, the Environment Pollution (Prevention and Control) Authority – EPCA had declared a public health emergency in the Delhi-NCR region as the pollution levels crossed the threshold of the "severe-plus" category. The air pollution is said to reach "Severe plus" or emergency levels when PM2.5 levels cross 300 µg/m3 or PM10 levels crosses 500µg/m3. As per the Graded Response Action Plan (GRAP), these levels, which are about 5-times the standard, need to persist for 48 hours or more before the emergency level can be declared. This is worrisome because, according to the plan, during severe or emergency levels of air pollution, those suffering from heart diseases, asthma and other respiratory diseases may suffer the most and has a direct impact on mortality. According to WHO, air pollution kills 7 million people worldwide. And the health effects of air pollution are serious – about one-third of the deaths from stroke, lung cancer, and heart disease are caused by the same. It is having an equivalent effect to that of smoking tobacco.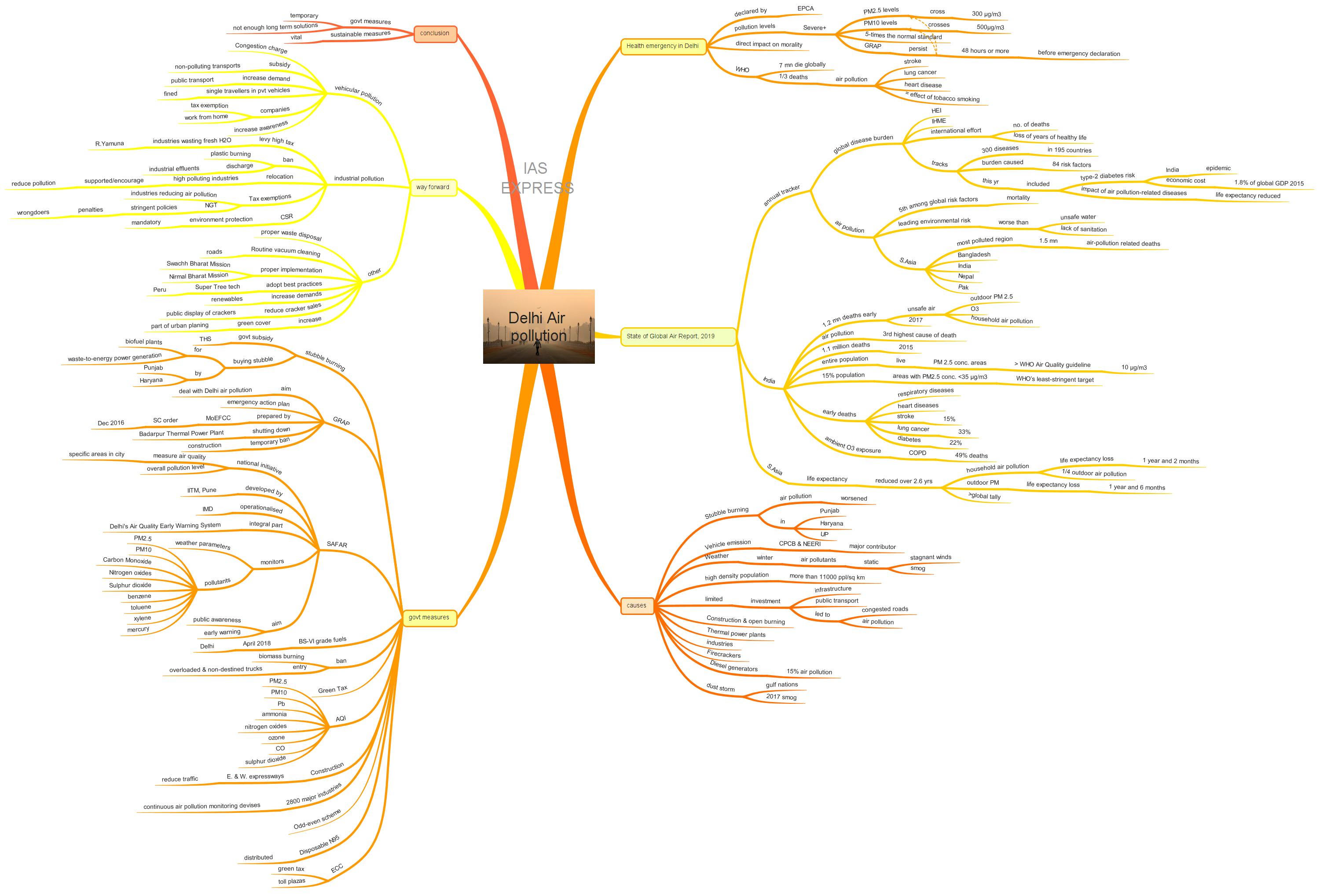 Mindmap Learning Programme (MLP)
Absorb information like a sponge!
Just how harmful is the air pollution in the context of India?
State of Global Air Report, 2019 is an annual tracker of the global burden of diseases that are carried out by the Health Effects Institute in cooperation with the Institute of Health Metrics and Evaluation (IHME).
The Global Burden of Disease is an international effort to estimate the number of deaths and loss of years of healthy life due to about 300 diseases in 195 countries, and how much this burden is caused by 84 different risk factors, including diet, high blood pressure, tobacco, and air pollution.
According to this report, over 1.2 million Indians face early deaths due to exposure to unsafe air in 2017.
Air pollution is currently the third-highest cause of death among all health risks, ranking just above smoking in India.
This is the combined effect of outdoor PM 2.5, ozone and household air pollution.
Due to this combined exposure, South Asians, including Indians, are dying early. Their life expectancy has reduced over 2.6 years.
This is far higher than the global tally of reduced life expectancy by an average of 20 months.
The earlier report had an estimated 1.1 million deaths in India in 2015.
This report also pointed out that the entire Indian population lives in areas with PM 2.5 concentration above the WHO Air Quality guideline of 10 µg/m3, and only 15% of the population lives in areas with PM2.5 concentrations below the WHO's least-stringent target of 35 µg/m3.
While exposure to outdoor PM accounted for a loss of nearly 1 year and 6 months in life expectancy, exposure to household air pollution accounted for a loss of nearly 1 year and 2 months.
Thus, together, the Indians lose 2.6 years.
Furthermore, household air pollution contributes about a quarter of the outdoor air pollution in India.
In India, early deaths are linked to respiratory diseases, heart diseases, stroke, lung cancer and diabetes. These diseases are influenced by air pollution.
Exposure to ambient ozone is linked to Chronic Obstructive Pulmonary disease. This disease is also linked to air pollution and is responsible to close to half of the deaths at 49% followed by lung cancer deaths at 33%, diabetes and ischemic heart disease at 22% each, and stroke at 15%.
This year, the annual tracker has, for the first time, tracked down the impact of air pollution-related diseases on life expectancy
Also, for the first time, this annual tracker has accounted for risks from type-2 diabetes linked to air pollution.
This emerges from the scientific evidence that has indicated that there is a link between air pollution and the development of type-2 diabetes.
This especially significant for India, where type-2 diabetes has taken an epidemic form.
This report also stated that the economic costs of diabetes are large – estimated as 1.8% of global GDP in 2015 and is a growing challenge to healthcare systems to all countries.
Epidemiological studies in Asia, Europe and North America, along with toxicology research, have provided strong evidence that exposure to ambient and household PM2.5 contributes to type-2 diabetes incidences and mortality.
Also, the study had shown that more people die from air-pollution related diseases than from road traffic injuries and malaria annually.
Air pollution ranks 5th among the global risk factors for mortality globally, exceeded only by behavioural and metabolic factors – poor diet, tobacco exposure and high blood sugar.
The report also states that air pollution is the leading environmental risk factor, far worse than other environmental risks that have often been the focus of the public health measures in the past, like unsafe water and lack of sanitation.
Also, the South Asian nations – Bangladesh, India, Nepal and Pakistan – lead the world as the most polluted region, with over 1.5 million air-pollution-related deaths.
Why is the air quality in Delhi worsening?
Stubble burning:

The air pollution is worsened in the National Capital between October and November due to stubble burning by the farmers in the states of Punjab, Haryana and Uttar Pradesh – at the time when the moist air and largely inactive wind systems cause the particulate matter and gases emitted from the burning stubble hang in the atmosphere.
This air is carried by northwesterly winds towards Delhi, which lies southeast of Punjab.

Emission from Vehicles: The Central Pollution Control Board (CPCB) and the National Environmental Engineering Research Institute (NEERI) have acknowledged that vehicular emission is the major contributor to Delhi's increasing air pollution.
Weather: During winter, the dust and other air pollutants are not able to move due to stagnant winds and smog.
High-density population: With more than 11000 people per square km, Delhi is one of the most densely populated cities in the world. This has a significant negative impact on the atmosphere.
Limited infrastructure: In India, investment in public transport and infrastructure is very low. This consequently led to congested roads and air pollution.
Construction and open burning: Large-scale construction in Delhi-NCR is also one of the causes of increasing dust and pollution in the air. Burning of wastes in these areas further intensifies the air pollution.
Thermal power plant and industries: Pollution caused due to industrial operation, thermal power plants are also contributing to air pollution and smog in Delhi.
Firecrackers: This problem arose during the time of Diwali – a time when there is an increase in the use of firecrackers.
Diesel generators: Many of the houses and businesses in Delhi are using diesel generators as an alternate power supply during the power cuts. It is estimated that diesel generators contribute to approximately 15% of the city's air pollution.
Dust storm from Gulf nations: During the smog in 2017, the dust storm from the gulf nations had worsened the air pollution in Delhi.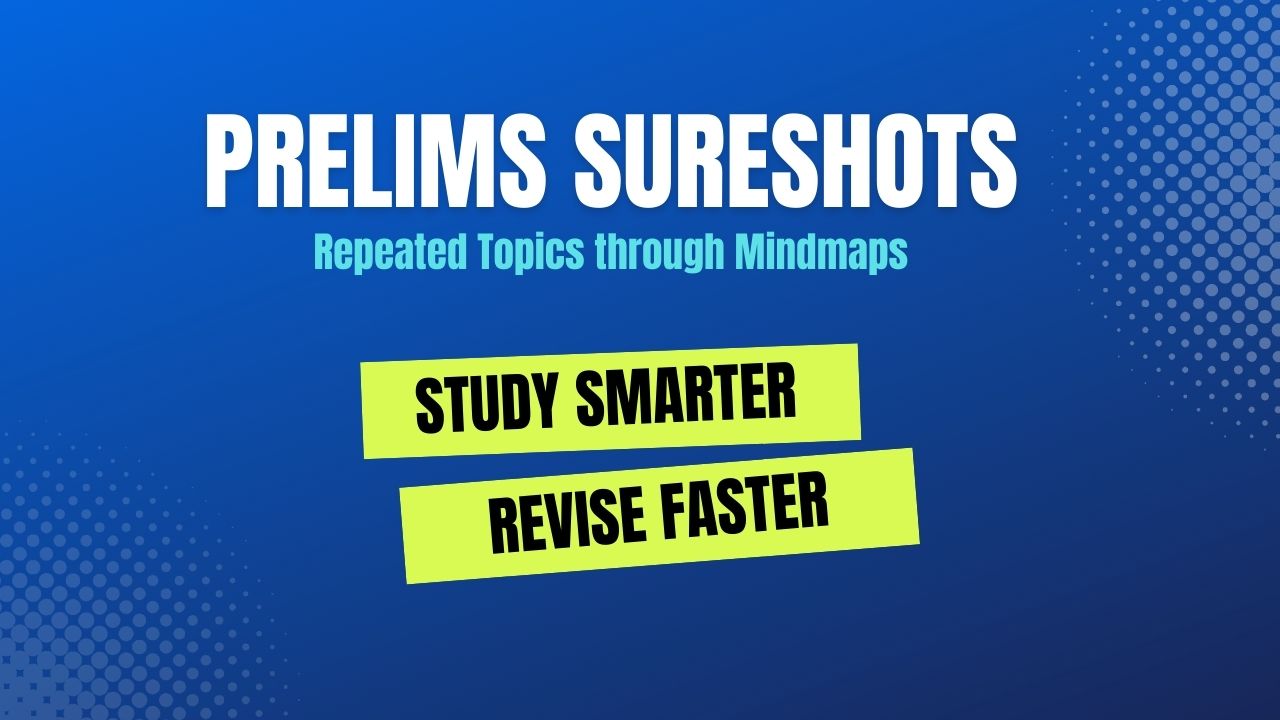 What are the steps taken by the government to deal with air pollution in Delhi?
Dealing with the problem of stubble burning:
The government is giving subsidies to those farmers who are buying Turbo Happy Seeders (THS). It is a machine mounted on a tractor that can cut and uproot stubbles and also drill wheat seeds.
The governments of Punjab and Haryana are buying stubble and straw for biofuel plants and in waste-to-energy power generation plants.
Graded Response Action Plan (GRAP):
It was implemented to deal with the rising air pollution in Delhi.
It is an emergency action plan in Delhi to deal with rising air pollution.
It was prepared by the Ministry of Environment, Forests and Climate Change (MoEFCC) after the order of SC in December 2016.
It is an initiative by the government that includes shutting down of Badarpur Thermal Power Plant and ban on construction activities.
Under the GRAP, schools in Delhi were shut down till the air quality remained severe.
SAFAR:
The System of Air Quality and Weather Forecasting And Research (SAFAR) is a national initiative introduced by Ministry of Earth Sciences (MoES) to measure the air quality of a metropolitan city to measure the overall pollution level and location-specific air quality of the city.
This system was indigenously developed by the Indian Institute of Tropical Meteorology (IITM), Pune and is operationalized by the India Meteorological Department (IMD).
SAFAR is an integral part of India's first Air Quality Early Warning System in Delhi.
It monitors all weather parameters, like temperature, rainfall, wind etc., and also pollutants in the atmosphere like PM2.5, PM10, Carbon Monoxide, Nitrogen oxides, Sulphur dioxide, benzene, toluene, xylene and mercury. It ensures public awareness and early warning to people.
The Centre had also released the National Air Quality Index (AQI) for public information under the aegis of Central Pollution Control Board. It has been developed for 8 pollutants – PM2.5, PM10, ammonia, lead, nitrogen oxides, sulphur dioxide, ozone and carbon monoxide.
The April 2020 deadline for the country to implement BS-VI grade fuels was advanced for Delhi to April 2018.
Construction of Eastern and Western Expressways to reduce traffic in Delhi.
Ban on burning of biomass in Delhi
Prohibition on the entry of overloaded and non-destined trucks in Delhi and imposition of Green Tax.
Out of 2800 major industries have installed one-line continuous air pollution monitoring devises. Other industries are currently in the process of installing them.
Temporary Odd-even scheme was used in Delhi.
Also, Environmental Compensation Charge (ECC) was charged at the toll plazas. The ECC is a green tax that was directed by the Supreme Court.
Disposable N95 masks were distributed in Delhi by the government. It is the safety device that helps protect the wearer from inhaling hazardous pollutants like PM2.5.
What can be the way forward?
Vehicular pollution:
Congestion charges can be levied on vehicles entering congested areas to discourage people from using private vehicles during peak hours.
A subsidy can be given by the government to sustainable, non-polluting transportation choices like cycles, electric vehicles
People can be encouraged to use public transport by making it an attractive choice.
The government can find those individuals who are single travellers so as to reduce the congestion of roads.
Companies that are providing work from home options can be given tax exemption to encourage others to do the same.
An increase in the awareness about the vehicular air pollution can also be undertaken.
Industrial pollution:
The government can levy high taxes on those industries that are directly wasting freshwater sources like Yamuna River.
Strict measures must be taken by the government to ban the burning of plastics and the discharge of industrial effluents in the water bodies.
Industries that cause very high pollution should be relocated outside the city. They must be either supported or encouraged by the government to reduce their pollution.
Tax exemptions can be provided for the industries that take measures to reduce pollution in the atmosphere.
Stringent policies by National Green Tribunal and penalties against the wrongdoers can ensure compliance.
Corporate social responsibility for environmental protection must be made mandatory.
Other:
Proper disposal of waste must be prioritized.
Routine vacuum cleaning of roads and proper implementation of Swachh Bharat Mission, Nirmal Bharat Mission, etc. should be in a sustainable manner.
Adopting the best practices from across the world. SuperTree technology of Peru can be adopted, by using an air filtration system to remove excess CO2 from the air.
Reducing the sales and use of crackers during the festival times by showing the public display of firecrackers.
Pushing for the consumption of renewables can greatly reduce air pollution.
Increasing the green cover, especially in the highly polluted cities like Delhi can reduce air pollution and must be made an integral part of urban planning.
Conclusion
Though the government is taking numerous steps to deal with air pollution in Delhi, there is only a minimal impact for a very short duration of time and this incident is repeating for years now. From this, it is evident that the measures are only a temporary solution and the long term solutions taken by the government are not enough to deal with the current crisis. Therefore, the government must take measures in ensuring a sustainable long-term solution so that there is no repetition of this incident.
Model question
The government's measures to solve the air pollution crisis in Delhi is more of a band-aid solution than a long term sustainable solution. Comment.
Updates