International Day of Clean Air for Blue Skies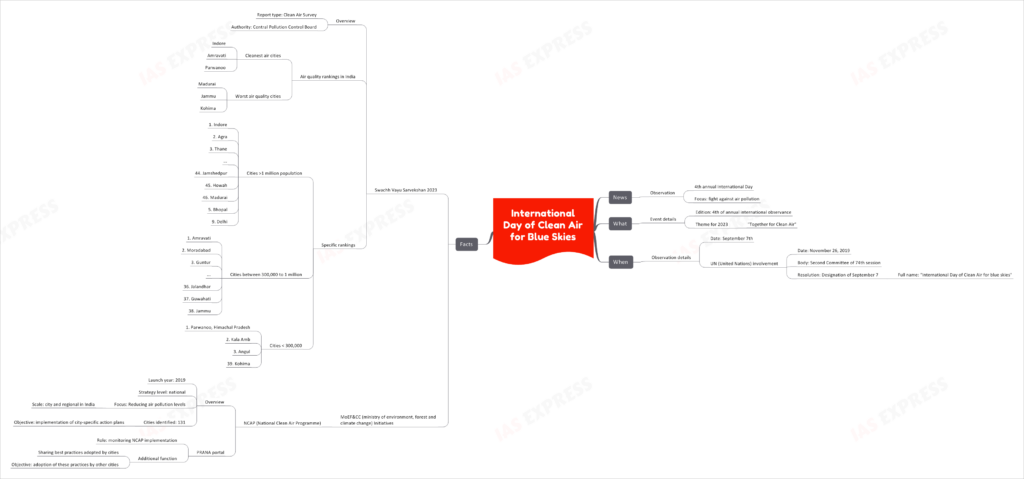 The International Day of Clean Air for Blue Skies, now in its 4th annual observance, is a global initiative that focuses on combating air pollution and preserving the quality of the air we breathe. The theme for the year 2023 is "Together for Clean Air." This annual event, designated by the United Nations (UN), serves as a reminder of the critical importance of addressing air pollution for the well-being of people and the planet.
Observation Details
4th Annual International Observance: This marks the fourth edition of the International Day of Clean Air for Blue Skies, highlighting the sustained effort to combat air pollution on a global scale.
Focus on Fighting Air Pollution: The central theme of this observance is the collective effort to fight air pollution and create a healthier, cleaner environment for all.
When It All Began: UN Involvement
The United Nations officially recognized the importance of clean air and its impact on human health and the environment on November 26, 2019. The UN's Second Committee of the 74th session passed a resolution designating September 7th as the "International Day of Clean Air for Blue Skies." This designation reinforces the significance of clean air as a fundamental human right and a critical component of sustainable development. copyright©iasexpress.net
Swachh Vayu Sarvekshan 2023: Assessing Air Quality in India
In alignment with the International Day of Clean Air for Blue Skies, India conducted the Swachh Vayu Sarvekshan 2023, a comprehensive Clean Air Survey led by the Central Pollution Control Board. This survey assessed air quality across various cities in India, providing essential insights into the state of air pollution in the country.
Air Quality Rankings in India
Cleanest Air Cities
Worst Air Quality Cities
Specific Rankings
Cities with a Population Over 1 Million
Indore
Agra
Thane …
Jamshedpur
Howah
Madurai
Bhopal
Delhi
Cities with a Population Between 300,000 to 1 Million
Amravati
Moradabad
Guntur …
Jalandhar
Guwahati
Jammu
Cities with a Population Less than 300,000
Parwanoo, Himachal Pradesh
Kala Amb
Angul …
Kohima
MoEF&CC Initiatives: Tackling Air Pollution in India
The Ministry of Environment, Forest and Climate Change (MoEF&CC) in India has launched several initiatives to combat air pollution, with a particular focus on improving air quality across cities and regions in the country.
National Clean Air Programme (NCAP)
Overview: Launched in 2019, the NCAP is a national-level strategy aimed at reducing air pollution levels in India. It encompasses city and regional scales and focuses on the implementation of city-specific action plans. copyright©iasexpress.net
Cities Identified: The NCAP identifies 131 cities in India for targeted air quality improvement measures.
Objective: The primary objective of NCAP is to reduce air pollution and improve air quality across these cities.
PRANA Portal
Role: The PRANA portal plays a vital role in monitoring the implementation of the NCAP, tracking progress, and ensuring that cities meet their air quality improvement goals.
Additional Functions: The portal serves as a platform for sharing best practices adopted by cities in their efforts to combat air pollution. The objective is for other cities to adopt these successful practices and contribute to cleaner air.
The International Day of Clean Air for Blue Skies, along with initiatives like the Swachh Vayu Sarvekshan and the NCAP, underscores the global commitment to addressing air pollution and its far-reaching effects on human health, the environment, and sustainable development. By working together, nations can make significant strides in ensuring clean and breathable air for all.