Border Tourism- Necessity, Opportunities & Challenges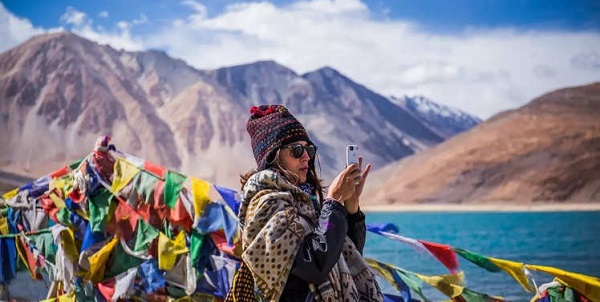 India is continuing to face incursions from the Chinese side along its northern borders, despite repeated attempts at diplomatic resolution of claims. In this context, the recently announced Vibrant Villages Program highlights how border tourism could provide a potential solution.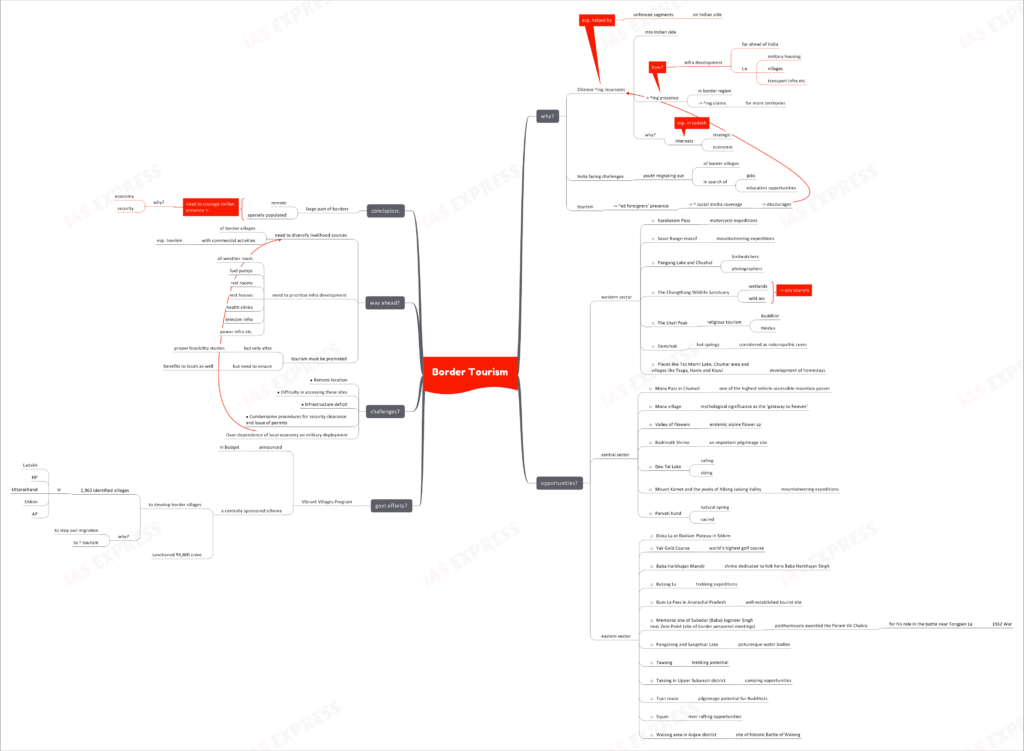 Why is border tourism needed?
China has been stepping up its intrusions into Indian territories.
China has significant strategic and economic interests in the Ladakh region. Hence, it has been aggressively building up its presence in the border region, with the goal of staking more territorial claims in the region.
The existence of unfenced segments along the Indian side of the border is helping the Chinese interests.
Apart from this, India is far behind China in the border infrastructure race. China has already built a number of military housings, villages, transport infrastructure, etc. in these remote areas.
India is also facing the challenge of youths migrating out of the border villages in search of better education and job opportunities.
Encouraging tourism would bring in more foreigners, which in turn means more social media coverage of the region. This would discourage unilateral incursions from the Chinese side.
What are the opportunities?
In the western sector:

Karakoram Pass- potential for motorcycle expeditions

Saser Kangri massif- suitable for mountaineering expeditions

Pangong Lake and Chushul- attractive to birdwatchers and photographers

The Changthang Wildlife Sanctuary- with its wetlands and Kiang (wild ass) population presents an opportunity for eco-tourism

The Lhari Peak- favours religious tourism as it is sacred to Hindus and Buddhist pilgrims

Demchok- famous for its hot springs that are considered as naturopathic cures

Places like Tso Moriri Lake, Chumar area and villages like Tsaga, Hanle and Koyul- lot of tourism potential, especially for development of homestays

In central sector:

Mana Pass in Chamoli- one of the highest vehicle-accessible mountain passes in the world

Mana village- mythological significance as the 'gateway to heaven'

Valley of Flowers- boasts endemic alpine flower species

Badrinath Shrine- an important pilgrimage site

Deo Tal Lake- potential for development of sailing activities and skiing

Mount Kamet and the peaks of Nilang Jadang Valley- attractive for mountaineering expeditions

Parvati Kund- has natural spring and considered sacred.

In eastern sector:

Doka La or Doklam Plateau in Sikkim- Himalayan landscapes present high tourism potential

Yak Gold Course- world's highest golf course

Baba Harbhajan Mandir- a shrine dedicated to folk hero Baba Harbhajan Singh

Batang La- trekking expeditions could be organized

Bum La Pass in Arunachal Pradesh- well-established tourist site

Memorial site of Subedar (Baba) Joginder Singh near Zero Point (site of border personnel meetings)- he was posthumously awarded the Param Vir Chakra for his role in the battle near Tongpen La during the 1962 War

Pangateng and Sangetsar Lakes- picturesque water bodies

Tawang- trekking potential

Taksing in Upper Subansiri district- beautiful valleys and rainforests presents camping opportunities

Tsari route- pilgrimage potential for Buddhists

Siyum- river rafting opportunities

Walong area in Anjaw district- site of historic Battle of Walong
What is the government doing?
In December 2022, the CDS General Anil Chauhan highlighted the need to "repopulate vast unoccupied areas, located even far away from the last villages of the state towards the border". He emphasized the importance of border tourism in these areas.
Most recently, the government announced the Vibrant Villages Program, as a part of the Union Budget

It is to be a centrally sponsored scheme to develop the villages along India's northern borders.

The Cabinet has sanctioned ₹4,800 crore for this program.

The 2,963 identified villages are in Ladakh, HP, Uttarakhand, Sikkim and AP.

The objectives of this program is to reduce outward migrations and to boost tourism in these villages.
What are the challenges?
Remote location
Difficulty in accessing these sites
Infrastructure deficit
Cumbersome procedures for security clearance and issue of permits
Over-dependence of local economy on military deployment
What is the way ahead?
There is a need to diversify the remote border villages' livelihood sources. Commercial activities, especially tourism, is vital for economic development of these rural stretches.
There is a need to prioritize the development of all-weather roads, fuel pumps, rest rooms, rest houses, health clinics, telecom infrastructure and power infrastructure.
While tourism along the border must be promoted, projects must being only after proper feasibility studies, given the fragile nature of the Himalayan ecosystem. Care must be taken to ensure that these projects benefit the local economy as well.
Conclusion:
Though a significant portion of the border villages are sparsely populated and remotely located, it is vital that India take every effort to encourage civilian presence here. This is imperative, not only from economic perspective, but also from security point of view.
Practice Question for Mains:
Why is it necessary to boost border tourism? What are the opportunities and challenges? (250 words)
Learn More