Report on ultra-processed food sector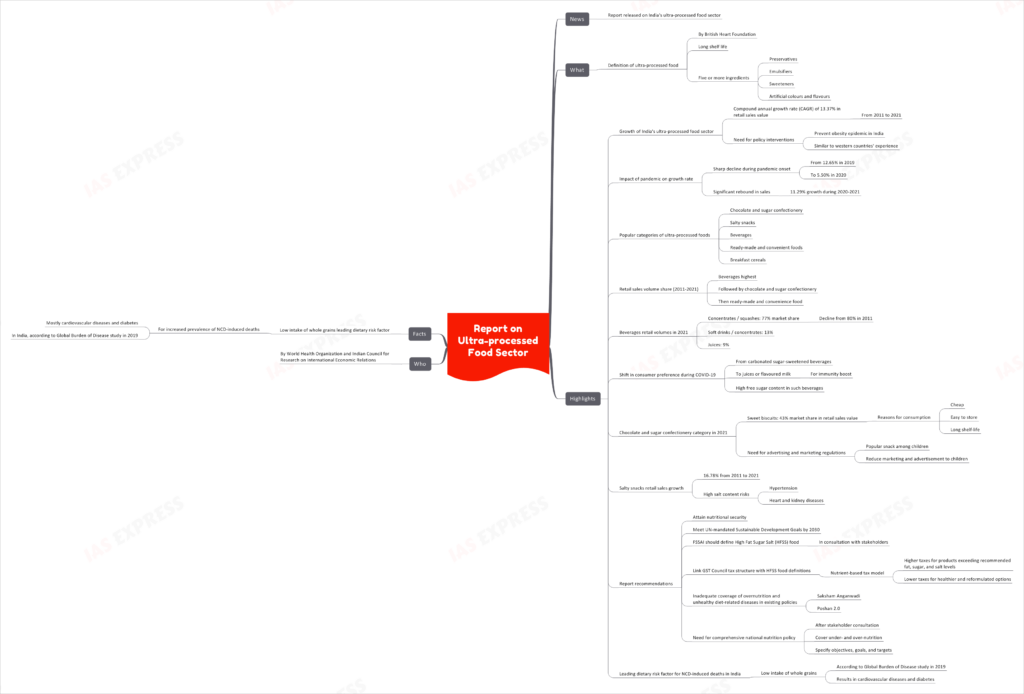 The recent release of a report on India's ultra-processed food sector has spotlighted crucial insights into the growth, impact, and implications of this industry. With a focus on simple and easy-to-understand language, this article delves into the key findings and recommendations outlined in the report, shedding light on the status of ultra-processed foods in India.
News: Report Unveils Insights on Ultra-Processed Foods
The report's unveiling offers a comprehensive overview of India's ultra-processed food sector, revealing significant trends, growth patterns, and concerns surrounding this industry.
Understanding Ultra-Processed Food
Defining Characteristics
Ultra-processed foods, as defined by the British Heart Foundation, are products with a long shelf life and contain five or more ingredients, including additives like preservatives, emulsifiers, sweeteners, and artificial colors and flavors.
Examining Growth and Highlights
Rapid Growth and Need for Policy Action
The report highlights the exponential growth of India's ultra-processed food sector, with a compound annual growth rate (CAGR) of 13.37% in retail sales value from 2011 to 2021. This surge necessitates policy interventions to avert an obesity epidemic in India, similar to experiences in Western countries.
Impact of the Pandemic
The pandemic led to a temporary decline in growth rate, plummeting from 12.65% in 2019 to 5.50% in 2020. However, there was a noteworthy rebound, with an 11.29% growth during 2020-2021. copyright©iasexpress.net
Popular Categories of Ultra-Processed Foods
Categories like chocolate and sugar confectionery, salty snacks, beverages, ready-made foods, and breakfast cereals dominate this sector.
Analyzing Consumption and Shifts
Retail Sales Volume Share
Beverages take the lead in retail sales volume share, followed by chocolate and sugar confectionery, and ready-made and convenience foods.
Beverages: A Deep Dive
In 2021, beverages had a prominent role. Concentrates/squashes held a 77% market share, soft drinks/concentrates occupied 13%, and juices held 9%. During the pandemic, consumers shifted from carbonated sugary drinks to juices or flavored milk for an immunity boost.
Chocolate and Sugar Confectionery
In 2021, sweet biscuits led with a 43% market share, driven by factors like affordability, storage convenience, and a longer shelf life. This category calls for advertising and marketing regulations, especially considering its popularity among children.
Assessing Health Risks and Recommendations
Salty Snacks and Health Concerns
The retail sales growth of salty snacks soared by 16.78% from 2011 to 2021. High salt content in these products poses risks like hypertension, heart, and kidney diseases.
Recommendations for Action
The report advocates for achieving nutritional security and UN-mandated Sustainable Development Goals by 2030. It suggests defining High Fat Sugar Salt (HFSS) foods by the Food Safety and Standards Authority of India (FSSAI), linking GST Council tax structure with HFSS food definitions, and introducing comprehensive national nutrition policies. copyright©iasexpress.net
The Leading Dietary Risk Factor
Impact on Non-Communicable Diseases (NCDs)
Low intake of whole grains stands out as a leading dietary risk factor for increased prevalence of Non-Communicable Diseases (NCDs) like cardiovascular diseases and diabetes. This insight stems from the Global Burden of Disease study in 2019.
Contributors and Facts
Organizations Behind the Report
The World Health Organization and the Indian Council for Research on International Economic Relations jointly released this report, underscoring the collaboration in understanding and addressing these critical issues.
Significant Fact
The low intake of whole grains is identified as a paramount dietary risk factor, contributing to the rise of NCD-induced deaths, particularly cardiovascular diseases and diabetes, in India.
Learn More