Pradhan Mantri Krishi Sinchayee Yojana (PMKSY) – All You Need To Know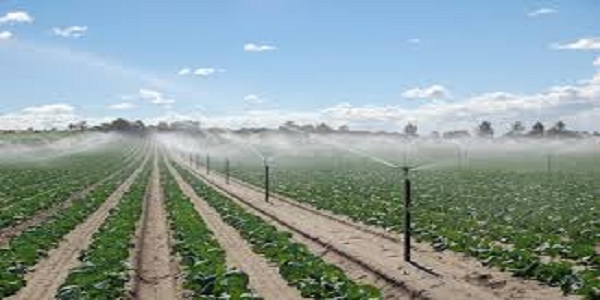 Recently, the Union Budget(2021-22) has announced to provide additional funds for micro-irrigation projects and improving the efficiency of irrigation in the country. This has brought back the spotlight on irrigation schemes like the Pradhan Mantri Krishi Sinchayee Yojana (PMKSY), which is one of the premier irrigation schemes of the country. Out of 141 million hectares of net sown area in the country, 45% of the area is covered under irrigation. A lot of farmers are dependent upon rainfall for irrigating their lands which makes them vulnerable to crop failure and other risks. In such a situation, government-sponsored schemes play a key role in ensuring a steady flow of income to the farmers. Irrigation schemes form an important part of such efforts leading to productivity enhancement and increased farm income.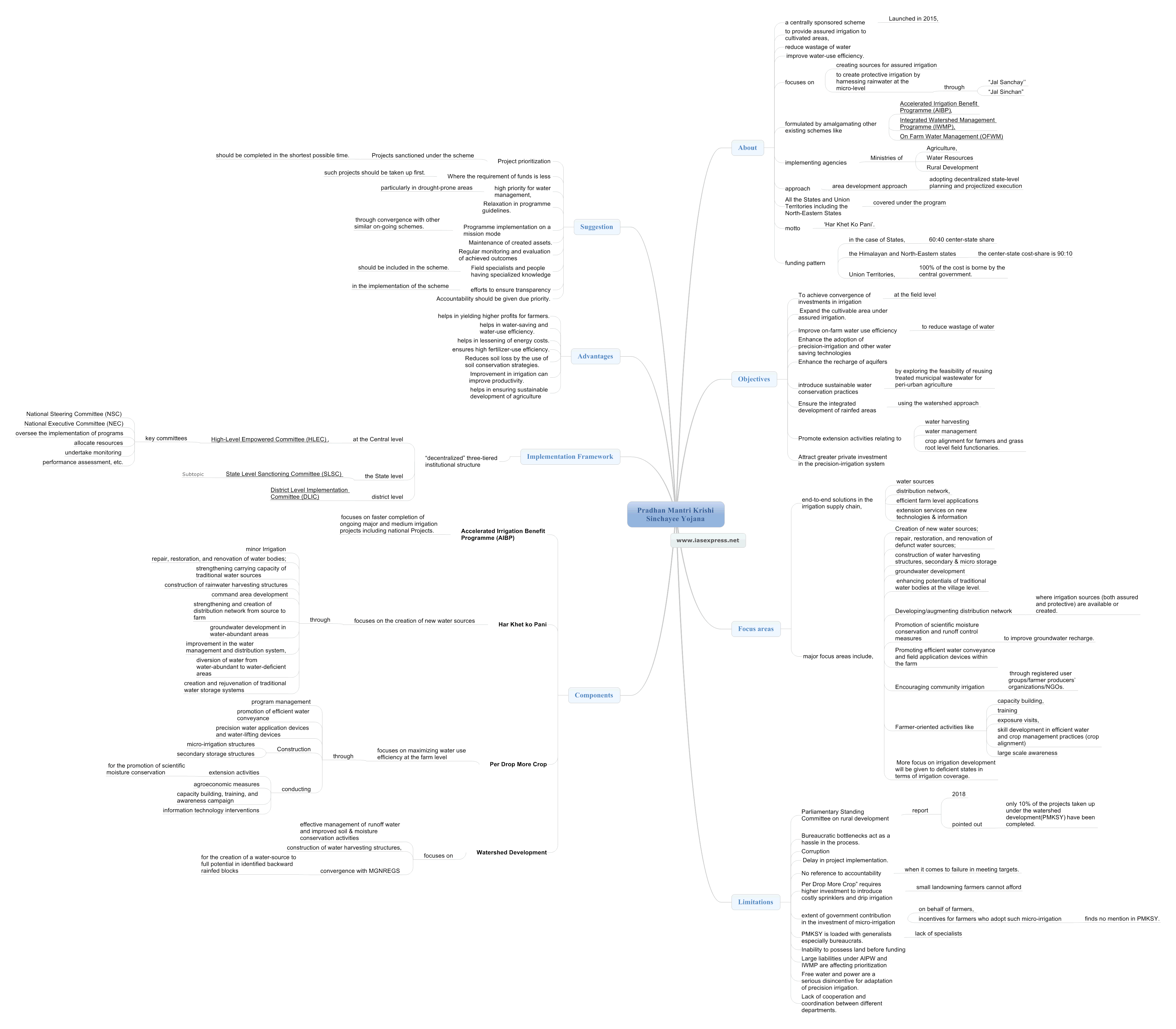 About
Launched in 2015, PMKSY is a centrally sponsored scheme to provide assured irrigation to cultivated areas, reduce wastage of water and improve water-use efficiency.
It not only focuses on creating sources for assured irrigation but also aims to create protective irrigation by harnessing rainwater at the micro-level through "Jal Sanchay'' and "Jal Sinchan".
The scheme has been formulated by amalgamating other existing schemes like Accelerated Irrigation Benefit Programme (AIBP), Integrated Watershed Management Programme (IWMP), and On Farm Water Management (OFWM).
Ministries of Agriculture, Water Resources, and Rural Development are the implementing agencies of the scheme.
PMKSY is being implemented in an area development approach, adopting decentralized state-level planning and projectized execution, allowing the states to draw their irrigation development plans based on district/block plans with a horizon of 5 to 7 years. States can take up projects based on the District/State Irrigation Plan.
All the States and Union Territories including the North-Eastern States are covered under the program
The motto of the Scheme is 'Har Khet Ko Pani'.
The funding pattern of the Scheme is 60:40 center-state share in the case of States, for the Himalayan and North-Eastern states, the center-state cost-share is 90:10, and for the Union Territories, 100% of the cost is borne by the central government.
Objectives
To achieve convergence of investments in irrigation at the field level.
Expand the cultivable area under assured irrigation.
Improve on-farm water use efficiency to reduce wastage of water.
Enhance the adoption of precision-irrigation and other water saving technologies (More crop per drop)
Enhance the recharge of aquifers and introduce sustainable water conservation practices by exploring the feasibility of reusing treated municipal wastewater for peri-urban agriculture
Ensure the integrated development of rainfed areas using the watershed approach towards the soil and water conservation, regeneration of groundwater, arresting runoff, providing livelihood options, and other NRM activities.
Promote extension activities relating to water harvesting, water management, and crop alignment for farmers and grass root level field functionaries.
Attract greater private investment in the precision-irrigation system.
Focus areas
PMKSY will strategize by focussing on end-to-end solutions in the irrigation supply chain, viz. water sources, distribution network, efficient farm level applications, extension services on new technologies & information, etc. The major focus areas include,
Creation of new water sources; repair, restoration, and renovation of defunct water sources; construction of water harvesting structures, secondary & micro storage, groundwater development, enhancing potentials of traditional water bodies at the village level.
Developing/augmenting distribution network where irrigation sources (both assured and protective) are available or created.
Promotion of scientific moisture conservation and runoff control measures to improve groundwater recharge.
Promoting efficient water conveyance and field application devices within the farm viz, underground piping system, drip & sprinklers, pivots, rain-guns, and other application devices, etc.
Encouraging community irrigation through registered user groups/farmer producers' organizations/NGOs.
Farmer-oriented activities like capacity building, training and exposure visits, demonstrations, farm schools, skill development in efficient water and crop management practices (crop alignment) including large scale awareness through mass media campaigns, exhibitions, field days, and extension activities through short animation films, etc.
More focus on irrigation development will be given to deficient states in terms of irrigation coverage.
Components
Accelerated Irrigation Benefit Programme (AIBP) focuses on faster completion of ongoing major and medium irrigation projects including national Projects.
PMKSY (Har Khet ko Pani) focuses on the creation of new water sources through minor Irrigation (both surface and groundwater), repair, restoration, and renovation of water bodies; strengthening carrying capacity of traditional water sources, construction of rainwater harvesting structures; command area development, strengthening and creation of distribution network from source to farm, groundwater development in water-abundant areas, improvement in the water management and distribution system, diversion of water from water-abundant to water-deficient areas and creation and rejuvenation of traditional water storage systems.
PMKSY (Per Drop More Crop) focuses on maximizing water use efficiency at the farm level through program management, promotion of efficient water conveyance, precision water application devices, and water-lifting devices. Construction of micro-irrigation structures, secondary storage structures, conducting extension activities for the promotion of scientific moisture conservation and agroeconomic measures, capacity building, training, and awareness campaign, and information technology interventions are other measures to promote water use efficiency.
PMKSY (Watershed Development) focuses on effective management of runoff water and improved soil & moisture conservation activities, construction of water harvesting structures, and convergence with MGNREGS for the creation of a water-source to full potential in identified backward rainfed blocks including renovation of traditional water bodies.
Implementation Framework
PMKSY follows a "decentralized" three-tiered institutional structure with High-Level Empowered Committee (HLEC) at the Central level, State Level Sanctioning Committee (SLSC) at the State level, and District Level Implementation Committee (DLIC) at the district level besides dynamic involvement of other stakeholders.
At the national level, National Steering Committee (NSC) and National Executive Committee (NEC) are the key committees that oversee the implementation of programs, allocate resources, undertake monitoring and performance assessment, etc.
At the State level, the State Department of Agriculture is the nodal department for implementation of the program.
At the district level, the District Level Implementation Committee (DLIC) oversees the implementation of PMKSY.
Advantages
It helps in yielding higher profits for farmers.
It helps in water-saving and water-use efficiency.
It further helps in lessening energy costs.
It ensures high fertilizer-use efficiency.
Reduces soil loss by the use of soil conservation strategies.
Improvement in irrigation can improve productivity.
It helps in ensuring the sustainable development of agriculture.
Limitations
A report of the Parliamentary Standing Committee on rural development in 2018 pointed out that only 10% of the projects taken up under the watershed development component of the Pradhan Mantri Krishi Sinchayee Yojana (PMKSY) have been completed.
Bureaucratic bottlenecks act as a hassle in the process.
Corruption is another issue.
Delay in project implementation.
No reference to accountability when it comes to failure in meeting targets.
Per Drop More Crop" requires higher investment to introduce costly sprinklers and drip irrigation which small landowning farmers cannot afford.
The extent of government contribution in the investment of micro-irrigation on behalf of farmers, or incentives for farmers who adopt such micro-irrigation, finds no mention in PMKSY.
There is a lack of specialists. PMKSY is loaded with generalists especially bureaucrats.
Inability to possess land before funding. This is adversely affecting the scheme leading to falling short of the targets.
Large liabilities under AIPW and IWMP are affecting prioritization.
Free water and power are a serious disincentive for adaptation of precision irrigation.
Lack of cooperation and coordination between different departments.
Suggestion
Project prioritization is an important issue. Projects sanctioned under the scheme should be completed in the shortest possible time.
Where the requirement of funds is less such projects should be taken up first.
Restoration, renovation, and rejuvenation of existing water bodies should be given very high priority for water management, particularly in drought-prone areas.
Relaxation in program guidelines.
Program implementation on a mission mode and through convergence with other similar on-going schemes.
Maintenance of created assets.
Regular monitoring and evaluation of achieved outcomes.
Field specialists and people having specialized knowledge such as engineers should be included in the scheme.
There should be efforts to ensure transparency in the implementation of the scheme.
Accountability should be given due priority.
Way forward
Agriculture occupies a very important space in our economy. It contributes a significant amount to the GDP and employs a large number of people. The goal to double farmers' income can be fulfilled by covering more and more areas under irrigation as it is a critical input for improving agricultural productivity which in turn will help in ensuring food and nutritional security. PMKSY has the potential to act as an important instrument in fulfilling all these targets.
Practise question
Write a note on Pradhan Mantri Krishi Sinchayee Yojana. Highlight the challenges in the implementation of the scheme.
Learn More