Pomegranate Production in India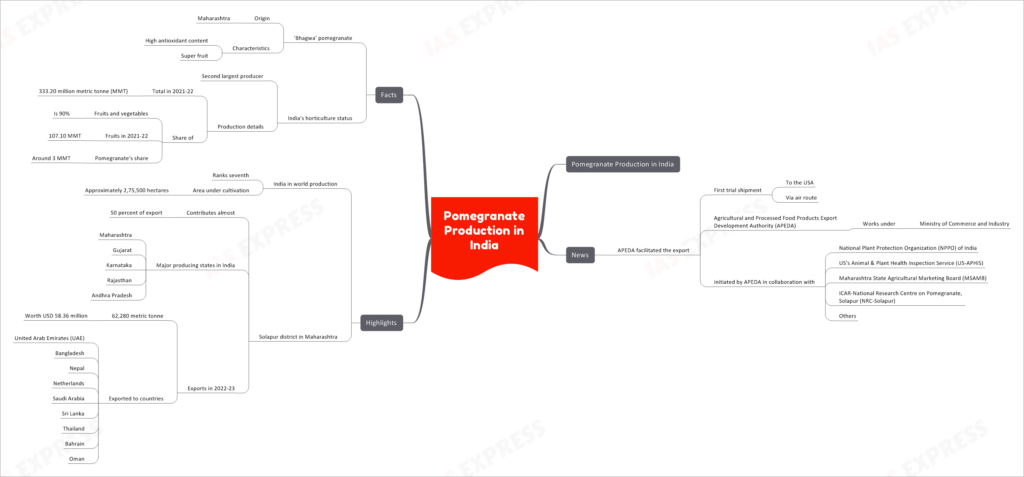 India's journey in pomegranate production has reached new heights with the successful facilitation of its first trial shipment to the USA via air. This accomplishment, orchestrated by the Agricultural and Processed Food Products Export Development Authority (APEDA) in collaboration with various partners, exemplifies India's commitment to global agricultural exports.
Collaborative Export Endeavors
APEDA's strategic efforts have resulted in the export of the first trial shipment of fresh pomegranates to the USA, marking a milestone in India's agricultural exports. This achievement was made possible through collaborations with key entities including the National Plant Protection Organization (NPPO) of India, the US's Animal & Plant Health Inspection Service (US-APHIS), the Maharashtra State Agricultural Marketing Board (MSAMB), and the ICAR-National Research Centre on Pomegranate, Solapur (NRC-Solapur), among others.
India's Pomegranate Landscape
Global Ranking and Cultivation Area
In terms of global pomegranate production, India holds the seventh position. With approximately 2,75,500 hectares of land dedicated to pomegranate cultivation, the country showcases its substantial commitment to this crop.
Regional Contributions
The district of Solapur in Maharashtra plays a pivotal role in India's pomegranate exports, contributing nearly 50% of the total output. Other major producing states include Maharashtra, Gujarat, Karnataka, Rajasthan, and Andhra Pradesh. copyright©iasexpress.net
Export Success and Global Reach
India's pomegranate exports in the 2022-23 period amounted to 62,280 metric tonnes, with a total value of USD 58.36 million. These exports reached diverse countries, including the United Arab Emirates (UAE), Bangladesh, Nepal, the Netherlands, Saudi Arabia, Sri Lanka, Thailand, Bahrain, and Oman.
The 'Bhagwa' Pomegranate
Origin and Characteristics
The 'Bhagwa' variety of pomegranate, originating from Maharashtra, stands out due to its high antioxidant content. Renowned as a super fruit, it embodies India's capacity to cultivate produce with exceptional nutritional benefits.
India's Horticultural Prowess
Second Largest Producer
India's prowess in horticulture is evident as it ranks as the second-largest producer of horticultural crops globally.
Production Landscape
In the fiscal year 2021-22, the total horticultural production in India reached 333.20 million metric tonnes (MMT), with fruits and vegetables contributing an impressive 90%. Within this, fruit production amounted to 107.10 MMT, with pomegranates accounting for approximately 3 MMT.