[Editorial] Import Restriction on Electronics- Highlights, Reasons & Concerns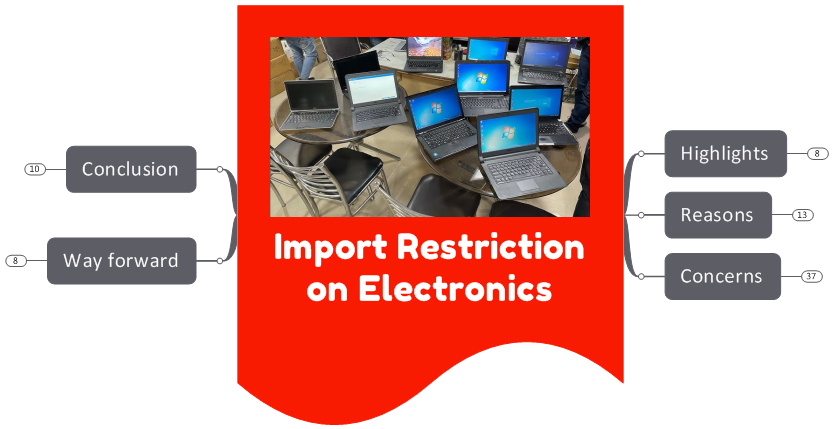 The Union government has implemented restrictions on the imports of personal computers, laptops, palmtops, automatic data processing machines, microcomputer/processors, and large/mainframe computers.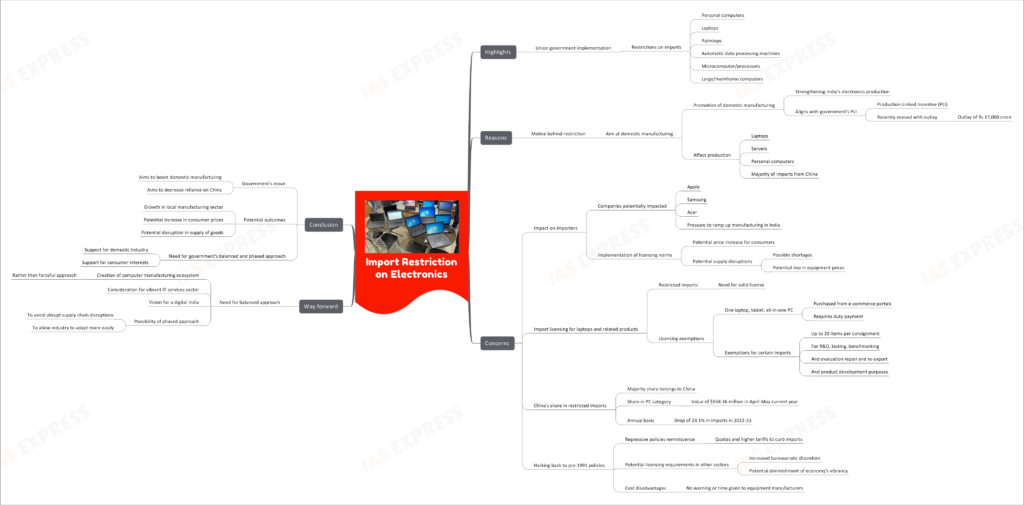 Motive behind the Restriction
Aim at Domestic Manufacturing
The restrictions are an effort to promote domestic manufacturing and strengthen India's production prowess in the electronics sector.
The move aligns with the government's production-linked incentive (PLI) scheme for IT hardware, which has been recently revised with an outlay of Rs 17,000 crore.
This restriction is targeted to affect the production of laptops, servers, and personal computers, as a majority of imports in these segments come from China.
Impact on Importers
These new regulations might impact companies like Apple, Samsung, and Acer, pressuring them to ramp up their manufacturing and assembly lines in India.
The implementation of licensing norms might increase prices for consumers.
The measure could lead to disruptions in supply, potentially creating shortages and driving up equipment prices.
Import Licensing for Laptops and Related Products
The import of laptops, tablets, all-in-one personal computers, and 'ultrasmall form factor' computers and servers falling under HSN 8741 are now 'restricted' and would only be allowed against a valid licence for restricted imports.
Import of one laptop, tablet, all-in-one personal computer, or ultrasmall form factor computer, even those purchased from e-commerce portals through post or courier, is exempt from the licensing requirement but will attract a duty payment. copyright©iasexpress.net
The government also exempted certain imports up to 20 items per consignment for R&D, testing, benchmarking, and evaluation repair and re-export, and product development purposes.
China's Share in Restricted Imports
A majority share in the seven categories of restricted imports belongs to China.
China's share in the category of personal computers including laptops, palmtops stood at $558.36 million in April-May this year.
On an annual basis, India's imports of personal computers, laptops from China had dropped 23.1 per cent in 2022-23.
Harking Back to Pre-1991 Policies
This move seems to hark back to the pre-1991 era where repressive policies such as quotas and higher tariffs were used to curb imports.
This decision could lead to similar licensing requirements in other sectors, increasing bureaucratic discretion and potentially diminishing the vibrancy of the economy.
The decision, while it aims to promote domestic manufacturing and curb imports from China, could have cost disadvantages, considering no warning or time was given to equipment manufacturers.
Way Forward
Considering the possible disadvantages of these restrictions, the government should adopt a balanced approach that facilitates the creation of a computer manufacturing ecosystem in the country rather than a forceful approach. This balanced strategy should consider the vibrant IT services sector and the vision for a digital India. A phased approach might also be beneficial to avoid abrupt supply chain disruptions and allow the industry to adapt more easily. copyright©iasexpress.net
Conclusion
In conclusion, the Union government's move to restrict the import of electronic goods aims to boost domestic manufacturing and decrease reliance on China. While this could lead to growth in the local manufacturing sector, it might also result in increased prices for consumers and potentially disrupt the supply of these goods. Therefore, it's crucial that the government navigates this change with a balanced and phased approach to support both the domestic industry and consumer interests.
Practice Question for Mains
Comment on the pros and cons of using import restriction as a way of boosting domestic manufacturing, with reference to the recent restrictions on laptop imports. (250 words)