[Editorial] Mental Health- How is the Informal Sector Faring?
World Mental Health Day emphasizes mental well-being as a universal human right. One often neglected segment in this context is the informal worker, a vital part of the global economy yet vulnerable to significant mental health challenges.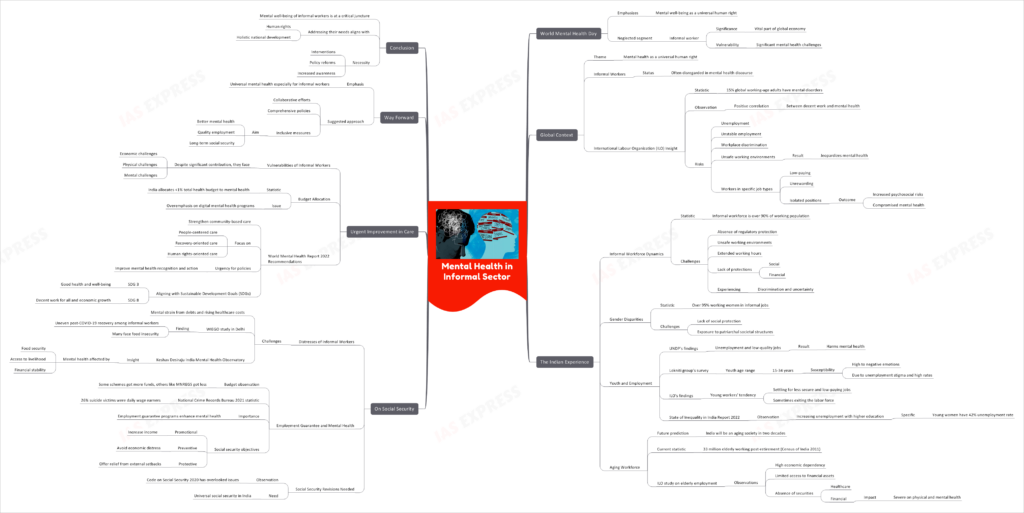 Global Context
Theme: Mental health as a universal human right.
Informal Workers: Often disregarded in mental health discourse.
International Labour Organization (ILO) Insight:

15% of global working-age adults have mental disorders.
Positive correlation between decent work and mental health.
Unemployment, unstable employment, workplace discrimination, and unsafe working environments jeopardize mental health.
Workers in low-paying, unrewarding jobs or isolated positions face increased psychosocial risks, harming their mental health.
The Indian Experience
Informal Workforce Dynamics
India's informal workforce represents over 90% of its working population.
Challenges:

Absence of regulatory protection.
Unsafe working environments.
Extended working hours.
Lack of social or financial protections.
Experiencing discrimination and uncertainty.
Gender Disparities
Over 95% of working women in India are in informal, unstable, and low-paying jobs.
Lack of social protection and exposure to patriarchal societal structures.
Youth and Employment
UNDP's findings: Unemployment and low-quality jobs harm mental health.
Lokniti group's survey: Youth (15-34 years) show high susceptibility to negative emotions due to unemployment stigma and high unemployment rates.
ILO's findings: Young workers settling for less secure and low-paying jobs, sometimes exiting the labor force entirely. copyright©iasexpress.net
State of Inequality in India Report 2022: Increasing unemployment rate with higher education, especially in young women (42% unemployment rate).
Aging Workforce
In two decades, India will transition to an aging society.
33 million elderly individuals are engaged in post-retirement informal work (Census of India 2011).
ILO study on elderly employment in India indicates:

High economic dependency.
Limited access to financial assets.
Absence of healthcare and financial security severely affecting their mental health.
On Social Security
Distresses of Informal Workers
Mental strain from accumulating debts and escalating healthcare costs.
WIEGO study in Delhi: Post-COVID-19 recovery remains uneven among informal workers, many facing food insecurity.
Keshav Desiraju India Mental Health Observatory: Mental health is influenced by factors like food security, access to livelihood, and financial stability.
Employment Guarantee and Mental Health
Some schemes received increased allocation while others, like MNREGS, experienced cuts.
National Crime Records Bureau 2021: 26% of suicide victims were daily wage earners.
Importance of employment guarantee programs in enhancing mental health outcomes.
Social security objectives:

Promotional: Increase income.
Preventive: Avoid economic distress.
Protective: Offer relief from external setbacks.
Social Security Revisions Needed
The Code on Social Security 2020 overlooks significant social security issues for India's informal workforce.
Need for universal social security in India. copyright©iasexpress.net
Urgent Improvement in Care
Vulnerabilities of Informal Workers
Despite their substantial contribution, they face economic, physical, and mental challenges.
Budget Allocation
India allocates less than 1% of its total health budget to mental health.
Overemphasis on digital mental health programs.
World Mental Health Report 2022 Recommendations
Strengthen community-based care.
Focus on people-centered, recovery-oriented, and human rights-oriented care.
Necessity for policies that bolster mental health awareness and action.
Meeting Sustainable Development Goals, particularly SDG 3 (good health and well-being) and SDG 8 (decent work for all/economic growth).
Way Forward
Emphasizing the importance of universal mental health, especially for informal workers, is imperative. Collaborative efforts, comprehensive policies, and inclusive measures are the way forward to ensure better mental health outcomes, quality of employment, and long-term social security.
Conclusion
The mental well-being of informal workers stands at a critical juncture. Addressing their needs aligns not only with human rights but also with holistic national development. Proper interventions, policy reforms, and increased awareness are the need of the hour.
Practice Question for Mains
Discuss the issue of mental health in the informal sector. What can be done? (250 words)