Manual Scavenging in India – Reasons and Responses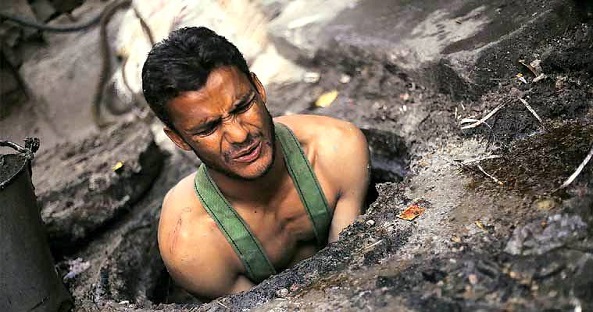 Updates *
There are growing instances of deaths while cleaning septic tanks and sewage treatment plants in several states. This highlights the need for a better understanding of the problems being faced by manual scavengers and addressing the challenges in the implementation of the manual scavenging law.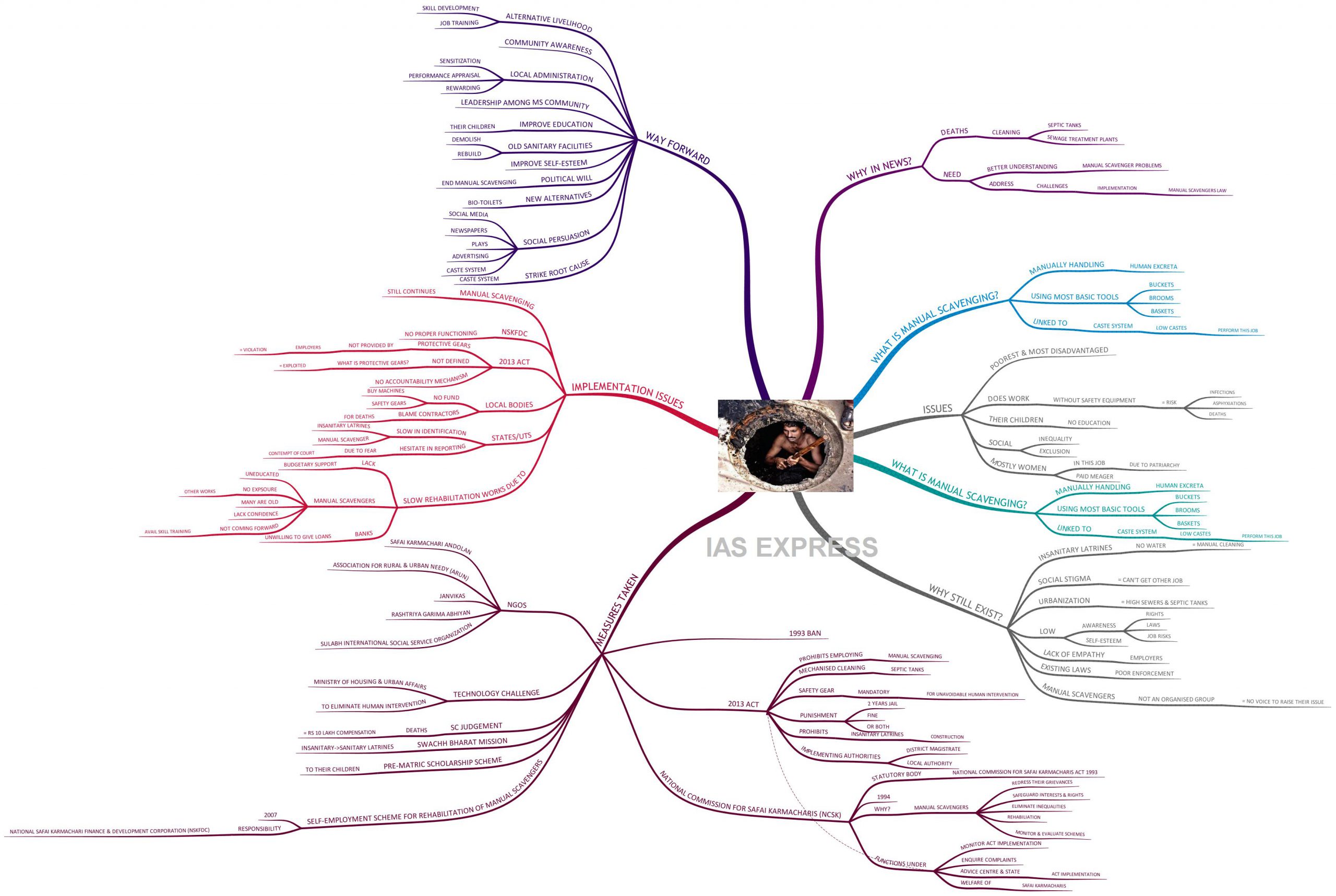 What is Manual Scavenging?
Manual Scavenging is the practice of manually cleaning, carrying, or handling human excreta from dry latrines and sewers.
It mostly involves using the most basic tools like buckets, brooms, and baskets.
Manual scavengers are amongst the poorest and most disadvantaged communities in India.
Manual scavenging is linked to India's caste system where the so-called low castes were expected to perform this job.
What are the problems being faced by Manual Scavengers?
Manual Scavengers in India does the work without any safety equipment, which puts them under the risk of infections and asphyxiations (deprived of oxygen), which are often become fatal.

They are exposed to most virulent forms of viral and bacterial infections that affect their skin, eyes, limbs, respiratory and gastrointestinal systems.
Statistics prove that 80% of India's sewage cleaners die before they turn 60, after contracting various infectious diseases.
Every 5 days one person loses life on an average due to infections and accidents in the process of manual scavenging in India.

Their Children are also caught up in the plight and make it impossible for them to continue their education.
The job is still being performed by communities who are considered untouchables or lower castes. Hence they still face social inequality and exclusion from society.

They are denied access to places of worship, public sources of water.
They are excluded from cultural events etc.

Due to the patriarchy in society, most manual scavengers who clean dry latrines are women. But here also, women are being discriminated against and are paid meagerly.
Why manual scavenging still persists in India?
Manual scavenging exists mainly due to the continued presence of unsanitary latrines where human waste has to be cleaned physically, rather than by a machine or sewage system. The majority of such unsanitary latrines are dry latrines that don't use water.
Even if they want to leave their profession, their untouchability and uncleanliness tag and the resultant social stigma makes it impossible for them to find alternative jobs.
Increasing urbanization in the country requires more manual scavengers for the cleaning of sewers or septic tanks.
Low education level, low awareness of their rights & laws, job risks and low self-esteem force them to take such work.
Lack of empathy among the government, contractors and household members employing manual scavengers, who fail to understand their plight.
Poor enforcement of existing laws is also a reason for the continuance.
Manual scavengers are not an organized group and don't have any significant voice in the political and government structures. Hence their problems are not considered a major issue.
What is the magnitude of the problem?

*
What are the measures taken?
The government has taken a number of initiatives focussing on the conversion of insanitary latrines, rehabilitation, and employment of manual scavengers, scholarships for their children.
In 1993, India banned the employment of people as manual scavengers.
Manual Scavenging is regulated by the Prohibition of Employment as Manual Scavengers and their Rehabilitation Act, 2013 which further reinforces the ban.
Under this, no person, local authority or agency should engage or employ people for hazardous cleaning of sewers and septic tanks.
Mechanised cleaning of septic tanks is the prescribed norm.
When human intervention is unavoidable, safety gear is mandatory.
A violation can be punished with 2 years of imprisonment or fine or both.
It also prohibits the construction of insanitary latrines.
Each occupier of insanitary latrines shall be held responsible for converting or demolishing the latrine at his or her own cost.
The District Magistrate and the local authority shall be the implementing authorities.
National Commission for Safai Karmacharis (NCSK): 
NCSK is a statutory body established under National Commission for Safai Karamcharis Act, 1993.
It was established in 1994 to deal with the grievances of persons engaged in manual scavenging.
It aims to promote and safeguard the interests and rights of Safai Karamcharis and Manual Scavengers and works for the welfare of both.
It is mandated to work towards the elimination of inequalities in status, facilities, and opportunities for Safai Karamcharis.
It has an important role to ensure the rehabilitation of all identified manual scavengers on a time-bound basis.
It is mandated to study, evaluate and monitor implementation of various schemes for Safai Karamcharis as an autonomous organization.
Under Section 31 of Prohibition of Employment as Manual Scavengers and their Rehabilitation Act 2013, NCSK perform the following functions

Monitor implementation of Act.
Enquire into complaints regarding contravention of provisions of Act.
Advice Central and State Governments for effective implementation of Act.
Working for the welfare of Safai Karamcharis/Manual Scavengers.
Self-Employment Scheme for Rehabilitation of Manual Scavengers (SRMS),
It was introduced in 2007 with the aim to rehabilitate remaining manual scavengers and their dependents in alternative occupations, in a time-bound manner.
The responsibility of rehabilitation of the identified manual scavengers is given to the National Safai Karamcharis Finance and Development Corporation which was established to safeguard the interests and rights of Safai Karamcharis (Manual Scavengers).
Swachh Bharat Mission focusses on the conversion of insanitary latrines into sanitary latrines.
Scheme of "Pre Matric Scholarship to the Children of those engaged in occupations involving cleaning and prone to health hazards",
Under this, children of manual scavengers are provided scholarships.
It is being implemented by the Ministry of Social Justice & Empowerment.
Supreme Court of India gave landmark judgement to identify and award compensation of Rs 10 lakh to dependents in deaths of sewerage workers who died while cleaning sewerage and septic tanks since 1993.
In July 2018, the Ministry of Housing and Urban Affairs has launched a 'technology challenge" with an aim of eliminating human entry into septic tanks and drains for cleaning.
Several NGOs are dedicated to solving this issue
Safai Karmachari Andolan (SKA) – a national movement for the total eradication of manual scavenging.
Rashtriya Garima Abhiyan: It is a coalition of 30 community-based organizations who campaigned to encourage manual scavengers to voluntarily leave the practice.
Association for Rural and Urban Needy (ARUN) based on Hyderabad works for the enforcement of the national ban on manual scavenging.
JANVIKAS also focusing on manual scavenging.
Sulabh International Social Service Organization: Focusses on the construction of proper toilets and has pioneered the two-pit, pour-flush compost toilet, known as the Sulabh Shauchalaya that does not require manual cleaning.
How is the implementation?
Despite a large number of schemes and provisions, the inhuman practice of manual scavenging still continues.
The National Safai Karmachari Commission has not been functioning properly. Its website has not been updated about recent developments and initiatives.
Protective gears such as gloves, gas masks, and boots are often not provided by employers, in violation of the 2013 Act. This resulted in diseases and even deaths. There is no proper accountability mechanism in place.
The Act allows manual scavenging if the employer provides protective gear. However, the Act doesn't define what constitutes protective gear = employers exploit this provision.
Municipalities don't have enough funds to use machines for cleaning the sewers and also to provide safety gear. Also, they generally blame contractors for any loss of life.
States and UTs are slow in the identification of insanitary latrines and manual scavengers since there is no time-bound plan for doing that.
Furthermore, many states hesitate in reporting the existence of unsanitary latrines and manual scavengers in their jurisdiction due to the fear of contempt of the court.
Rehabilitation works are also very slow due to various challenges as follows

Lack of budgetary support,
Manual scavengers are generally uneducated,
They have no exposure to other works,
Many of them are old particularly women,
They lack confidence in doing self-employment and
Many of them do not come forward to avail of any skill development training.

Banks are unwilling to provide a loan to manual scavengers due to the low rate of recovery of a loan from them.
What is the way forward?
Need to ensure discrimination-free, secure and alternate livelihoods by providing skill development and livelihood training particularly for manual scavenger women.
Need to create community awareness and sensitization of local administration in order to provide a favourable environment for the implementation of law and schemes.
Need to build leadership in the community to better voice their problems in the social, economic and political circles.
Need to build the capacity of manual scavengers to promote rehabilitation efforts.
Need to improve the educational status of the children of manual scavengers.
Need to demolish or rebuild old facilities that lack sanitation.
Need to increase the confidence level among the manual scavengers is vital for rehabilitation efforts.
Need for political will to eradicate this practice.
New alternatives like Bio-toilets in the railway shall be implemented everywhere.
Performance appraisal and rewarding at the local level will help in the effective implementation of the initiatives.
Social persuasion through social media, newspapers, plays or advertising, etc.
Remote-controlled robots like the "Bandicoot" developed by Genrobotics could be effectively used to clean up manholes and sewer lines thus preventing thousands of manhole-related deaths. A single Bandicoot finishes the amount of work which usually takes 3-4 hours and at least 3 manual scavengers in just 45 minutes.

*

As Raja Ram Mohan Roy rightly said, "Change should come from society itself". Hence we need to strike at the root cause i.e., caste prejudice.
Test Yourself
Despite the law prohibiting manual scavenging, it is a harsh reality that the practice still exists in India. Critically analyse. (250 Words).
Learn More