[In-depth] Liberalised Geospatial Sector – Need and Way Ahead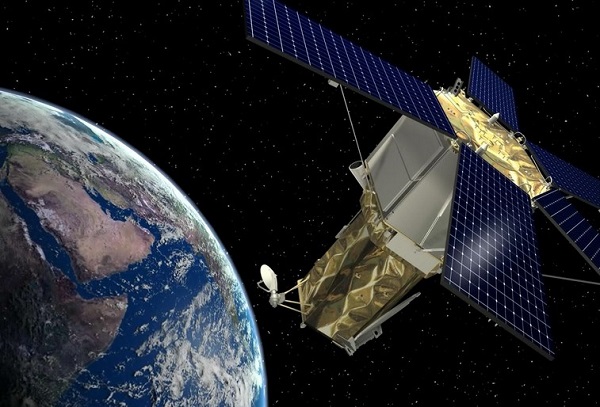 The Union Ministry of Science and Technology released new guidelines to liberalise the geospatial sector, a move that will democratise geospatial data, remove the government's monopoly and create a level playing field for the government and public entities. This is a major step towards Atmanirbhar Bharat and the creation of a $5 trillion Indian economy. This opportunity must be utilised to ensure an open data revolution, which had worked wonders across the world by boosting innovation and knowledge.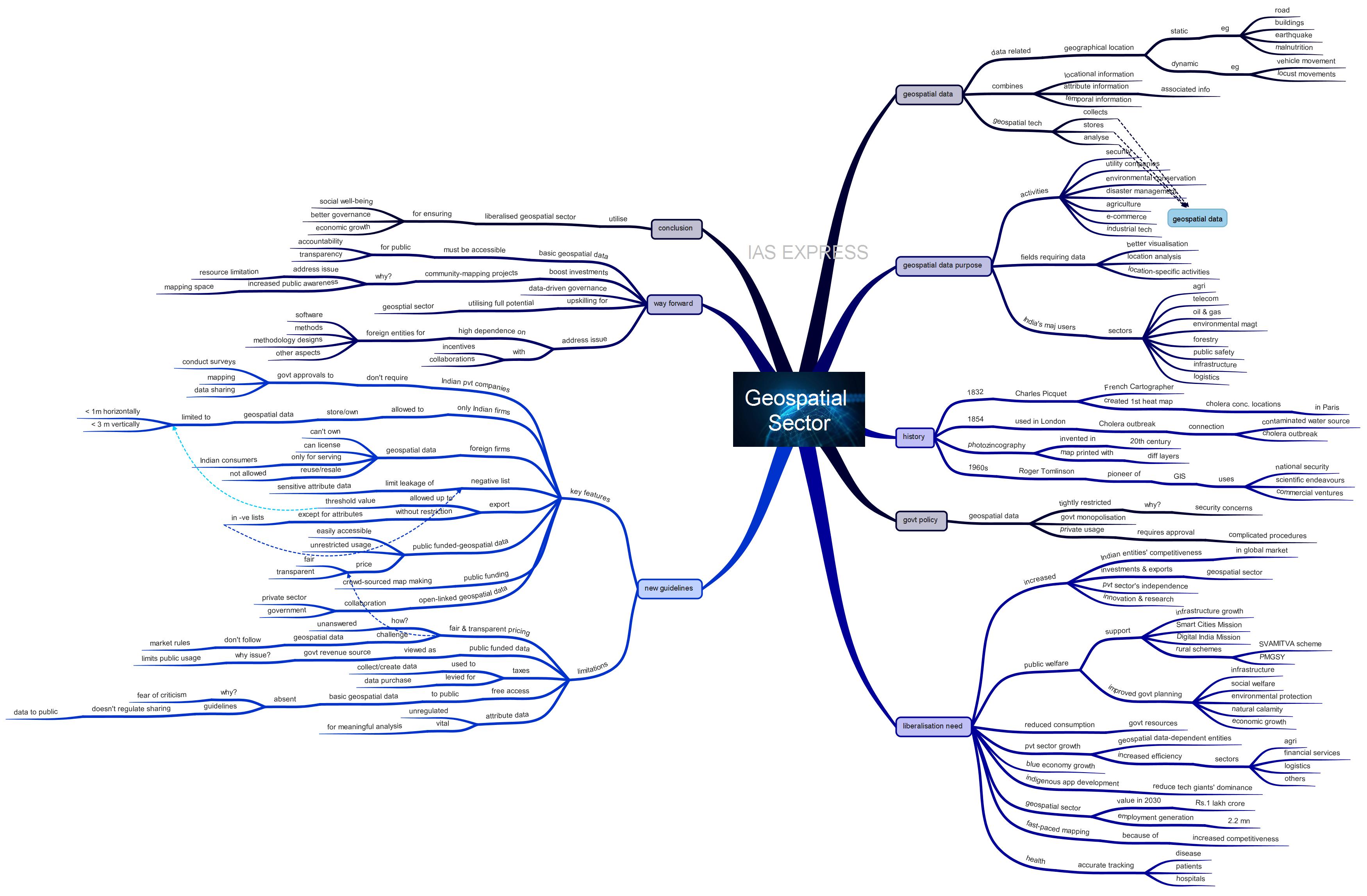 What is geospatial data?
Any data related to a geographical location is called geospatial data.
It provides locational information, this can be information about static locations (road, buildings, earthquake events, malnutrition etc) and dynamic locations (movement of vehicles, locust movements etc)
The geospatial data combines locational information, attribute information (characteristics of a specific object, event, and phenomenon) and temporal information (time).
The past decade saw a spike in geospatial data usage in the daily life of people across the world.
Geospatial data is collected, stored and analysed using geospatial technology
Examples of geospatial technology include remote sensors, geographical information system, GPS, internet mapping technologies, geotagging, geofencing and geospatial software like Google Earth.
What is the purpose of geospatial data?
Geospatial data is of critical importance for industries like the military, utility companies, urban planners, e-commerce, industrial engineers etc. copyright©iasexpress.net
All fields requiring better visualisation and analysis of geographical location and location-specific activities use this data.
Examples include biodiversity conservation, disaster management, agriculture etc.
In India, the major sectors using geospatial technology are agriculture, telecommunication, oil and gas, environmental management, forestry, public safety, infrastructure, logistics etc.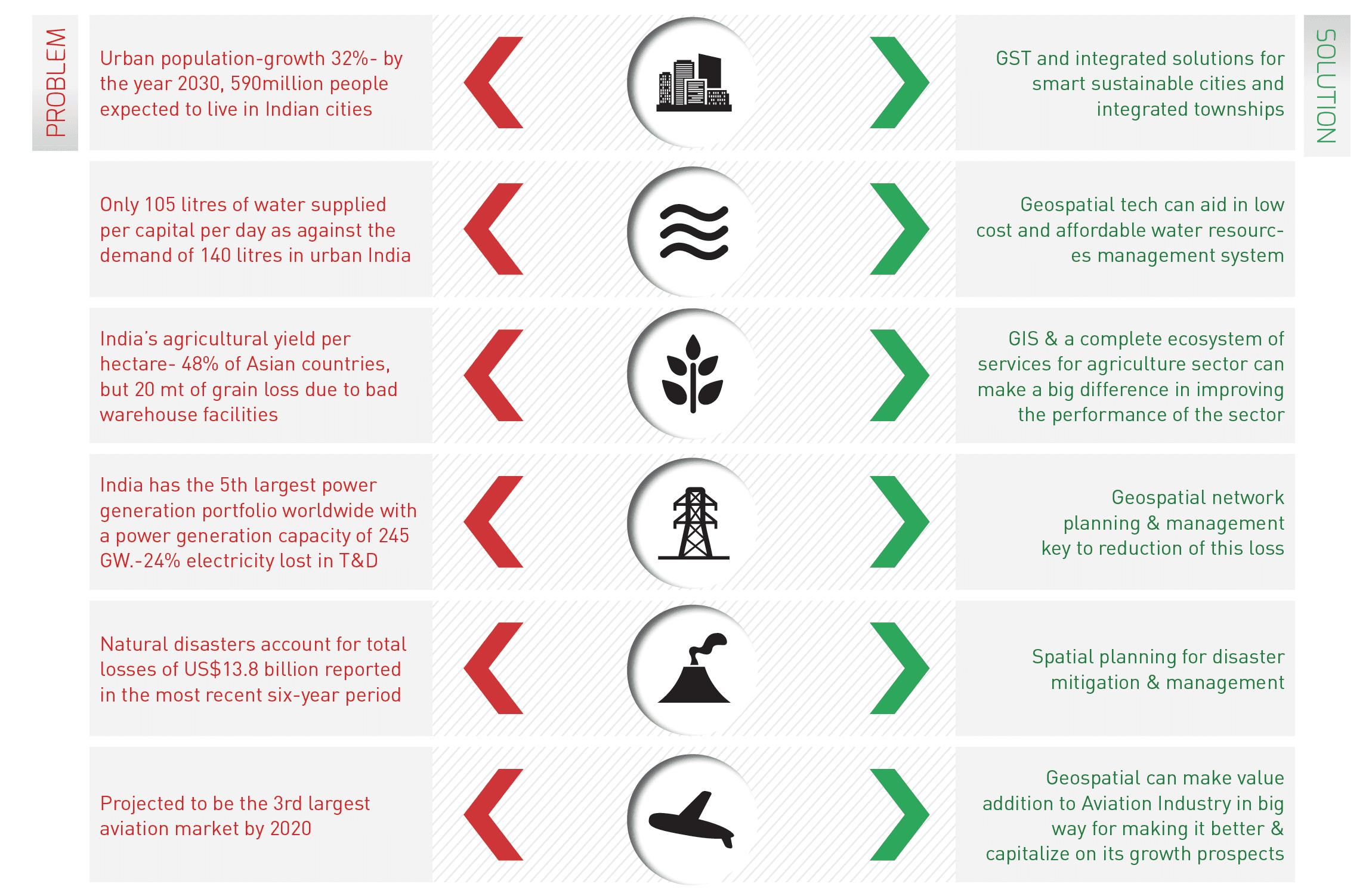 History of Geospatial technology:
The origins of geospatial technology can be traced back to 1832 when French cartographer Charles Picquet created one of the first heat maps to show locations with concentrated cholera cases in Paris.
This method was later used in 1854 when cholera struck London. In addition to depicting cholera deaths, the spatial data were analysed to show the connection between contaminated water source and cholera.
In the early twentieth century, photozincography was invented. Photozincography is a form of a map printed with separate layers. Each layer visually represents data on the map.
In the 1960s, Roger Tomlinson pioneered the concept of GIS that revolutionised traditional cartography.
The coming of GIS led to the large scale collection of images of the Earth's surface and human activities. This was used for national security, scientific endeavours and commercial ventures.
The GIS was refined further in the early twenty-first century when Google Maps produced a user-friendly version for the masses. copyright©iasexpress.net
What is the Indian government policy on geospatial data?
In India, the collection, storage, use, sale and dissemination of geospatial data was under tight restriction.
This is because of the concerns regarding internal and external threats.
Therefore, the geospatial sector is currently monopolised by the Indian government and PSUs.
It is mainly under the control of the Central government and several of its agencies like the Survey of India.
Private players were required to manoeuver through the complicated system of approvals from different government departments as well as the home and defence ministries.
This policy mainly looked at geospatial data as a vital tool wholly for defence.
What are the recent policy changes made regarding geospatial data usage?
To address the issues of red-tapism and project delays, the Central government released new guidelines for liberalising the geospatial sector. This means that a greater trust is put in by the government on private entities.
What are the key features of the new guidelines on geospatial data?
As per the guidelines, private companies are allowed to self-attest and work according to the government's guidelines without being monitored by government agencies.
Under the guidelines, the government's approval is not required for private firms to conduct surveys, mapping and sharing data for various purposes. copyright©iasexpress.net
It should be noted that only Indian entities can own and store geospatial data finer than 1 metre horizontally and 3-meter vertically.
Foreign companies or foreign-owned/controlled entities can license these fine data but not own them. These entities can use the acquired data only for serving customers from India. Reuse/resale of data by licensees is prohibited.
According to the guidelines, the government is going to create a "negative list" to limit leakage of sensitive attribute data (associated information).
Export of maps/geospatial data up to the said threshold value is allowed without restrictions except for attributes in the negative lists.
All geospatial data obtained using public funds, except the classified data, will be made easily accessible for scientific, economic and developmental purposes. This data can be accessed without restrictions on purpose at transparent and fair pricing.
The government will allocate public funds for crowd-sourced map making.
Promotion of collaboration among private entities and government for producing open-linked geospatial data
Why is geospatial data liberalisation necessary?
The positive implications of the new guidelines are:
Increased competitiveness of Indian entities in the global market
Availability of highly accurate geospatial data for public welfare and growth of geospatial data-dependent private entities like e-commerce companies copyright©iasexpress.net
Development of indigenous apps for reduced dominance of tech giants
Increased investments and exports in the geospatial sector
Boost the geospatial sector's value to 1 lakh crore by 2030 and generate employment for 2.2 million people.
Boost infrastructure growth and developments under Digital India and Smart Cities Mission
It will be a major boost for rural schemes like the SVAMITVA scheme (integrated property validation solution for rural India), Pradhan Mantri Gram Sadak Yojana etc.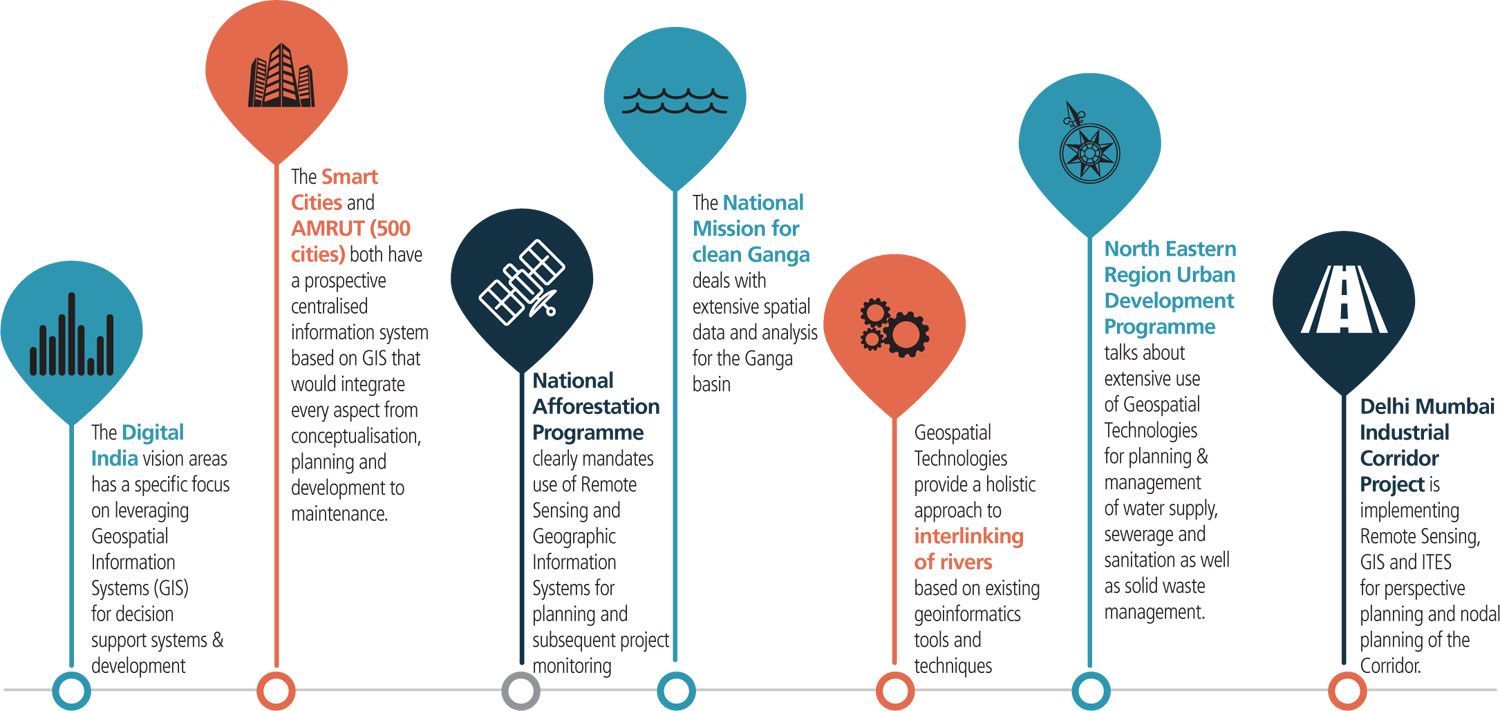 Fast-paced mapping due to increased competitiveness among private players
Increased independence of private firms and reduced consumption of governmental resources
Support innovation and research
Improved efficiency of agriculture, financial services, logistics and other such sectors due to the increased adoption of cost-effective geospatial tools and technology
Improved governmental planning related to infrastructure, social welfare, environmental protection, natural calamity and economic growth
The health sector will benefit from geospatial data through accurate tracking of diseases, patients, hospitals etc.
India's blue economy will see a major boost if its growth is supported by geospatial data usage.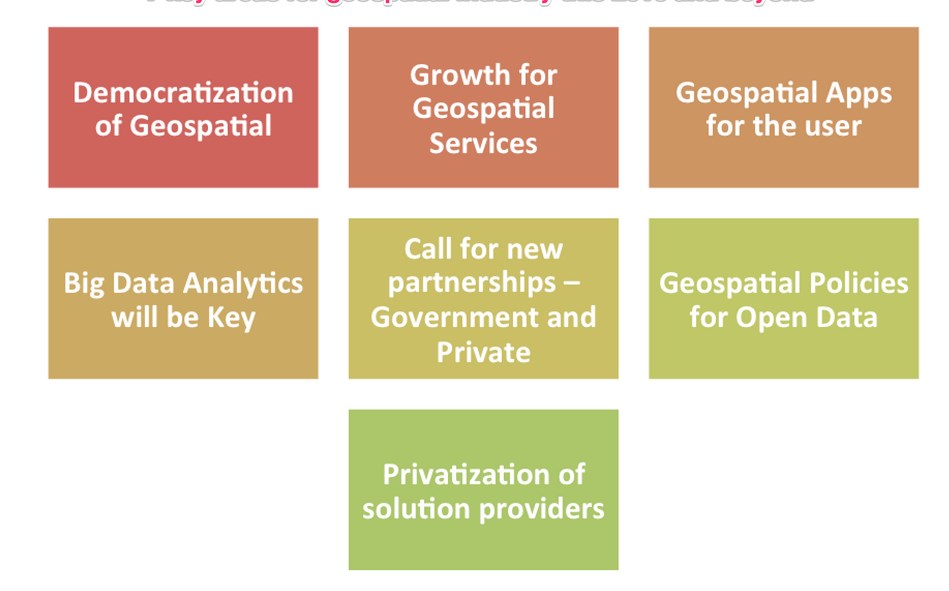 What are the limitations of the new guidelines?
The guidelines state that the geospatial data created with public funds will be easily accessible with fair and transparent pricing.
The means to ensure this aspect is not provided. Since geospatial data are not influenced by market forces, it will be difficult to find any entity that accepts its own pricing to be unfair. copyright©iasexpress.net
Public funded geospatial data sharing is being viewed by the government as a source of revenue. This limits the potential of its usage by the public.
According to current norms, taxes levied from citizens are used for collecting and creating data. In addition, private entities are required to pay GST and a specified price for the data purchase.
There lacks open and free access to public basic geospatial data due to the fear of public criticism of laxity and slow progress of projects. The guidelines do not address this issue.
The guidelines should have provided clear indications about regulations governing the sharing of public data.
There is no provision for regulating attribute data, which is vital for meaningful analysis of geospatial data.
What can be the way forward?
There lacks public access to even basic geospatial data related to administrative boundaries like wards, villages, road networks etc. Even a list of data created using public funds is not accessible.
These should be made accessible to the public for free for ensuring accountability and transparency.
This will help in ensuring solutions to societal problems currently plaguing the country.
Investments must be boosted for promoting more community-mapping projects. This will reduce the issue of resource limitations and increase public awareness about the mapping space. copyright©iasexpress.net
The liberalised geospatial sector must be utilised for promoting data-driven governance.
These new guidelines must be supplemented with upskilling of the government and private players in utilising geospatial data to its fullest potential.
India's geospatial industry is still at its nascent stage and is highly dependent on foreign sources for software, methods, methodology designs etc.
To address this issue, incentives and collaborations can be ensured.
Conclusion
The liberalisation of the geospatial sector is a game-changing endeavour. This potential must be utilised to ensure social well-being, better governance and economic growth of the country.
Practice question for mains:
Critically examine the consequences of deregulation of the geospatial sector in light of the newly released guidelines. (250 words)