India-Bhutan Relations: Evolution, Challenges & Recent Developments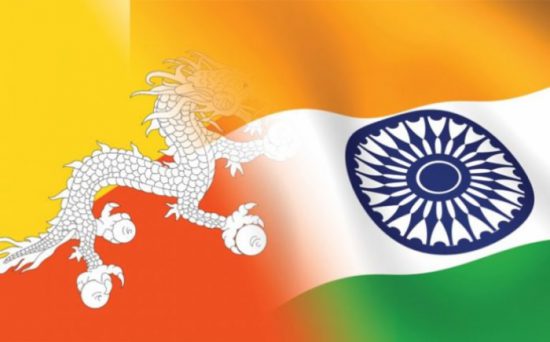 The bilateral ties between Bhutan and India have always been close and both nations share a 'special friendship' and have been through the test of times. India, to date, remains influential over Bhutan's foreign policy, defence, and Commerce. However, India must not exploit this position for its selfish interests and must ensure that there are mutual benefits for both sides.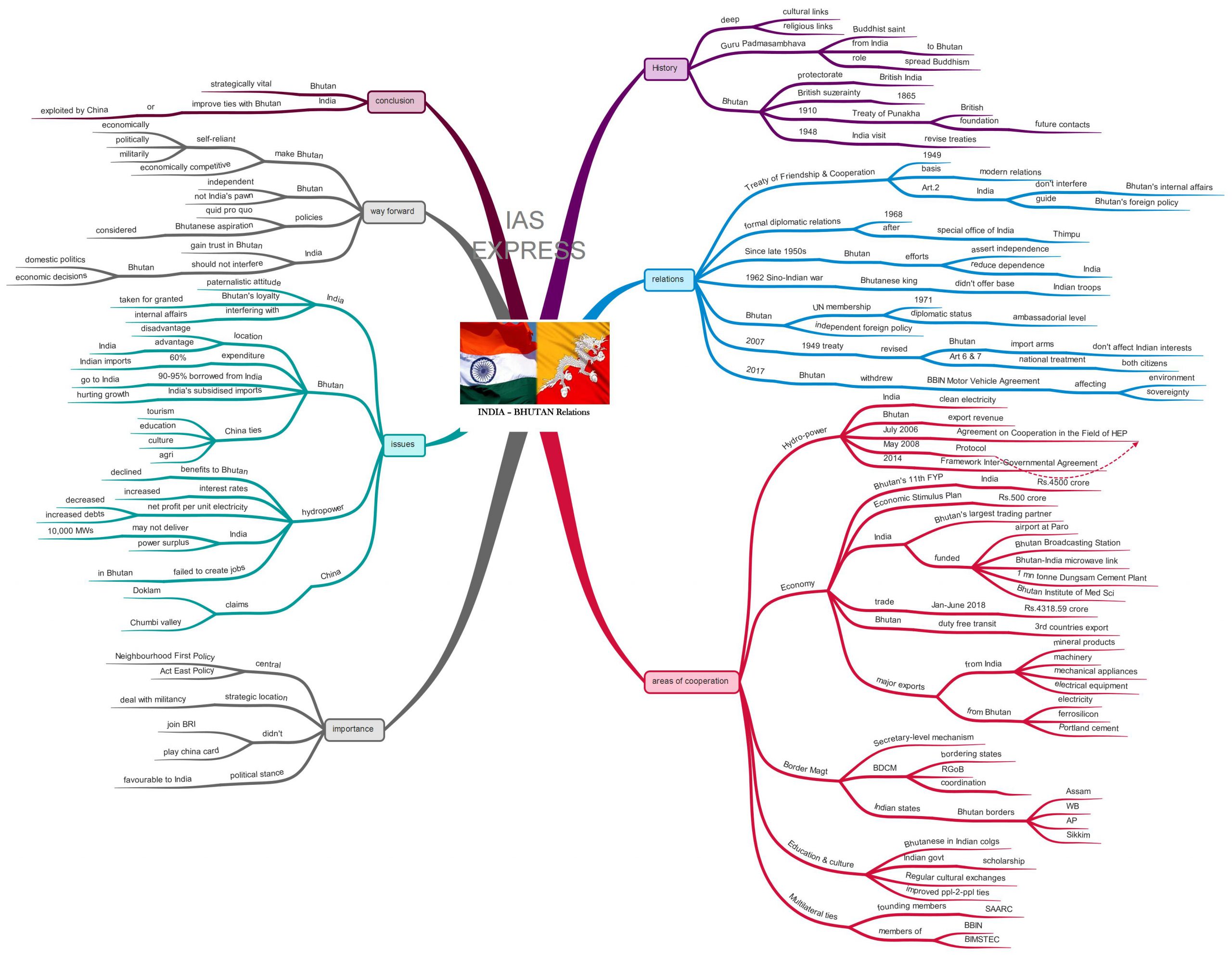 How did it begin?
Bhutan is a small landlocked state in the Eastern Himalayas that, since time immemorial, has shared deep religious and cultural links with India.
Guru Padmasambhava, a Buddhist saint who went to Bhutan from India, had played an influential role in spreading Buddhism and strengthening traditional ties in both the nations.
Bhutan was a protectorate of British India.
It came under the British suzerainty in 1865.
It signed the 'Treaty of Punakha' with the British in 1910. This laid the foundation for any future contacts between the two nations after British left India.
Throughout this time, India's relations with Bhutan were handled by a Political Officer based in Sikkim.
This continued until 1948 when the Bhutanese delegation visited India and aimed to revise the treaties signed during the British era.
What is the nature of relations since India's independence?
Later Independent India signed the Treaty of Friendship and Cooperation in 1949.
This laid the foundation for the beginning of the modern relations between the two nations.
One of the important provisions of the treaty, 'Article 2' declared that India should not interfere with Bhutan's internal affairs while foreign relations will continue to take place under its guidance.
Formal diplomatic relations were established in 1968 after a special office of India was set up in Thimpu.
In its relations with India, since the late 950s, Bhutan has repeatedly made efforts to assert its independent identity and had often expressed the desire to reduce its dependence on India.
During the Sino-India war of 1962, the Bhutanese king declined to offer a base to the Indian troops.
Bhutan had obtained the UN membership in 1971 and elevated its diplomatic status in New Delhi to full ambassadorial level and established diplomatic relations with nations independent of India's opinions.
In 2007, Article 2 of the 1949 treaty was revised, forever changing the terms of the erstwhile India-Bhutan relations.
This new treaty states that Bhutan can import arms as long as India's national interests are not harmed and there is no re-export of weapons, either by government or individual.
Article 6 and 7 of this treaty deal with the issue of "national treatment" and equal privileges for the citizens on each other's soil.
In 2017, Bhutan withdrew from the BBIN Motor Vehicle Agreement, claiming that it was unfavourably affecting its environment and sovereignty.
Clearly, the Himalayan kingdom interprets India-Bhutan ties differently.
What are the areas of cooperation?
Both the nations have mutual interests in areas like Security, Border Management, Trade, Hydro-power, etc.
Hydro-power:
Hydro-power generation is the single most important area of mutually beneficial cooperation in India-Bhutan relations.
Cooperation in the hydro-power sector is the true example of a mutually beneficial relationship, providing clean electricity to India, generating export revenue for Bhutan, and further strengthening economic ties between the two nations.
Both nations have successfully concluded several power-sharing agreements.
They have signed the Agreement on Cooperation in the Field of Hydroelectric Power (HEP) in July 2006, which outlines the framework for cooperation in the field of Hydropower.
In May 2008, the two sides have signed the Protocol to the 2006 Agreement.
In 2014, the two countries have also signed the "Framework Inter-Governmental Agreement" concerning the development of Joint Venture Hydropower projects through PSUs of the same.
Economic relationship:
For Bhutan's 11th Five Year Plan, the Indian government had contributed assistance of 4500 crore with an additional Rs.500 crore for the Economic Stimulus Plan.
India Bhutan's largest trading partner. In the period from January-June 2018, trade between the two nations stood at 4318.59 crores.
Bhutan enjoys duty-free transit of its exports to third countries.
The major exports from India to Bhutan are mineral products, machinery and mechanical appliances, electrical equipment etc.
The major imports from Bhutan include electricity, ferrosilicon, Portland cement etc.
India has funded nearly all of Bhutan's momentous projects like an airport at Paro, Bhutan Broadcasting Station, Bhutan-India microwave link, One million tonne Dungsam Cement Plant, Bhutan Institute of Medical Sciences, and all exploration, survey and mapping mineral resources.
Border Management:
There exists a Secretary-level mechanism to deal with the management of border and security related matters between the two nations.
There is also the Border District Coordination Meeting (BDCM) mechanism between the bordering states and the Royal Government of Bhutan (RGoB) to facilitate coordination on border management and other related matters.
The Indian states that share borders with Bhutan are Assam, Arunachal Pradesh, West Bengal and Sikkim.
Education and cultural cooperation:
Many college-going Bhutanese students are studying in India.
The Indian government provides numerous scholarships to students from Bhutan.
Regular cultural exchanges take place between the two nations.
The people to people ties are improved due to the measures taken by both nations.
Multilateral ties:
Both the nations are the founding members of SAARC.
They also share other multilateral forums such as BBIN, BIMSTEC
Why does India need Bhutan?
Bhutan is central to India's two major foreign policies – the Neighbourhood First Policy and the Act East Policy.
Special emphasis is given by India on the Neighbourhood First Policy and its relationship with Bhutan, which is mostly tension-free.
Bhutan's strategic location has helped India to flush out militant groups in the North-East.
Bhutan is India's only neighbour that has not yet joined China's BRI.
It should be noted that unlike Nepal, Bhutan has never played the China card against India.
Since the 1990s, Bhutan has repeatedly turned down China's "package deal" that offers a bigger territorial concession to Bhutan in return for the smaller Doklam area (remaining sensitive to India's security concerns in the area).
Bhutan's role in the Doklam standoff between India and China shows its dogmatic stance and the ability to assert the status quo in the face of Chinese intrusions.
This incident speaks volumes about its commitment to India's security interests in the region that does not hold equal strategic importance for itself.
Therefore, Bhutan's location and political stance are of high strategic importance to India and the maintenance of this unique relationship is essential for India.
What are the areas of contentions?
Though India and Bhutan share an exemplary bond, several issues need to be addressed for the maintenance of this good diplomatic relationship.
One of them is India's paternalistic attitude towards Bhutan and its tendency to take Bhutan's loyalty for granted.
There was even a time when India's policymakers thought it was fine to punish Bhutan for diversifying its foreign relations.
In 2013, when Bhutan was engaging in a close diplomatic relationship with China, India withdrew all the subsidies on cooking gas and kerosene causing a dent in Indo-Bhutan bilateral relations.
This was the time when the elections were due to in Bhutan. Therefore, India was seen to have been interfering in Bhutan's internal politics.
Bhutan is geographically disadvantaged due to its location.
This made it's economy highly dependent on India, giving India an unwarranted advantage over Bhutan's trade and commerce.
60% of Bhutan's expenditure is on imports from India.
90-95% of what Bhutan borrows from India comes back to India, making it more favourable for the latter.
Even India's assistance in the area of hydropower is not free from suspicion.
It is argued that the economic benefits from collaboration in hydropower projects have declined.
The interest rates have increased and the net profit per unit of electricity sold has fallen since 2007, causing a sharp rise in Bhutan's debts.
India may also not deliver its promise to harness 10,000 MWs of hydropower potential for Bhutan since it has a power surplus in recent times.
Also, these projects have failed to create jobs in Bhutan and are seen as adversely impacting the economy and the environment of Bhutan.
Additionally, India's subsidised imports to Bhutan comprising of almost all essential goods are hurting the growth of domestic sectors within Bhutan while helping India to exercise its hold on Bhutan's market.
China is another area of contention to the bilateral relations.
In recent times, China is trying to establish its influence in Bhutan.
It continues to stake claims in important areas like Chumbi Valley and Doklam.
Bhutan is also willing to have a deeper diplomatic relationship with China in the areas of tourism, education, culture, agriculture etc.
Nonetheless, it is too early to conclude that China can hurt India's stake in Bhutan.
However, it is a grim reminder that India may not continue to enjoy the leverage it always had in Bhutan if necessary steps are not taken by the Indian government.
What can be the way forward?
India and Bhutan share a time-tested relationship.
For India to augment and maintain this indispensable relationship may not be difficult, provided India assists to make Bhutan self-reliant militarily, politically and economically.
The Indian policymakers must keep in mind that Bhutan is an independent nation and not India's pawn.
Thus the relationship must be characterized by quid pro quo and not for only the benefit of India.
India can take strides to make Bhutan economically competitive and self-reliant in the matters of national security to gain the trust of the Bhutanese population.
Aspiration of the Bhutanese population must be considered before making any economic and political decisions about Bhutan.
Also, steps must be taken to maintain this long-standing diplomatic relationship by not interfering in domestic politics and the economic decisions of Bhutan.
If this is not done, there is a possibility that China may take advantage of this situation and India may not have the control it currently enjoys in Bhutan.
Conclusion:
Bhutan plays a significant role in India's foreign policy and it the only neighbouring country that is not under the influence of China, making it strategically important for India. If steps are not taken to improve the ties with Bhutan, it might be exploited by China to strengthen its already dominant position in South Asia.
Model Question:
What are the issues in India-Bhutan relations and how to address them?
Learn More