In vitro fertilization (IVF) procedure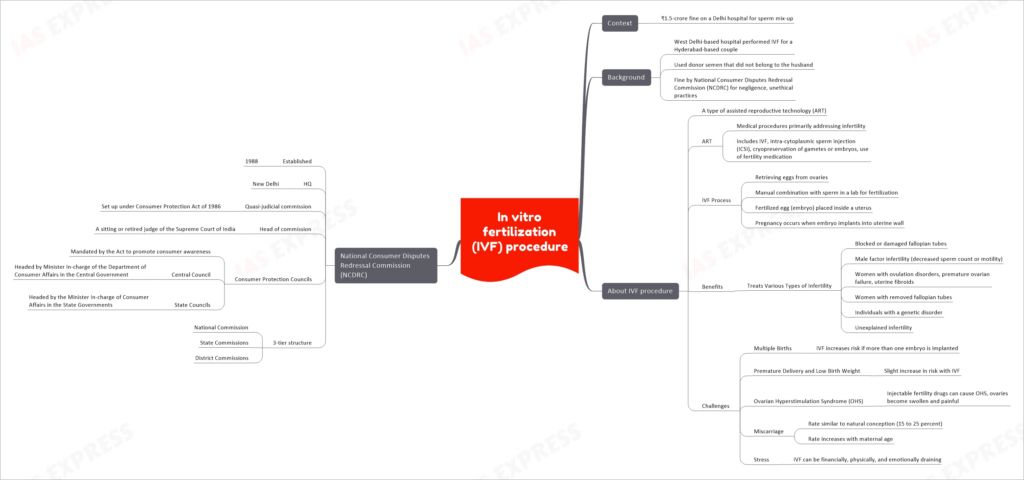 Context
The need for a comprehensive and reliable in vitro fertilization (IVF) procedure came into the spotlight when a Delhi-based hospital was fined ₹1.5 crore for a sperm mix-up. The incident involved the hospital performing IVF for a couple from Hyderabad but using donor semen that did not belong to the husband. The National Consumer Disputes Redressal Commission (NCDRC) imposed the fine on the hospital due to negligence and unethical practices.
Background
IVF is a type of assisted reproductive technology (ART) aimed at addressing infertility. It involves various medical procedures, including the retrieval of eggs from ovaries, the manual combination of eggs and sperm in a laboratory for fertilization, and the placement of the resulting embryo inside the uterus. Pregnancy occurs when the embryo successfully implants into the uterine wall.
Benefits of IVF
IVF offers several benefits in treating various types of infertility. It can help individuals with blocked or damaged fallopian tubes, male factor infertility (such as decreased sperm count or motility), women with ovulation disorders, premature ovarian failure, uterine fibroids, or removed fallopian tubes. It is also an option for individuals with a genetic disorder and couples experiencing unexplained infertility.
Challenges of IVF
While IVF provides a viable solution for infertility, it is not without challenges. One challenge is the increased risk of multiple births if more than one embryo is implanted during the procedure. This can lead to complications and require additional medical intervention. copyright©iasexpress.net
IVF is also associated with a slight increase in the risk of premature delivery and low birth weight compared to natural conception. Ovarian Hyperstimulation Syndrome (OHS) is another potential challenge, where the use of injectable fertility drugs can cause the ovaries to become swollen and painful.
Miscarriage rates with IVF are similar to those of natural conception, ranging from 15 to 25 percent. However, the risk of miscarriage increases with maternal age. Additionally, undergoing IVF can be financially, physically, and emotionally draining, which may contribute to increased stress levels for individuals and couples.
National Consumer Disputes Redressal Commission (NCDRC)
The National Consumer Disputes Redressal Commission (NCDRC) was established in 1988 and is headquartered in New Delhi, India. It operates as a quasi-judicial commission and was set up under the Consumer Protection Act of 1986.
The commission is headed by a sitting or retired judge of the Supreme Court of India, ensuring the fair and impartial adjudication of consumer disputes. The primary objective of the NCDRC is to provide a platform for consumers to seek redressal for their grievances and ensure that their rights are protected.
The Consumer Protection Act also mandates the establishment of Consumer Protection Councils at the central and state levels. The Central Council is headed by the Minister In-charge of the Department of Consumer Affairs in the Central Government. Similarly, each state has its own State Council, headed by the Minister In-charge of Consumer Affairs in the respective State Government. copyright©iasexpress.net
The NCDRC functions within a three-tier structure, which includes the National Commission, State Commissions, and District Commissions. These bodies work together to address consumer grievances, provide compensation when necessary, and promote consumer awareness through their activities and initiatives.
Learn More