[In-Depth] Gig Economy in India – Benefits, Limitations and Suggestions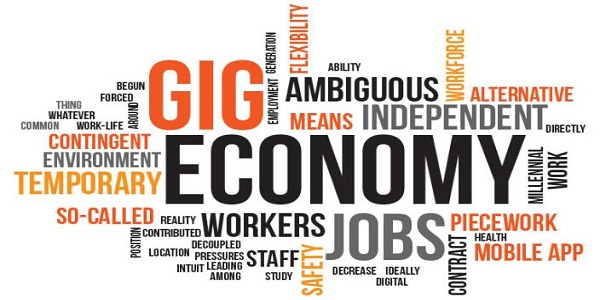 The Covid-19 pandemic has brought several things into the limelight. One such thing is the importance of gig workers and their contribution to the economy. The NITI Aayog report on 'India's Booming Gig and Platform Economy' further accentuated how the sector is going to be a key driver in the post-pandemic recovery.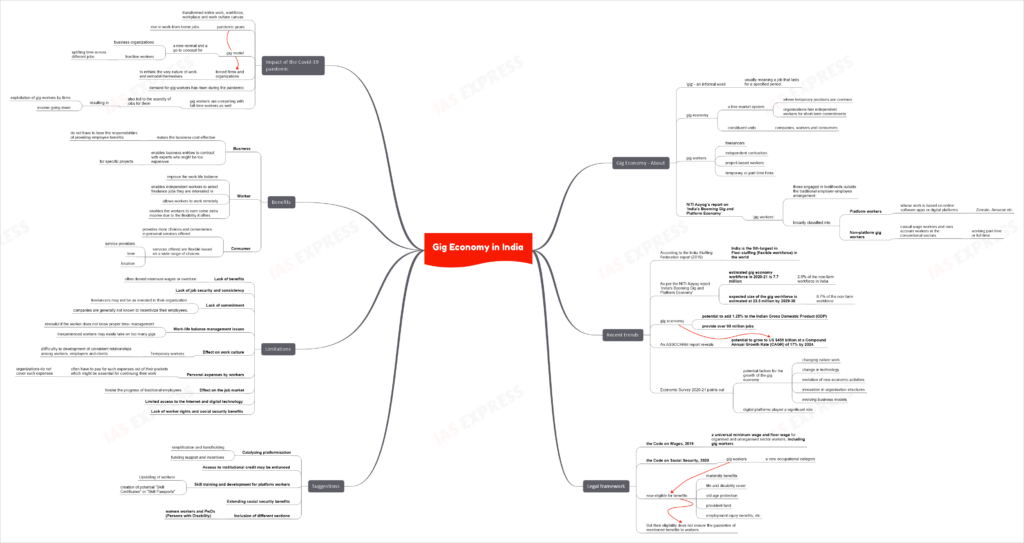 Gig economy – About
The term 'gig' is an informal word usually meaning a job that lasts for a specified period.
A gig economy is a free market system where temporary positions are common and organisations hire independent workers for short-term commitments.
The NITI Aayog's report on 'India's Booming Gig and Platform Economy' considers 'gig workers' as those engaged in livelihoods outside the traditional employer-employee arrangement.

They can be broadly classified into the platform and non-platform-based workers.

Platform workers are the ones whose work is based on online software apps or digital platforms.

Most commonly, platform-based work where workers earn money by providing specific services, including food delivery services like Zomato, and Swiggy or e-commerce platforms such as Amazon, Flipkart etc., use gig workers.

Non-platform gig workers are generally casual wage workers and own account workers in the conventional sectors, working part-time or full-time.

The constituent units of the gig economy are companies, workers and consumers.
Examples of gig workers include freelancers (content writers and copywriter jobs, technical writers and photographers), independent contractors, project-based workers (project or office manager jobs) and temporary or part-time hires (substitute instructors and tutors).

However, all gig workers are not the same.

The freelancers get paid per task. 
The independent contractors perform work and get paid on a contract-to-contract basis. 
The project-based workers get paid for the project. 
The temporary hires are employed for a fixed amount of time; and
The part-time workers work less than full-time hours.

The gig economy acts as a better alternative to commercial products and industries for consumers.

Consumers prefer gig economy services for convenience, better service or both.
Recent trends
According to the India Staffing Federation report (2019), India is the 5th-largest in Flexi-staffing (flexible workforce) in the world, after the US, China, Brazil and Japan.
As per the NITI Aayog report 'India's Booming Gig and Platform Economy':

The estimated gig economy workforce in 2020-21 is 7.7 million which is 2.6% of the non-farm workforce in India.
The expected size of the gig workforce is estimated at 23.5 million by 2029-30 which will be 6.7% of the non-farm workforce.
Currently, around 47% of gig workers are in medium-skilled jobs, 22% in highly skilled, and 31% are in low-skilled jobs.
Trends show that the concentration of workers in medium skills is declining, and that of low-skilled and high-skilled is increasing.

The domination of medium-skill gig workers will continue till 2030.

The Indian gig economy has the potential to add 1.25% to the Indian Gross Domestic Product (GDP) and provide over 90 million jobs in the non-farm sectors of India.
An ASSOCHAM report reveals, that the gig sector has the potential to grow to US $455 billion at a Compound Annual Growth Rate (CAGR) of 17% by 2024.
The Economic Survey 2020-21 points out "the changing nature work with the change in technology, the evolution of new economic activities, innovation in organisation structures and evolving business models" as the potential factors for the growth of the gig economy.
The survey also stated that digital platforms played a significant role in discovering job seekers and job providers in the absence of middlemen.
Benefits
The gig economy is beneficial for all the constituent units, be it companies, workers or consumers.
Business

It makes the business cost-effective. Companies or organizations employing gig workers save money and resources since they do not have to bear the responsibilities of providing employee benefits, such as sick leave and health insurance, and sometimes they do not have to provide workers with office space, equipment and training.
The system also enables business entities to contract with experts, who might be too expensive to hire as full-time staff, for specific projects.

Worker

The gig model allows the workers to improve the work-life balance which often gets neglected in traditional jobs.
It also enables independent workers to select freelance jobs that they are interested in providing new opportunities for them.
It allows workers to work remotely from anywhere in the world.
It enables the workers to earn some extra income because of the sheer flexibility it offers. A person engaged in a traditional job or student may work at their desired time and location to earn the needful.

Consumer

The gig market system provides more choices and convenience in personal services offered. Often high-quality services are offered at lower prices.
The services offered are flexible based on a wide range of choices available among service providers, time and location.
Limitations
Lack of benefits

Independent workers or contractors are not completely considered "employees" of the business and thus are typically not eligible for health insurance or other benefits they would get working as full-time employees.
Gig workers are often denied minimum wages or overtime.

Lack of job security and consistency

It is difficult for gig workers to get work consistently and even if they do, they do not have job security and thus may not be able to maintain a stable income for long.

Lack of commitment

People working as freelancers may not be as invested in their organization as if they were hired full-time.

Similarly, gig economy companies are generally not known to incentivize their employees.

This in turn results in loyalty issues, reduction of the possibility of further work and motivation to work overall.

Work-life balance management issues

Working as a gig worker may prove to be stressful if the worker does not know proper time- management and make his/her schedule.
Inexperienced workers may easily take on too many gigs, leading to overwork and burnout.

Effect on work culture

Temporary workers coming and going may hinder the development of consistent relationships among workers, employers and clients on a long-term basis.

Personal expenses by workers

Freelance workers often have to pay for such expenses out of their pockets which might be essential for continuing their work since organizations within the gig economy are not required to cover personal expenses.

Effect on the job market

Too many temporary positions being available in the job market hinder the progress of traditional employees and often make it difficult for the workers to establish and develop their careers.

Limited access to the Internet and digital technology further hinders the growth of this model.
Lack of worker rights and social security benefits such as provident fund and pension benefits are some other issues.
Legal framework
According to the Code on Wages, 2019, a universal minimum wage and floor wage should be provided to all organised and unorganised sectors, including gig workers.
Under the Code on Social Security, 2020, gig workers are provided with recognition as a new occupational category.
Although gig workers are now eligible for benefits like maternity benefits, life and disability cover, old age protection, provident fund, employment injury benefits, etc., their eligibility does not ensure the guarantee of mentioned benefits to workers.
Impact of the Covid-19 pandemic
The Covid-19 pandemic has transformed the entire work, workforce, workplace and work culture canvas establishing a new normal.
The pandemic years saw a rise in work-from-home jobs. The gig model has become a new normal and a go-to concept for business organizations and even for various frontline workers because they are splitting time across different jobs to make ends meet.
The pandemic has also forced firms and organizations to rethink the very nature of work and remodel themselves.
Home delivery of goods/services (including food and medicine), and teleconsultations with doctors accelerated during the pandemic as people were afraid of moving out of their homes.
The demand for gig workers has risen during the pandemic and gig workers are competing with full-time workers as well.

However, it has also led to the scarcity of jobs for them resulting in the exploitation of gig workers by firms and the income of the latter going down during the pandemic.
Suggestions
Catalyzing platformization, i.e., simplification and handholding, funding support and incentives, skill development, and social financial inclusion may help.

Self-employed individuals may be linked to platforms so that they can sell their products to wider markets in towns and cities.

Access to institutional credit may be enhanced to help platform workers and those interested in set-up their platforms.
Skill training and development for platform workers should be the focus of job creation.

Upskilling of workers and creation of potential "Skill Certificates" or "Skill Passports" for workers by platforms may help the latter in better career progression through skill upgradation.

Extending social security benefits such as health insurance, occupational disease and work accident insurance, retirement/pension plans and other contingency benefits to the gig workers may be of help.
Inclusion of different sections of workers such as women workers and PwDs (Persons with Disability) to take up employment opportunities in the platform sector through skill development, access to finance and assets may be enhanced.
Conclusion
Trends show that the gig model is here to stay and thus it must be a focus for the government and civil societies to reap the benefits as much as possible. Furthermore, keeping the interests of the workers in mind, the sector needs government regulation. Maintaining a fine balance between the workers' interests and the economy must be the priority in long run.
Practice Question
Q. "The Covid-19 pandemic has further accelerated the growth of the gig economy in India." Discuss.