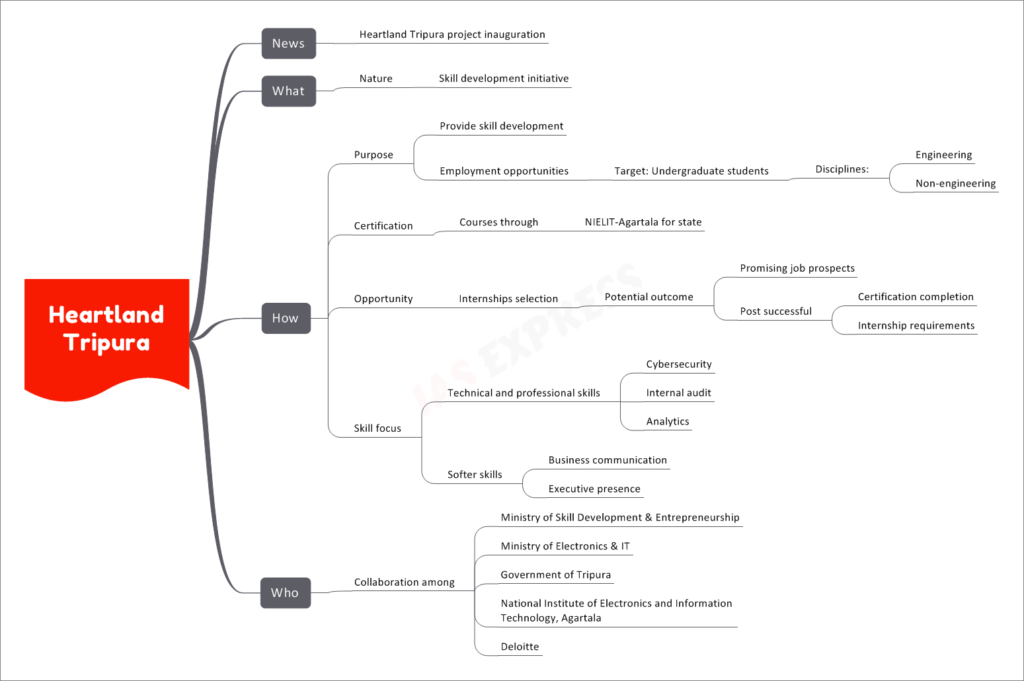 In recent news, the Heartland Tripura project has been inaugurated, signifying a significant step towards enhancing skill development and employment opportunities in the state. This initiative is set to benefit undergraduate students by offering a diverse range of courses and certifications aimed at equipping them with both technical and professional skills.
What is the Heartland Tripura Project?
Nature of the Project
The Heartland Tripura project is a skill development initiative with a primary focus on nurturing the talents of the youth in Tripura.
How Does the Heartland Tripura Project Operate?
Purpose
The core objectives of this initiative are:
Provide Skill Development: Offering training and development programs to enhance technical and professional competencies.
Create Employment Opportunities: Facilitating job placement for undergraduate students in various disciplines.
Target Audience
This initiative is primarily aimed at undergraduate students, encompassing both engineering and non-engineering fields.
Certification Courses
The project provides certification courses in collaboration with NIELIT-Agartala, specifically tailored to cater to the skill development needs of the state.
Opportunity for Internships
One significant component of the Heartland Tripura project is the selection of students for internships. Successful interns stand to gain promising job prospects upon meeting the certification and internship requirements.
Skill Focus
The skill development programs offered under this initiative cover a broad spectrum of skills, including: copyright©iasexpress.net
Technical and Professional Skills
Cybersecurity: Equipping students with the knowledge and skills to safeguard digital environments.
Internal Audit: Preparing students for roles in assessing and enhancing organizational processes.
Analytics: Enhancing data analysis capabilities, a critical skill in today's data-driven world.
Softer Skills
Business Communication: Developing effective communication skills for professional settings.
Executive Presence: Training students in aspects of leadership and professional demeanor.
Who is Involved in the Heartland Tripura Project?
Collaboration Among Key Entities
The success of the Heartland Tripura project hinges on collaboration between various stakeholders:
Ministry of Skill Development & Entrepreneurship: Providing strategic guidance and support for skill development initiatives.
Ministry of Electronics & IT: Contributing to the project's technological and digital aspects.
Government of Tripura: Playing a pivotal role in the implementation and execution of the initiative.
National Institute of Electronics and Information Technology, Agartala: Serving as an educational partner and certification provider.
Deloitte: Bringing its expertise in skill development and job placement to the project, fostering economic growth in the region.