[Editorial] Global Multidimensional Poverty Index 2023: India's Remarkable Reduction in Poverty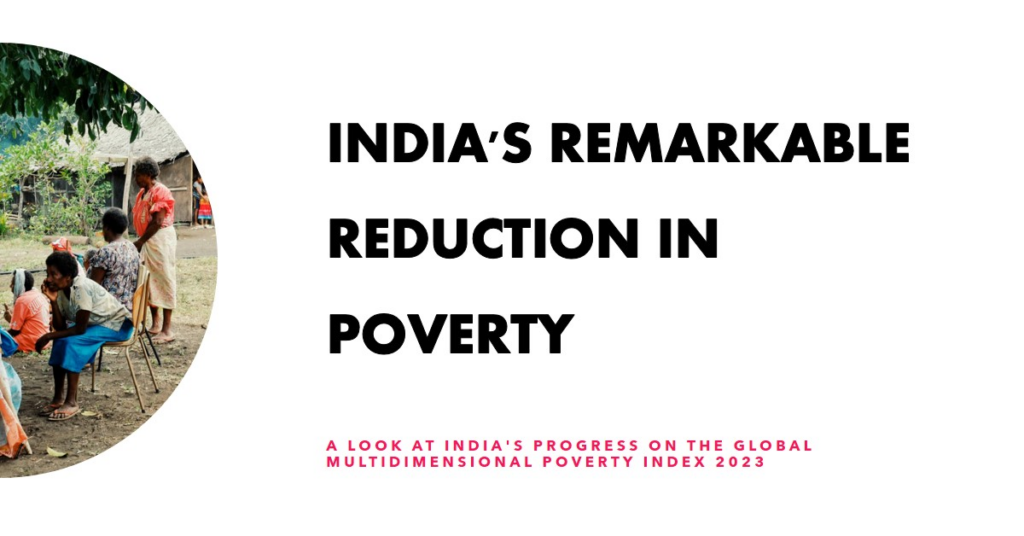 In a remarkable achievement, the United Nations (UN) reported that India has witnessed a significant reduction in poverty, with 415 million people emerging from multidimensional poverty within just 15 years, from 2005/2006 to 2019/2021. The latest update of the global Multidimensional Poverty Index (MPI) highlights this significant progress. This article delves into the details of the report, exploring the key findings and implications of India's poverty reduction efforts.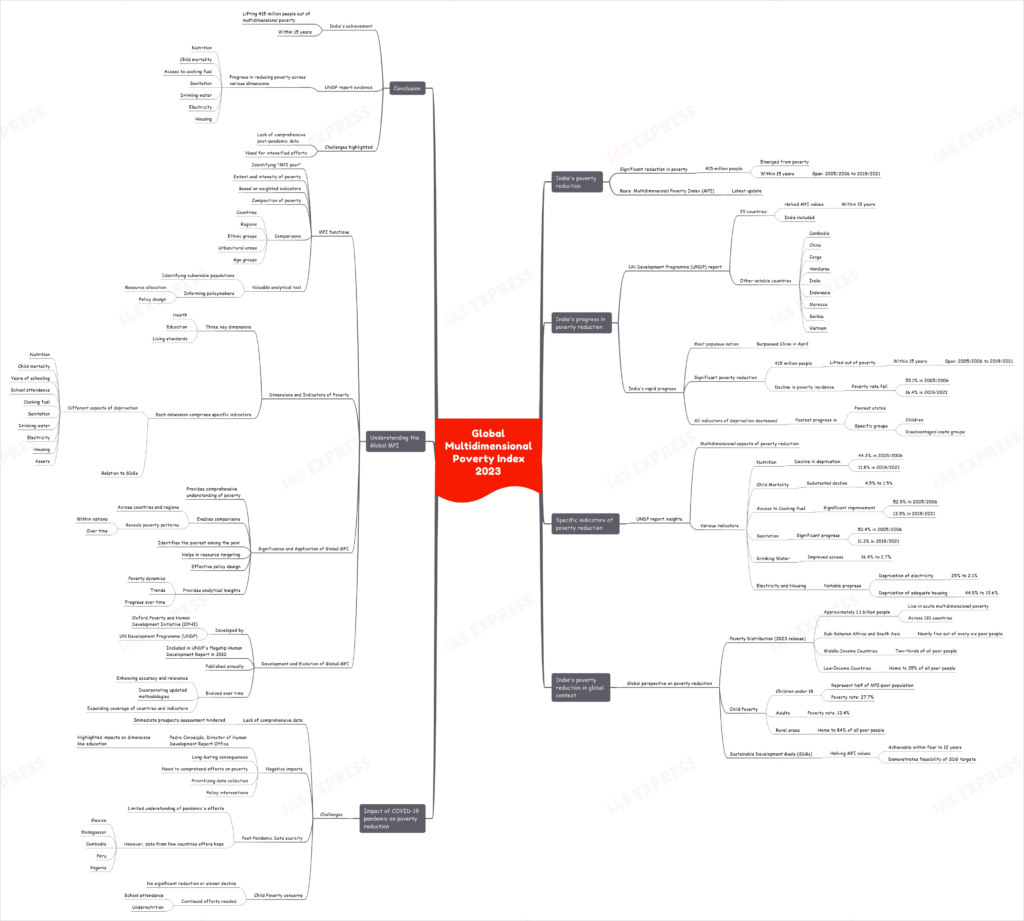 1. India's Progress in Poverty Reduction
The UNDP report reveals that 25 countries, including India, successfully halved their global MPI values within 15 years, demonstrating the feasibility of rapid progress in poverty reduction. Notable countries in this group include Cambodia, China, Congo, Honduras, India, Indonesia, Morocco, Serbia, and Vietnam.
India, which surpassed China in April to become the world's most populous nation, experienced an impressive reduction in poverty. Within the span of 15 years (2005/6–19/21), 415 million people were lifted out of poverty, showcasing the country's commitment to poverty alleviation.
The incidence of poverty in India declined significantly during this period, with the poverty rate falling from 55.1% in 2005/2006 to 16.4% in 2019/2021.
The report highlights that deprivation in all indicators decreased in India. The poorest states and groups, including children and disadvantaged caste groups, experienced the fastest progress in poverty reduction. copyright©iasexpress.net
2. Specific Indicators of Poverty Reduction in India
The UNDP report provides insights into the multidimensional aspects of poverty reduction in India, shedding light on various indicators and their improvements.
Nutrition: The percentage of people who are multidimensionally poor and deprived under the nutrition indicator declined significantly, from 44.3% in 2005/2006 to 11.8% in 2019/2021.
Child Mortality: Child mortality also witnessed a substantial decline, with the proportion of multidimensionally poor children falling from 4.5% to 1.5% during the study period.
Access to Cooking Fuel: The report indicates a significant improvement in access to cooking fuel. The percentage of people deprived of cooking fuel decreased from 52.9% in 2005/2006 to 13.9% in 2019/2021.
Sanitation: India also made significant progress in sanitation. The proportion of people deprived of sanitation decreased from 50.4% in 2005/2006 to 11.3% in 2019/2021.
Drinking Water: Access to safe drinking water improved, with the percentage of multidimensionally poor and deprived individuals declining from 16.4% to 2.7% during the study period.
Electricity and Housing: The report reveals notable progress in access to electricity and housing. The percentage of people deprived of electricity decreased from 29% to 2.1%, while the proportion deprived of adequate housing reduced from 44.9% to 13.6%.
3. India's Poverty Reduction in Global Context
The report provides a global perspective on poverty reduction, highlighting the progress made by different countries and regions. copyright©iasexpress.net
Poverty Distribution: According to the 2023 release, approximately 1.1 billion out of 6.1 billion people (just over 18%) live in acute multidimensional poverty across 110 countries. Sub-Saharan Africa (534 million) and South Asia (389 million) are home to nearly five out of every six poor people.
Middle-Income Countries: Approximately two-thirds of all poor people (730 million) reside in middle-income countries, emphasizing the need for poverty reduction efforts in these nations. Despite low-income countries constituting only 10% of the population included in the MPI, they are home to 35% of all poor people.
Child Poverty: Children under the age of 18 represent half of the MPI-poor population, with a poverty rate of 27.7%. In contrast, the poverty rate among adults stands at 13.4%. Rural areas bear the brunt of poverty, with 84% of all poor people residing in rural regions worldwide.
Sustainable Development Goals (SDGs): The report highlights that countries have successfully halved their MPI values within periods as short as four to 12 years, demonstrating the feasibility of achieving the SDG target of halving poverty within 15 years according to national definitions.
4. The Impact of the COVID-19 Pandemic on Poverty Reduction
While the report showcases significant progress in poverty reduction, it also acknowledges the challenges posed by the lack of comprehensive data during the COVID-19 pandemic. copyright©iasexpress.net
Immediate Prospects: The report states that the lack of comprehensive data during the pandemic hinders a thorough assessment of immediate prospects in poverty reduction.
Negative Impacts: The Director of the Human Development Report Office, Pedro Conceição, highlights the negative impacts of the pandemic, particularly in dimensions such as education, which could have long-lasting consequences. Efforts to comprehend the pandemic's effects on poverty and prioritize data collection and policy interventions are crucial for getting poverty reduction efforts back on track.
Post-Pandemic Data: The scarcity of post-pandemic data for most of the 110 countries covered by the global MPI restricts a comprehensive understanding of the pandemic's effects on poverty. However, data from a few countries such as Mexico, Madagascar, Cambodia, Peru, and Nigeria offer hope, indicating that momentum on poverty reduction may have persisted during the pandemic.
Child Poverty: The report raises concerns about child poverty, emphasizing that in over half the countries covered, there was either no statistically significant reduction in child poverty or a slower decline compared to adult poverty. The report underscores the need for continued efforts to address child poverty, particularly in relation to school attendance and undernutrition.
5. Understanding the Global MPI
The global MPI encompasses various dimensions and indicators that collectively provide a detailed picture of poverty at the individual level. By identifying those who are "MPI poor," the index highlights the extent and intensity of their poverty based on weighted indicators. It offers insights into the composition of poverty and enables comparisons across countries, regions, ethnic groups, urban/rural areas, and age groups. The index serves as a valuable analytical tool to identify the most vulnerable populations and inform policymakers in resource allocation and policy design. copyright©iasexpress.net
Dimensions and Indicators of Poverty
The MPI considers three key dimensions of poverty: health, education, and living standards. Each dimension comprises specific indicators that reflect different aspects of deprivation experienced by individuals:
| Dimensions of Poverty | Indicator | Deprived If Living In a household where… | Weight | SDG Area |
| --- | --- | --- | --- | --- |
| Health | Nutrition | Any person under 70 years of age for whom there is nutritional information is undernourished. | 1/6 | SDG 2: Zero Hunger |
| | Child mortality | A child under 18 has died in the household in the five-year period preceding the survey. | 1/6 | SDG 3: Health and Well-being |
| Education | Years of schooling | No eligible household member has completed six years of schooling. | 1/6 | SDG 4: Quality Education |
| | School attendance | Any school-aged child is not attending school up to the age at which he/she would complete class 8. | 1/6 | SDG 4: Quality Education |
| Living Standards | Cooking fuel | A household cooks using solid fuel, such as dung, agricultural crop, shrubs, wood, charcoal, or coal. | 1/18 | SDG 7: Affordable and Clean Energy |
| | Sanitation | The household has unimproved or no sanitation facility or it is improved but shared with other households. | 1/18 | SDG 6: Clean Water and Sanitation |
| | Drinking water | The household's source of drinking water is not safe or safe drinking water is a 30-minute or longer walk from home, roundtrip. | 1/18 | SDG 6: Clean Water and Sanitation |
| | Electricity | The household has no electricity. | 1/18 | SDG 7: Affordable and Clean Energy |
| | Housing | The household has inadequate housing materials in any of the three components: floor, roof, or walls. | 1/18 | SDG 11: Sustainable Cities and Communities |
| | Assets | The household does not own more than one of these assets: radio, TV, telephone, computer, animal cart, bicycle, motorbike, or refrigerator, and does not own a car or truck. | 1/18 | SDG 1: No Poverty |
Significance and Application of the Global MPI
The global MPI provides a comprehensive understanding of poverty by highlighting not only who is poor but also how they experience poverty across various dimensions. Its relevance and application extend to several areas: copyright©iasexpress.net
Comparisons: The index enables comparisons across countries and regions, revealing poverty patterns within nations and over time.
Vulnerable Populations: By identifying the poorest among the poor, the MPI helps target resources and design effective policies to uplift the most vulnerable populations.
Policy Design: Policymakers can utilize the index to allocate resources strategically and design targeted interventions aimed at poverty reduction.
Analytical Insights: The MPI serves as an invaluable analytical tool for researchers and policymakers, providing insights into poverty dynamics, trends, and progress over time.
Development and Evolution of the Global MPI
The global MPI was developed by the Oxford Poverty and Human Development Initiative (OPHI) in collaboration with the UN Development Programme (UNDP) for inclusion in the UNDP's flagship Human Development Report in 2010. Since then, OPHI has been publishing the MPI annually, alongside its inclusion in the Human Development Reports. The index has evolved over time to enhance its accuracy and relevance, incorporating updated methodologies and expanding its coverage of countries and indicators.
6. Conclusion
India's achievement of lifting 415 million people out of multidimensional poverty within 15 years is a significant milestone. The UNDP report provides evidence of the country's progress in reducing poverty across various dimensions, such as nutrition, child mortality, access to cooking fuel, sanitation, drinking water, electricity, and housing. However, the report also highlights the challenges posed by the lack of comprehensive post-pandemic data, necessitating intensified efforts to understand the pandemic's impact on poverty and develop appropriate policies. With a renewed emphasis on data collection and focused interventions, India and other nations can continue their journey toward sustainable poverty reduction. copyright©iasexpress.net
Learn More