Glacial Lake Outburst Flooding- Causes, Concerns and NDMA Guidelines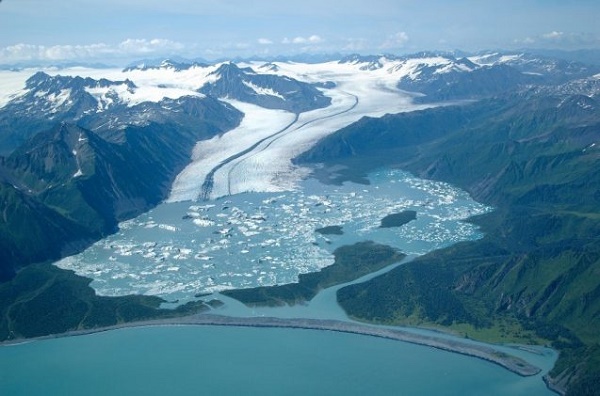 February 7th, 2021 saw the flooding of the Alaknanda River system, claiming the lives of over 60 people. Many others have gone missing and 2 hydroelectric power projects have been washed away. Though the exact cause of the flood is still being looked into, one of the possible causes is a phenomenon called glacier lake outburst flooding (GLOF). Though the region has experienced GLOFs in the past, this recent event is a cause for concern as it has occurred even before the end of winter– a period that is generally considered safe in terms of GLOF risks.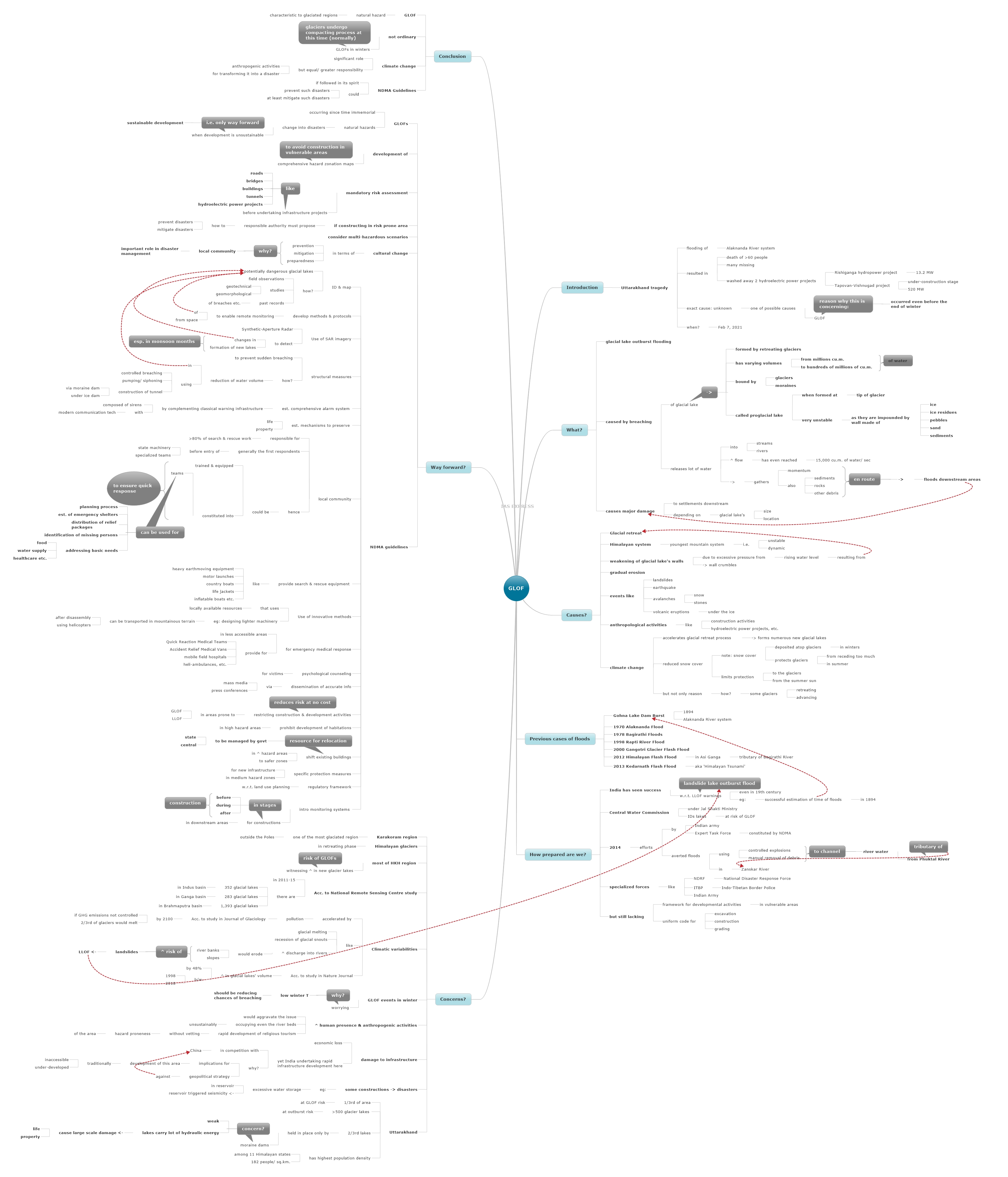 Mindmap Learning Programme (MLP)
Absorb information like a sponge!
What is glacial lake outburst flooding?
GLOF refers to flooding caused by breaching of a glacial lake. This flooding causes major damage to settlements downstream.
Glacial lakes are formed by retreating glaciers and vary in volume from millions to hundreds of millions of cubic metres of water bound by moraine or glacier.
Many of these lakes form at the tip of retreating glacier and are known as proglacial lakes. They are impounded by unstable walls of ice, ice residues, pebbles, sands and sediments.
Breaching of such lakes leads to release of large volumes of water into streams and rivers. Flows as high as 15,000 cubic metres of water per second have been recorded during GLOFs. En route, they gather sediments, rocks and other debris and also gather momentum.
When they reach downstream, they cause flooding.
The impact of GLOFs depend on the size of the glacial lake that was breached and its location.
What are the causes?
The Himalayas are the youngest mountain system and is hence dynamic and unstable.
The glacial lake's walls can be weakened by rising water level caused by glacial retreat. The swelling lake exerts excessive pressure on the walls causing it to crumble.
Gradual erosion can also lead to GLOF.
Several events like landslides, earthquakes, avalanches of snow or rock, volcanic eruptions under the ice, etc. can also trigger a breach.
Climate change has a significant role in these events. The global phenomenon is accelerating the glacial retreat process leading to formation of numerous new glacial lakes.
There has been a reduction in snow cover due to climate change. Normally, the layers of snow get deposited on top of the glaciers in winter. In summer, this layer melts under the sun but protects the glacier from receding too much. But with reduction in snow cover, this protection is also limited.
However, climate change isn't the sole reason for GLOFs as such events have been happening for a long time now. This is especially evident from how some glaciers are receding while the others are advancing.
Anthropological activities like construction activities, development of hydroelectric power projects, etc.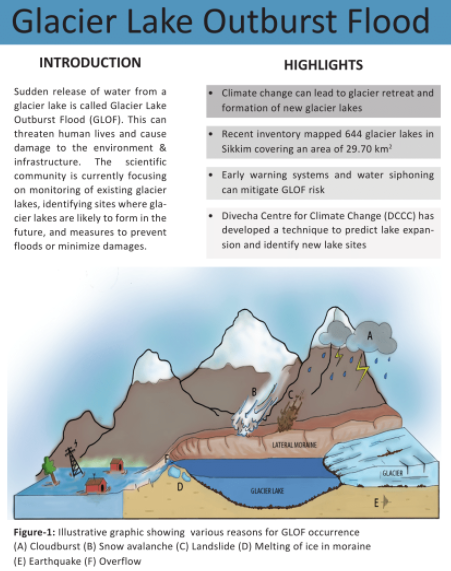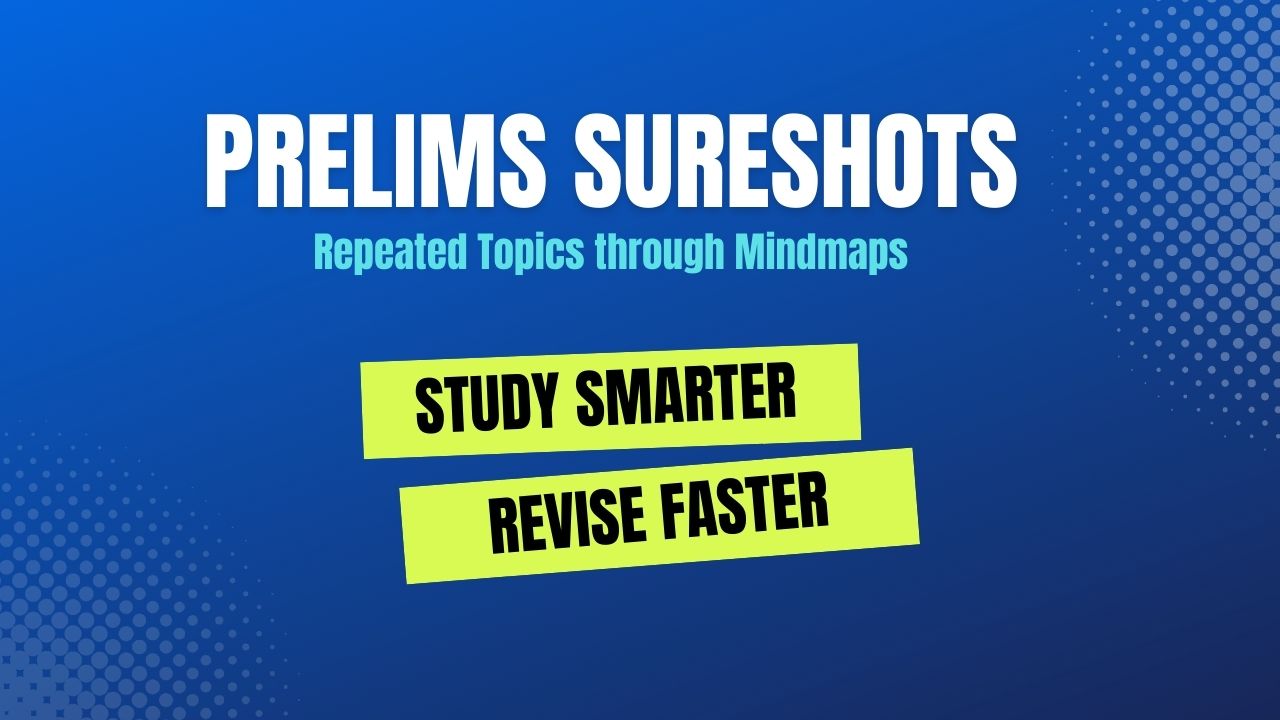 Previous cases of floods in the region?
India has seen several notable cases of flooding in the Himalayan region:
Gohna Lake Dam Burst- in 1894 in the Alaknanda River system
1970 Alaknanda Flood
1978 Bagirathi Floods
1998 Rapti River Flood
2000 Gangotri Glacier Flash Flood
2012 Himalayan Flash Flood- in the Asi Ganga, a tributary of the Bagirathi River
2013 Kedarnath Flash Flood- infamously known as the 'Himalayan Tsunami'
How prepared are we?
India has had success with regards to landslide lake outburst flood warnings (LLOF), dating back as far as the 19th century. Eg: engineers were able to estimate the timing of the Gohna floods in 1894.
The Central Water Commission under the Jal Shakti Ministry has been involved in identification of lakes that are at the risk of breaching.
In 2014, the Indian Army and the Expert Task Force constituted by the NDMA (National Disaster Management Authority) made use of controlled explosions and manual removal of debris to channel the river water from the Phuktal River, a tributary of the Zanskar River when a potential flood situation arose.
We also have in place specialized forces like the NDRF (National Disaster Response Force), ITBP (Indo-Tibetan Border Police) and the Indian Army.
However, aspects like a framework for developmental activities in vulnerable zones are still a work in progress.
We do not have a uniform code for excavation, construction and grading, unlike in many other countries. Such codes are necessary to reduce risks to construction and development in such vulnerable areas.
What are the concerns?
The Karakoram region is one of the most glaciated region outside of the Poles.
Glaciers in the Himalayan region are in a retreating phase. Most of the Hindu Kush Himalayan region is witnessing sprouting of numerous new glacial lakes– posing major risk of GLOF events.
A study by the National Remote Sensing Centre in 2011-15, found that there are 352, 283 and 1,393 glacial lakes and water bodies in the Indus basin, Ganga basin and Brahmaputra basin
Climatic variabilities like glacial melting, recession of glacial snouts, increased discharge into the rivers, etc. are being accelerated by pollution.
According to a study in Nature Journal, the volume of glacial lakes has risen by 48% between 1990 and 2018.
A study in the Journal of Glaciology predicted that if the GHG emissions aren't reined in by 2100, about 2/3rd of the glaciers would melt.
GLOF events are now happening in winters The lower winter temperature should ideally be reducing the chances of such breaches.
The increased discharge of water from the glaciers into the rivers has stepped up the erosion of river banks and slopes. This increases the risk of landslides which in turn may lead to LLOFs.
Increased human presence and anthropogenic activities in the GLOF prone areas are bound to aggravate the issue. Even river beds are being occupied to unsustainable levels.
Rapid development of religious tourism along the river channels without proper vetting of the hazard proneness of the area is a major cause for concern.
Infrastructure gets damaged leading to economic loss. The recent Uttarakhand disaster swept away 2 hydroelectric power projects- 2 MW Rishiganga hydropower project and the under-construction 520 MW Tapovan-Vishnugad project.
India is undertaking rapid development of infrastructure projects in the area in competition with China. These projects have implications for the development of a traditionally inaccessible and under-developed region and also for its geopolitical strategy against Chinese intrusions.
Sometimes construction itself could lead to disasters. Eg: excessive storage of water in reservoirs lead to reservoir triggered seismicity.
Uttarakhand:
About 1/3rd of the Himalayan state is at the risk of GLOF.
Studies have revealed that over 500 glacier lakes in Uttarakhand are at the risk of outburst.
2/3rd of the lakes in the state are dammed only by weak moraines. GLOFs arising from such moraine dams carry a huge amount of hydraulic energy and are capable of causing large scale damage to life and property.
This is especially concerning as Uttarakhand has the highest population density among the 11 Himalayan state with 182 people living per square kilometre. This puts a huge number of people at risk.
What is the way forward?
GLOFs are not new and have been occurring since time immemorial. These are natural hazards and they transform into natural disasters only when these hazardous areas are occupied in an unsustainable manner. Sustainable development is the only way forward.
Development of comprehensive hazard zonation maps would help avoid construction activity in GLOF-prone areas and would help prevent disasters.
Risk assessment should be mandated before undertaking infrastructure projects like roads, bridges, buildings, tunnels and hydroelectric power projects.
If such constructions are to be undertaken, the responsible authority should report to propose how such risks are to be prevented, avoided or mitigated.
There is a need to consider multi-hazardous scenarios given the increase in frequency and intensity of natural disasters around the world.
There is a need for cultural change too- in terms of prevention, mitigation and preparedness for efficient response. This is significant as a significant part of the disaster management function in such areas is undertaken by local community.
NDMA Guidelines on GLOF:
The NDMA recently issued detailed guidelines on managing GLOFs.
Some of its recommendations include:
Identification and mapping of potentially dangerous glacial lakes. This can be done with the help of field observations, geotechnical and geomorphological studies of the lakes and their surroundings, records of past breaches, etc.
Development of methods and protocols to enable remote monitoring of these lakes from space.
Use of SAR imagery (Synthetic-Aperture Radar) to detect changes in these lakes and formation of new lakes, especially during the monsoon months.
Structural measures to prevent sudden breaching of glacial lakes. This can include reduction of water volume in these lakes using methods like controlled breaching, pumping or siphoning, construction of a tunnel through the moraine dam or under the ice dams, etc.
Establishment of a comprehensive alarm systeme. complementing classical warning infrastructure composed of sirens (acoustic alarms) with modern communication technology.
Establishment of mechanisms to preserve life and property in case of breach.
Over 80% of search and rescue work in case of GLOF events are undertaken by local community. They are generally the first respondents before the state machinery and specialised teams step in to take over. Hence, training and equipping local manpower and constituting them into teams in the GLOF prone areas could help ensure quick response.
These local teams could also be roped in during the planning process, for setting up of emergency shelters, distribution of relief packages, identification of missing persons, addressing basic needs like food, water supply, health care, etc.
Providing for search and rescue equipment like heavy earthmoving equipment, motor launches, country boats, life jackets, inflatable boats, etc.
Use of innovative methods that makes use of locally available resources in case the conventional search and rescue methods don't yield results. Eg: designing lighter machinery that can be transported across mountainous terrain in a disassembled form- maybe using helicopters.
Use of Quick Reaction Medical Teams, Accident Relief Medical Vans, mobile field hospitals, heli-ambulances, etc. for emergency medical response in less accessible areas.
Psychological counselling for victims.
Dissemination of accurate information via mass media and press conferences.
Restricted construction and development activities in GLOF and LLOF prone areas. This can reduce the risk at no cost.
Prohibit development of habitations in high hazard areas.
Existing buildings in such hazardous areas should be relocated to safer zones and the resources for this are to be managed by the central or state government.
Specific protection measures for new infrastructure in medium hazard zones.
Need to develop a widely accepted regulatory framework with regards to land use planning.
Introduction of monitoring systems for constructions in downstream areas- before, during and after construction.
Conclusion
The GLOF is a natural hazard that is characteristic to glaciated regions. What is out of ordinary is that it has started occurring even in the winter months– a time when the glaciers normally undergo the compacting process. Though climate change plays a significant role in triggering such events, anthropogenic activities are equally, if not more, at fault for turning it into a disaster. The recently released NDMA guidelines, if followed in its spirit, could help prevent such disasters in the future or at the very least, mitigate them.
Practice Question for Mains
'Development and disaster risk reduction go hand in hand.' Examine this statement with regards to GLOF risk in the Himalayan states. (250 words)