[Editorial] Role of Sports in the Soft Power Race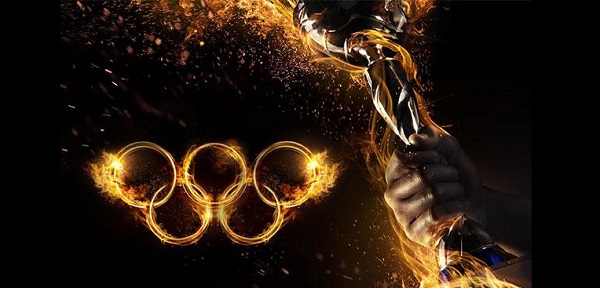 What is soft power?
The term

'soft power'

was coined by

Joseph Nye Jr

., a political scientist, in late 1980s.
Unlike in case of military hard power, it is the "

power of attraction

through

culture

,

political ideas

, and

policies

rather than coercion".
Over the years, India has been wielding its soft power in the form of

Yoga

,

Bollywood

,

Sufi music

and the shared heritage in

art

,

cuisine

,

architecture

and even

democratic values.

In the recent years, countries, including India, have been investing more in

elite sports

as success in international sporting events is boosting their soft power.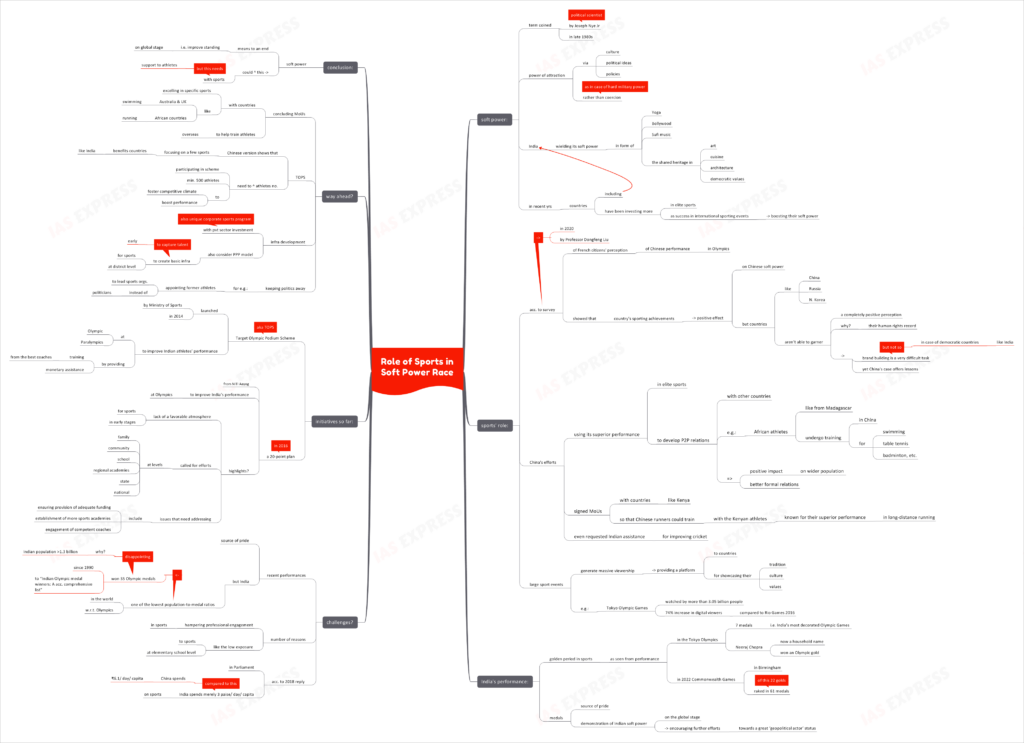 What is the role of sports in the soft power race?
In

2020

, a survey of French citizens' perception of Chinese performance in the Olympics, by

Professor Dongfeng Liu

, showed that the country's sporting achievements had a

positive effect

on Chinese soft power.
Despite this, countries like

China

,

Russia

and

North Korea

aren't able to garner a completely positive perception as a consequence of their

human rights record.

Hence,

brand building

is a very difficult task for such countries.
However, in case of

democratic countries,

like India, such factors don't hamper their soft power growth. Even so,

China's case

can be used to understand the role of sports in soft power.

China has been using its superior performance in elite sports to develop

P2P relations

with other countries. Eg:

African athletes

(from countries like Madagascar) undergo training in China- for

swimming

,

table tennis

,

badminton

, etc.

This translates to a positive impact on the

wider population

and

better formal relations.

China has also signed

MoUs

with countries like

Kenya

so that the Chinese

runners

could train with the Kenyan athletes, known for their superior performance in l

ong-distance running

.

Large sports events generate

massive viewership

, providing a

platform

for the countries to showcase their tradition, culture and values.
For instance, the

Tokyo Olympic Games

was watched by more than

3.05 billion people

– a

74% increase in digital viewers

compared to Rio Games 2016. This shows that there is a great opportunity in using such events as a platform to boost soft power.
How has India been performing?
Recently, India has been witnessing a

golden period in sports

, as seen from the performance in the

Tokyo Olympics

and the

2022 Commonwealth Games in Birmingham

.

The recent performance-

7 medals-

was India's most decorated Olympic Games in the country's history.

Javelin thrower

Neeraj Chopra,

who won an Olympic gold, is now a household name.

At the CWG, India raked in

61 medals

of which 22 were golds.

These medals are not only a

source of pride

to the citizenry, but are also a

demonstration of Indian soft power

on the global stage, encouraging

further effort

s towards a great 'geopolitical actor' status.  
What are the challenges?
While the recent performances have been a source of pride, India still has

one of the lowest population-to-medal ratios

in the world, when it comes to the Olympics.
India has won

35 Olympic medals

since

1990

, according to "Indian Olympic medal winners: A comprehensive list". This is disappointing given the country is home to

over 1.3 billion people.

There are a number of reasons hampering

professional engagement

in sports like the

low exposure

to sports at

elementary school level.

According to a 2018 reply in the Parliament, India spends

merely 3 paise/ day/ capita

on sports. In comparison, China spends ₹6.1/ day/ capita.
What efforts have been taken?
The

TOPS or Target Olympic Podium Scheme

was launched by the

Ministry of Sports

in

2014

.

It seeks to improve Indian athletes' performance at the

Olympic

and

Paralympics

Games.

It provides training from the best

coaches

– both national and international- to the participants.

In addition to this, the scheme also provides for

monetary assistance.

The NITI Aayog gave a

20-point plan

, in

2016

, to improve India's performance at the Olympics.

The plan highlighted the

lack of a favourable atmosphere

for sports in the early stages of the athletes' journey.

It called for

efforts

at family-, community-, school-, regional academies-, state- and national-levels.

Some of the issues that require addressing include ensuring provision of

adequate funding

, establishment of

more sports academies

and engagement of

competent coaches.
What is the way ahead?
Concluding

MoUs

with countries excelling in specific sports could help India improve its performance. For instance,

Australia

and

UK

could help train Indian athletes in

swimming

. African countries could help athletes in

running events

via collaborating training programs.
Chinese version of the

TOPS

has demonstrated that focusing on a

few sports

benefits countries like India. However, there is a need to

increase the number of athletes

participating in the scheme.

At least 500 athletes

need to be covered under TOPS to foster a competitive climate and boost performance.
Infrastructure development could do with

private investments.

Leading corporates have already shown how their participation and investment helps improve spots performance through their

unique corporate sports programs

. The government could consider

PPP model

to create basic sports infrastructure at

district level,

as recommended by the NITI Aayog. This will help capture athletic talent at an early age.
The government must make sure to keep politics away from sports. Sports organizations must be led by former athletes, rather than politicians.
Conclusion:
Soft power is a means to an end, not the end itself. It would help cement India's standing in the global arena. Sports could very well help India boost it soft power. However, efforts are needed to support the athletes who could make this happen.
Practice Question for Mains:
Examine the significance of sports as a soft power tool for a country like India. (250 words)
Learn More