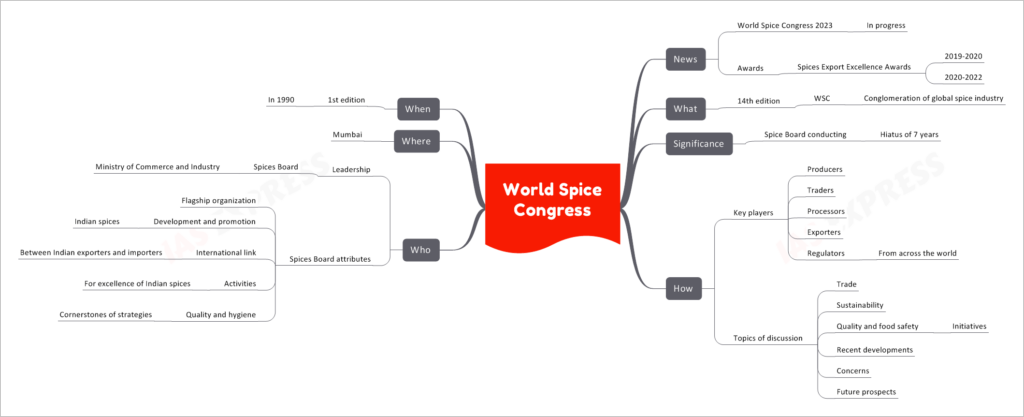 In Progress: The World Spice Congress 2023 is currently underway, serving as a focal point for the global spice industry.
Spices Export Excellence Awards: Acknowledging outstanding performance in the spice export sector, these awards cover the periods of 2019-2020 and 2020-2022.
The 14th Edition of WSC
Edition: The World Spice Congress (WSC) 2023 marks its 14th edition, symbolizing its enduring significance and impact.
Conglomeration of the Global Spice Industry: WSC acts as a confluence for the global spice industry, bringing together key stakeholders from various domains.
Spice Board's Role and Significance
Spice Board: The Spice Board, under the Ministry of Commerce and Industry, is the driving force behind this event.
A Hiatus of 7 Years: The Spice Board has revived the World Spice Congress after a hiatus of seven years, underscoring its importance.
Topics of Discussion
The congress encompasses a broad spectrum of discussions and deliberations, including:
Trade: Addressing trade dynamics in the global spice industry.
Sustainability: Exploring sustainable practices in spice cultivation and trade.
Quality and Food Safety: Initiatives and strategies to ensure the highest quality and food safety standards.
Recent Developments: Presenting and analyzing the latest trends and advancements in the spice sector.
Concerns: Identifying and addressing key challenges and concerns within the industry. copyright©iasexpress.net
Future Prospects: Exploring the potential and future outlook of the global spice market.
Key Players
The event attracts a diverse array of participants, including:
Producers: Spice producers from various regions across the world.
Traders: Traders involved in spice commerce and distribution.
Processors: Professionals engaged in spice processing and value addition.
Exporters: Spice exporters who facilitate global distribution.
Regulators: Representatives from regulatory bodies overseeing the spice industry worldwide.
Organizers: Spice Board's Leadership
Spices Board: As the flagship organization, the Spices Board plays a pivotal role in the development and promotion of Indian spices on the global stage.
International Link: The board serves as a crucial link between Indian exporters and international importers, fostering global trade relationships.
Activities for Excellence: It spearheads activities aimed at enhancing the excellence of Indian spices in terms of quality, hygiene, and competitiveness.
Location: The Vibrant City of Mumbai
Mumbai: The dynamic city of Mumbai serves as the backdrop for this significant event, offering a vibrant and strategic location.
Historical Context
1st Edition in 1990: The World Spice Congress made its debut in 1990, marking the beginning of a prestigious legacy in the spice industry's calendar.
The World Spice Congress 2023 continues to be a crucial platform for knowledge exchange, networking, and collaboration within the global spice community, shaping the future of this thriving industry. copyright©iasexpress.net
Learn More