Reading Time:
5
mins
The Ministry of Chemicals & Fertilizers has recently released the Drugs (Prices Control) Amendment Order, 2019 which prescribes that the drugmaker who has brought in an innovative patented drug will be exempt from the price control rules for 5 years from the date of marketing. It is meant to strike the right balance between consumer and producer interests. However, it falls short of addressing certain concerns regarding the drug pricing regulation in India.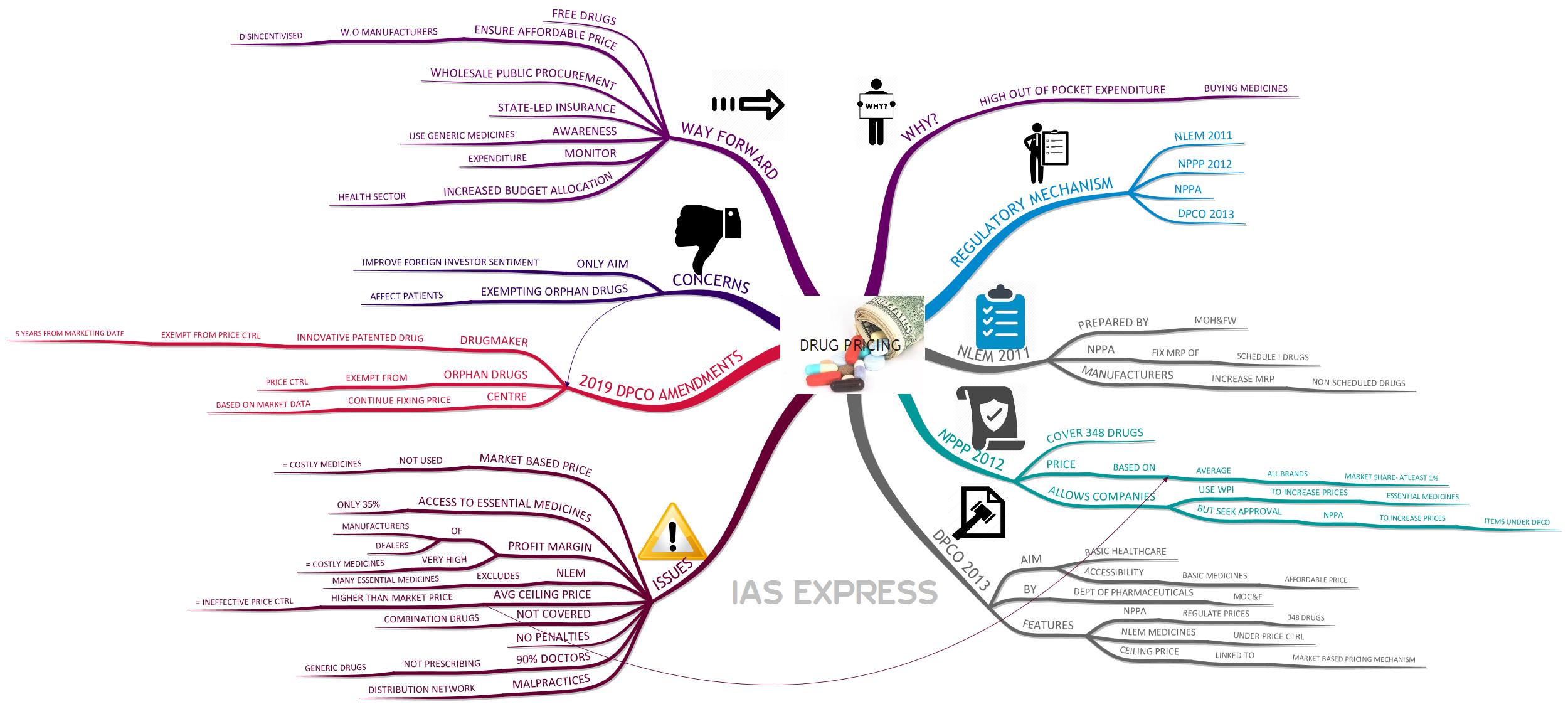 What is the need for drug pricing control?
Currently, nearly 2/3 of the high out-of-pocket expenditure on health incurred by Indians went towards medicines/drugs = controlling the drug pricing would provide relief for poor and help achieve the government's target of universal health coverage in India.
What is the regulatory mechanism for drug pricing in India?
National List of Essential Medicines 2011.
National Pharmaceutical Pricing Policy 2012.
National Pharmaceutical Pricing Authority (NPPA).
Drug Price Control Order 2013.
National List of Essential Medicines (NLEM) 2011
Essential medicines are those that satisfy the priority health care requirements of the people.

They are listed based on the levels of healthcare such as primary, secondary and tertiary.
They are based on the country's disease burden, priority health needs, affordability concerns etc.

In India, the National List of Essential Medicines (NLEM) was created in 2011 that decides the essential medicines in the country.

The list is prepared by Union Ministry of Health and Family Welfare.
National Pharmaceutical Pricing Authority (NPPA) fixes the maximum retail price of schedule I essential medicines under DPCO 2013.
For the medicines not under price control (non-scheduled drugs), manufacturers are allowed to increase their MRP by 10% annually.
National Pharmaceutical Pricing Policy 2012
The price control under this policy cover 348 drugs instead of 74 drugs earlier.
The price of the controlled product should be calculated based on the simple average of all brands of that particular product that have a market share of at least 1%.
It allows the companies to use the WPI (Wholesale Price Index) to increase the prices of the essential medicines on their own each year. However, they need to seek approval from NPPA whenever they want to increase the prices of the items covered under the Drug Price Control Order.
National Pharmaceutical Pricing Authority (NPPA)
NPPA is an independent authority under the Department of Pharmaceuticals, Ministry of Chemicals and Fertilizers.
It was established in 1997.
Its mandate is

To fix or revise controlled bulk drugs prices and formulations.
To enforce prices and availability of medicines under DPCO, 2013.
To monitor prices of decontrolled drugs to keep them at reasonable levels.
To implement and enforce the provisions of DPCO.
To recover amounts overcharged by manufacturers for controlled drugs from consumers.
What are the key provisions of the Drug Price Control Order 2013?
The Aim is to provide basic health care and accessibility of basic medicines at affordable prices across the country.
It was notified by the Department of Pharmaceuticals, Ministry of Chemicals & Fertilizers.
It empowers the National Pharmaceutical Pricing Authority (NPPA) to regulate prices of 348 essential drugs.
According to this order, all strengths and dosages mentioned in the National List of Essential Medicines (NLEM) will be under price control.
The earlier DPCO order 1995 regulated drug prices based on the manufacturing costs, however, in this order, ceiling price is linked to market price through the market-based pricing mechanism.
What are the issues regarding Drug Pricing regulation in India?
Supreme Court of India in 2015 termed the National Pharmaceutical Pricing Policy 2015 and the Drug Price Control Order 2013 as unreasonable and irrational.

It is in response to the PIL that alleged that the Market Based Pricing (MBP) was never used for any price regulatory purposes = making medicines costlier.
The court ordered the government to review its market-based drug pricing policy.

Access to essential medicines for common people is only 35%.
The profit margin for drug manufacturers and dealers were in the range of 10-1300% = High price of drugs.
The NLEM comprise only 348 drugs leaving out many essential medicines under price control.
There is a demand for inclusion of more life-saving medicines of diseases like HIV-AIDS, cancer, diabetes, and tuberculosis as well as those used in mental health, non-communicable diseases such as asthma and rheumatoid arthritis in NLEM.
Simple average ceiling prices were higher than the market price in several cases = price control is ineffective and counterproductive.
The market prices of all the medicines under price control were not collected.
Only covers certain doses of a drug.
It has not covered the combination drugs = If a price-controlled drug is combined with the non-price controlled drug, it will come out of the price control.
No penalties against the companies in case of non-compliance with respect to the orders of NPPA.
90% of the doctors are not prescribing generic drugs = conceptualization of programmes such as Jan Aushadhi is not very sound.
Malpractices in the distribution network for which bodies like Indian Medical Association and pharmacist's bodies are highly responsible.
What are the recent DPCO amendments (2019)?

(Based on NITI Aayog recommendations)
A drugmaker who has developed an innovative patented drug will be exempt from the price control regulations for 5 years from the date of marketing.
Drugs for treating rare or orphan diseases will also be exempted from price control in order to encourage their production. Note: Orphan drugs are medicinal products meant for diagnosis, prevention or treatment of life-threatening or very serious diseases or disorders that are rare.
The centre will continue fixing prices of drugs based on the market data.

However, the source of market-based data shall be the data available with the pharmaceutical market data specialising company as decided by the government.
The government can validate such data by survey or evaluation.
What are the concerns regarding the amendments?
The amendments only seek to improve foreign investor sentiment especially the US firms.
Exempting rare or orphan drugs from price control will considerably impact patients. It is because only MNCs are manufacturing orphan drugs at present = lack of price control will negatively impact its affordability.
Furthermore, patented drugs are increasingly patented with no generic competition, thus putting them out of reach of the poor patients.
What is the way forward?
Nations like Brazil provide free medicines and India too can walk on the same path gradually.
Medicines or drugs account for 50% of the costs of inpatient care and 80% in case of out-patient care = need to find a way for ensuring affordable prices without manufacturers feeling disincentivised in the process.
The recent report of the Competition Commission of India reveals that retailers' margins as a primary cause of high prices of medicines. This can be addressed by investing in wholesale public procurement as done by Tamil Nadu and Rajasthan.
Besides public procurement, the state-led insurance can help keep health costs low. Ex- Arogyashree model of Andhra Pradesh which combines both public procurement and state-led insurance. The Ayushman Bharat Yojana is the step in the right direction.
Need to create awareness among both doctors and patients to prescribe or use generic medicines.
The government should monitor expenditures jointly in partnership with the community.
However, these measures would require an increased budget allocation for the health sector.
How useful was this post?
Click on a star to rate it!
Average rating 4.5 / 5. Vote count: 2
We are sorry that this post was not useful for you!
Let us improve this post!
Thanks for your feedback!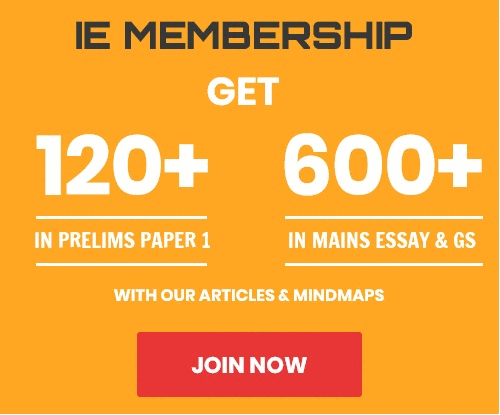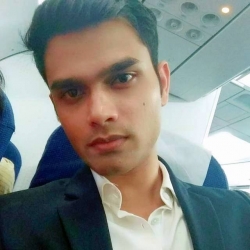 Santhosh is the founder of IAS EXPRESS. He is on a mission to make learning easier and fun for civil service aspirants through an innovative approach and help them achieve their dream. Life Motto: "You'll never know what you are capable of until you try".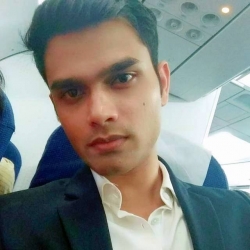 Latest posts by Santhosh Kumar (see all)