Drilling Projects in the North Sea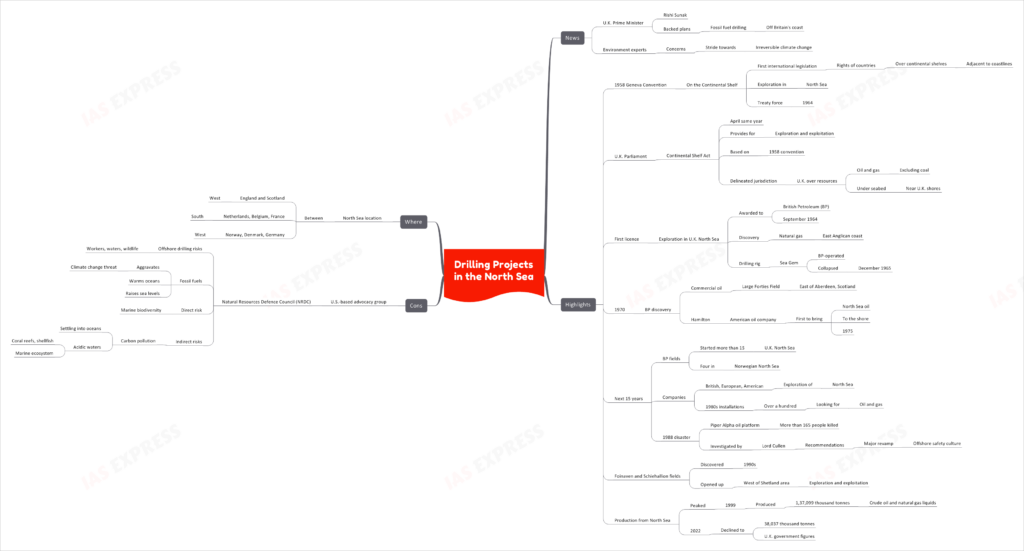 The U.K. Prime Minister, Rishi Sunak, recently gave the nod to plans focused on fossil fuel drilling off Britain's coast. However, these plans have ignited concerns among environmental experts, fearing a step towards irreversible climate change.
News Details
U.K. Prime Minister's Stance
Rishi Sunak's Endorsement:

Backed the exploration plans of fossil fuel drilling off Britain's coast.
Environmental Concerns
Expert's Take:

Expressed serious concerns about the possible push towards irreversible climate change.
Historical Highlights
International Legislation
1958 Geneva Convention on the Continental Shelf:

Introduction:

The first international legislation granting rights to countries over their adjacent continental shelves.

Key Points:

Focus on North Sea exploration.
Treaty came into effect in 1964.
U.K. Jurisdiction
Continental Shelf Act by U.K. Parliament:

Timeline: Introduced in April of the same year as the treaty.
Purpose:

Allows exploration and exploitation based on the 1958 convention.
Grants U.K. jurisdiction over resources like oil and gas (except coal) under the seabed close to its shores.
Initial Exploration
First License:

Recipient: British Petroleum (BP) in September 1964.
Discoveries:

Found natural gas off the East Anglican coast.
Used the Sea Gem drilling rig which unfortunately collapsed in December 1965.
Significant Discoveries
1970:

BP's discovery of commercial oil in the large Forties Field east of Aberdeen, Scotland. copyright©iasexpress.net
American oil company, Hamilton, was the first to bring North Sea oil to the shore in 1975.

Over the Next 15 Years:

BP initiated over 15 projects in the U.K. North Sea and four in the Norwegian North Sea.
Several British, European, and American companies delved into North Sea exploration.
By the 1980s, over a hundred installations were set up in search of oil and gas.
The tragic 1988 Piper Alpha oil platform disaster claimed the lives of over 165 individuals. Lord Cullen's investigation led to a significant revamp of offshore safety culture.

Later Discoveries:

Foinaven and Schiehallion fields were discovered in the 1990s, opening up the West of Shetland area for exploration and exploitation.
Production Data
Peak Production:

1999 saw the highest production with 1,37,099 thousand tonnes of crude oil and natural gas liquids.

Recent Figures:

By 2022, production declined to 38,037 thousand tonnes, as per U.K. government data.
Cons of Drilling
NRDC's Viewpoint:

The U.S.-based Natural Resources Defence Council (NRDC) highlighted the risks of offshore drilling for workers, the surrounding waters, and wildlife.
They emphasized that the continued use of fossil fuels exacerbates the climate change threat, warms oceans, and results in rising sea levels.
Direct risks to marine biodiversity and indirect threats from carbon pollution settling in oceans were mentioned. Acidic waters threaten coral reefs, shellfish, and the entire marine ecosystem. copyright©iasexpress.net
Geographical Context
Location of the North Sea
Borders:

West: England and Scotland
South: Netherlands, Belgium, and France
East: Norway, Denmark, and Germany
Learn More