Initiative to Promote RSR Transportation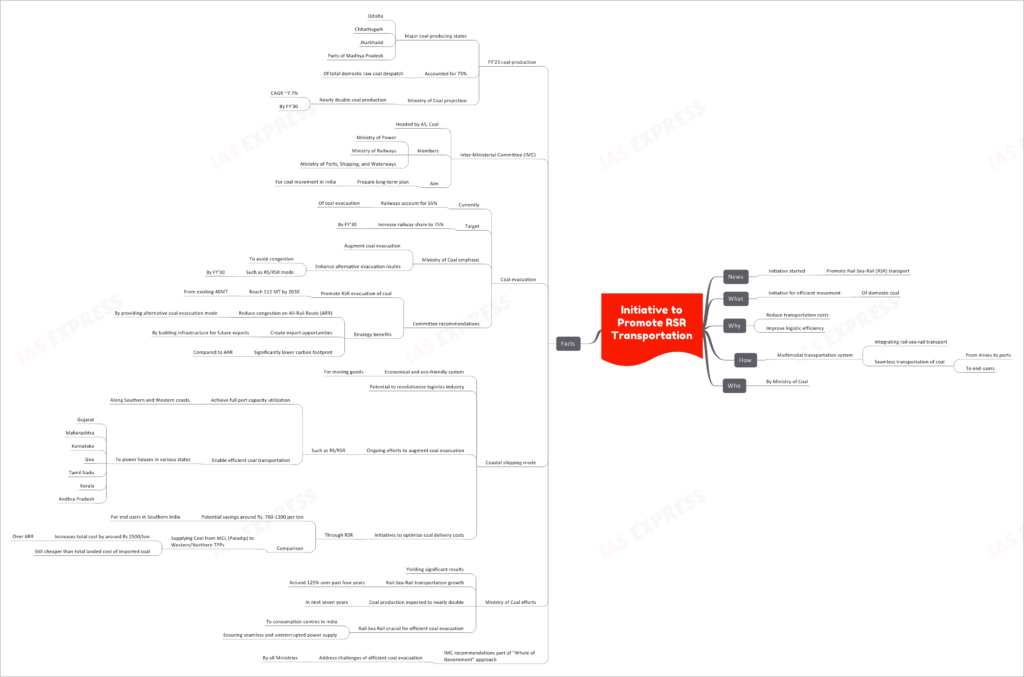 A groundbreaking initiative is underway to enhance the efficiency of coal transportation through a novel approach called Rail-Sea-Rail (RSR). This initiative, driven by the Ministry of Coal, aims to optimize domestic coal movement, reducing costs and bolstering logistics efficiency.
News: RSR Initiative Launch
The news heralds the commencement of the Rail-Sea-Rail (RSR) initiative, dedicated to promoting the seamless transportation of domestic coal using a multimodal approach.
The Objective of the Initiative
Efficient Domestic Coal Movement
At its core, the RSR initiative seeks to establish a sophisticated system for the efficient movement of domestic coal, thereby enhancing economic viability and logistics efficiency.
Why RSR Matters
Cost Reduction and Logistic Efficiency
The primary goal behind the RSR initiative is to mitigate transportation costs while concurrently boosting the overall efficiency of logistics operations related to coal movement.
How RSR Works
Multimodal Transportation System
The RSR initiative operates through a multimodal transportation approach. It ingeniously integrates rail-sea-rail transport to ensure seamless movement of coal from mines to ports and eventually to end-users.
Ministry of Coal's Endeavor
The initiative has been pioneered by the Ministry of Coal, aiming to not only streamline the coal transportation process but also to make it more eco-friendly and economically viable. copyright©iasexpress.net
Facts and Figures
Coal Production in FY'23
The major coal-producing states like Odisha, Chhattisgarh, Jharkhand, and parts of Madhya Pradesh accounted for a whopping 75% of the total domestic raw coal despatch during the fiscal year 2022-23.
Inter-Ministerial Committee (IMC)
An Inter-Ministerial Committee, headed by the Additional Secretary of Coal, and comprising members from the Ministries of Power, Railways, and Ports, Shipping, and Waterways, aims to chart out a comprehensive long-term plan for coal movement in India.
Coal Evacuation Target
The Ministry of Coal's vision is to increase the railway's share in coal evacuation to 75% by the fiscal year 2030, up from the existing 55%.
Coastal Shipping Mode Potential
The coastal shipping mode, seen as an economical and environmentally friendly system for goods movement, holds immense potential to transform the logistics industry.
Benefits and Savings through RSR
The RSR strategy promises significant benefits, including the reduction of congestion on the All-Rail Route (ARR), potential export opportunities, and noteworthy carbon footprint reduction when compared to the ARR.
Ministry of Coal's Successes
The Ministry's ongoing efforts are reaping rewards, with RSR transportation growing by around 125% over the last four years. This initiative is crucial to ensuring seamless and uninterrupted power supply across consumption centers in India. copyright©iasexpress.net
Learn More