Deendayal Antyodaya Yojana (DAY) – National Rural Livelihoods Mission (NRLM)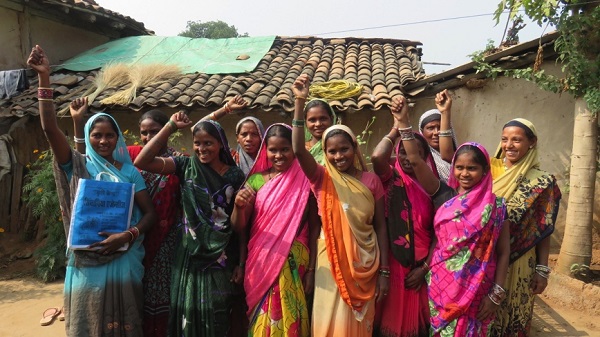 While listing out the achievements of the government in social welfare measures, President Ram Nath Kovind recently mentioned that, under the Deen Dayal Antyodaya Yojana, 6 crore women had become members of self-help groups and the government had provided loans worth over Rs 75,000 crore to such groups.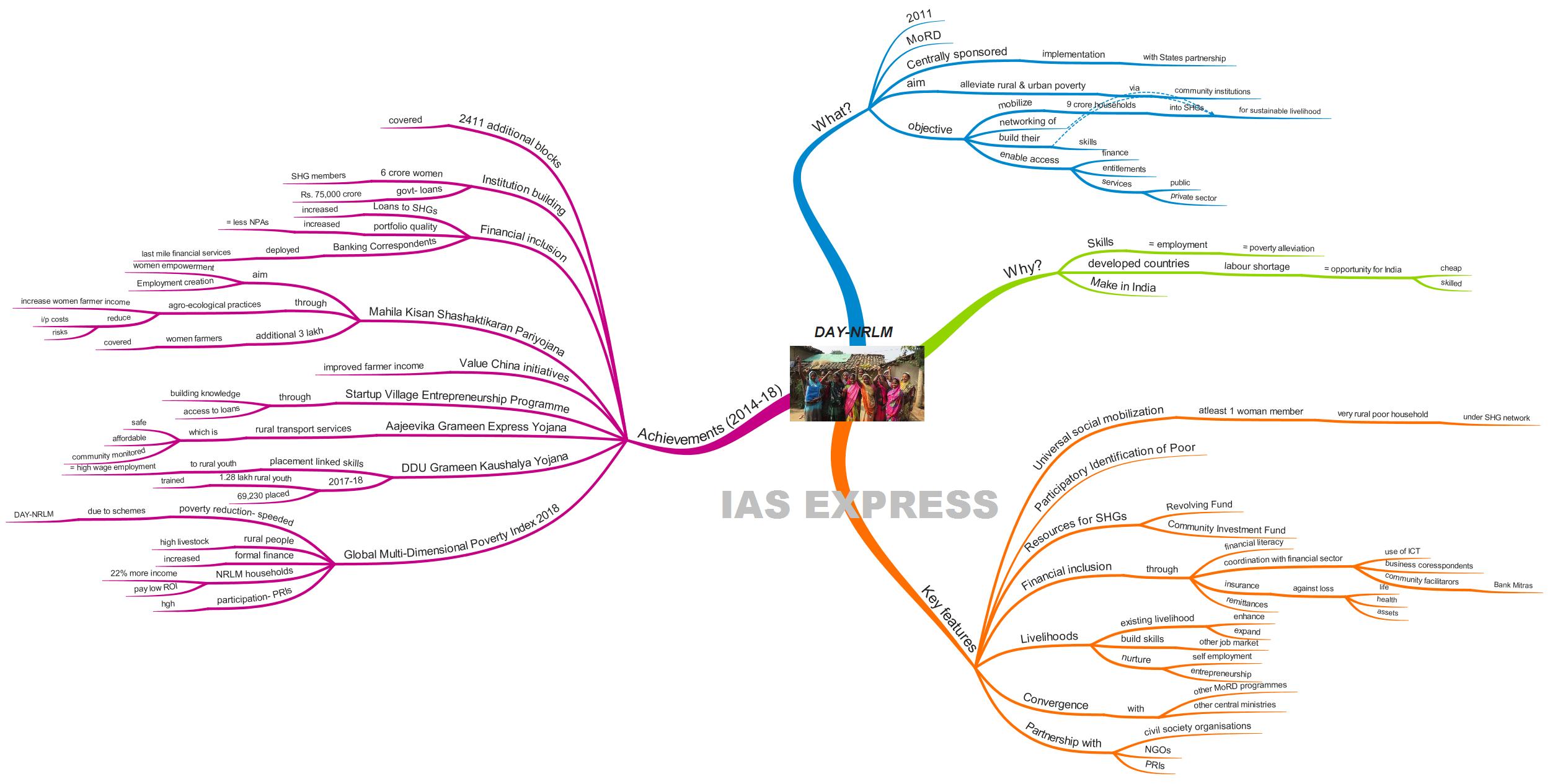 Mindmap Learning Programme (MLP)
Absorb information like a sponge!
What is DAY-NRLM Scheme?
The Deendayal Antyodaya Yojana – National Rural Livelihoods Mission was launched by the Union Ministry of Rural Development (MoRD) in 2011.
It is a centrally sponsored programme being implemented in partnership with the state governments.
Seeks to alleviate rural and urban poverty by means of building sustainable community institutions of the poor.
Its objective is to mobilize around 9 crore households into Self-Help Groups (SHGs) and connect them to sustainable livelihood opportunities.
It seeks to build their skills and facilitate access to formal sources of finance, entitlements, and services from both the public and private sectors.
What is the need?
Skill training to the poor in cities and villages = employment = poverty alleviation.
By 2020, developed countries will have a shortage of ~57 million workers & foreign companies will have to outsource work elsewhere = India needs to utilize this opportunity. Also, Companies need a cheap but skilled labour force. Notably, India will have ~47 million new workers by 2020.
However, each year, 12 million Indians join the workforce but only 10% of them are skilled compared to 70% in the US and 50% in China.
The success of Make in India depends on the success of this scheme.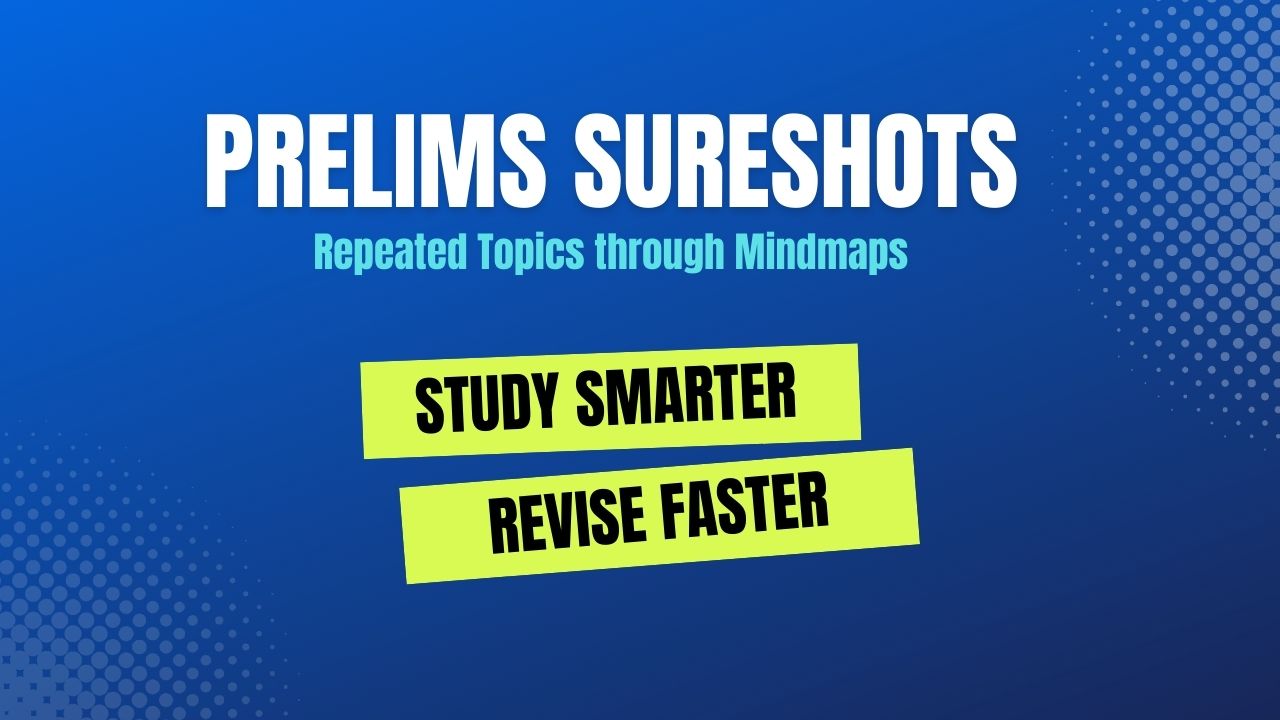 What are the key features?
Universal social mobilization: At least one woman member from every rural poor household is to be brought under the SHG network.
Participatory Identification of Poor (PIP): The inclusion of beneficiaries under NRLM is determined through the Participatory Identification of Poor (PIP) method rather than Below-Poverty Line (BPL) method.
Community Funds as Resources: NRLM provides for Revolving Fund (RF) and Community Investment Fund (CIF) as resources in perpetuity (never-ending) to the institutions of the poor, to strengthen their institutional and financial management capacity and build their track record to attract formal bank finance.
Financial Inclusion:
NRLM works on both the demand and supply sides of financial inclusion.
On the demand side, it promotes financial literacy among the poor and provides capital to the SHGs and their federations.
On the supply side, it coordinates with the financial sector and promotes the use of Information, Communication & Technology (ICT) based financial techs, business correspondents and community facilitators like Bank Mitras.
It also works towards universal coverage (insurance) of rural poor against the risk of loss of life, health, and assets.
Moreover, it works on remittances, particularly in areas where migration is endemic.
Livelihoods:
NRLM seeks to stabilize and encourage current livelihood status of the poor through three ways as follows:
Vulnerability reduction and livelihood enhancement through enhancing and expanding existing livelihoods options and utilizing new opportunities in farm and non-farm sectors.
Employment – building skills for the job market outside.
Enterprises – nurturing self-employed and entrepreneurs (for micro-enterprises).
Convergence and partnerships:
NRLM focusses on convergence with other programmes of the MoRD and other central ministries.
NRLM works on partnering with NGOs, Civil Society Organizations and linkages with Panchayat Raj Institutions (PRIs).
What are the achievements of the mission (2014-2018)?
Mission Footprint: During the period, 2411 additional blocks have been covered under the "Intensive" strategy.
Community Institution Building: Around 6 crore women had become members of self-help groups and the government had provided loans worth over Rs 75,000 crore to such groups.
Financial Inclusion:
The loan outstanding to SHGs has increased.
The quality of the portfolio has also shown a marked improvement with NPA declining to 2.64% in the current year.
This is the result of continuous efforts of the states to encourage timely repayment of loans by the SHGs.
Banking Correspondents Agents (BCA) have been deployed to provide last mile financial services including disbursement of old age pensions and payment of NREGA wages.
Mahila Kisan Shashaktikaran Pariyojana (MKSP):
It serves two purposes – Women Empowerment and Employment Creation.
By promoting agro-ecological practices that increase women farmers' income and reduce their input costs and risks.
Around 3 lakh additional women farmers have been covered during the period.
Value Chain Initiatives:
Considerable efforts have been taken on creating value chain development interventions to improve market linkages.
These value chain interventions have contributed significantly to the farmers' income from agriculture, horticulture, dairying, fisheries, and Non-Timber Forest Produce (NTFP) related activities.
Start-up Village Entrepreneurship Programme:
NRLM has been promoting SVEP to encourage and foster rural start-ups in the non-farm and off-farm sector by creating knowledge about business feasibility and to provide access to loan finance for start-ups.
Aajeevika Grameen Express Yojana (AGEY): It was launched in 2017 to provide safe, affordable and community monitored rural transport services to connect remote rural villages.
Deendayal Upadhyaya Grameen Kaushalya Yojana (DDUGKY):
It is another sub-scheme under DAY-NRLM.
It seeks to build placement linked skills of the rural youth and place them in comparatively higher wage employment sectors of the economy.
In the Financial year 2017-18, as of February 2018, 1.28 lakh rural youth have been trained and 69,230 have been placed.
Global Multi-Dimensional Poverty Index 2018 Report (By oxford & UNDP):
The pace of reduction of poverty in India has speeded in recent years due to the schemes such as DAY-NRLM.
People in rural areas have higher livestock now than before April 2014.
A higher tendency of people to save in formal institutions, higher loan size and more borrowing capacity from formal institutions.
The households under NRLM earned 22% more income than those not under the scheme.
NRLM households also pay a low rate of interest.
Participation of more PRIs.
Poor have a strong desire to come out of poverty, and they have innate capabilities. Social mobilization and building strong institutions of the poor is critical for unleashing the innate capabilities of the poor which the DAY-NRLM seeks to provide and it is also the major reason for its success.