[In-depth] Adoption in India – Laws, Stakeholders and Pandemic Orphans.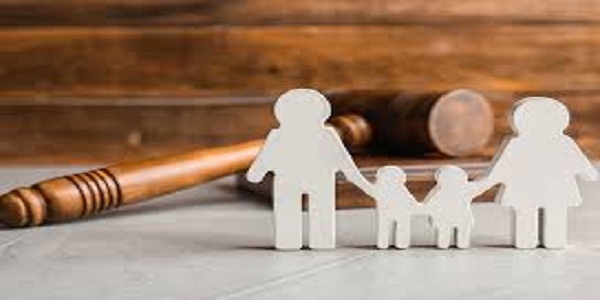 * Updates are at bottom
Given the gloomy Covid-19 situation in the country, several issues have come to the fore. Beginning from the economic slowdown to the inter-state migrant issues, the list goes on and on. One such issue that has grabbed attention in recent days is the issue of pandemic orphans. These are the children who lost either one or both their parents and are left without any help in the time of pandemic raising a grave concern. In the light of such a situation, the problem of illegal adoption was brought to the attention of the Supreme Court of India by the National Commission for Protection of Child Rights (NCPCR). The issue not only highlights the issue of orphans but also directs attention towards the adoption process, principles, laws and the authorities governing the process in India.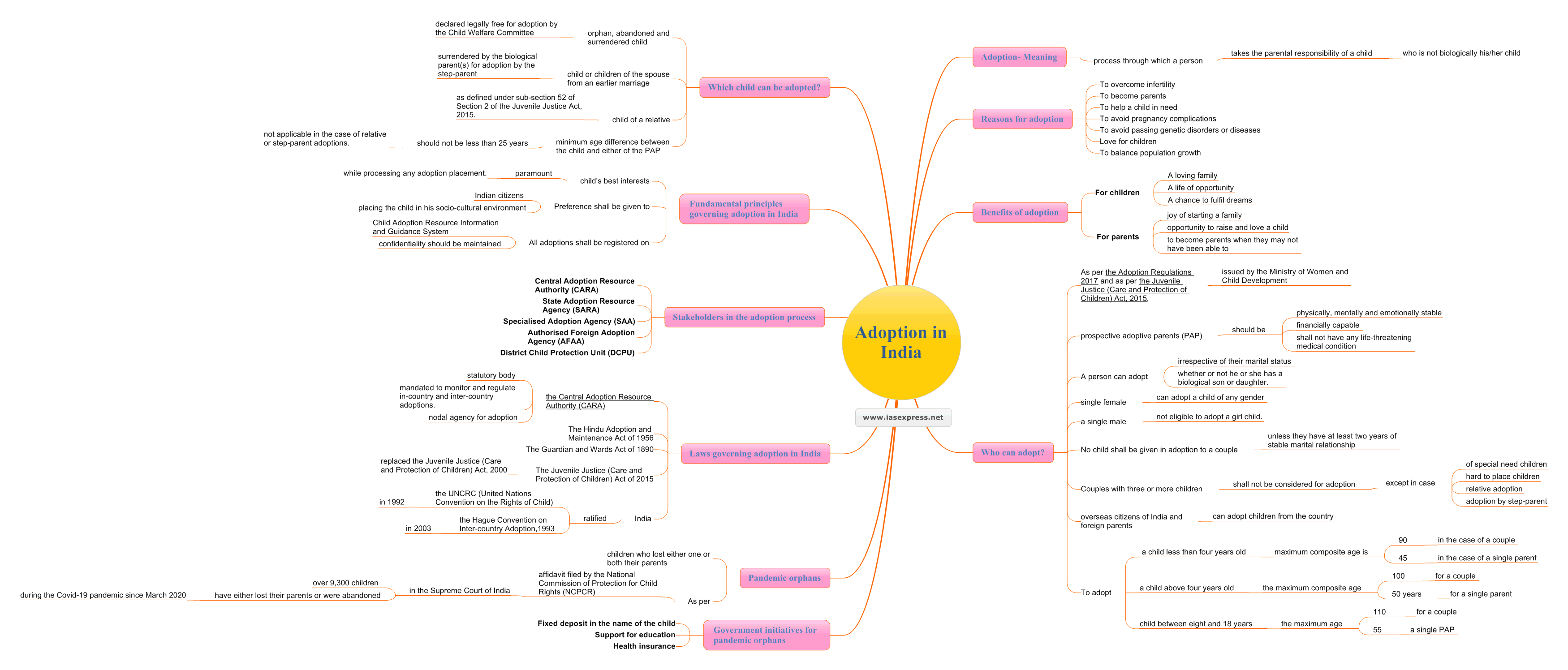 Adoption- Meaning
Adoption is the process through which a person takes the parental responsibility of a child who is not biologically his/her child and thereby the child becomes the lawful child of his adoptive parents with all the rights, privileges and responsibilities that are attached to a biological child.
Reasons for adoption
To overcome infertility.
To become parents.
To help a child in need. copyright©iasexpress.net
To avoid pregnancy complications.
To avoid passing genetic disorders or diseases.
Love for children.
To balance population growth.
Benefits of adoption
For children

A loving family.
A life of opportunity.
A chance to fulfil dreams.

For parents

The joy of starting a family
The opportunity to raise and love a child
Enables them to become parents when they may not have been able to otherwise.
Fundamental principles governing adoption in India
The child's best interests shall be of paramount consideration while processing any adoption placement.
Preference shall be given to placing the child in adoption with Indian citizens and with due regard to placing the child in his socio-cultural environment, as far as possible.
All adoptions shall be registered on Child Adoption Resource Information and Guidance System and the confidentiality of the same shall be maintained by the Authority.
Who can adopt?
As per the Adoption Regulations 2017 and as per the Juvenile Justice (Care and Protection of Children) Act, 2015, issued by the Ministry of Women and Child Development:
The prospective adoptive parents (PAP) "should be physically, mentally and emotionally stable, financially capable and shall not have any life-threatening medical condition."
A person can adopt irrespective of their marital status and whether or not he or she has a biological son or daughter. copyright©iasexpress.net
A single female can adopt a child of any gender but a single male shall not be eligible to adopt a girl child. In the case of a married couple, both spouses should give their consent for adoption.
"No child shall be given in adoption to a couple unless they have at least two years of stable marital relationship," mention the regulations.
Couples with three or more children shall not be considered for adoption "except in case of special need children", "hard to place children" and in case of "relative adoption and adoption by step-parent".
Apart from resident and non-resident Indians, even overseas citizens of India and foreign parents can adopt children from the country.
To adopt a child less than four years old, the maximum composite age is 90 in the case of a couple and 45 in the case of a single parent.
For adopting a child above four years old, the maximum composite age for a couple is 100 while the maximum age for a single parent is 50 years.
For adopting a child between eight and 18 years, the maximum age is 110 and 55 years for a couple and a single PAP respectively.
Which child can be adopted?
The child could be an "orphan, abandoned and surrendered child, declared legally free for adoption by the Child Welfare Committee", or a "child or children of the spouse from an earlier marriage, surrendered by the biological parent(s) for adoption by the step-parent". copyright©iasexpress.net
One can also adopt a child of a relative as defined under sub-section 52 of Section 2 of the Juvenile Justice Act, 2015.
As mentioned in the regulations, the minimum age difference between the child and either of the PAP should not be less than 25 years. This, however, is not applicable in the case of relative or step-parent adoptions.
Stakeholders in the adoption process
Central Adoption Resource Authority (CARA) – CARA ensures smooth functioning of the adoption process from time to time, issues Adoption Guidelines laying down procedures and processes to be followed by different stakeholders of the adoption programme.
State Adoption Resource Agency (SARA) – State Adoption Resource Agency acts as a nodal body within the State to promote and monitor adoption and non-institutional care in coordination with Central Adoption Resource Authority.
Specialised Adoption Agency (SAA) – Specialised Adoption Agency (SAA) is recognized by the State Government under sub-section 4 of section 41 of the Act to place children in adoption.
Authorised Foreign Adoption Agency (AFAA) – Authorised Foreign Adoption Agency is recognised as a foreign social or child welfare agency that is authorised by Central Adoption Resource Authority on the recommendation of the concerned Central Authority or Government Department of that country for coordinating all matters relating to the adoption of an Indian child by a citizen of that country. copyright©iasexpress.net
District Child Protection Unit (DCPU) – District Child Protection Unit (DCPU) means a unit set up by the State Government at the district level under Section 61A of the Act. It identifies orphan, abandoned and surrendered children in the district and gets them declared legally free for adoption by Child Welfare Committee.
Laws governing adoption in India
In India, the Central Adoption Resource Authority (CARA) is the statutory body of the WCD (Women and Child Development) ministry, which functions as the nodal agency for adoption, and is mandated to monitor and regulate in-country and inter-country adoptions.
The adoption of orphaned (parents have died), abandoned (parents have deserted) and surrendered (parents legally gave up custody) children are all regulated by CARA through its associated or recognised adoption agencies.
Three laws govern adoption in the country:

The Hindu Adoption and Maintenance Act of 1956, which applies to Hindus, Buddhists, Jains and Sikhs. Under this act, the adoption is irrevocable and it gives full status to the child as a natural child born to the family, it also gives the right to inherit the property.
The Guardian and Wards Act of 1890, which applies to Muslim, Parsi, Christian and Jews in adoption. Under the GAWA, the relationship which is established after an adoption is only of guardian and ward respectively. Adoption under GAWA does not confer the status of the child on the adopted child; it is different from the HAMA. copyright©iasexpress.net
The Juvenile Justice (Care and Protection of Children) Act of 2015. It replaced the Juvenile Justice (Care and Protection of Children) Act, 2000. It applies to all Indian Citizen. It allows the adoption of two children of the same sex. It confers the status of parents & child and not guardian and ward. It also confers rights available to the child on the adopted child. In particular, it provides a comprehensive process for domestic and inter-country adoption of orphan, abandoned and surrendered children.

In addition, the UNCRC (United Nations Convention on the Rights of Child) was ratified by India in 1992 and the Hague Convention on Inter-country Adoption, 1993, was ratified by the Government of India in 2003.
Pandemic orphans
As per the affidavit filed by the National Commission of Protection for Child Rights (NCPCR) in the Supreme Court of India, over 9,300 children have either lost their parents or were abandoned during the Covid-19 pandemic since March 2020.
Data reveals that 1,742 children have lost both parents, 7,464 were left with a single parent and 140 have been abandoned from March 2020 to May 29, 2021.
Out of these children, 1,224 are now living with a guardian, 985 with a family member who is not designated as a legal guardian, while 6612 are living with a single parent. In addition, 31 children have been sent to the special adoption agency. copyright©iasexpress.net
They would be boxed into a category of 'COVID orphans' and they face the risk of abandonment and exploitation of several kinds. Some of them may face learning crisis, a risk to survival and health, risk of violence, abuse and others.
Government initiatives for pandemic orphans
Fixed deposit in the name of the child

PM-CARES Fund will contribute through specially designed schemes to create a corpus of Rs 10 lakh for each child when he or she reached 18 years of age.
This corpus will be given to give a monthly financial support/stipend from 18 years of age, for the next 3 years to care for the child's requirements during the period of higher education.
Upon reaching the age of 23 years, the child will get the corpus amount as one lump sum for personal and professional use.

Support for education

Children under 10 years to be admitted to nearest Kendriya Vidyalayas.
Children under 11-18 years to be given admission in any Central Government residential school such as Sainik School, Navodaya, etc.
Any children under both the age groups if admitted to a private school then the school fees, expenditure on the uniform, textbooks and notebooks will be borne by the PM-CARES Fund.
The government will provide support for higher education in the form of assisting in obtaining educational loans, scholarship equivalent to the tuition fees/course fees for undergraduate/ vocational courses as per Government norms and for those who are not eligible for existing scholarship schemes, PM-CARES will provide an equivalent scholarship. copyright©iasexpress.net

Health insurance

All children will be enrolled as a beneficiary under Ayushman Bharat Scheme (PM-JAY) with a health insurance cover of Rs. 5 lakhs.
The premium amount for these children till the age of 18 years will be paid by PM CARES.
Way forward
With the growing number of abandoned children and cases of infertility in India, the incidences of adoption are going to rise. Given such a situation, India has put in place several measures to deal with the issue beforehand yet several bottlenecks are hindering the adoption process and the comfort of a child after adoption. India needs to formulate effective policies and amend the existing ones to address these issues. A multipronged approach with discussion with all the stakeholders is the need of the hour.
Practise Question
What do you know about the adoption process in India and the laws governing it?
Updates
Adoption (First Amendment) Regulations, 2021:
It amends the Adoption Regulations, 2017.
Highlights:

The amendment has been notified based on relevant sections of the Juvenile Justice (Care and Protection of Children) Act, 2015 (2 of 2016) and it amends Adoption Regulations, 2017.
Recently enacted Juvenile Justice (Care and Protection of Children) Amendment Act, 2021, aims at strengthening and streamlining the provisions for protection and adoption of children. It mentions that rather than the court, the District Magistrate (including Additional District Magistrate) will provide such adoption orders. copyright©iasexpress.net

It has been prepared by the Central Adoption Resource Authority (CARA) and notified by the Woman and Child Development Ministry.
Need:

Certain cases came to the fore of the authorities recently when Indian children who were adopted by parents in India and ended up moving abroad later, and therefore going out of the jurisdiction of Indian authorities and also not coming under jurisdiction of Indian Missions abroad.

Those childrens are vulnerable because they could be neglected, exploited, maltreated or abuse of these children can happen.