[In-depth] Anganwadis in India – Challenges and Way Forward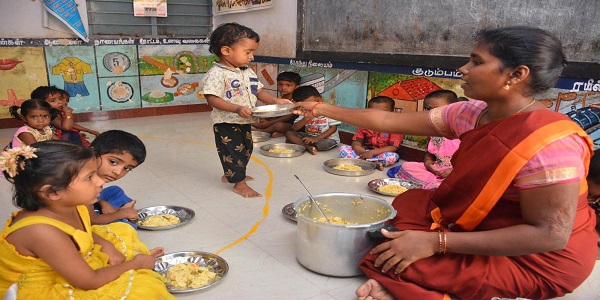 The debate over the reopening of Anganwadis in India has been the centre of discussion since the effects of the pandemic seemed to subside. The Anganwadis in India have been closed since the Covid-19 pandemic hit the nation. The effects have been widely felt across the sectors it used to serve – the worst sufferers being the children from humble economic backgrounds. The debates not only highlight the importance of services they provide but their very vitality in the Indian education and health system as their closure impacted and weakened one of the primary social safety nets of India.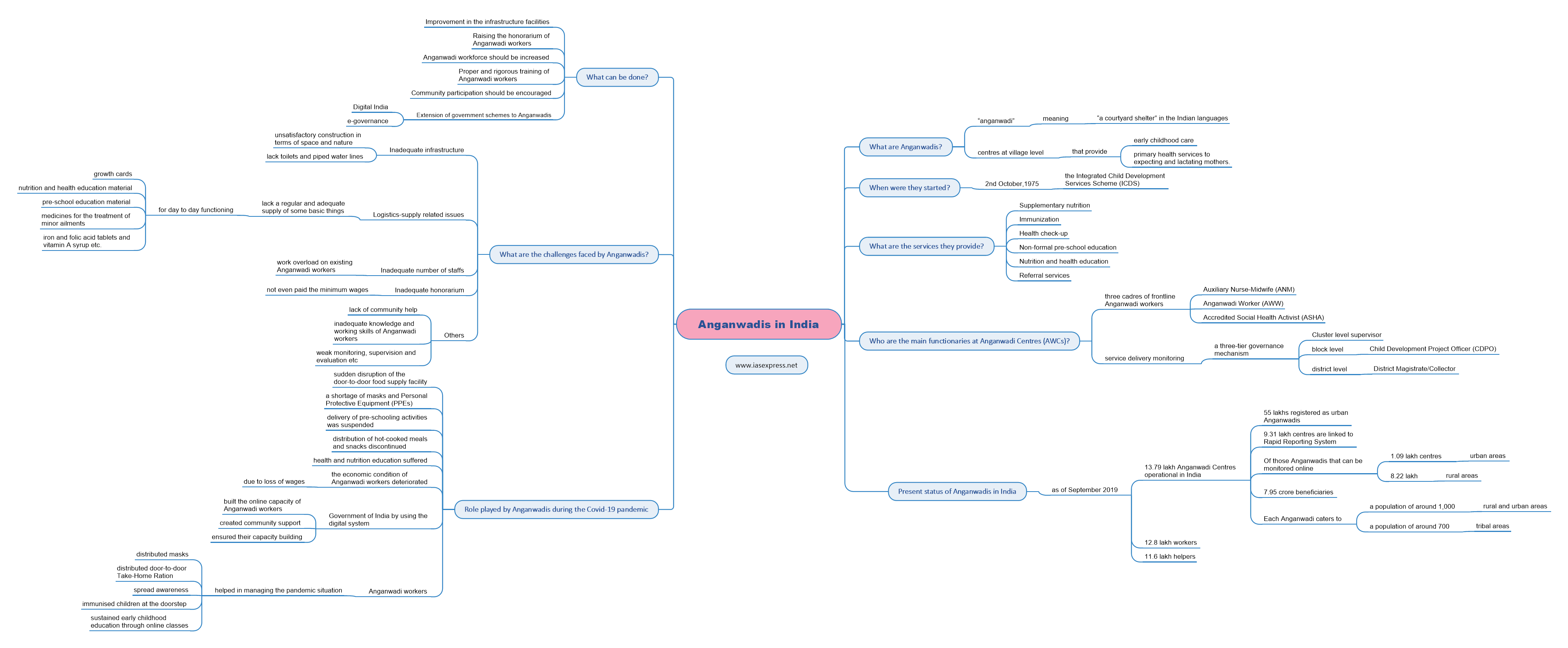 Mindmap Learning Programme (MLP)
Absorb information like a sponge!
What are Anganwadis?
The meaning of the word "anganwadi" is "a courtyard shelter" in the Indian languages. The word has developed from the Hindi word "angan" which means the courtyard of a house. These are the centres at the village level that provide early childhood care and primary health services to expecting and lactating mothers.
When were they started?
In 1972, an inter-ministerial survey by the Government of India highlighted that existing social welfare and nutrition programs in India were not improving the nutritional status of children.
The reasons for the failure of the initial programs were considered to be resource constraints, inadequate coverage, and fragmentation.
To address such shortcomings and improve the status of health and nutrition of children and counter high child and adult mortality rates, the Government of India launched the Integrated Child Development Services Scheme (ICDS) on 2nd October 1975.
The main purpose was to serve the children aged between 0-6 years and other beneficiaries such as pregnant women, nursing mothers, adolescent girls etc.
To deliver services targeted at the holistic development of children and mothers, a vast network of ICDS centres were needed which came into the form of Anganwadi Centres (AWCs).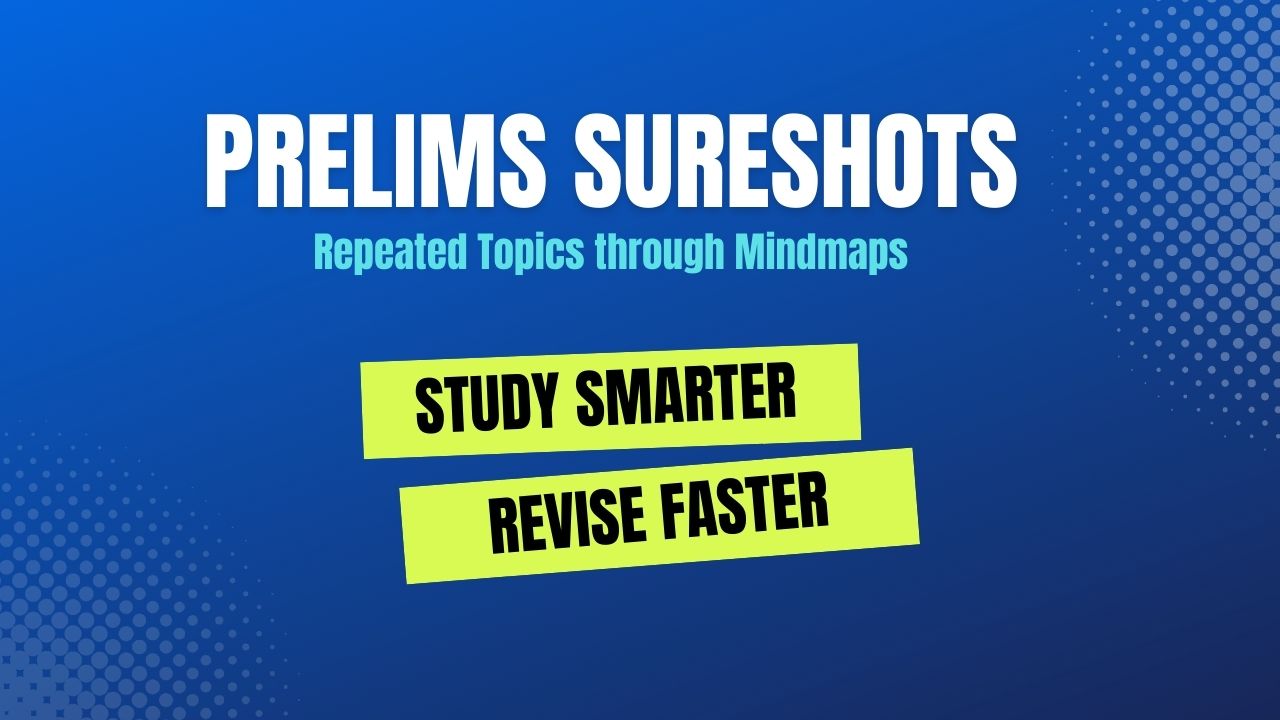 What are the services they provide?
They provide the following services in an area:
Supplementary nutrition.
Immunization.
Health check-up.
Non-formal pre-school education.
Nutrition and health education.
Referral services.
Who are the main functionaries at Anganwadi Centres (AWCs)?
India has three cadres of frontline Anganwadi workers. These are:
Auxiliary Nurse-Midwife (ANM)

She is based at a sub-centre providing care and visits villages additionally.
They are officially Multipurpose Workers (MPWs) having a broad set of responsibilities.
This cadre is the most well-educated.

Anganwadi Worker (AWW)

Her sole function is to work in her village focussing on the provision of food supplements to young children, adolescent girls, and lactating women.
They also perform the function of promoting healthy behaviours, mobilizing the community for improved water and sanitation and participating in immunization activities and other special health activities.
This cadre is well-established in the field of childcare and nutrition.

Accredited Social Health Activist (ASHA)

She also works solely in her village focussing on Maternal and Child Health (MCH) services that include immunization and institutional-based deliveries.
They also provide basic medicines (including oral contraceptives) and refer patients to the sub-centre.
They are monitored and supported by ANMs and AWWs. They often reduce the burden of labour on ANMs and act as the assistant or helpers of the latter.
Their service delivery is monitored through a three-tier governance mechanism which includes:
Cluster level supervisor.
Child Development Project Officer (CDPO) at the block level.
District Magistrate/Collector at the district level.
Present status of Anganwadis in India
As per official data as of September 2019, there were a total of 13.79 lakh Anganwadi Centres operational in India with a strength of 12.8 lakh workers and 11.6 lakh helpers.

Out of 13.79 lakh Anganwadi Centres, 55 lakhs were registered as urban Anganwadis.
Out of 13.79 lakh Anganwadi Centres, 9.31 lakh centres are linked to the government's web-enabled data entry system called Rapid Reporting System.
Of those Anganwadis that can be monitored online, 1.09 lakh centres are in urban areas and the remaining 8.22 lakh were in rural areas of the country,

There was a total of 7.95 crore beneficiaries of the Anganwadi scheme in the country as of September 30, 2019.
Each Anganwadi caters to a population of around 1,000 in rural and urban areas and around 700 in tribal areas.
They play a critical role in delivering some basic services to pregnant women, nursing mothers, adolescent girls and children below 6 years for their welfare.
Role played by Anganwadis during the Covid-19 pandemic
During the pandemic, there was a sudden disruption of the door-to-door food supply facility and a shortage of masks and Personal Protective Equipment (PPEs).
In addition, delivery of pre-schooling activities was suspended across all Anganwadis, the distribution of hot-cooked meals and snacks across all Anganwadis were discontinued, health and nutrition education suffered and the economic condition of Anganwadi workers deteriorated due to loss of wages.
However, the Government of India by using the digital system built the online capacity of Anganwadi workers, created community support and ensured their capacity building.
These helped in slightly managing the pandemic situation. The Anganwadi workers and helpers distributed masks, distributed door-to-door Take-Home Ration, spread awareness, immunised children at the doorstep and sustained early childhood education through online classes.
Thus, they played a key role in providing some of the essential services in various areas and countering the bad effects of the pandemic.
What are the challenges faced by Anganwadis?
Although Anganwadis in India play such a vital role, they face numerous problems which hinder the progress of the whole nation. Some of the problems faced by them are:
Inadequate infrastructure

The foremost problem Anganwadis face in India is the problem of infrastructure.
A majority of Anganwadis in India have unsatisfactory construction in terms of space and nature. While some have thatched-roofs, others have asbestos or tin sheets. Some of them have mud flooring.
In terms of essential facilities such as drinking water and sanitation, most of them lack toilets and piped water lines.

Logistics-supply related issues

Many Anganwadis lack a regular and adequate supply of some basic things required for day to day functioning such as registers for record-keeping, growth cards, nutrition and health education material, pre-school education material, medicines for the treatment of minor ailments, iron and folic acid tablets and vitamin A syrup etc.

Inadequate number of staffs

As of August 2021, around 1.93 lakh posts were lying vacant in Anganwadis across the country at various levels.
This leads to work overload on existing Anganwadi workers.
As of July 2020, the number of vacancies in supervisory positions for ICDS stands at 46.3% in Bihar and 41.3% in Telangana.
This highlights how inadequate staff problem is a major issue plaguing the Anganwadi system in India.

Inadequate honorarium

In addition to work overload, the Anganwadi workers also face the problem of low honorarium (wages) for the services they provide. They are not even paid the minimum wages.
The Anganwadi workers already come from a humble background, low honorarium exacerbates their poor economic condition.

Others

These include lack of community help, inadequate knowledge and working skills of Anganwadi workers, weak monitoring, supervision and evaluation etc.
What can be done?
Improvement in the infrastructure facilities should be the foremost focus.
Raising the honorarium of Anganwadi workers is also of equal importance.
The Anganwadi workforce should be increased and new recruitments should be made for various posts.
Proper and rigorous training of Anganwadi workers should be another area of focus.

While training, the workers should be taught leadership, decision-making skills, problem-solving skills, communication etc.

Community participation should be encouraged.
Schemes like Digital India and administrative practices such as e-governance should be extended to Anganwadis.
Way forward
Anganwadis play a pivotal role at the grassroots level in dealing with India's nutritional and health challenges. So, the governments at various levels must encourage the participation of non-governmental organizations (NGOs) and the local community. The recognition and appreciation of the contribution of the frontline workers and improving the present status of Anganwadi Centres may also play a key role. Anganwadis have a leading role to play in sustaining India's health and nutritional outcomes in the long run especially in the post-pandemic era.
Practise Question
What role do Anganwadis play in India? Has the Covid-19 pandemic highlighted their importance? Comment.