[Editorial] LPG Subsidy- Why is it Significant?
The Union Cabinet of India has approved a subsidy of Rs 200 on LPG cylinders with an additional Rs 200 subsidy for the poor under the Ujjwala Scheme. This move, announced as a "gift" on the occasion of Raksha Bandhan, is seen as a political maneuver ahead of the 2024 Lok Sabha elections and upcoming state assembly polls. While this initiative will help ease the financial burden for many households amidst rising inflation, it also has implications for the country's finances and budgeted capital expenditures.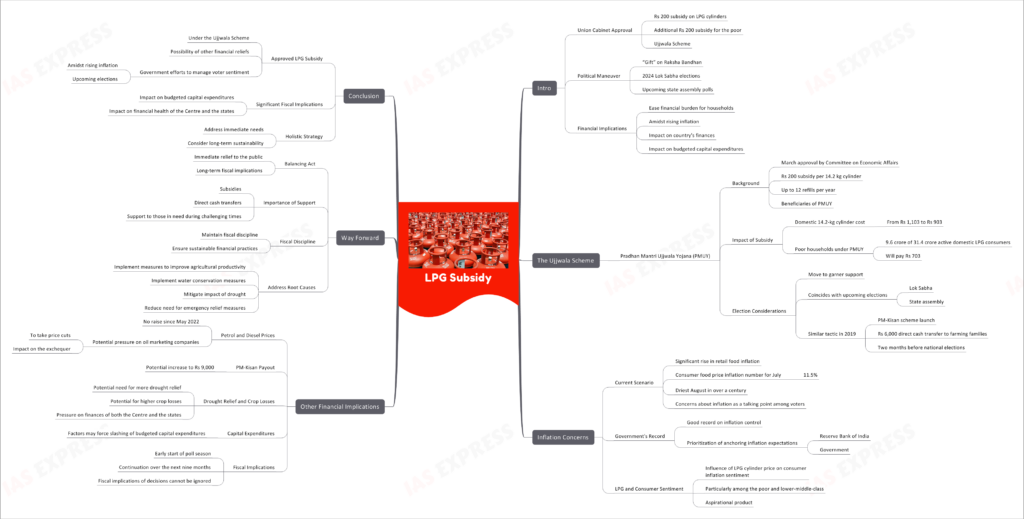 The Ujjwala Scheme
Pradhan Mantri Ujjwala Yojana (PMUY)
Background: In March, the Committee on Economic Affairs approved a subsidy of Rs 200 per 14.2 kg cylinder for up to 12 refills per year for beneficiaries of the Pradhan Mantri Ujjwala Yojana.
Impact of Subsidy: The cost of a domestic 14.2-kg cylinder in Delhi, which was Rs 1,103, is now Rs 903. Poor households covered under PMUY, which account for 9.6 crore of the 31.4 crore active domestic LPG consumers, will pay Rs 703.
Election Considerations: This announcement, seen as a move to garner support, coincides with upcoming Lok Sabha and state assembly elections. A similar tactic was employed in 2019 with the launch of the PM-Kisan scheme, providing Rs 6,000 as a direct cash transfer to all farming families, just two months before the national elections. copyright©iasexpress.net
Inflation Concerns
Current Scenario: Retail food inflation has risen significantly, with the consumer food price inflation number for July standing at 11.5%. This increase, coupled with the driest August in over a century, has raised concerns about inflation becoming a talking point among voters.
Government's Record: The current government has had a good record on inflation control, and both the Reserve Bank of India and the government have prioritized anchoring inflation expectations.
LPG and Consumer Sentiment: The price of LPG cylinders influences consumer inflation sentiment, particularly among the poor and lower-middle-class, for whom it is an aspirational product.
Other Financial Implications
Petrol and Diesel Prices: Retail prices of petrol and diesel have not been raised since May 2022. There may be pressure on oil marketing companies to take price cuts, which will ultimately fall on the exchequer.
PM-Kisan Payout: An increase in the PM-Kisan payout to Rs 9,000 could also be a possibility.
Drought Relief and Crop Losses: The government may need to cover more drought relief and higher crop losses, which will put further pressure on the finances of both the Centre and the states.
Capital Expenditures: All these factors may force the Centre and the states to slash budgeted capital expenditures. copyright©iasexpress.net
Fiscal Implications: With the poll season starting early and set to continue over the next nine months, the fiscal implications of these decisions cannot be ignored.
Way Forward
It is crucial to balance the immediate relief provided to the public with the long-term fiscal implications of such decisions. While subsidies and direct cash transfers provide necessary support to those in need, especially during challenging times, it is also important to maintain fiscal discipline and ensure sustainable financial practices. Additionally, addressing the root causes of inflation and implementing measures to improve agricultural productivity and water conservation can help mitigate the impact of drought and reduce the need for emergency relief measures.
Conclusion
The recently approved subsidy on LPG cylinders under the Ujjwala Scheme, along with the possibility of other financial reliefs, reflects the government's efforts to manage voter sentiment amidst rising inflation and upcoming elections. However, these decisions have significant fiscal implications that could impact budgeted capital expenditures and the overall financial health of the Centre and the states. Therefore, it is essential to approach these challenges with a holistic strategy that addresses immediate needs while also considering long-term sustainability.
Practice Question for Mains
What are the pros and cons of the recently introduced LPG subsidy? How essential are such subsidies in the current scenario? (250 words) copyright©iasexpress.net
Learn More