[In-depth] 4th BIMSTEC Summit – Outcomes and Analysis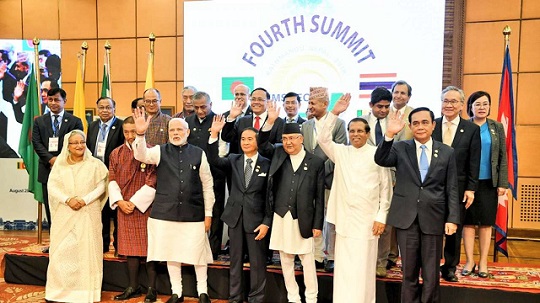 Why in News?
Recently the 4th summit of the Bay of Bengal Initiative for Multi-Sectoral Technical and Economic Cooperation (BIMSTEC) was held in Kathmandu with the release of an 18 point declaration.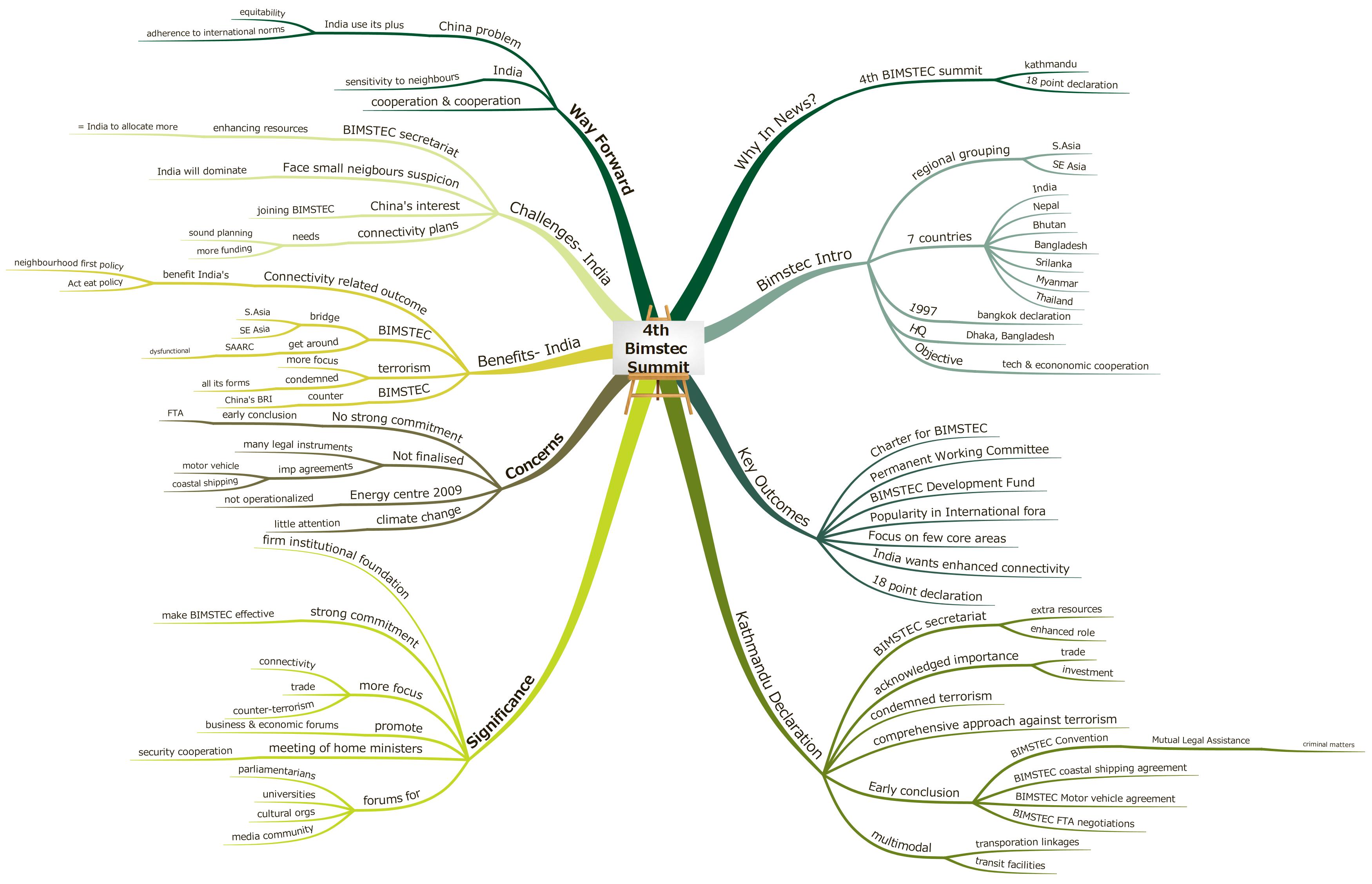 A brief intro on BIMSTEC
BIMSTEC is a regional grouping of 7 countries in South Asia and South East Asia lying in littoral and adjacent areas of Bay of Bengal constituting a contiguous regional entity.
It was formed in 1997 through the Bangkok Declaration.
It is headquartered in Dhaka, Bangladesh.
The main objective is technological and economic cooperation among member states.
Member countries are India, Nepal, Bhutan, Bangladesh, Sri Lanka, Myanmar, and Thailand. They are collectively home to around 1.5 billion people which constitute around 22% of the world population and with a combined GDP of $2.8 trillion.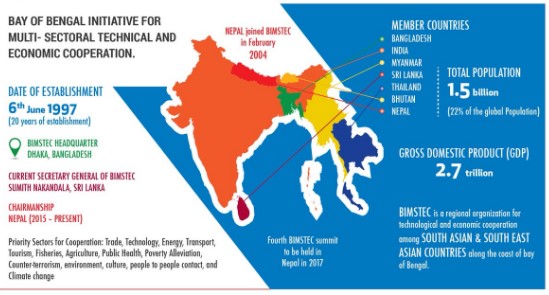 What are the Key Outcomes of the summit?
Members decided to draft a charter for BIMSTEC which has been functioned so far based on the Bangkok Declaration of 1997, outcomes of the last 3 summits and the Leaders' Retreat in 2016.
A Permanent working committee will be established to give direction during the gap between two summits and also to prepare the Rules of Procedure.
The BIMSTEC Development Fund will be established to strengthen the grouping financially.
A push to increase its visibility and stature in the international fora will also be made. copyright©iasexpress.net
Will identify a few core areas to concentrate instead of 16 cooperation areas which are broad and inefficient in actual implementation.
India has made a strong pitch for enhanced connectivity between 7 member states which include connectivity in trade, economics, transport, digital networks, and people-to-people.
And 18 point Kathmandu declaration was released.
What are the key features of the Kathmandu declaration?
The BIMSTEC secretariat will be given additional financial and human resources and also will have enhanced role to coordinate, monitor and facilitate the grouping's activities.
It acknowledges the importance of trade and investment as one of the major contributing factors for strengthening social and economic development in the region.
It deplored terrorist attacks all over the world and strongly condemned terrorism in all its forms. It also reiterated the strong commitment of BIMSTEC countries to combat terrorism and asked the member states to device a comprehensive approach to solving the problem.
Member states also agreed to early conclusion and ratification of the BIMSTEC Convention on Mutual Legal Assistance in Criminal Matters.
It also expressed satisfaction that many member states have ratified the BIMSTEC convention on cooperation in Combating International Terrorism, Transnational Organized Crime, and Illicit Drug Trafficking.
They also agreed to set up seamless multi-modal transportation linkages and transit facilities through the development, expansion, and modernization of highways, railways, waterways, sea routes and airways in the region. copyright©iasexpress.net
They also agreed to an early conclusion of BIMSTEC Coastal Shipping Agreement and BIMSTEC Motor Vehicle Agreement.
The declaration called for early conclusion of BIMSTEC Free Trade Area (FTA) negotiations.
Also read: Offshore wind power – The underutilized potential of India
How is the summit significant?
Several important decisions were taken to give a firm institutional foundation for BIMSTEC.
Member states reaffirmed their strong commitment to making BIMSTEC a "dynamic, effective and result-oriented regional organization for promoting a peaceful, prosperous and sustainable Bay of Bengal Region" through "meaningful cooperation and deeper integration".
More focus was given to enhancing connectivity, improving trade and increasing efforts to counter terrorism.
Plans to strengthen the Business and Economic forums will help in fully engaging business and industry.
A new instrument added to the arsenal i.e., meeting of home ministers, to strengthen cooperation in the security domain.
A sound plan was also established to set up forums for parliamentarians, universities, cultural organizations and the media community which will enhance people-to-people connectivity.
Also read: Gobardhan Yojana – The scheme that could create 1.5 million jobs
What are the concerns?
There is no strong commitment on the early conclusion of FTA (Free Trade Area) negotiations.
With respect to the expenditure, only one, the MoU on Grid Interconnection was finalized out of at least six legal instruments. copyright©iasexpress.net
The Energy Centre established in 2009 under the grouping has not been operationalized yet.
Climate change, the pressing concern for all member nations received only a little attention. The excessive focus was given to traditional security threats marginalizing the issues of natural disasters, refugee flows and the ability to respond to climate change.
The Motor Vehicle Agreement and the Coastal Shipping Agreement which are important for connectivity has not been finalized yet.
How would India benefit?
BIMSTEC slowly emerged as a key instrument for India to take forward its regional, strategic and economic interests.
India's strong pitch for enhanced connectivity in the summit and the resultant declaration to secure the objective is significant for India's "neighborhood first" and "Act East" policies.
India sees the grouping as a bridge between South Asia and Southeast Asia. For the other members, BIMSTEC holds the potential of gaining access to India's vast market.
India is looking to the BIMSTEC to get around the South Asian Association for Regional Cooperation (SAARC), which has become dysfunctional because of differences between India and Pakistan.
The summit's focus and the declaration's condemnation of terrorism in all its forms is a major boost for India's fight against terrorism. copyright©iasexpress.net
BIMSTEC can also be used to counter China's growing influence in countries around the Bay of Bengal due to its Belt and Road Initiative
What are the challenges for India?
There will be challenges for India from both within and outside. These will pose policy dilemmas.
India is currently the largest contributor to BIMSTEC. With the decision to enhance resources for the secretariat will prompt India to allocate more resources and it will be like a test of its commitment to the grouping.
India may need to face the smaller neighbor's suspicion that India will dominate the grouping. It was happened in SAARC and led to the inherent mistrust in the grouping.
India will have to be wary of China's interest in joining the grouping as a member or observer which will pose a strategic challenge for India. It has to be noted that China was given observer status in SAARC and it led to increased demand for making China a full member.
Grand connectivity plans mooted by India will require sound planning and significant funding, an area in which India cannot match China yet.
Therefore, India will have to carefully navigate the emerging regional geopolitics to secure its interests in the BIMSTEC. copyright©iasexpress.net
What should be the way forward?
With respect to the China problem, India's ability to create more equitable solutions and build a framework that works without violating international norms should be effectively utilized to overcome this problem.
Today, most of the smaller neighbors are highly willing to engage for benefitting from India's economic rise which is a great opportunity for India and therefore it needs to show some sensitivity to the concerns of smaller neighbors.
During the summit, the Nepalese Prime Minister and the summit chairman asserted that "Now is the time not just to deliberate, but also to deliver. Now is the time to translate promises into performance". Hence it is high time that the promises under the declaration should be turned into reality through effective cooperation and coordination for the better future of the region.