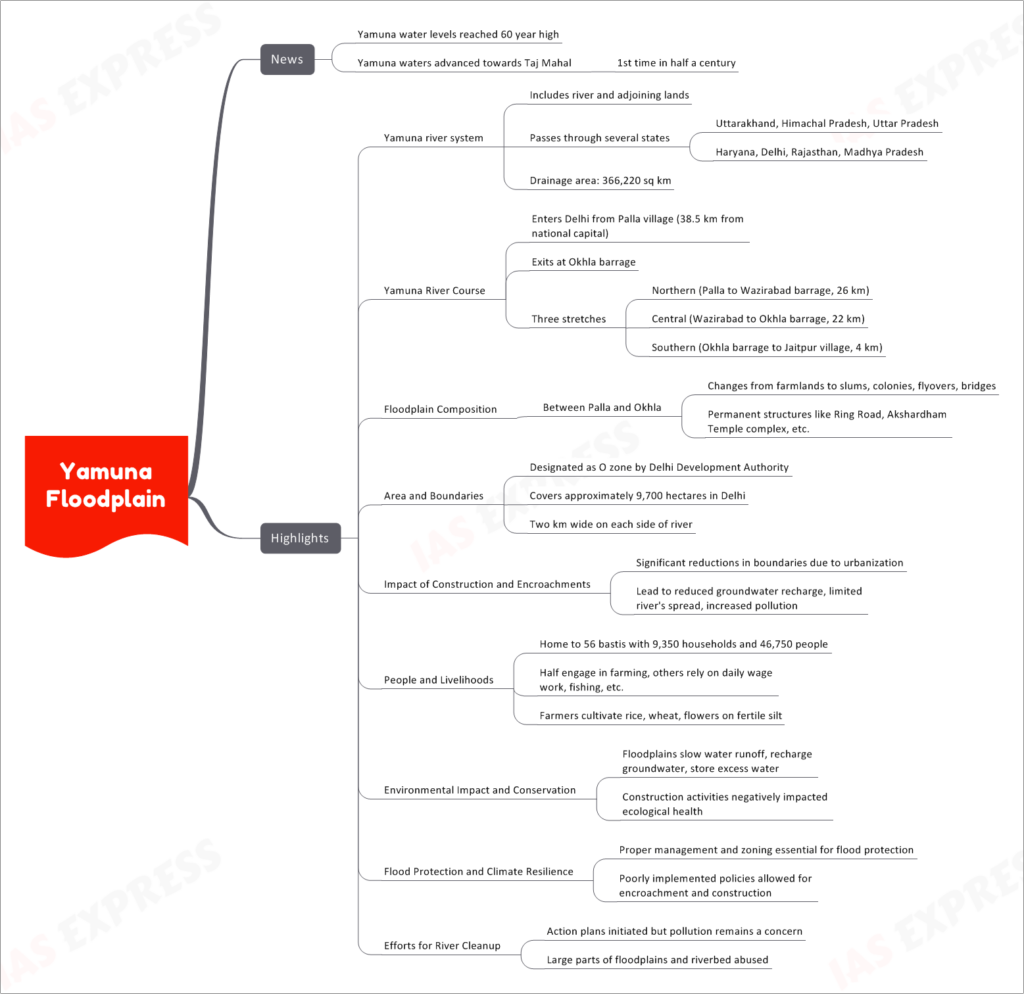 News
Recently, the water levels of the Yamuna river reached a 60-year high.
For the first time in half a century, the Yamuna waters advanced towards the iconic Taj Mahal.
Yamuna River System
The Yamuna river system includes the river and its adjoining lands.
The river passes through several states: Uttarakhand, Himachal Pradesh, Uttar Pradesh, Haryana, Delhi, Rajasthan, and Madhya Pradesh.
It has a vast drainage area covering 366,220 square kilometers.
Yamuna River Course
The Yamuna river enters Delhi from the village of Palla, which is located 38.5 km from the national capital.
It exits Delhi at the Okhla barrage.
The river can be divided into three stretches within Delhi:

Northern stretch: From Palla to Wazirabad barrage, spanning 26 km.
Central stretch: From Wazirabad to Okhla barrage, spanning 22 km.
Southern stretch: From Okhla barrage to Jaitpur village, spanning 4 km.
Floodplain Composition
The floodplain between Palla and Okhla undergoes various changes, ranging from farmlands to slums, colonies, flyovers, and bridges.
It also includes permanent structures like the Ring Road and the Akshardham Temple complex.
Area and Boundaries
The floodplains are designated as O zone by the Delhi Development Authority.
They cover approximately 9,700 hectares in Delhi and are two kilometers wide on each side of the river. copyright©iasexpress.net
Impact of Construction and Encroachments
Urbanization and construction activities have significantly reduced the boundaries of the floodplains.
This has led to reduced groundwater recharge, limited the river's spread during floods, and increased pollution.
People and Livelihoods
The Yamuna floodplains are home to 56 bastis (settlements) with 9,350 households and around 46,750 people.
Half of the population is engaged in farming, while others rely on daily wage work, fishing, etc.
Farmers cultivate rice, wheat, and flowers on the fertile silt of the floodplains.
Environmental Impact and Conservation
The floodplains play a crucial role in slowing water runoff, recharging groundwater, and storing excess water during floods.
However, construction activities have negatively impacted the ecological health of the floodplains.
Flood Protection and Climate Resilience
Proper management and zoning are essential for flood protection and climate resilience.
Poorly implemented policies have allowed for encroachments and construction on the floodplains.
Efforts for River Cleanup
Various action plans have been initiated to clean up the Yamuna river, but pollution remains a major concern.
Large parts of the floodplains and riverbed have been abused, leading to environmental degradation.
Learn More