World Breastfeeding Week 2023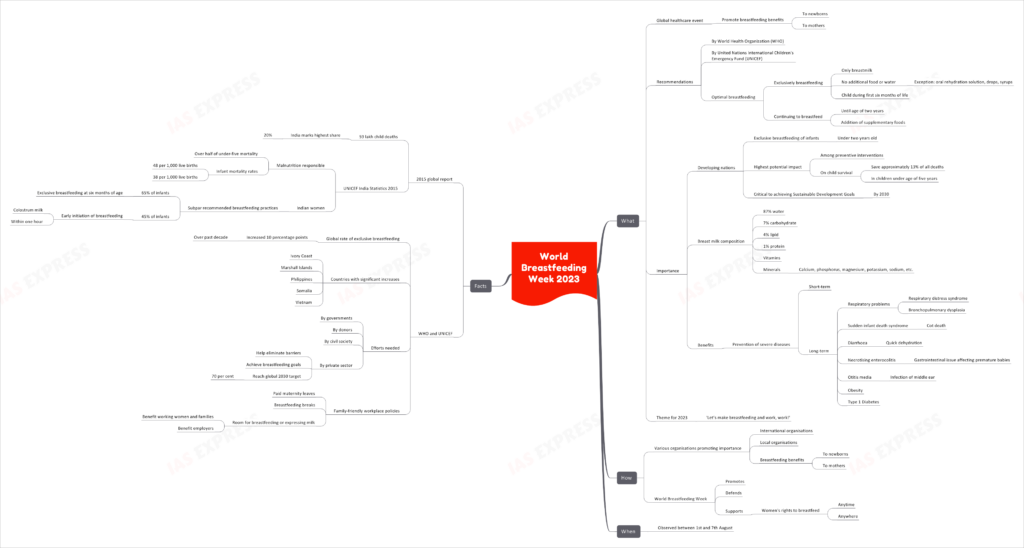 World Breastfeeding Week is a global healthcare event that aims to highlight the numerous benefits of breastfeeding for both newborns and mothers. This annual event is a collaborative effort by international and local organizations to promote optimal breastfeeding practices and raise awareness about its importance.
Embracing Breastfeeding Benefits
What is World Breastfeeding Week?
World Breastfeeding Week is a dedicated time to advocate for and celebrate the practice of breastfeeding. It emphasizes the recommendations put forth by prominent health organizations, such as the World Health Organization (WHO) and the United Nations International Children's Emergency Fund (UNICEF), regarding optimal breastfeeding practices.
Recommendations for Optimal Breastfeeding
Exclusively Breastfeeding: Newborns should be exclusively breastfed during the first six months of life, receiving only breast milk without any additional food or water (with exceptions for specific medical solutions like oral rehydration solutions, drops, and syrups).
Continuing to Breastfeed: After six months, breastfeeding should continue alongside the introduction of supplementary foods, ideally until the child reaches the age of two.
The Significance of World Breastfeeding Week
Importance in Developing Nations
Exclusive breastfeeding has the highest potential impact among preventive interventions on child survival, potentially saving around 13% of all deaths in children under the age of five. copyright©iasexpress.net
It plays a critical role in achieving the Sustainable Development Goals by 2030.
Breast Milk Composition and Benefits
Breast milk is composed of 87% water, 7% carbohydrate, 4% lipid, and 1% protein, along with essential vitamins and minerals such as calcium, phosphorus, magnesium, and more.
The benefits of breastfeeding range from preventing short-term illnesses to reducing the risk of long-term diseases such as respiratory problems, sudden infant death syndrome, diarrhea, necrotizing enterocolitis, otitis media, obesity, and type 1 diabetes.
Theme for 2023: 'Let's Make Breastfeeding and Work, Work!'
This year's theme underscores the importance of creating supportive environments that enable working mothers to continue breastfeeding while managing their professional responsibilities.
Promoting Breastfeeding Practices
Various Organizations' Efforts
International and local organizations collaborate to raise awareness about breastfeeding's benefits for both newborns and mothers.
Role of World Breastfeeding Week
World Breastfeeding Week serves as a platform to promote, defend, and support women's rights to breastfeed anytime and anywhere.
Timeline and Global Impact
When is World Breastfeeding Week Observed?
World Breastfeeding Week is observed annually between the 1st and 7th of August.
Addressing Global Challenges
A 2015 global report indicated that 5.9 million child deaths occurred, with India accounting for the highest share at 20%.
UNICEF's 2015 statistics for India revealed that malnutrition was responsible for over half of under-five mortality and infant mortality rates. copyright©iasexpress.net
Collaborative Efforts and Progress
WHO and UNICEF Initiatives
The global rate of exclusive breastfeeding has increased by 10 percentage points over the past decade.
Noteworthy progress has been made in countries such as Ivory Coast, Marshall Islands, Philippines, Somalia, and Vietnam.
Future Steps and Family-Friendly Policies
Governments, donors, civil society, and the private sector need to collectively work towards eliminating barriers to breastfeeding.
Family-friendly workplace policies, including paid maternity leave, breastfeeding breaks, and designated spaces for breastfeeding or expressing milk, are essential to achieving global breastfeeding targets and fostering healthy working environments.
Learn More