UN on Protecting Heritage Sites to Conserve Biodiversity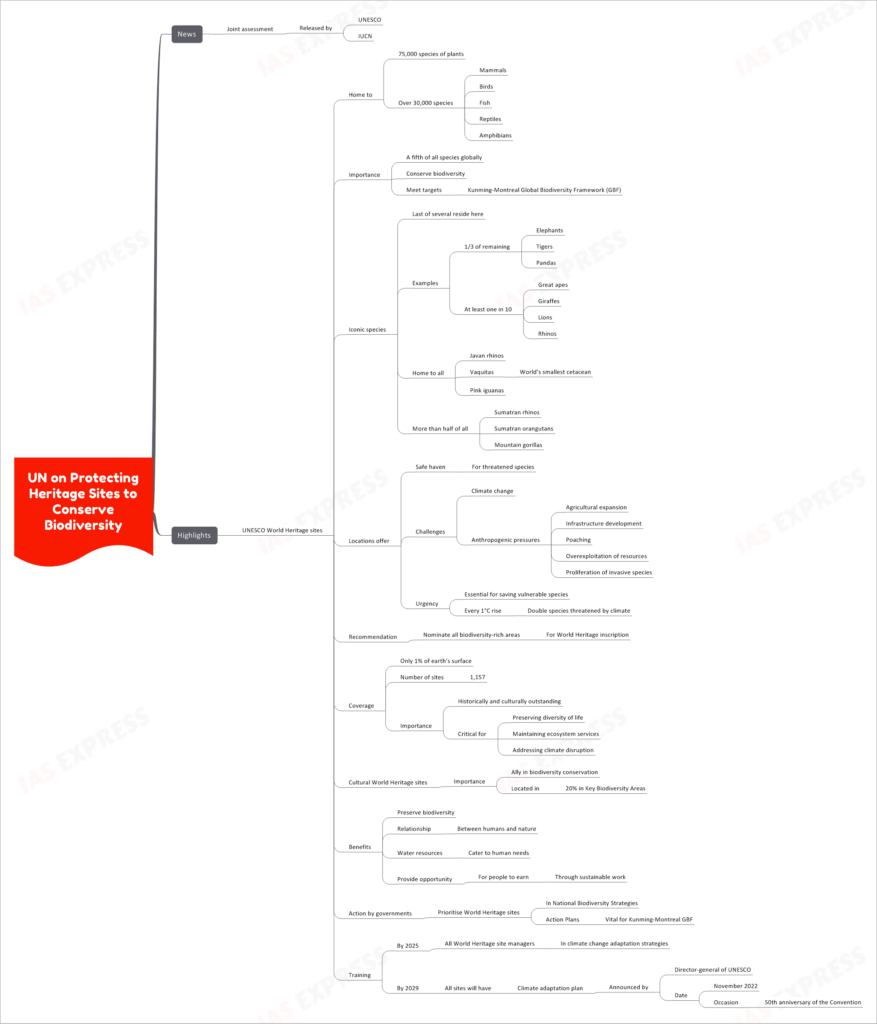 The United Nations' efforts to safeguard heritage sites for the preservation of biodiversity have gained prominence. A joint assessment released by UNESCO and IUCN sheds light on the critical role of UNESCO World Heritage sites in conserving biodiversity and the urgent need for action to address threats to these valuable locations.
Joint Assessment by UNESCO and IUCN
Released by
UNESCO (United Nations Educational, Scientific and Cultural Organization)
IUCN (International Union for Conservation of Nature)
Highlights of UNESCO World Heritage Sites
Home to Diverse Ecosystems
These sites house an impressive array of biodiversity, including:

75,000 species of plants
Over 30,000 species of animals, including mammals, birds, fish, reptiles, and amphibians.
Importance of Biodiversity Conservation
These sites play a crucial role in conserving biodiversity, as they are home to around a fifth of all species globally.
They contribute to meeting targets set by the Kunming-Montreal Global Biodiversity Framework (GBF).
Iconic Species Residences
Many iconic species find their last refuge in these sites:

One-third of the remaining elephants, tigers, and pandas reside here.
At least one in ten great apes, giraffes, lions, and rhinos also inhabit these areas.

Home to unique species like Javan rhinos, vaquitas (world's smallest cetacean), and pink iguanas.
More than half of populations of certain species like Sumatran rhinos, Sumatran orangutans, and mountain gorillas call these sites home. copyright©iasexpress.net
Conservation Challenges and Urgency
Challenges Faced
These locations are facing multiple challenges, including climate change and anthropogenic pressures such as:

Agricultural expansion
Infrastructure development
Poaching
Overexploitation of resources
Proliferation of invasive species.
Urgency of Action
Taking action is essential to save vulnerable species.
With every 1°C rise in temperature, the number of species threatened by climate change doubles.
Recommendations and Coverage
Preserving Biodiversity
The report recommends nominating all biodiversity-rich areas for World Heritage inscription, acknowledging their importance in conserving diverse ecosystems.
Coverage and Numbers
Only 1% of Earth's surface is covered by these sites, but they play a pivotal role in biodiversity conservation.
There are currently 1,157 UNESCO World Heritage sites globally.
Cultural World Heritage Sites and Benefits
Ally in Biodiversity Conservation
Cultural World Heritage sites also contribute significantly to biodiversity conservation.
Around 20% of these sites are located in Key Biodiversity Areas, enhancing their conservation value.
Preserving the Relationship between Humans and Nature
These sites help foster a deeper connection between humans and the natural world.
Water Resources and Economic Opportunities
These sites contribute to catering to human water needs.
They provide opportunities for people to earn a sustainable livelihood through various activities.
Government Action and Training Initiatives
Prioritizing Heritage Sites copyright©iasexpress.net
Governments are urged to prioritize UNESCO World Heritage sites in their National Biodiversity Strategies and Action Plans.
Crucial Training
By 2025, all managers of World Heritage sites will receive training in climate change adaptation strategies.
By 2029, all sites will have a climate adaptation plan in place, as announced by the Director-General of UNESCO on the 50th anniversary of the Convention in November 2022.
Learn More