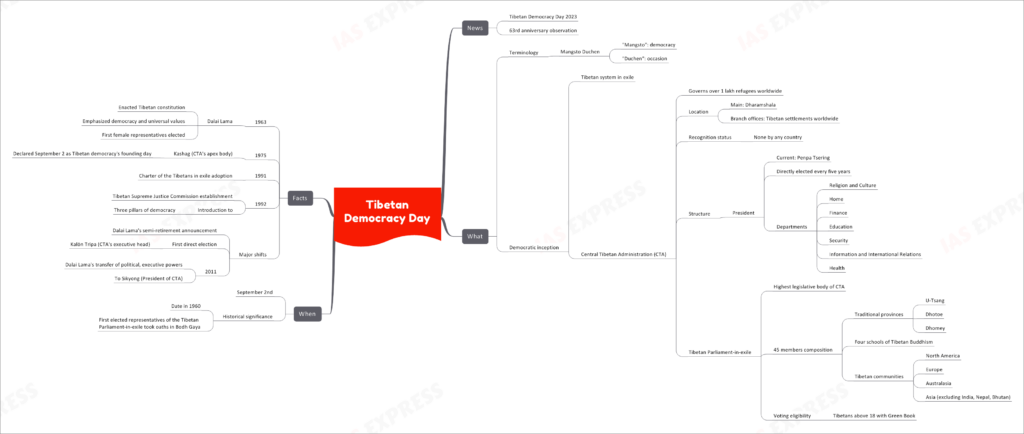 Tibetan Democracy Day 2023: The recent celebration of Tibetan Democracy Day marks its 63rd anniversary.
What is Tibetan Democracy Day?
Terminology
Mangsto Duchen: Tibetan Democracy Day, known as "Mangsto Duchen" in Tibetan, translates to "Mangsto" (democracy) and "Duchen" (occasion).
Democratic Inception
The Tibetan democratic system in exile is centered around the Central Tibetan Administration (CTA), which governs over one lakh refugees worldwide.
Location: The main headquarters of the CTA is in Dharamshala, India, with branch offices in Tibetan settlements worldwide.
Recognition Status: The CTA is not officially recognized by any country.
Structure of the CTA
President: The current President is Penpa Tsering, who is directly elected every five years.
Departments: The CTA operates various departments, including Religion and Culture, Home, Finance, Education, Security, Information and International Relations, and Health.
Tibetan Parliament-in-exile: This body serves as the highest legislative authority of the CTA and is composed of 45 members representing traditional provinces, schools of Tibetan Buddhism, and Tibetan communities worldwide.
Voting Eligibility: Eligibility to vote in Tibetan Parliament-in-exile elections is granted to Tibetans above the age of 18 with a Green Book.
When is Tibetan Democracy Day Celebrated?
Date: Tibetan Democracy Day is observed on September 2nd each year.
Historical Significance: On this day in 1960, the first elected representatives of the Tibetan Parliament-in-exile took their oaths in Bodh Gaya. copyright©iasexpress.net
Key Historical Facts
1963: The Dalai Lama enacted the Tibetan constitution, emphasizing democratic principles and universal values, and witnessed the election of the first female representatives.
1975: The Kashag, the apex body of the CTA, declared September 2 as the founding day of Tibetan democracy.
1991: The Charter of the Tibetans in exile was adopted.
1992: The Tibetan Supreme Justice Commission was established, introducing the three pillars of democracy.
Major Shifts: Notable changes include the Dalai Lama's semi-retirement announcement, the first direct election of the Kalön Tripa (CTA's executive head), and in 2011, the transfer of political and executive powers to the Sikyong, the President of the CTA.
Learn More