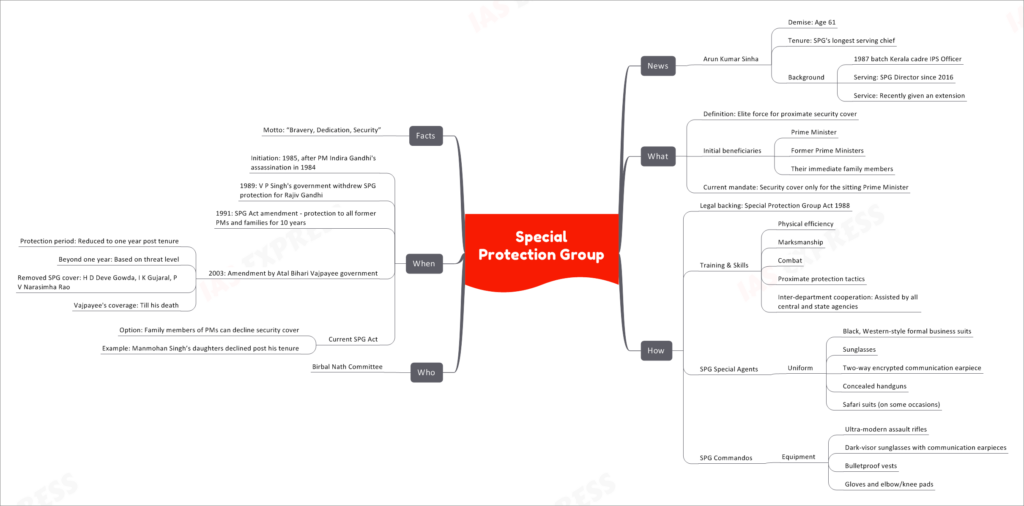 The Special Protection Group (SPG) stands as the pinnacle of elite security forces in India, designated to safeguard the nation's highest executive authority – the Prime Minister.
Latest News
Loss of a Luminary
The SPG community mourns the demise of Arun Kumar Sinha, its longest-serving chief. At the age of 61, Sinha, a 1987 batch Kerala cadre IPS officer, left behind a significant legacy. Appointed as the SPG Director in 2016, Sinha was in service till his last breath, having recently been granted an extension.
A Deeper Look: What is SPG?
Definition: SPG, an elite force, primarily offers proximate security cover.
Originally, the beneficiaries encompassed the Prime Minister, former Prime Ministers, and their immediate families. However, with evolving security dynamics, the current mandate focuses solely on the security of the sitting Prime Minister.
SPG's Modus Operandi
Legal Backing: The operations and mandates of SPG are grounded in the Special Protection Group Act of 1988.
Training & Skills: SPG agents are trained extensively in:

Physical efficiency
Combat and proximate protection tactics
Marksmanship
Collaboration, as they're assisted by all central and state agencies for comprehensive protection.

Dress Code:

SPG Special Agents: Recognizable by their black, western-style formal suits, sunglasses, encrypted earpieces, concealed handguns, and, occasionally, safari suits. copyright©iasexpress.net
SPG Commandos: Equipped with ultra-modern assault rifles, dark-visor sunglasses, bulletproof vests, gloves, and protective elbow/knee pads.
Genesis of SPG
Recommendation: The creation of SPG was advocated by the Birbal Nath Committee.
Historical Timeline:

1985: SPG came into being, prompted by the assassination of PM Indira Gandhi in 1984.
1989: V P Singh's administration discontinued SPG protection for Rajiv Gandhi.
1991: The SPG Act was amended to provide protection to all former PMs and their families for a decade.
2003: The Act underwent a significant change during Atal Bihari Vajpayee's regime. The protection duration was curtailed to a year after tenure, with extensions based on threat assessments. Consequently, many former PMs like H D Deve Gowda, I K Gujaral, and P V Narasimha Rao had their SPG covers revoked. Notably, Vajpayee received SPG protection until his passing.
The current provisions of the SPG Act grant family members of PMs the discretion to refuse security cover. For instance, post his tenure, Dr. Manmohan Singh's daughters opted out of the SPG protection.
Quick Facts
Motto: "Bravery, Dedication, Security".
Learn More