Aviation Security Control Centre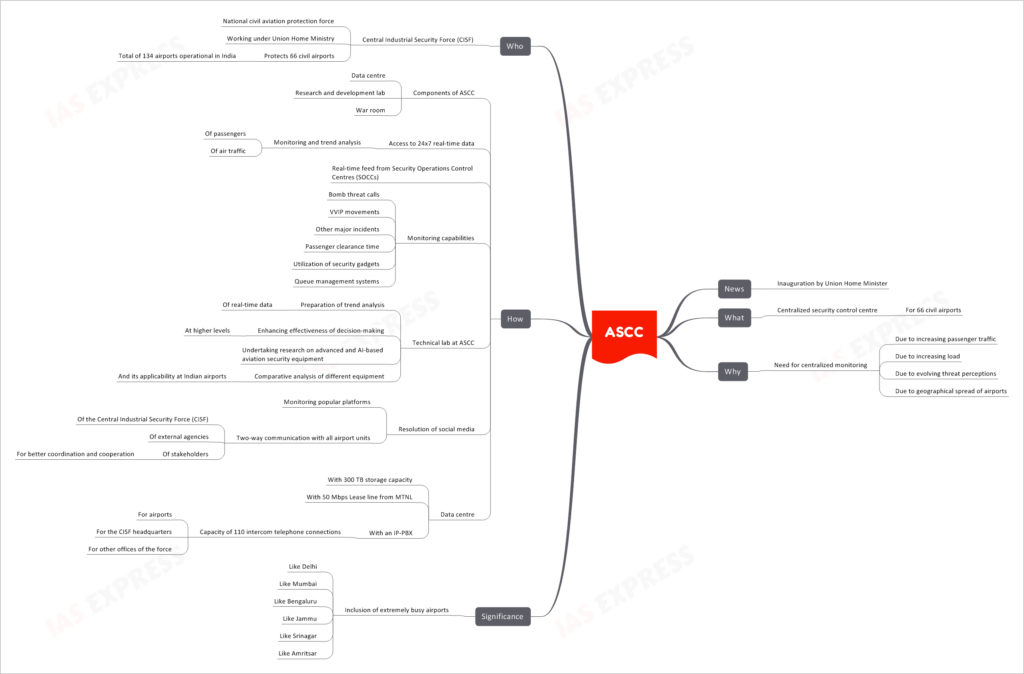 Recently, the center was inaugurated by the Union Home Minister to address the growing challenges posed by increasing passenger traffic, evolving threat perceptions, and the geographical spread of airports.
What
The ASCC serves as a centralized security control center for 66 civil airports in India.
Why
The need for centralized monitoring arises due to:

Increasing passenger traffic and load at airports.
Evolving threat perceptions in the aviation sector.
The geographical spread of airports across the country.
Significance
The ASCC includes extremely busy airports like:

Delhi
Mumbai
Bengaluru
Jammu
Srinagar
Amritsar
How
Components of ASCC
The ASCC consists of the following components:

Data centre
Research and development lab
War room
Access to 24×7 real-time data
The center has access to real-time data, allowing monitoring and trend analysis of:
Real-time feed from Security Operations Control Centres (SOCCs)
The ASCC receives real-time feeds from SOCCs for improved coordination and monitoring.
Monitoring capabilities
The ASCC is equipped to monitor various aspects, including:

Bomb threat calls
VVIP movements
Other major incidents
Passenger clearance time
Utilization of security gadgets
Queue management systems
Technical lab at ASCC
The center's technical lab is responsible for:

Preparing trend analysis of real-time data.
Enhancing decision-making at higher levels. copyright©iasexpress.net
Conducting research on advanced and AI-based aviation security equipment.
Comparative analysis of different equipment and its applicability at Indian airports.
Resolution of social media
The ASCC actively monitors popular social media platforms and facilitates two-way communication with all airport units, CISF headquarters, external agencies, and stakeholders for better coordination and cooperation.
Data centre
The data centre has a storage capacity of 300 TB.
It is connected with a 50 Mbps Lease line from MTNL.
The data center includes an IP-PBX with a capacity of 110 intercom telephone connections for airports, CISF headquarters, and other offices of the force.
Who
The ASCC is managed by the Central Industrial Security Force (CISF), which is the national civil aviation protection force working under the Union Home Ministry.
The CISF is responsible for the protection of 66 civil airports out of a total of 134 operational airports in India.
Conclusion
The Aviation Security Control Centre (ASCC) plays a vital role in enhancing aviation security across India's civil airports. Through its centralized monitoring, real-time data analysis, and efficient communication channels, the ASCC ensures a comprehensive approach to tackle the increasing challenges and threats in the aviation sector. With its focus on advanced research and technology, the ASCC aims to provide a safe and secure environment for air travelers and airport operations. copyright©iasexpress.net
Learn More