Shanti Swarup Bhatnagar Prize 2022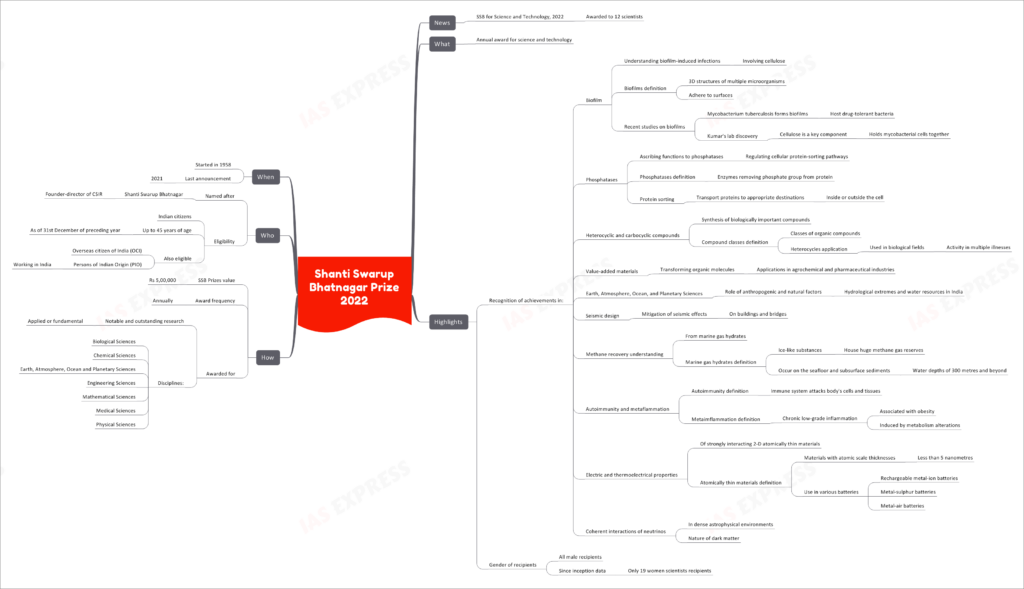 SSB for Science and Technology, 2022
What is the Shanti Swarup Bhatnagar Prize?
The Shanti Swarup Bhatnagar Prize is an annual award that recognizes exceptional contributions in the fields of science and technology. It honors outstanding achievements in various scientific disciplines.
Highlights of the 2022 Awards
The 2022 Shanti Swarup Bhatnagar Prize celebrated the remarkable achievements of scientists across different fields:
Biofilm Research
Understanding Biofilm-Induced Infections: Recognized for their research in comprehending biofilm-induced infections involving cellulose.
Biofilms Defined: Biofilms are 3D structures formed by multiple microorganisms that adhere to surfaces.
Recent Studies: Recent studies revealed that Mycobacterium tuberculosis can form biofilms, leading to drug-tolerant bacteria. Kumar's lab made a significant discovery by identifying cellulose as a key component holding mycobacterial cells together.
Phosphatase Studies
Ascribing Functions to Phosphatases: Scientists were acknowledged for their work in understanding the roles of phosphatases in regulating cellular protein-sorting pathways.
Phosphatases Defined: Phosphatases are enzymes that remove phosphate groups from proteins.
Heterocyclic and Carbocyclic Compounds
Synthesis of Biologically Important Compounds: Researchers were awarded for their contributions to the synthesis of biologically important heterocyclic and carbocyclic compounds.
Compound Classes Defined: These compounds belong to classes of organic compounds with applications in various biological fields, exhibiting activity against multiple illnesses. copyright©iasexpress.net
Value-Added Materials
Transforming Organic Molecules: Scientists were recognized for their research in developing value-added materials with applications in agrochemical and pharmaceutical industries.
Earth, Atmosphere, Ocean, and Planetary Sciences
Role of Anthropogenic and Natural Factors: Research in understanding the influence of anthropogenic and natural factors on hydrological extremes and water resources in India was honored.
Seismic Design
Mitigation of Seismic Effects: Contributions to the mitigation of seismic effects on buildings and bridges received recognition.
Methane Recovery Understanding
From Marine Gas Hydrates: Scientists were awarded for their work on understanding methane recovery from marine gas hydrates.
Marine Gas Hydrates Defined: These are ice-like substances housing vast methane gas reserves and are found on the seafloor and subsurface sediments at water depths of 300 meters and beyond.
Autoimmunity and Metaflammation
Autoimmunity Defined: Autoimmunity refers to the immune system's attack on the body's cells and tissues.
Metaflammation Defined: Metaflammation is characterized by chronic low-grade inflammation associated with obesity and induced by metabolism alterations.
Electric and Thermoelectrical Properties
Of Strongly Interacting 2-D Atomically Thin Materials: Research on the electric and thermoelectrical properties of these materials was acknowledged.
Atomically Thin Materials Defined: These materials have atomic-scale thicknesses, typically less than 5 nanometers, and are utilized in various batteries, including rechargeable metal-ion batteries, metal-sulfur batteries, and metal-air batteries. copyright©iasexpress.net
Coherent Interactions of Neutrinos
In Dense Astrophysical Environments: Scientists received recognition for their investigations into the nature of dark matter through coherent interactions of neutrinos.
Gender of Recipients
All Male Recipients: In the 2022 awards, all recipients were male.
Gender Disparity: Since its inception, the Shanti Swarup Bhatnagar Prize has seen only 19 women scientists among the recipients, highlighting the gender gap in scientific recognition.
Prize Details
SSB Prizes Value: Each Shanti Swarup Bhatnagar Prize is valued at Rs 5,00,000.
Award Frequency: The prizes are awarded annually.
Awarded for: The awards recognize notable and outstanding research, whether applied or fundamental, in various disciplines of science and technology.
The Legacy of Shanti Swarup Bhatnagar
Named After: The Shanti Swarup Bhatnagar Prize is named after Dr. Shanti Swarup Bhatnagar, the founder-director of the Council of Scientific and Industrial Research (CSIR).
Eligibility Criteria
Eligibility: The awards are open to Indian citizens up to 45 years of age as of December 31st of the preceding year.
Eligibility Extensions: Overseas citizens of India (OCI) and persons of Indian origin (PIO) working in India are also eligible for the awards.
Historical Background
Inception: The Shanti Swarup Bhatnagar Prize was established in 1958.
Last Announcement: The last announcement of awardees was made in 2021. copyright©iasexpress.net
The Shanti Swarup Bhatnagar Prize continues to recognize and celebrate excellence in science and technology, encouraging innovative research and contributions to various scientific disciplines in India.
Learn More