Sedition in Pakistan- Background, Recent Developments & Significance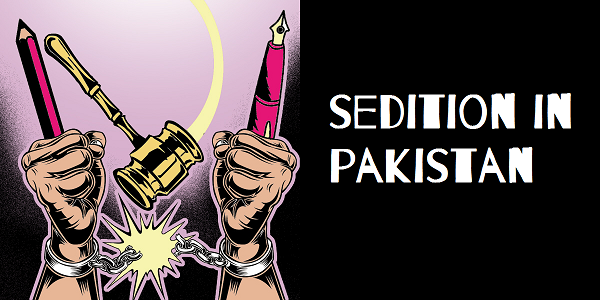 In a landmark move, Pakistan's Lahore High Court labelled the country's sedition law as unconstitutional and struck it down- a move being hailed as a win for free speech. This decision holds significance for India too, at a time when the top court has been waiting for nearly a year on the government's response on the matter.


Background:
Sedition is a colonial-era legislation inherited by both India and Pakistan.
Section 124A of Pakistan's Penal Code and Section 124A of the Indian Penal Code both define sedition. In Pakistan's Penal Code, sedition is defined as "Whoever by words, either spoken or written, or by signs, or by visible representation, or otherwise, brings or attempts to bring into hatred or contempt, or excites or attempts to excite disaffection towards, the Federal or Provincial Government established by law shall be punished with imprisonment for life to which fine may be added, or with imprisonment which may extend to three years, to which fine may be added, or with fine."
The section was introduced in 1870, ten years after the Penal Code, to stifle voices opposing colonial rule.
Bal Gangadhar Tilak was the first person to be convicted for sedition in 1897 and was charged twice more.
Other pre-independence cases involved Section 124A against freedom fighters like Annie Besant, Shaukat and Mohammad Ali, Maulana Azad, and Mahatma Gandhi.
The law was used extensively to suppress political dissent during India's anti-colonial struggle. It has found similar use in the present times too.
The punishment for sedition can range from a few months to life imprisonment and/or a fine.
The law has been criticized for being used to suppress free speech and dissent in both countries.
Recent Developments:
Recently, a single Judge Bench in the Lahore High Court declared the sedition law null and void after hearing a batch of petitions seeking to annul it.
Justice Shahid Karim held that the sedition law was in contravention of the country's Constitution.
The petitions argued that the law is "ultra vires in terms of Article 8 of the Constitution being inconsistent with and in derogation of fundamental rights provided under Article 9, 14, 15, 16, 17 and 19, 19A of the Constitution."
Why is this significant?
Over the years, the sedition law has been used to target political opponents, those journalists, cartoonists, satirists, activists and other critics of the government. For instance, the petition mentioned the case of journalist Javed Hashmi who was sentenced to 23 years imprisonment.
The way in which the law was being wielded, 'disaffection' was equated with dissent– leading to the criminalization of a legitimate and essential activity in any democracy.
In this context, the Lahore court's decision is being hailed as a 'brave' and 'fearless' move and a win for free speech and expression.
It is especially significant as it comes at a time when Pakistan is imploding under the strain of multiple crises- political, economic and security.
What does this mean for sedition in India?
In May 2022, in the S G Vombatkere case, a 3 Judge Bench of the Supreme Court headed by the then-CJI NV Ramana asked the government for a response on the validity of the sedition law. When the government requested time for the response, the court directed the Centre and states to keep in abeyance all pending trials, appeals, and proceedings with respect to the charge framed under Section 124A.
Initially, the central government defended the colonial provision, but later told the Apex court that it was reviewing it.
Almost a year later, a determinate conclusion is still awaited.
Now, it has been shown that a court, in a country under such immense distress as Pakistan, can strike down a 156 year old law that enjoyed the backing of successive governments since Independence. Surely, the Indian Judiciary could move to remove such a law that should have no place in a robust democracy.
Conclusion:
The application of sedition law needs no crime to be committed and has morphed into a tool for intimidation and silencing. It is high time that the Indian courts follow the example of its Pakistani counterpart in this case and scrap Section 124A.
Practice Question for Mains:
In light of the Lahore HC recently scrapping PPC Section 124A, comment on the place of sedition law in India and Pakistan. (250 words)
Learn More