[Editorial] Russia-Africa Summit- What are the Key Takeaways?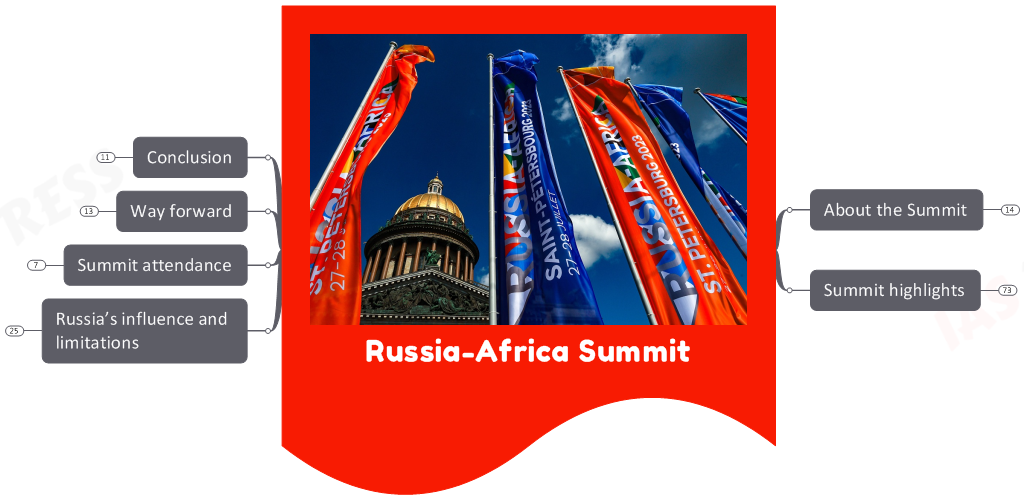 The Russia-Africa Summit of 2023, hosted in St. Petersburg, Russia, was a significant platform for President Vladimir Putin to engage with international counterparts, following the International Criminal Court's warrant for his arrest over war crimes in Ukraine. Key issues discussed ranged from economics and humanitarian affairs to the ongoing crisis in Ukraine and Africa's food insecurity.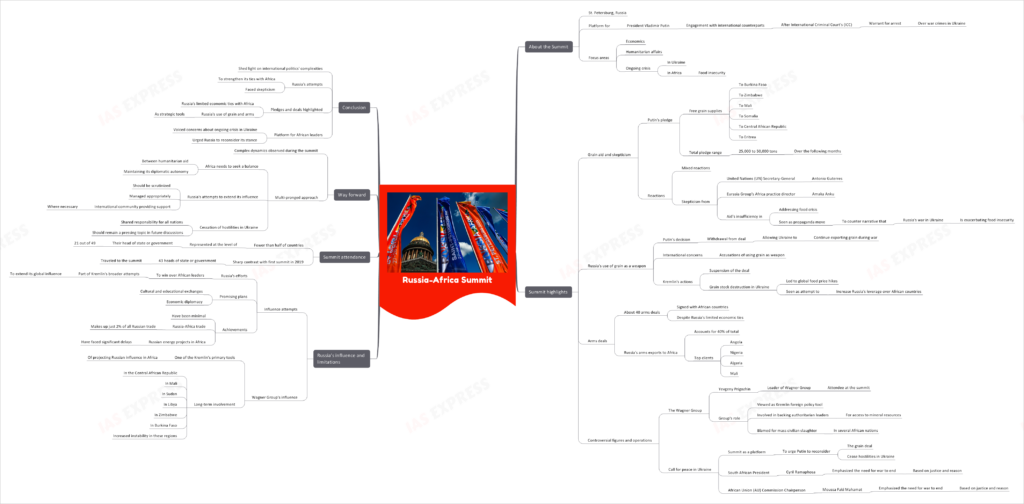 Summit Highlights
Grain Aid and Skepticism
Putin pledged free grain supplies to Burkina Faso, Zimbabwe, Mali, Somalia, the Central African Republic, and Eritrea, which drew mixed reactions. The total pledge ranged from 25,000 to 50,000 tons over the following months.
The UN Secretary-General Antonio Guterres and Amaka Anku, the director of the Africa practice at the Eurasia Group, expressed skepticism about the sufficiency of the aid in addressing the food crisis. They implied that this aid was more of a propaganda move to counter the narrative that Russia's war in Ukraine was exacerbating food insecurity.
Russia's Use of Grain as a Weapon
Putin's decision to withdraw from a deal allowing Ukraine to continue exporting grain during the war has caused international concerns, with accusations of using grain as a weapon.
It was noted that the Kremlin's suspension of the deal and subsequent grain stock destruction in Ukraine led to global food price hikes, and these actions have been seen as Russia's attempts to increase its leverage over African countries. copyright©iasexpress.net
Arms Deals
Despite Russia's limited economic ties with Africa, the Kremlin signed about 40 arms deals with African countries at the summit, suggesting a common area of interest.
Russia still accounts for 40% of weapons exports to Africa, with Angola, Nigeria, Algeria, and Mali being top clients, indicating the significance of this trade.
Controversial Figures and Operations
The Wagner Group
Yevgeny Prigozhin, the leader of Russia's Wagner mercenary group, was an unexpected attendee at the summit.
The Wagner Group is viewed as a Kremlin foreign policy tool, involved in backing authoritarian leaders for access to mineral resources. It has been blamed for mass civilian slaughter in several African nations.
Call for Peace in Ukraine
African leaders used the summit as a platform to urge Putin to reconsider the grain deal and to cease hostilities in Ukraine.
South African President Cyril Ramaphosa and AU Commission Chairperson Moussa Faki Mahamat emphasized the need for the war to end based on justice and reason.
Russia's Influence and Limitations
Influence Attempts
Russia's efforts to win over African leaders form part of the Kremlin's broader attempts to extend its global influence.
Despite promising plans for cultural and educational exchanges, and economic diplomacy, Russian achievements have been minimal. Russia-Africa trade makes up just 2% of all Russian trade, and Russian energy projects in Africa have faced significant delays. copyright©iasexpress.net
Wagner Group's Influence
The Wagner Group has been one of the Kremlin's primary tools of projecting Russian influence in Africa.
The paramilitary group's long-term involvement in countries like the Central African Republic, Mali, Sudan, Libya, Zimbabwe, and Burkina Faso has increased instability in these regions.
Summit Attendance
Fewer than half of the countries attending the St. Petersburg summit were represented at the level of their head of state or government –21 out of 49.
This contrasts sharply with the first summit back in 2019, when 43 heads of state or government traveled to the summit.
Way Forward
Given the complex dynamics observed during the summit, a multi-pronged approach is essential. Africa needs to seek a balance between humanitarian aid and maintaining its diplomatic autonomy. Russia's attempts to extend its influence should be scrutinized and appropriately managed, with the international community providing support where necessary. The cessation of hostilities in Ukraine is a shared responsibility for all nations and should remain a pressing topic in future discussions.
Conclusion
The 2023 Russia-Africa Summit shed light on the complexities of international politics, showcasing both Russia's attempts to strengthen its ties with Africa and the skepticism that this initiative faces. Despite the pledges and deals, Russia's limited economic ties with Africa and its use of grain and arms as strategic tools were highlighted. The summit also served as a platform for African leaders to voice their concerns about the ongoing crisis in Ukraine, urging Russia to reconsider its stance. copyright©iasexpress.net
Practice Question for Mains
What are the key takeaways from the recent Russia-Africa Summit? Discuss. (250 words)
Learn More