Registration of Births and Deaths (RBD) Amendment Bill, 2023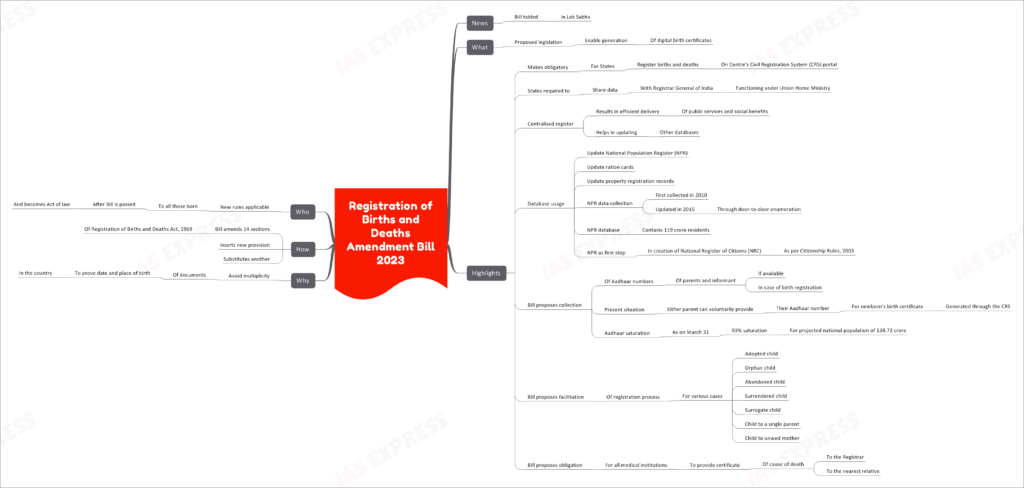 The Registration of Births and Deaths (RBD) Amendment Bill, 2023 has been tabled in Lok Sabha as a proposed legislation.
What
The proposed legislation aims to enable the generation of digital birth certificates through the CRS system.
Highlights
Centralized Registration System
The bill mandates all states to register births and deaths on the Centre's Civil Registration System (CRS) portal.
States are required to share data with the Registrar General of India, which functions under the Union Home Ministry.
This centralized register is expected to lead to efficient delivery of public services and social benefits.
The CRS database will also be used to update other important databases, including the National Population Register (NPR), ration cards, and property registration records.
National Population Register (NPR)
The NPR data was first collected in 2010 and updated in 2015 through door-to-door enumeration.
The NPR database currently contains information on 119 crore residents.
The NPR is considered the first step in the creation of the National Register of Citizens (NRC) as per Citizenship Rules, 2003.
Collection of Aadhaar Numbers
The bill proposes the collection of Aadhaar numbers of parents and informants, if available, during birth registration.
Currently, either parent can voluntarily provide their Aadhaar number for the newborn's birth certificate generated through the CRS. copyright©iasexpress.net
As of March 31, Aadhaar saturation stands at 93% for the projected national population of 138.72 crore.
Facilitation of Registration Process
The bill proposes to facilitate the registration process for various cases, including adopted, orphaned, abandoned, surrendered, surrogate, and children of single parents or unwed mothers.
Obligation for Medical Institutions
The bill places an obligation on all medical institutions to provide certificates of the cause of death to the Registrar and the nearest relative.
Why
The primary objective of the bill is to avoid the multiplicity of documents needed to prove the date and place of birth in the country.
How
The bill amends 14 sections of the Registration of Births and Deaths Act, 1969.
It introduces new provisions and substitutes existing ones to streamline the registration process.
Who
The new rules introduced by the bill will be applicable to all individuals born after the Bill is passed and becomes an Act of law.
Learn More