[In-depth] [Updated] National Register of Citizens (NRC) – Explained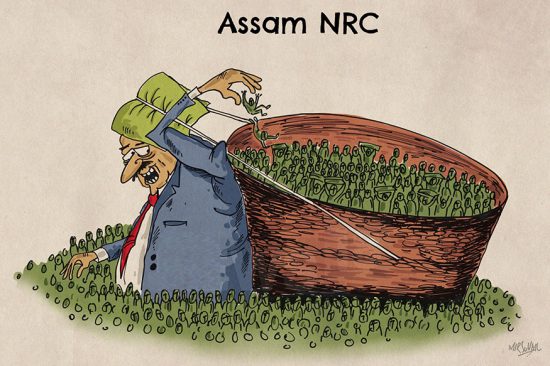 Assam's final National Register of Citizens (NRC) has been published. Of the 3.3 crore applicants, over 19 lakh were excluded from the final list. The NRC is an exercise to identify Indian citizens living in Assam, a state marked by illegal migration from Bangladesh.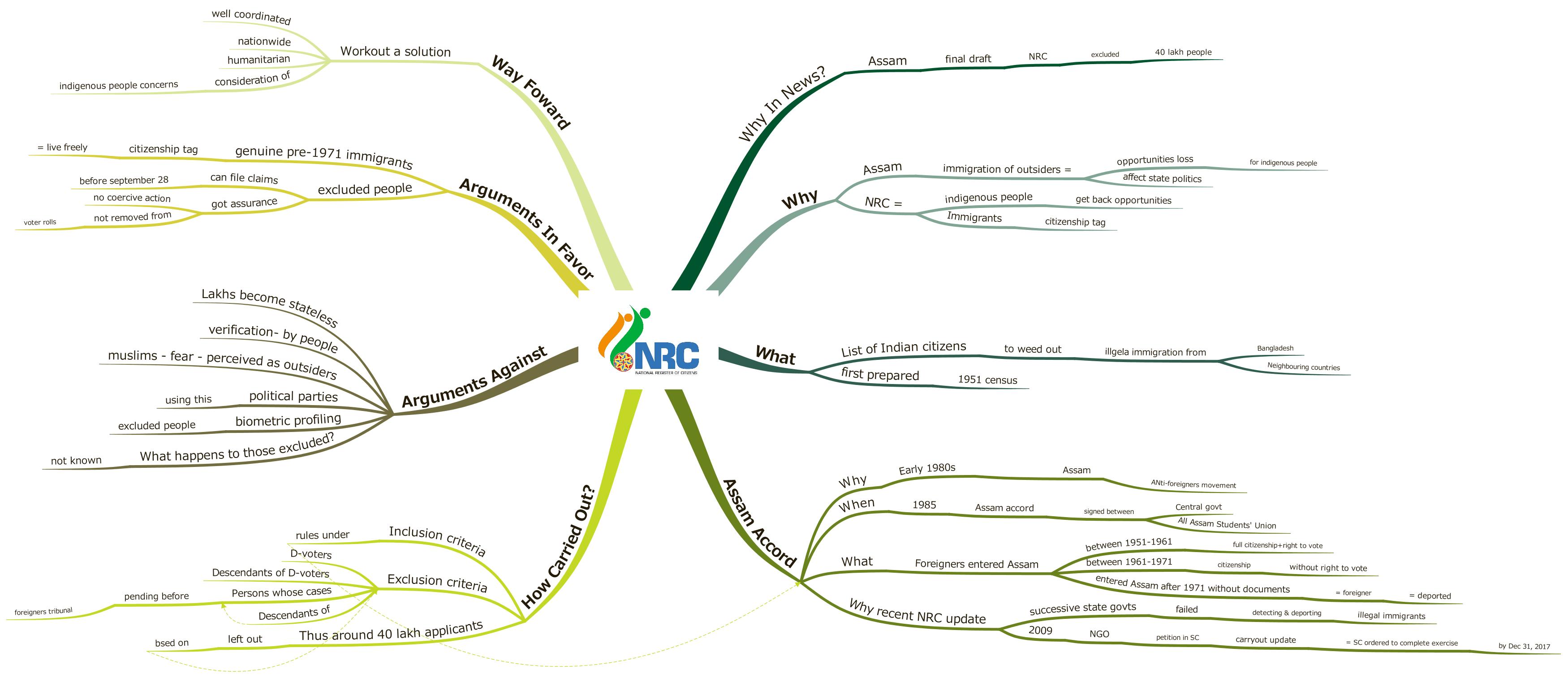 Assam has a history of being a recipient of large-scale immigration from outside.
The issue of Bengali-speaking outsiders, both Hindus and Muslims, first from East Pakistan, and then Bangladesh, has been a long-standing problem for the indigenous people of the state.
The indigenous people were alarmed at the scale of this immigration as it causes huge loss of opportunities and these change in demographic dimensions will eventually affect state politics.
Hence the National Register of Citizens is seen as a tool for the indigenous people to get back the opportunities, and for the immigrants to get a citizenship tag and live freely in the state.
What is the National Register of Citizens?
It is the list of Indian Citizens in Assam being updated to weed out illegal immigration from Bangladesh and neighboring countries.
Those who fail to enlist in the register will be deemed, illegal migrants.
It was first prepared in 1951 following the census of 1951. copyright©iasexpress.net
Now, it is not linked to the census but one has to link oneself to a family member whose name had appeared either in the NRC of 1951 or to any of the state's electoral rolls prepared till midnight of 24th March 1971.

This is to detect Bangladeshi migrants who may have illegally entered Assam after the midnight of March 24, 1971 (Bangladesh Liberation Movement)
This cut-off date was originally agreed to in the 1985 Assam Accord.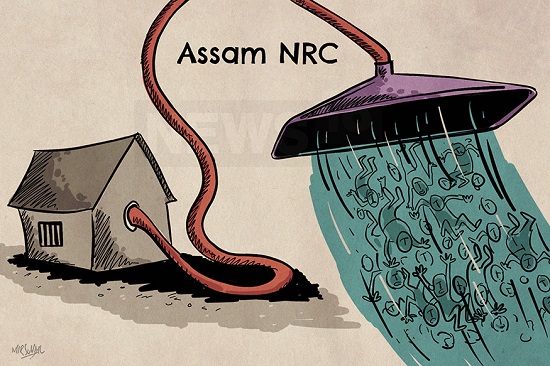 What is the Assam Accord & Why recent NRC update?
In the early 1980s, Assam witnessed a range of law and order problems and political uncertainties caused by the anti-foreigners movement.
Hence in 1985, the Central government and the All Assam Students' Union (AASU) signed the Assam Accord.

Accordingly, those foreigners who had entered Assam between 1951 and 1961 shall be given full citizenship including the right to vote.
The migrants who entered between 1961 and 1971 shall be denied voting rights for ten years but would enjoy citizenship rights.
People who entered the state without documents after March 24, 1971, will be declared a foreigner and were to be deported.
However, Successive state governments in the Assam failed to detect and deport illegal migrants.

Therefore in 2005, another agreement was signed between the Centre, the Assam government and the AASU in order to update the NRC that was first published after the 1951 Census data. NRC update though stated as a pilot project in some districts was halted after violence took place in some parts of the state. copyright©iasexpress.net
In 2009, Assam Public Works (APW), an NGO filed a petition in the Supreme Court calling for the identification of Bangladeshi foreigners in the state and removal of their names from the voters' list.
Thus the recent publication of updated NRC comes as a result of the SC order to complete the exercise by December 31, 2017.
How the update of NRC carried out?
Inclusion criteria are based on the rules framed under the Assam Accord which we have seen earlier.
Exclusion criteria include

D-voters (Doubtful voters who have been disenfranchised on account of failure to prove citizenship).
Descendants of D-voters.
Persons whose cases are pending before the foreigners tribunal.
And Descendants of Persons whose cases are pending before the foreigners tribunal.
Thus around 40 lakh applicants have been left out in the draft list as per the exclusion criteria.
Arguments against NRC
There are immense humanitarian dimensions involved in making lakhs of people stateless.
The verification requires people rather than officials to extract documents, prove they have strong roots in the state, and prove one's nationality and is not an easy task. So the government is accused of putting the official burden on people.
It has been tragic for those among the 40 lakh who may be genuine citizens but have been left out. And it has been most tragic for Muslims of the state who have had to live with the fear of being perceived as the outsiders. copyright©iasexpress.net
Each political players has seen in this an opportunity to expand its own base. The ruling party converted what was an insider-outsider debate in Assam into a Hindu-Muslim debate.
There could be biometric profiling of those 40 lakh people to ensure they do not move to other states.
It remains unknown about what happens to those who are deemed as non-citizens. Political campaigns favor deportation.

But government and political functionaries are quick to admit that expelling them to Bangladesh is not an option at all.
Dhaka has never accepted that they are its citizens or that there is a problem of illegal immigration.
If deportation is not an option, some have suggested large-scale detention camps. But locking in hundreds of thousands of people in camps or extensions of them is out of the question for a civilized democracy like India.

Many suggested instituting work permits for the excluded with limited legal rights to work but without any political voice. It is not clear how this will work for those who have worked for generations in India, or what will be the fate of children of such individuals.
NRC is in violation of India's neighborhood first policy because there is a growing fear in Bangladesh that those excluded from NRC will be deported to Bangladesh. Notably, Bangladesh is already at its limits with respect to the use of resources and manpower to host Rohingya refugees. copyright©iasexpress.net
Arguments favoring NRC
Most of the pre-1971 immigrants of East Pakistan/ Bangladesh origin who have been living all these years with the tag of a foreigner have now found a place in the citizens' register.
Lakhs of immigrants, both Muslim and Hindu get citizenship tag and they can live freely without fear of stigma and suspicions.
The central government assured that those left out of the NRC would be able to file claims before September 28 and this date could be further extended.
The central and state governments, as well as the Supreme Court, have said this list cannot, and will not, be the basis of coercive action against anyone who is excluded. The Election Commission has said their names will not be removed from voter rolls.
It is certain that after all the claims and objections are dealt with, the actual number of deletions will be reduced considerably. But even then, there would be a massive number of stateless persons.
Therefore, a well-coordinated, nationwide move to work out a solution within humanitarian parameters is the need of the hour. But it should never deviate from the ground reality in Assam where immigration and demographic change continue to be a major concern for the indigenous people. copyright©iasexpress.net
Updates – Jan 18, 2019
Recently, the Union Cabinet cleared a proposal to establish a high-level committee to look into the enforcement of Clause 6 of the Assam Accord of 1985.
What is Clause 6 of the Assam Accord?
Assam Accord was signed due to the movement against immigration from Bangladesh.
To be recognized as citizens, the Accord sets March 24, 1971, as the cutoff date.

It was mentioned that the immigrants up to the cutoff date would get all rights as Indian citizens.
Hence, Clause 6 was inserted to protect, preserve and promote the cultural, social, linguistic identity and heritage of the "Assamese people".
It aims at providing constitutional, legislative and administrative safeguards to the Assamese people.
The NRC of 1951 was the basis for defining "Assamese people".

The current NRC update is based on March 24, 1971, which defines citizenship.
However, Clause 6 relates to "Assamese people".
If 1951 is accepted as the cutoff, it would mean that those who migrated between 1951 and 1971 would be considered as Indian citizens. But, they would not be eligible for safeguards meant for "Assamese people".
How is the implementation of Clause 6?
Even though certain initiatives have been taken in this regard, the clause still needs to be implemented fully.
However, the Assam government website mentions a number of initiatives as part of the implementation of Clause 6. These include cultural centres and film studios, and financial assistance to historical monuments and xatras (Vaishnavite monasteries). copyright©iasexpress.net
In 1998, the Home Ministry established the sub-committee under G K Pillai.
In 2006, the state government established a committee to help define "Assamese".
In 2011, the state government set up a Cabinet sub-committee to look into Clause 6.
What are the demands?
Safeguards under Clause 6 is considered to the reservation of electoral seats, and land and political rights.
There are also demands that it should include rights over natural resources and protection of culture of the indigenous people.
It is also demanded that one needed to be a citizen in or prior to 1951 to purchase land, and similar laws for employment are also called for.
What are the mandates of the proposed committee?
The committee would look into the effectiveness of initiatives taken since 1985 to implement Clause 6.
It would hold discussions and evaluate the quantum of reservation of seats in the Assembly and local bodies for Assamese people.
It will also evaluate the measures required to protect Assamese and other indigenous languages of Assam.
Moreover, the committee will also look into the issue of reservation in state government jobs and other measures.
What are the obstacles?
The AASU has described it as an initiative to misguide people before pushing the Citizenship (Amendment) Bill, 2016.

The Bill proposes to provide citizenship to non-Muslim immigrants from three countries including Bangladesh. copyright©iasexpress.net
This has divided residents of Brahmaputra Valley (mostly anti-Bill) and Barak Valley (pro-Bill).

Thus the government and the committee should consider these issues too while deciding on the safeguards under Clause 6.
Updates – Aug 31, 2019
Assam's final National Register of Citizens (NRC) has been published. Of the 3.3 crore applicants, over 19 lakh were excluded from the final list. Those excluded from the list will get an opportunity to file appeals and be heard in the Foreigners' Tribunals (FT).
Updates – Dec 23, 2019
On November 20, Home Minister Amit Shah declared during a parliamentary session that the register would be extended to the entire country. This further intensified protests. However, the government has neither made any official announcement nor have any rules and regulations prepared on it.
Learn More