[In-depth] PM Kisan Samman Nidhi – The Debate on Cash Vs In-kind Transfers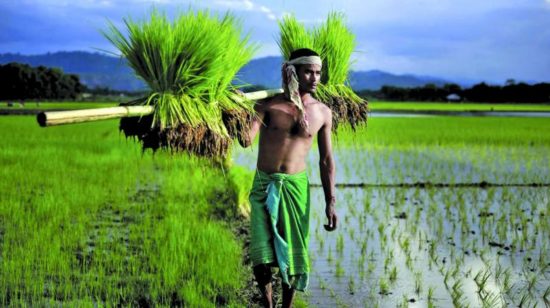 The Interim Budget 2019-20 placed a strong focus on the rural and farm sectors by introducing Pradhan Mantri Kisan Samman Nidhi (PM-KISAN), guaranteeing direct income support to farmers. This development has renewed the debate on the idea of a Universal Basic Income (UBI).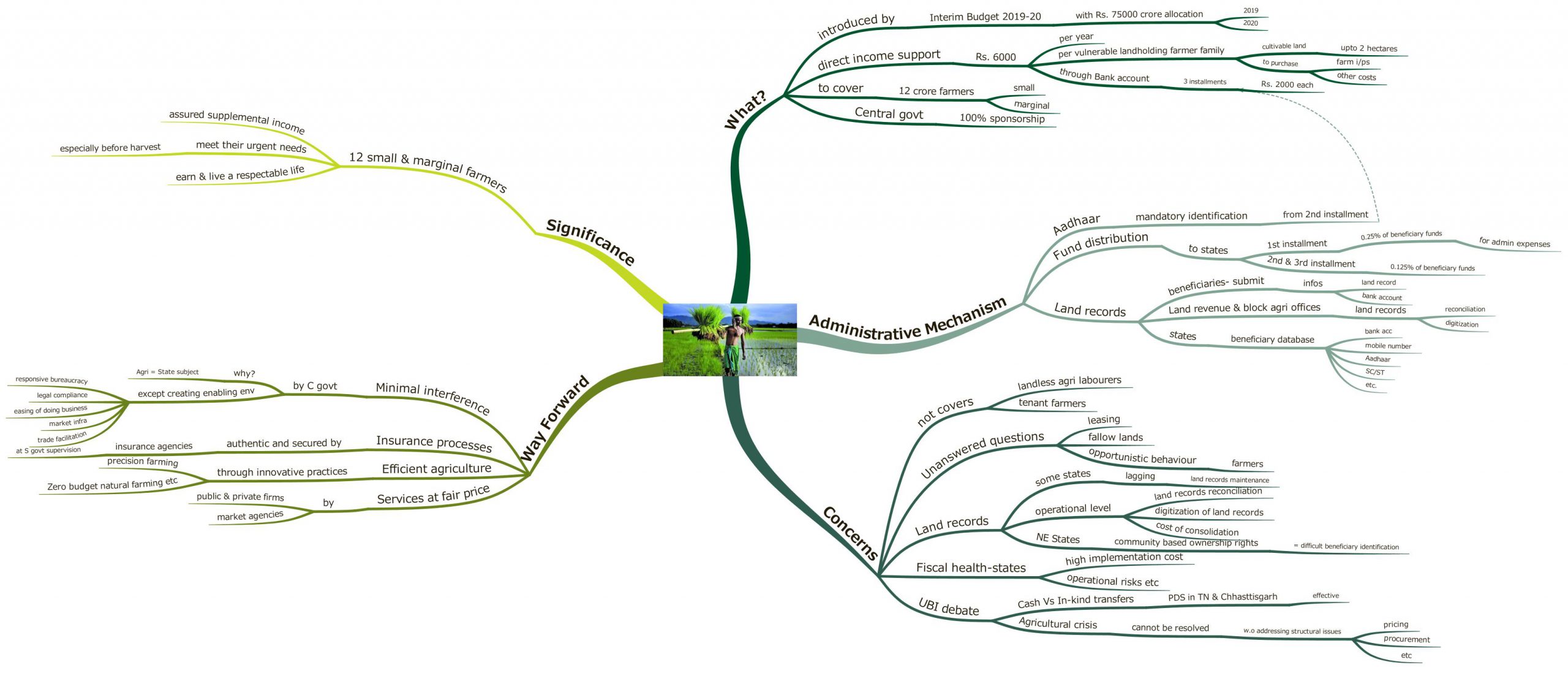 What is the PM Kisan Samman Nidhi?
Under this scheme, direct income support of Rs. 6000 per year will be provided to the vulnerable landholding farmer families having cultivable land up to 2 hectares.
This will help them in purchasing the farm input and other costs during the cropping season.
It is likely to cover 12 crore small and marginal farmers.
The scheme would be implemented in a retrospective manner (from backdate) from December 1, 2018.
It is completely sponsored by the central government.
The interim budget has allocated Rs. 75,000 crore to this scheme for the current and the next year.
Each small landholder is entitled to receive the amount (Rs. 6000) in a bank account in three installments of Rs. 2000 each.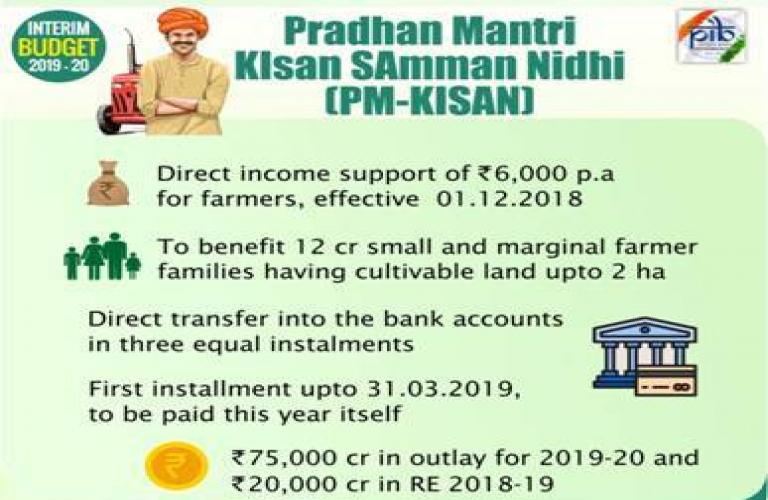 What is the administrative mechanism for this scheme?
Aadhaar: Beneficiaries are required to have identified with Aadhaar to get the money from the second installment onwards. An alternate list of identification documents can also be submitted.
Fund distribution: States would be provided a maximum of 0.25% of funds transferred to beneficiaries in the 1st installments to pay for their administrative expenditure while implementing the scheme. The amount would drop to 0.125% for further installments. copyright©iasexpress.net
Land records:
Beneficiaries are needed to submit a proper land record and bank account information.
Land revenue and block agriculture offices are responsible for reconciliation and digitization of land records.
States are responsible to prepare a database of beneficiaries (small & marginal farmer families) in all villages including their bank account, mobile number, Aadhaar details and whether they belong to SC/ST.
What are the concerns with this scheme?
Coverage: The scheme covers only small and marginal farmers (85% of farmer population), not landless agricultural laborers and tenant farmers.
Unanswered questions: The scheme leaves unanswered questions such as,
If beneficiary farmers want to lease their lands to tenant farmers or keep their lands fallow (unplowed/unseeded) for a certain time, are they entitled to receive cash benefits?
Who will be responsible to monitor and control the opportunistic behaviour of farmers?
Land records:
Except for some states, others are still lagging in maintaining the database for land records.
Concerns at the operational level – Land records reconciliation, digitization of land records and cost of consolidating land records.
In the northeastern states, land ownership rights are community-based = difficult to identify beneficiaries.
Fiscal health of states: The extensive implementation of PM-KISAN can increase opportunity costs of critical (human) resources, operational risks and consequently, shoot up operating expenses and impact the fiscal health of states. copyright©iasexpress.net
UBI debate: The scheme renewed the debate on Universal Basic Income that whether cash transfer would be beneficial than in-kind transfers. The experience of Public Distribution System (PDS) in Tamil Nadu and Chattisgarh shows that in-kind transfers are twice as effective in increasing calorie intake compared to equivalent cash transfer. Similarly, the agricultural crisis is unlikely to be resolved by income transfers, where addressing pricing, procurement, and other structural issues are essential.
What could be done?
Minimal interference: As agriculture is a state subject, the central government should not interfere except for creating an enabling environment through responsive bureaucracy, legal compliance, easing of doing business, market infrastructure, and trade facilitation.
Insurance processes: related to crop loan assessment and claim payout need to be authentic and secured by insurance agencies at the supervision of state governments.
Efficient agriculture: Farmers need to efficiently utilize agricultural inputs like land, water, pesticides, etc. and also allocate resources with respect to the market-led production schedule. Innovative agricultural practices such as precision farming, zero budget natural farming, etc. can be practised for high agricultural productivity.
Services at a fair price: The centre should enable public and private firms and market agencies to provide services to the farm sector at a fair price. copyright©iasexpress.net
Significance of the scheme:
Around 12 crore small and marginal farmer families are expected to benefit from this scheme. It would not only provide assured supplemental income to the most vulnerable farmer families but would also meet their urgent needs particularly before the harvest season. Thus PM-KISAN would enable farmers to earn and live a respectable living.
Learn More