PM Cares Fund – Objectives, Features, Concerns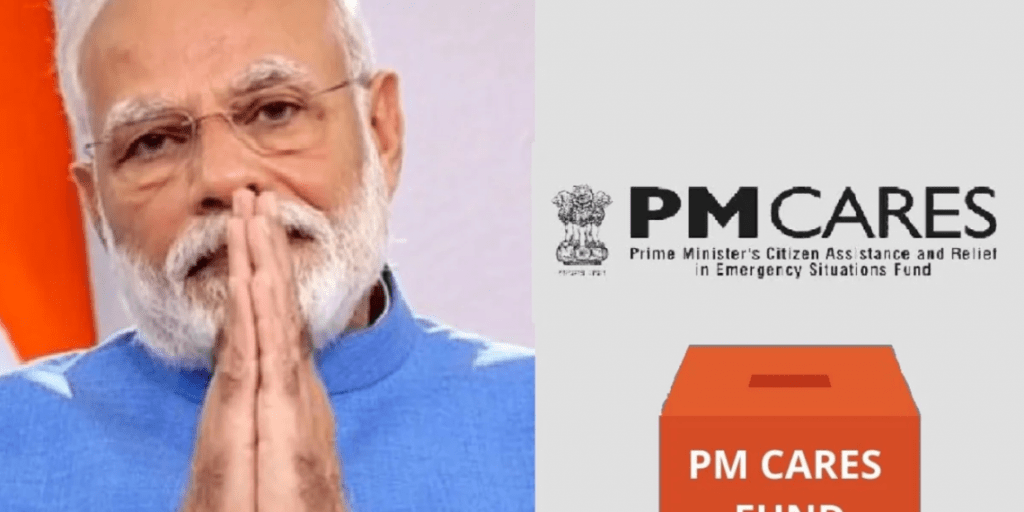 'Prime Minister's Citizen Assistance and Relief in Emergency Situations Fund' (PM CARES Fund)' has been set up on March 28, 2020. It was set up Keeping in mind the outstanding need for having a dedicated national fund with the primary objective of dealing with any kind of emergency or distress situation like that of the COVID-19 pandemic and to provide relief to the affected.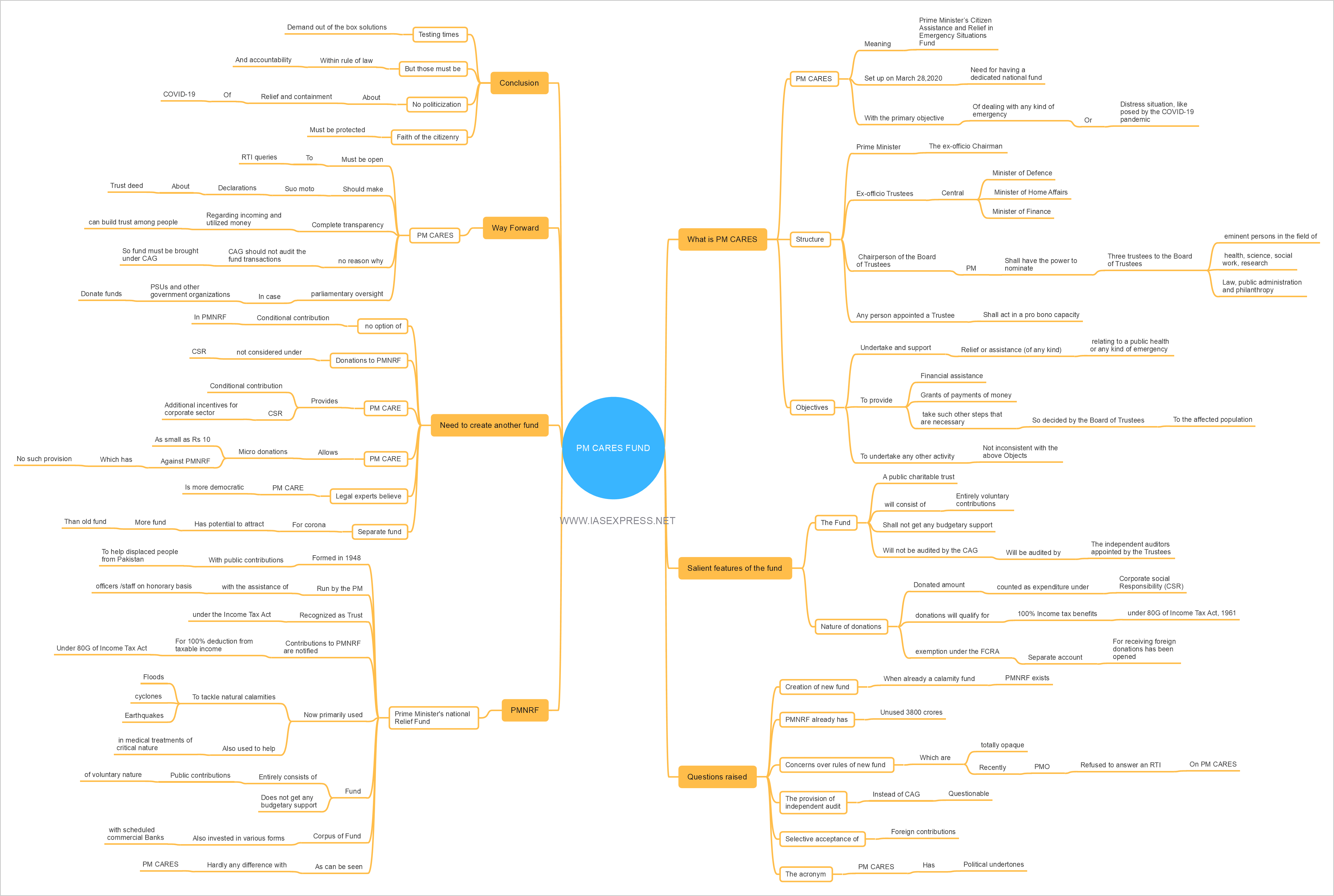 What is the structure of The PM CARES Fund?
Prime Minister is the ex-officio Chairman of the PM CARES Fund and Minister of Defence, Minister of Home Affairs and Minister of Finance, Government of India are ex-officio Trustees of the Fund.
The Chairperson of the Board of Trustees (Prime Minister) shall have the power to nominate three trustees to the Board of Trustees who shall be eminent persons in the field of health, science, social work, research, law, public administration and philanthropy.
Any person appointed a Trustee shall act in a pro bono capacity.
What are the objectives of the PM CARES Fund?
It aims to undertake and support relief or assistance (of any kind) relating to a public health or any kind of emergency, calamity or distress, either man-made or natural, including the creation or up-gradation of healthcare or pharmaceutical facilities and other necessary infrastructure, funding relevant research
To provide financial assistance, grants of payments of money, or take such other steps that are necessary so decided by the Board of Trustees to the affected population.
To undertake any other activity, not inconsistent with the above Objects.
What are the salient features of the Fund?
The PM CARES Fund is a public charitable trust. A Trust means the transfer of property by one person (the settlor) to another (The Trustee) who manages that property for the beneficiary as defined in section 3 of the Income Tax Act.
The fund will consist of entirely voluntary contributions. It shall not get any budgetary support.
The PM CARES will not be audited by the CAG. It will be audited by the independent auditors appointed by the Trustees.
The donated amount will be counted as expenditure under Corporate Social Responsibility (CSR) under the Companies Act, 2013. Under section 135 of the Companies Act, 2013, every company having net worth of at least Rs 500 crore, turnover of Rs 1,000 crore or more, or a minimum net profit of Rs 5 crore during the immediately preceding financial year has to make CSR expenditure.
The donations will qualify for 100% Income tax benefits under 80G of Income Tax Act, 1961.
PM CARES Fund has also got exemption under the FCRA and a separate account for receiving foreign donations has been opened. This enables PM CARES Fund to accept donations and contributions from individuals and organizations based in foreign countries.
What are the questions raised over the PM CARES?
There are questions being raised over the creation of new funds when already a calamity fund named PMNRF exists.
The PMNRF already has unused 3800 crores. Not using it and creating another fund raises obvious questions.
There are concerns over rules of new fund being totally opaque. Recently the PMO refused to answer an RTI on PM CARES.
Concerns are also raised over the provision of independent audit instead of an audit by the CAG.
The government's decision to accept foreign contribution selectively has also been criticized.
The acronym PM CARES has been criticized for its political undertone.
What are the features of the Prime Minister's National Relief Fund (PMNRF)?
It was formed in 1948 with public contributions to help displaced people from Pakistan.
It is run by the PM with the assistance of officers /staff on an honorary basis.
It is recognized as Trust under the Income Tax Act. Contributions to PMNRF are notified for 100% deduction from taxable income under 80G of Income Tax Act.
The fund now is primarily used to tackle natural calamities like floods, cyclones, and earthquakes.
The fund is also used to help in medical treatments of critical nature.
The Fund consists of entirely public contributions of voluntary nature. It does not get any budgetary support.
The corpus of Fund is also invested in various forms with scheduled commercial Banks.
As can be seen from above, there is hardly any difference between the two Funds.
Why there was a need to create another platform when a similar platform exists?
There is no option of conditional contribution in PMNRF but through PM CARE one can contribute to a specific cause and in this instance it's corona pandemic.
Donations to PMNRF is not considered as CSR contribution but PM CARE contributions are considered as CSR contributions. This provides additional incentives for the corporate sector.
PM CARE allows micro-donations as lo aw Rs 10 while for PMNRF minimum contribution is Rs 100.
Legal experts believe that PM CARES is more democratic as against PMNRF.
In times of crisis like CoVID-19, experts think a separate fund with a focus on corona will make people come forward and donate enthusiastically as the corona pandemic has affected everybody.
Way Forward
The PM CARES must be open to the RTI questions and should allay fears of inconsistency and misuse.
It should make Suo moto disclosures of the trust deed and the documents of actions that led to the constitution of the new fund.
Complete transparency regarding incoming and utilized money can build trust among people.
There is no reason why CAG should not audit the fund transactions.
If public sector undertakings and other government organizations contribute overwhelmingly, there is a case for parliamentary oversight.
Conclusion
The testing times like these demand out of the box measures. But those measures should be allowed to work beyond the framework of rule of law and accountability. PM CARES FUND is surely an effective fund as can be seen from the overwhelming response it generated. Care should be taken that there is no politicization and also the new measures are held accountable and work within the premises of law. The faith of the citizenry from all classes who are donating is sacred and must be protected.
Practice Question for Mains
What is PM CARES FUND? Assess its utility vis-à-vis PM national relief fund. (200 Words)
Learn More